This post was sponsored by Zibra Paint Brushes. My opinions are all my own. I do not endorse any company that I do not truly believe in, and while I received these products for review, I give my honest truth about the product.
Are you looking for a paint brush set that is all inclusive and can be used throughout your home in many different applications? Well, look no further than the Zibra Paint Brush Set.
I paint….alot. I spend many hours painting walls, window trim, cabinets, furniture, and I also paint on a canvas many days a week. I have spend a lot of time with various paint brushes, and I have never had the opportunity to try some many specifically tailored brushes. This Zibra paint brush set has so many different options. I was thrilled to try them out.
Zibra is a small company dedicated to offering you the best paint brush for your money. Here is a list of the paint brush set that I got from Zibra:
Square paint brush for windows, ledges and cabinetry
Triangle Brush for Corners and Details
Fan Brush for moldings and routed edges
Rounds Brush for Spindle and details
2″ Angled Paint on Trim
2″ Palm Pro for trim and surface painting( this has a short handle, so it is perfect for tight spaces)
Each one of the brushes in this paint brush set are made with a hardwood handle, aluminum insert, threaded nail pins, 100% American Epoxy glue, stainless steel ferrule, wood insert, and SMOOTH BRISTLE TECHNOLOGY.
Yo, there brushes are smooth!
As of right now I have experimented with a few of them…but to my surprise, my most favorite paint brush is the small round paint brush!
The round paint brush is the perfect tool for painting spindles and detail work…and that is exactly what I used it for. I decided I was going to experiment with these paint brushes and see if they could withstand painting my daughters bed.
Her bed began as a thrift store find, and was originally a bright yellow. I ended up painting it with some spray paint and updating it with an antique gold finish. Lately we have been thinking about painting it black, so that it has more presence in the room.
Here is what it looked like before…..I still love the gold, but it was time for a change.
Usually, I would take the bed apart, haul it outside and spray paint it out on my lawn….well I have no lawn. All we have is snow, and lots of it! I was not going to attempt any kind of outdoor painting this time of year. Last year I could have since we had such a mild winter with no snow…but this year, no way!
So, taking it outside was not an option and I definitely was not going to spray it inside her bedroom. I decided I would give this Zibra round brush a try and see if it really did work well on the curved spindle legs of the bed. To be sure it was the one I should use, I tried out a few of the other brushes in the paint brush set.
I tried the fan brush and the palm pro. The palm pro worked great on the flat base of the bed, but it just was cumbersome on the rounded areas, including all the detailed areas on the tops of the bed posts.
If you want to see how I used them, I did the whole project live on Facebook. Here is the video of how I used this paint brush set:
If you want to see them in action, I show them off, and feature all the paint brushes in this video…check it out
To describe the round brush, it has a similar shape as a chalk paint brush might have but is less oval. It perfectly round. It has tapered edges and the bristles are so soft.
It holds a really good amount of paint, and I got really great coverage when I used the round paint brush on the bed frame, including all the flat parts too.
I tried out the fan brush too, but I did not like it near as much as I did the round brush when it came to painting spindles and detail work.
I used a satin black paint, and believe it or not, this bed took me less than an hour to paint start to finish. It would have taken me longer to take apart, and drag the bed downstairs and outside. I was pleased that I did not have to do that part of the project. That's the real hard work!
Since I didn't have any other painting projects going on in my home at the time, this was the perfect experiment. I cannot wait to try some of the other paint brushes on trim, cabinetry, and so much more. I know I will be painting many more pieces of furniture as well!
The Finished Product: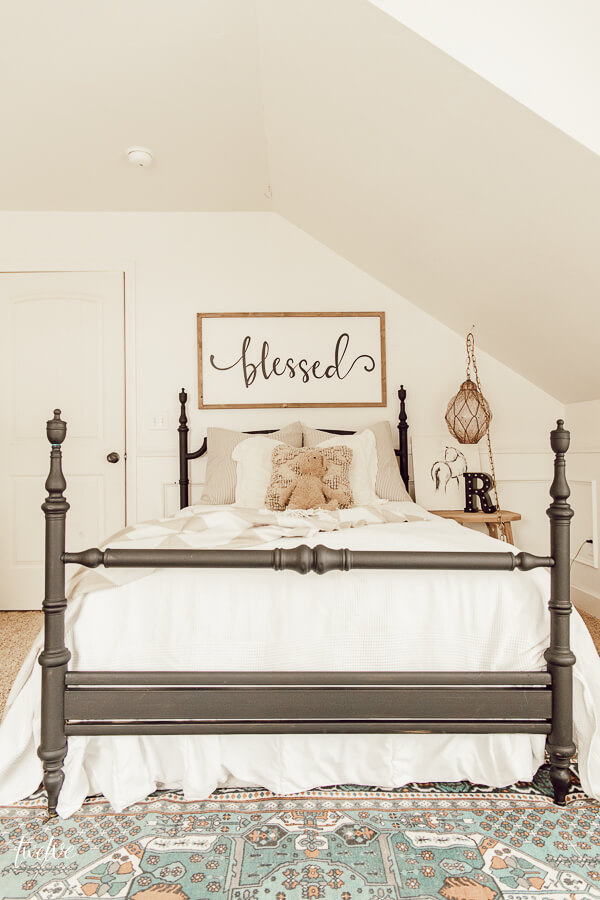 The bed turned out mighty fine in my opinion. I ended up sealing it with a a satin poly-acrylic just to be sure it stayed protected.
Now lets talk about the bed and the bedding for a minute! We have really been digging a bit of black lately, and especially with some raw wood!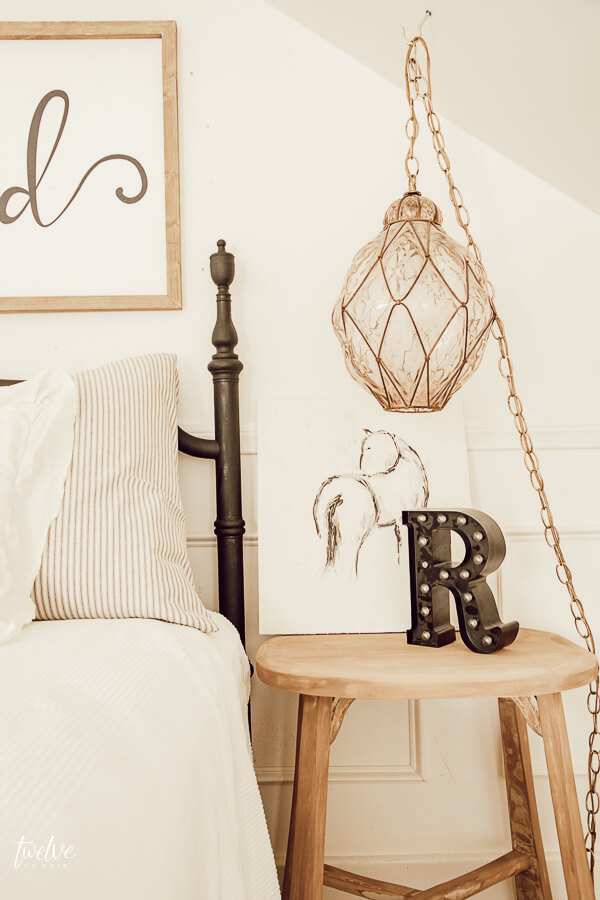 That nightstand was originally a creamy, beat up piece of furniture and I ventured out in the cold a few days ago to sand it all down and stain it with my favorite DIY weathered wood stain.
The light above the nightstand is something I found at a junk/antique store years ago and kept it safe and hidden until I knew what to use it for…..and when I had a baby girl I knew exactly where it was going to go.
Its vintagy vibe, along with the raw wood, the black bed and the bright with bedding with handmade ticking stripe pillows are everything dreams are made of here.
We were definitely going for a more boho/farmhouse vibe for this room. I wanted something bright and white, but with some unique touches, oodles of texture, and a calm feel.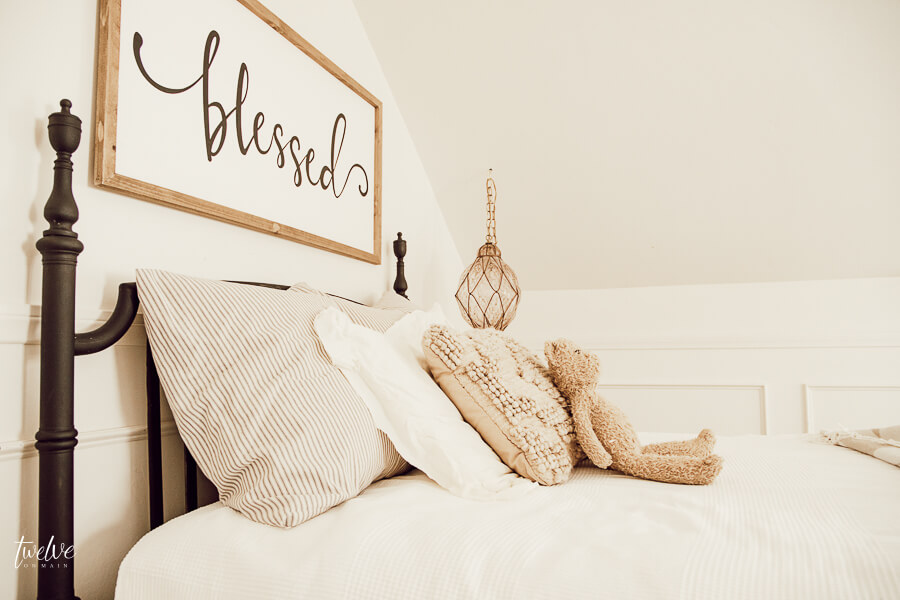 I think we accomplished that. And I could not have done it without that awesome paint brush set. Now, I am sure I could have used another paint brush, but I tried some of my older brushes and they did not apply near as smooth, the bristles were stiff and the brushes left a lot of lines in the paint.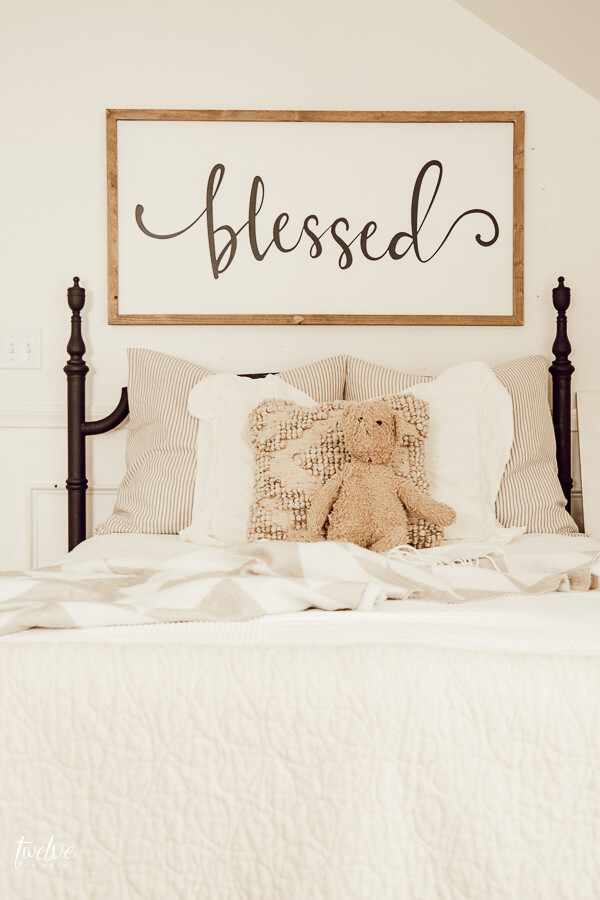 All the Zibra paint brushes I used gave a buttery smooth finish, which I did not think was possible with a paint brush. I have never used one that gave me that before.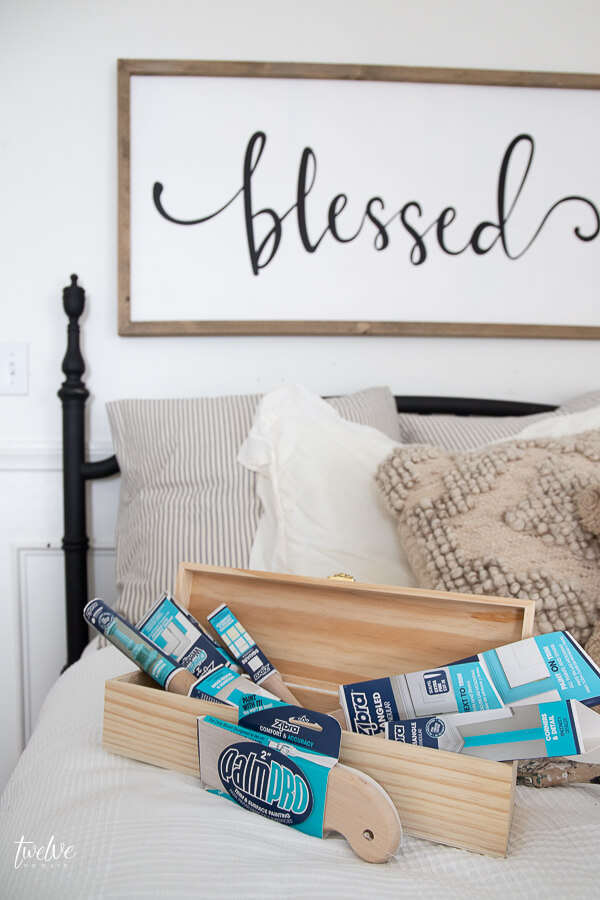 I am thrilled that I was able to try out this paint brush set, and I cannot wait to use them in the future…and it may just be tomorrow. You never know with me, I am always hatching a plan minutes before I start!
Believe me thought, these paint brushes will be there.
Have you tried the Zibra paint brush set before? I would love to hear from you and what you thought of them.
If you want to see how I have painted furniture in the past, check out these posts: (including my most popular post!)
Painting and Distressing Furniture 101- Bringing Farmhouse Style Home
GET YOUR FREE GUIDE to 30 DIY projects that can be done over the weekend!
By subscribing, you will gain access to my FREE guide with 30 DIY projects that can each be done in a day, or over a weekend!
You will also receive a weekly email with some of my favorite tips, tricks, and design ideas.