Christmas is such a wonderful time of year for so many reasons. I particularly love the giving part of Christmas. Creating gifts for those around me and giving them something that truly means something is one of the highlights of my holiday season. I often think about the fact that I can easily run to a store and buy them something, but for me, making something heart felt and personal makes it that much more special. Creating personalized Christmas gifts can really make your friends and families Christmas. That is why I want to share some of my favorite Christmas gift ideas today!
This is a sponsored conversation written by me on behalf of Cricut. The opinions and text are all mine.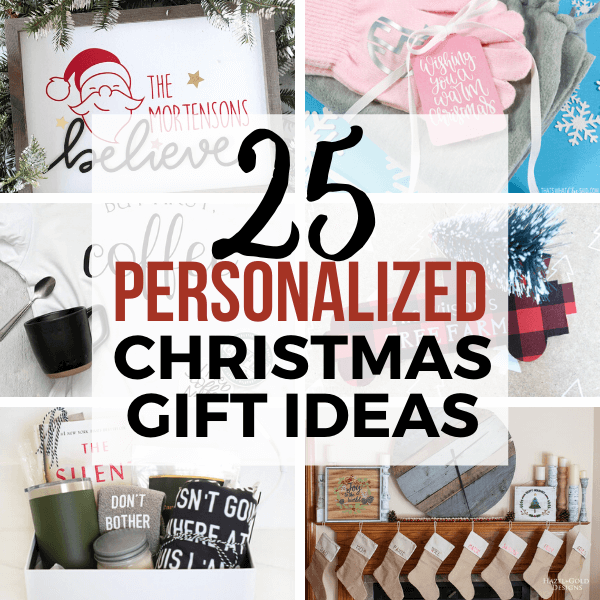 Over the past couple of years, I have opted to give personalized Christmas gifts for my parents as well as my mother and father in law. I feel that there is nothing I can buy at the store that will wow them or make them feel loved. After my sister passed away, I began really focusing on giving gifts with meaning. We have given birthstone rings, framed pictures, and a couple years ago, I painted a picture for my parents where my deceased sister was the focus. Let's just say it was a definite hit.
Last year, I gave my mother in law a painting I had made of our new Cedar City Utah Temple. I think it was well received as well! I have heard of the 5 languages of love….Words of Affirmation, Acts of Service, Receiving Gifts, Quality Time, and Physical Touch. I definitely think acts of service is mine. Not receiving gifts, or giving gifts, but making things by hand for those I love.
Another example…for my kids birthdays, I spend all day baking and creating the perfect birthday dinner and dessert just for them. This is my gift to them. My time.
So, for this Christmas, I really wanted to create some personalized Christmas gifts for my family members that they might never knew they always needed! I decided to create a personalized monogrammed sign for my mother in law. What a better gift than to give someone a pretty reminder of the years of memories they have had together.
54 years! 54 years they have been married. That is something to document! So, I made this sign for my in laws. I am so excited to give it to them this year. I made this using my Cricut Maker as well as some vinyl and paint. It was actually really easy to make, and I created a file on Design Space where you can edit it with your own names and dates.
You really can do so much with a Cricut Machine and I want to show you!
I hope you agree with me that personalized Christmas gifts is the way to go this year! And to reinforce that I want to share 25 wonderful personalized Christmas gifts using a Cricut Machine! Check them out below and get some inspiration for yourself!
25 Personalized Christmas Gift Ideas
Reusable Monogrammed Gift Tags| Blue i Style
Personalized Holiday Stockings | Hazel and Gold Designs
Personalized Tote Bags | Rad and the Rest
Book Lovers Gift Basket | Pretty Providence
Holiday Pajamas | Sookee Designs
Personalized Christmas Countdown | Ameroonie Designs
Custom Holiday Coasters | Printable Crush
Christmas Eve Bag | Suburban Wife City Life
Christmas Hostess Gift | Pineapple Paper Co
Personalized Gifts | Create & Babble
Personalized Christmas Tea Towels | The Southern Couture
Baking Gift Idea | The Idea Room
Personalized Gifts| Love Your Abode
Babys First Christmas Gift | Clarks Condensed
Personalized Glove and Scarf Set | Thats What Che Said
DIY Wood Personalized Truck Ornament | Lydi Out loud
Personalized Wood Christmas Sign | Polka Dot Chair
Personalized Christmas Eve Sign | Lemon Thistle
Black and White Modern Christmas Coasters | The Crafted Sparrow
Personalized Grandparent Pillow | Practically Functional
Personalized Gifts | The Crafty Blog Stalker
Coffee Gift Ideas | Over The Big Moon
Personalized Fridge Magnets | The Country Chic Cottage
Personalized Gift Basket Ideas | Tastefully Frugal
DIY Advent Calendars | Designer Trapped
What do you think? Are personalized gifts something you enjoy making or receiving? I hope you have found something that inspires you and that you will try your hand at making someone that gift this year!
Have a great day!
xx
Sara
Want more Cricut fun? Check out these posts:
Cute Canvas Tote Bag Ideas with Cricut Infusible Ink
Thankful Neighbor DIY Gift Box Idea Using My Cricut Maker
Design and Make Custom Hats with the New Cricut Easy Press Mini
10 Things to Know About the Cricut Maker Machine Before You Use It
GET YOUR FREE GUIDE to 30 DIY projects that can be done over the weekend!
By subscribing, you will gain access to my FREE guide with 30 DIY projects that can each be done in a day, or over a weekend!
You will also receive a weekly email with some of my favorite tips, tricks, and design ideas.