Thank you First Alert for sponsoring this post. Know CO!
It's been one crazy busy summer. We have been going here and there and everywhere. Unfortunately, camping is the one thing we haven't been able to do all summer! With out weird spring weather and the busyness of summer we never made it out to enjoy nature like we should. So, we decided we needed to get out.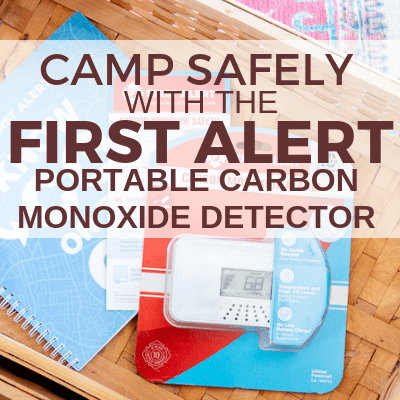 With school just starting, we needed to sneak our camping trip in ASAP, before the weather got too chilly. We do have a camping trailer which makes camping so nice, but I always worry a bit. You see, our trailer was built with a carbon monoxide detector, but it has never worked right. We have had it looked at, but no matter what, in the middle of the night, the battery starts to chirp. I have been constantly worried that it would fail and we would have a catastrophe on our hands.
Carbon monoxide is certainly something to never play with. Carbon monoxide is known as the silent killer. Carbon monoxide is an invisible, odorless deadly gas that can be produced by any fuel-burning device. The only way to detect carbon monoxide in your home or travel trailer is by installing a CO alarm. If you do not have one, you need to get one ASAP. This is not something worth risking in my opinion. You can learn more about carbon monoxide and its risks here.
We have a furnace, hot water heater, and a stove in our travel trailer. We love to camp during the shoulder months (March-April and September-November). This is when it slows down enough for us to go. We obviously use our furnace on these camping trips. With our CO detector in the trailer not working right, I haven't felt comfortable to go camping until there was a solution. Enter First Alerts 10 year sealed battery carbon monoxide alarm.
This thing is a life saver….literally! I packed it up and took it on our camping trip. So let's talk about the First Alert CO alarm….
Let's talk about what this new First Alert CO detector can do.
The First Alert 10-year sealed battery carbon monoxide alarm detects dangerous levels of carbon monoxide. This stylish CO alarm is designed to sit on top of a dresser or tabletop, and it has a backlit digital display that shows temperature and peak levels of CO (when detected).
This CO alarm provides hassle-free protection by eliminating the need for battery replacements for 10 years. 10 years! I feel like I can feel safe for quite a while! After 10 years, you will hear an end of life warning, letting you know it is time to replace (alarms don't last forever and should be replaced at least every 10-years). And guess what? Installation is not required! Simply place the alarm on a table top and start protecting your home and family from CO and be worry free!
I knew this was the perfect solution for our camping trips. I just needed to find the right spot. I wanted to make sure I kept it away from any heat sources or cooking appliances, drafty areas, or humid areas. I decided a shelf in our "living room" was the perfect spot. It was the center of the trailer, near the sleeping areas and far enough away from all the areas that it should not be in.
I made sure to keep it out of the sun as well. These are all important things to do with your CO alarm. You definitely do not need an oven or furnace interfering with your safety!
I love that it gives us the temperature as well! This is nice to have in the trailer. This weekend was a warm one! This was before we kicked on the air conditioning.
Did you get a look at those views though? It was breathtaking!

We were able to spend time as a family, hiking, riding our ATV, and eating all the things. The bonus was that we were able to do all this without any worry! My fears have been eased! I see many more worry free camping trips in our near future, especially as the weather get chilly and we need to kick on that furnace!
This tabletop CO detector is great! It does come with the option to install on a wall if you desire, but I love that I can move it around as needed.
It has taken the worry out of the unknown for us. We can thoroughly enjoy camping without the worry of CO poisoning.
This First Alert portable carbon monoxide detector is perfect for travel, and for home. Take it with you on vacation and have peace of mind, wherever you are.
Is carbon monoxide a concern for you? Why not try one of these fantastic devices! I would love to hear what you think.
Have a great day friends!
xx
Sara
GET YOUR FREE GUIDE to 30 DIY projects that can be done over the weekend!
By subscribing, you will gain access to my FREE guide with 30 DIY projects that can each be done in a day, or over a weekend!
You will also receive a weekly email with some of my favorite tips, tricks, and design ideas.