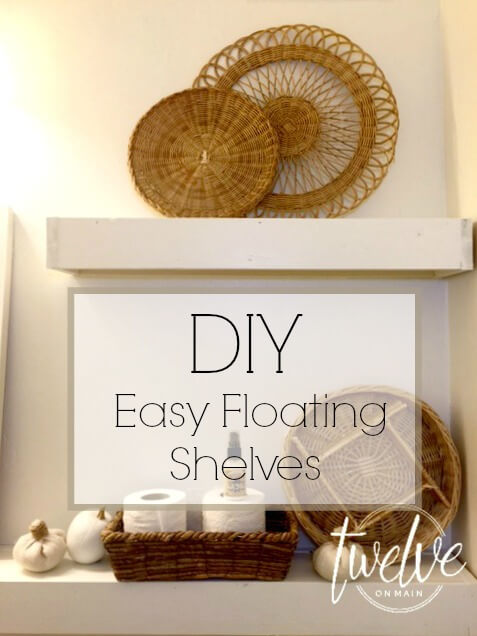 ***This post contains affiliate links.  This means I may earn a few pennies for my kids college tuition if you click on one of these links. ***
I am back!  As promised I am going to show you how I made the floating shelves in my bathroom.  These DIY easy floating shelves have been in my mind for a while.  I had envisioned a set of shelves in this tiny bathroom to help create a little bit of storage.  Since it is only a half bath it doesn't need tons of storage, but it was still lacking.  If you read my Farmhouse Bathroom Update from yesterday, you know that I did a quick update on my entry bath.  Today I am showing you the shelves I made.
These shelves were really simple to make.  I made them all by myself, without my hubby's help. Having the right tools makes all the difference.  So I thought I would give a list of tools that would be helpful to slowly add to your collection.  We have done this.  I hope you do not think that we just automatically had all the right tools for our jobs.  We still don't have all the right tools.  Each birthday or Christmas seems to bring a new one however.
Here are some tools to help you do this project:
Table Saw
-This Dewalt table saw is really handy to have.
Compound Miter Saw
– Love this tool!


Compact Drill/Driver Kit
– We have had this drill for over 10 years and love it.
Level
You will also need:
Screws
1 by 6 wood or 1 by 4
These three tools are a bit pricey, but I thought with the holiday coming, these might make great Christmas presents for that special person in your life.  I know I would be thrilled to get any one of these!  I am one of those girls.
So, the first thing I did was measure and figure out where I wanted  the shelves.  I really wanted one to come across the sink that the mirror could rest on.  I went outside and used my table saw to cut the 1 by 6 into a 1 by 4 since I wanted mine a little smaller.  I didn't want to have it hang out too far over the sink, but if you want to make them wider you don't need to cut it down.
I started out with 3 pieces of wood at 60 inches long.
I nailed 2 pieces together into an L shape.
I then nailed the second piece on.  I now have a U shape, or maybe a C haha.
Here is a shot with another tool that I absolutely love.  Its my Brad Nailer
.  This thing has saved my life.  Of course, you need an Air Compressor

for it.  This is the one we love.
I then measured the length of the short sides and cut them.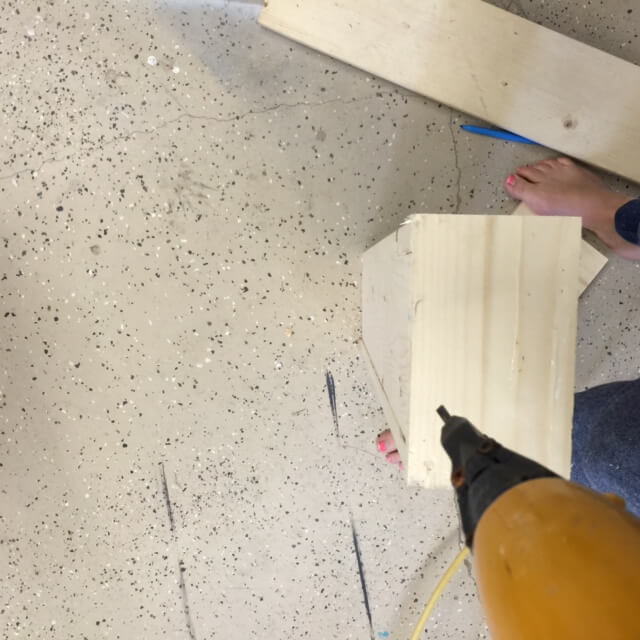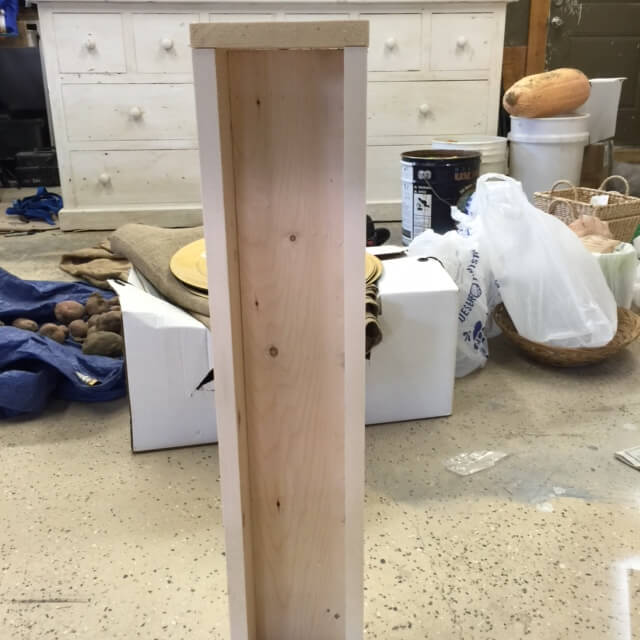 And it is done.
I found the studs in the wall above the sink and screwed on end of the shelf into the wall, then used a level to make sure in was straight and then screwed the other end in.
I then created a shorter one to be the upper shelf.
At this point, I could have puttied all the holes and sanded all the rough edges, but you know me, I think it gives more character.
Once they were installed I painted them.  Since they were being painted the same color as the wall it was no big deal.  If I hadn't been painting them the same I would have painted the shelves first and then installed them.
I am going to emphasize that you need to make sure that you screw it into a stud.  And that is it!  These shelves were quite easy to do.  It is always so satisfying when I am able to complete a project all by myself.  It is so empowering, and I love every minute of it.  It may not be perfect, or maybe not the "correct" way to do it, but it is what I want.  There are no rules.  Make your own trail, and be content.
Have a great day~
GET YOUR FREE GUIDE to 30 DIY projects that can be done over the weekend!
By subscribing, you will gain access to my FREE guide with 30 DIY projects that can each be done in a day, or over a weekend!
You will also receive a weekly email with some of my favorite tips, tricks, and design ideas.