I love holiday wreaths! Every year I create a couple of new ones and this year I am sharing one that I have had in my mind all year long. I have wanted to use my bottlebrush Christmas tree decor to make an adorable and affordable bottlebrush Christmas tree wreath.
Today I am sharing my wreath DIY with some of my favorite bloggers who are also sharing some great holiday wreath ideas. Make sure to scroll to the bottom to see more great ideas!
Supplies to make this Bottle brush Christmas Tree Wreath:
Ribbon of choice to hang it
This is a really easy wreath to make and its also very affordable! Bottle brush trees are very affordable and a fun and easy way to decorate for the holidays.
Check out my video below on how to make this bottlebrush Christmas tree wreath!
First you want to choose how and what bottlebrush trees you want to use. I chose some larger and some smaller so I could stagger them. (If you need a different sized tree, such as a smaller tree, you can use a set of wire cutters to cut the tree smaller to fit the space you need it to be in.
Next, you need to remove the base of the bristly little trees so that they can be stuck directly into the wreath. The was easy to pull right off. You may need to cut the wire depending on the tree. I got mine from Walmart and the base pulled right off without any issue.
You can also choose tons colorful bottle brush Christmas trees. Choose brighter colors if you want something bold. I chose to add white and flocked trees to mine so that it would work with the rest of my homes decor.
Once you have chosen the trees you want to use, its time to lay them out and arrange them where you want. This will give you a good idea of where they will be and how to position them. By using the grapevine wreath, you can use the natural cracks of the wreath to nestle the trees into with a bit of hot glue.
I started by adding the larger trees and putting them into position. I added hot glue to the bottom of the tree as well as to the spot on the wreath that I was going to place it. You may need a generous amount of glue to get the tree securely into the wreath form.
I added the larger ones first and then added the shorter ones in between and in front of the larger ones. I alternated between the green trees and the white trees.
The last thing I did was add a piece of ribbon to hang the wreath.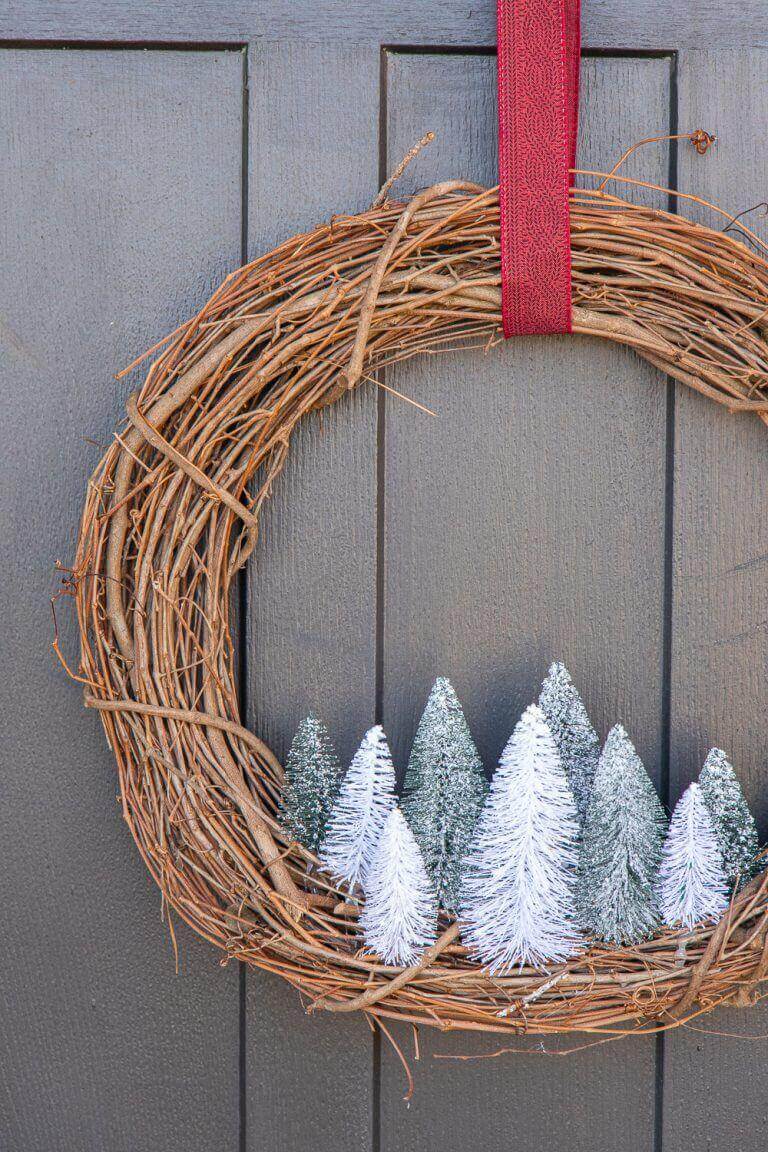 This simple Christmas wreath would be great to hang above Christmas decorations on a fireplace mantel, or on the front of your door, like I did!
Create a winter wonderland scene with more bottle brush Christmas trees, faux snow and and more holiday decor on the top of your holiday mantel, and then add this adorable wreath above it.
There are so many creative ways to add inexpensive holiday decor to your home and this is just one fun and easy wreath that you can customize in a ton of different ways.
Get this collection of affordable Bottle Brush Trees Now!
Get the perfect grapevine wreath form here! You can get them in different sizes!
Affordable decorations are possible! I love creating items for my home that are inexpensive but also beautiful. You just need to put in a little bit of work. This holiday season why don't you try to create something you love for your home.
In the meantime, make sure and check out more great ideas below!
Want more great holiday wreath ideas? Check these out below!!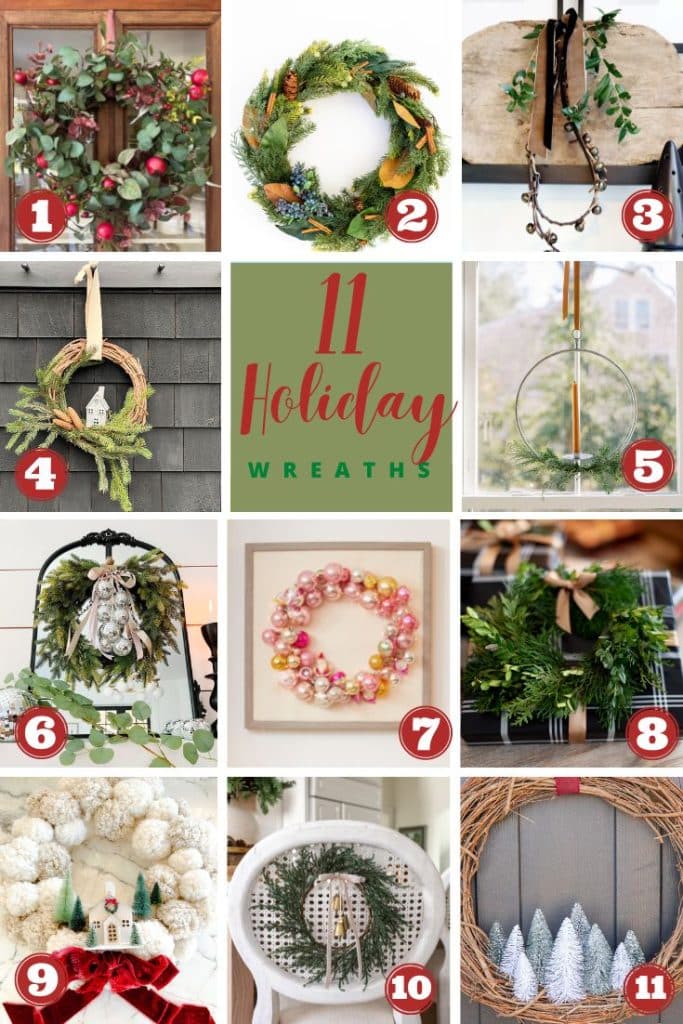 Blogger's Best Holiday Wreaths
These wreaths will be great to add to a living room, bedroom, front door, mantle, entryway and more!
Want to make some homemade Christmas ornaments? Make sure to check out these great ideas below!
GET YOUR FREE GUIDE to 30 DIY projects that can be done over the weekend!
By subscribing, you will gain access to my FREE guide with 30 DIY projects that can each be done in a day, or over a weekend!
You will also receive a weekly email with some of my favorite tips, tricks, and design ideas.