Parmesan Herb Roasted Potatoes
Sometimes people don't want mashed potatoes on Thanksgiving. Im am not those people. I could eat mashed potatoes for every meal. But alas, I love any kind of potato and these parmesan herb roasted potatoes are the perfect side dish for not just a special meal like Thanksgiving but for everyday weeknight meals too.
Potato side dishes are a great way to add flavor to a meal. We love eating potatoes at our house and we love making them on Thanksgiving too. So, I wanted to touch on why these potatoes can be a great side dish on Thanksgiving but also for any other time of the year.
Some people are not a fan of mashed potatoes. I know….I do not know who some people are. Also some may want something new to try. These parmesan herb roasted potatoes are a great option for those that may not want mashed potatoes.
Thanksgiving is the time for all the food, and so it wouldn't be a crime to have more than one kind of potatoes. Imagine pouring a bit of gravy over these things. That would not be a crime.
These roasted potatoes recipe is also amazing with a bit of ranch over the top or some sour cream and chives!
How should I bake my roasted potatoes?
I like to use my 4 qt covered casserole dish, below is one of my favorites!
4.5 QT OVEN SAFE CASSEROLE DISH
What simple herbs and seasonings can I use to give my roast potatoes extra flavor?
Garlic, onions, rosemary, thyme, bacon, smoked paprika, green onion, black pepper, bell pepper, shallots, and cheese are all good flavors for roasted potatoes.
What kind of potatoes should I used to make roasted potatoes?
I find that we prefer red potatoes when making these herb potatoes, but you can use any kind of potatoes you might like! We do not peel the red potatoes which makes it super easy to whip up this recipe. Yukon gold potatoes are another great option, but I would peel them if it were me.
Is it necessary to boil potatoes prior to roasting them?
It is not a necessity. Boiling your potatoes for a little bit before roasting helps make sure that you get that beautiful crisp crust on the outside. If you don't parboil your spuds, the outside skin will remain quite tough, meaning that whatever fat you use will not be able to get inside the cracks. But, it is not necessary. If you have the time to par boil them then go ahead and do that, but rarely do I have time to, and they turn out great.
What oil is best for roasting potatoes?
I prefer to use olive oil, butter or Ghee.
Why aren't my potatoes crispy?
The oven had to be hot enough. 425 degrees is ideal. Any hotter and they will burn before they are done.
Oven roasted potatoes are one of my most favorite kind of potatoes and I make these often with grilled chicken or a pot roast!
Parmesan Herb Roasted Potatoes
Use red potatoes to create these amazing parmesan herb roasted potatoes. By adding herbs, parmesan, garlic and butter to these potatoes and roasting them in the oven, you create an amazingly flavorful potato side dish
Equipment
1 4 quart casserole dish with a lid or tin foil
Ingredients
2-3

lbs

red potatoes cut into 1 inch cubes

Depending on the size of your casserole dish will depend on how many potatoes you need.

1/4

cup

butter or olive oil

room temperature

2

tbsp

fresh minced garlic

1

tbsp

dried rosemary

1

tsp

dried sage

1/2

tsp

dried thyme

1

cup

grated parmesan cheese

1/4

tsp

salt

season to taste

1/4

tsp

pepper

season to taste
Instructions
Preheat the oven to 425 degrees

Wash and cube your potatoes into 1 inch cubes.

In a bowl add the potatoes and all the herbs and parmesan cheese. Stir it up to give all the potatoes a coating of the seasonings.

Put the potatoes in the casserole dish.

Cut the butter into small pieces and top the potatoes with the butter pieces.

Cover the potatoes with a lid or with tin foiil

Put them in the oven and let them bake for 40 minutes. Check them periodically and use a spatula to rotate the potatoes.

Check the potatoes with a fork for doneness. Once they are easily pierced with a fork they are done. I like to take the lid off and let them brown on the top for about 5 minutes.

Serve these on the side of a main dish like chicken, turkey, pot roast, and more.
How to make these easy parmesan herb roasted potatoes:
First, preheat oven. Next, wash and cut your red potatoes into 1 inch chunks.
Next, put the potatoes, herbs, minced garlic cloves, parmesan cheese, and oil if using olive oil into a large bowl. Stir the potatoes to make sure they all get coated in the herb and parmesan cheese mixture.
Pour the potatoes into a casserole dish. A 9 by 13 will work. I use my 4 quart casserole dish.
Sprinkle the top of the potatoes with a bit more parmesan cheese, cover and bake in the oven for 40 minutes.
Periodically check the potatoes and stir them to prevent any sticking to the bottom of the pan. After 40 minutes spear a potato with a fork, if it goes in easily they are done. If it still feels a bit hard, let them cook about 5-10 more minutes.
Once they are cooked, I like to remove the top for about 10 more minutes. You can do this the least 10 minutes of your cooking time or add 10 minutes if they are still a bit underdone. This will help crisp up the potatoes.
Serve these potatoes with fresh parsley and / or chives on top.
Enjoy these as is, or add a bit oof ranch dressing or gravy to the them. The herbs give them such great flavor as well as the parmesan cheese and garlic.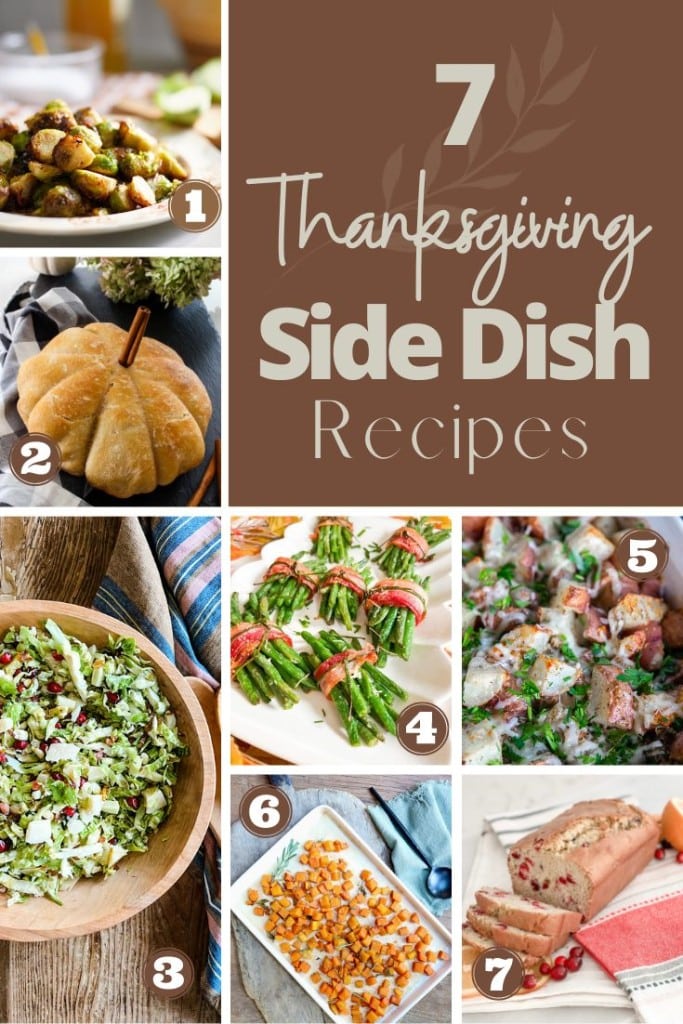 Blogger's Best Thanksgiving Side Dish Recipes
More amazing Thanksgiving Recipes:
Click on the images below to go directly to the recipe!