Easy 3 Ingredient Oreo Balls Halloween Treat
These 3 ingredient oreo balls are one of the easiest treats to make and yes, they only have 3 ingredients. Well, technically only 2 if you don't include the chocolate outer coating. These have often been called oreo truffles and they are such a quick treat to make.

What are oreo balls made of?
Oreo balls are made of 2 basic ingredients, cream cheese and Oreos. The outer coating is chocolate or candy melts.
Do oreo balls have to stay in the fridge?
Yes, having cream cheese in them require them to stay in the fridge, They stay firm in the fridge as well. You can also freeze these!
Why are your oreo balls sticky?
If you make these and feel that they are too sticky, you can add more oreo crumbs. You also may need to simply put them in the fridge for about 20 -30 minutes to ket them firm up. Mine is always a little sticky when you first mix it up.
How do you crumble oreos without a food processor?
If you do not have a food processor to crumble your oreos, there are a couple different options. First, you can use a blender to crumble them. Simply use the pulse button. The other option is to put them in a plastic zip lock bag and smash them with a rolling pin. Make sure to do this until its a uniform crumble.
3 Ingredient Oreo Balls Recipe
3 Ingredient Oreo Balls
These are the easiest and yummiest treat using 3 ingredients. You can make these 3 ingredient oreo balls for any season or occasion! These are made with a Halloween theme.
Fridge Time and Dipping Time
45
minutes
Ingredients
1

pkg

Oreos

You can use any flavor to change up the flavor of the oreo balls. Make this recipe GLUTEN FREE by using gluten free Oreos!

8

oz

cream cheese

melted chocolate, white chocolate, or melting wafers to dip the oreo balls in
Instructions
Begin by crushing the Oreos either in a food processor, blender or by hand with a rolling pin.

Add the Oreos to a large bowl and then add the cream cheese to it. You can also use a stand mixer to mix this up. I simply use a wooden spoon to mix the two ingredients together.

Once you have the oreos and cream cheese mixed together thoroughly take the mixture and put it in the fridge for about 10 minutes to harden it up just a bit.

When you are ready use a cookie scoop to scoop out equal balls. Roll them into nice, smooth balls with your hands and place them on a piece of parchment paper on a pan.

While its cooling in the fridge, prp your chocolate or candy melts. Since these were made for Halloween I used 3 different colors of candy melts. I use the microwave to melt the chocolate, 30-second intervals, making sure to stir in between.

I also added some to a small pastry bag. You will now need to act fast before the chocolate hardens up.

Using a fork to hold your oreo ball, lower it into the chocolate and cover the entire ball. Use the fork to lift out the ball and let the extra chocolate drip off. Placem the oreo ball onto the parchment paper carefully and move on to the next.

Now you can leave them as is or if you are making them for a Halloween or Christmas treat you can add a couple cute things to make them appropriate for the season. I drizzled orange, black and blue chocolate over the tops of the Oreo balls and then I added some googly eyes to them. They are perfect for Halloween.

Once they harden completely you can put them in the fridge to store them. We keep ours in the fridge always. We prefer them cold, and they are ore firm that way.

Store them in an airtight container in the fridge or freezer.
3 Ingredient Oreo Balls Instructions
These 3 ingredients Oreo balls are so easy to make. All you need is 1 package of Oreo cookies, 1- 8 oz package of cream cheese, and some chocolate to dip the oreo balls in. I love to add Oreos to my Walmart grocery pickup order.
First, crush Oreos into a fine powder. You can use a food processor, a blender, or place them in a bag and use a rolling pin to crush them.
In a large mixing bowl, mix the crushed Oreos and cream cheese together. You can also use a stand mixer to mix this together. I like to use a wooden spoon and mix them by hand.
Refrigerate this mixture for about 10 -20 minutes. When its firmed up a bit, use a
small cookie scoop
to scoop out equal balls or ths oreo truffle mixture. Roll them between your hands into a smooth ball. Place them on some parchment paper on a baking sheet. Put these in the fridge for 20-30 minutes to firm them up and cool them down so the chocolate will harden faster. Now, melt the chocolate and get ready to dip your Oreo balls into the chocolate. You can also use melted white chocolate, almond bark or melting wafers to dip these balls in. Use a fork to lower the ball into the chocolate and cover it completely. Use the fork to lift out the ball from underneath. Don't poke it! Let the excess chocolate drip off. Then carefully place the ball on the parchment paper.
You can then decorate them with sprinkles, drizzle chocolate over the top or do whatever you want!
For these cute Halloween Oreo balls, I added some cute googly eyes as well! These were so fun to make!
Keep these in the refrigerator. Since they have cream cheese in them, it is important. They also taste better refrigerated.
There are a ton of ways to change the flavors of these oreo balls but changing the flavor of the Oreo cookies you use. You can use the lemon oreos, peppermint oreos, or any of their seasonal flavors.
Make sure to check out these great Halloween treat ideas too!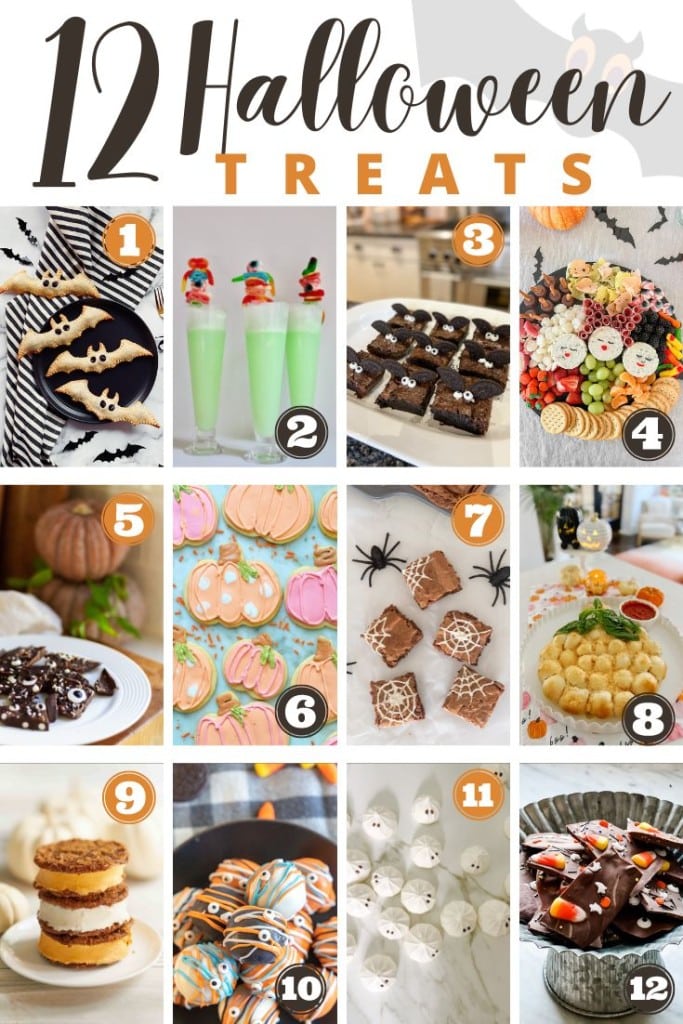 Blogger's Best Halloween Treats
Try these other fall treats!
Amazing Pumpkin Cinnamon Rolls
Pumpkin Cupcakes with Cream Cheese Icing and Salted Caramel Topping
The Most Amazing Pumpkin Sheet Cake
How about these Halloween decor ideas:
50 Halloween Wreaths
Over 50 Stylish Halloween Throw Pillows You Need Now!
Happy Halloween! Well, almost! I am sharing some things I do not do as often here. We are making some fun Halloween treats! My kids love these 3 ingredient oreo balls, and. we make them often but for some reason I never thought to share them here, or share a fun way to use them to make cute Halloween treats.