Boy oh boy do I have a yummy post for you today! During the summer I grow a nice big garden, and this year I planted two different kinds of cucumbers. Neither one was pickling cucumbers but I was determined to be able to pickle them if I ended up with enough. The only issue was that I have never had good luck making pickles and processing them to be shelf stable in mason jars. I just dont seem to have the luck. But refrigerator dill pickles? Man, those are so stinking popular at my house, I can barely keep them in the fridge!
Refrigerator dill pickles are super easy to make and take hardly any time. You can make a couple jars at a time and have fresh dill pickles in the fridge all the time.
If you do not grow a garden and do not have your own cucumbers and are wondering if you too can make these yummy pickles, well, the answer is yes! Not only can you find pickling cucumbers at the grocery store, you can also use another kind of cucumber with success. I have used English cucumbers as well as regular cucumbers and they have turned out well!
There are so many variations to making homemade dill pickles and so many different spices that you can use such as dill seed, fresh dill, red pepper flakes, mustard seeds, black peppercorns, and more.
Here are the supplies you will need to make refrigerator dill pickles:
Mason jar/ canning jars or empty pickle jars (clean and sterilized). I like to use a quart jar but if you want to make smaller jars, use pint jars
Sugar
garlic cloves
A big bunch of fresh dill
Grape leaves (these are optional, but I like to add them to the bottles because they help make crunchy pickles.
These quick pickles will be made in no time. Let me share my step by step refrigerator homemade pickles:
First, take your vinegar, water, salt and sugar and put them in a large stainless steel pan and bring to a boil. Turn it off once it comes to a boil.
Let this vinegar mixture sit and come to room temperature while you prepare your fresh cucumbers. Wash the cucumbers and set them aside.
Slice the cucumbers. I like to slice mine into pickle spears, but you can slice them any way you like them.
Each jar will need one fresh garlic clove, as well as 10 peppercorns, and a handful of dill. If you have the dill heads, I like to add one or two of the heads as well as some of the dill weed.
Put the peppercorns, garlic, and dill and grape leaf in the bottom of the jar. Pack the jar with cucumber slices or spears. You want to fill the jar but not have the so tight the liquid cannot get to them.
Once the jar is full of cucumbers I take the vinegar mixture and pour it over the top of the cucumbers until they are covered completely.
Put the lid on the jar and let them sit in the refrigerator for at least 24 hours before trying them out. They get better with time, so after about a week they are at the height of their flavor.
Get all my favorite canning and pickle supplies below:

Easy Refrigerator Dill Pickles
Make these easy refrigerator dill pickles anytime of year with store bought cucumbers or garden grown cucumbers! These are amazingly crunchy and flavorful!
Ingredients
10-12

pickling cucumbers

4

cups

water

2

cups

vinegar

2

tbsp

kosher salt

1

tbsp

sugar

big bunch dill weed and dill heads

1-2 heads per jar

1

head

garlic per jar

skins removed, cloves smashed

10

peppercorn kernels

grape leaves

one per jar(this is optional)
Instructions
Heat vinegar, water, sugar, and salt in a medium saucepan and heat until everything dissolves. This will be your brine. Remove from heat and let it come to room temperature.

While the brine is cooling, clean and slice your cucumbers. You can slice them into spears or burger slices.

Add your garlic, peppercorns, dill and gape leaf to the bottom of the jar.

Add your cucumbers and fill the entire jar

Pour the brine over the cucumbers and cover them completely.

Put the lid on and let them sit in the fridge from 1 day to a week prior to eating. My kids can barely last 1 day.

These should stay good in the fridge for 4-5 weeks.
I cannot get my kids to lay off of them even if I have just made them. Mere hours after I have made our delicious pickles, they are sneaking them. These are the perfect pickles. The dill flavor gives it the classic dill pickles flavor and the crunch from the fresh cucumbers is perfect.
I use simple ingredients to make these refrigerator pickle recipe. The only thing about these is that they wont stick around for long!
I usually make 3 jars of pickles at a time. These quick refrigerator pickles are great on sandwiches, burgers, or as a simple snack! You could make spicy dill pickles by adding a jalapeno to the jars.
I love making these with my last summer cucumbers. These homemade refrigerator pickles will be gobbled up. I love that I do not have to commit to making a bunch of jars and can simple make a couple. These have been a hit with the family, you should try to make them soon!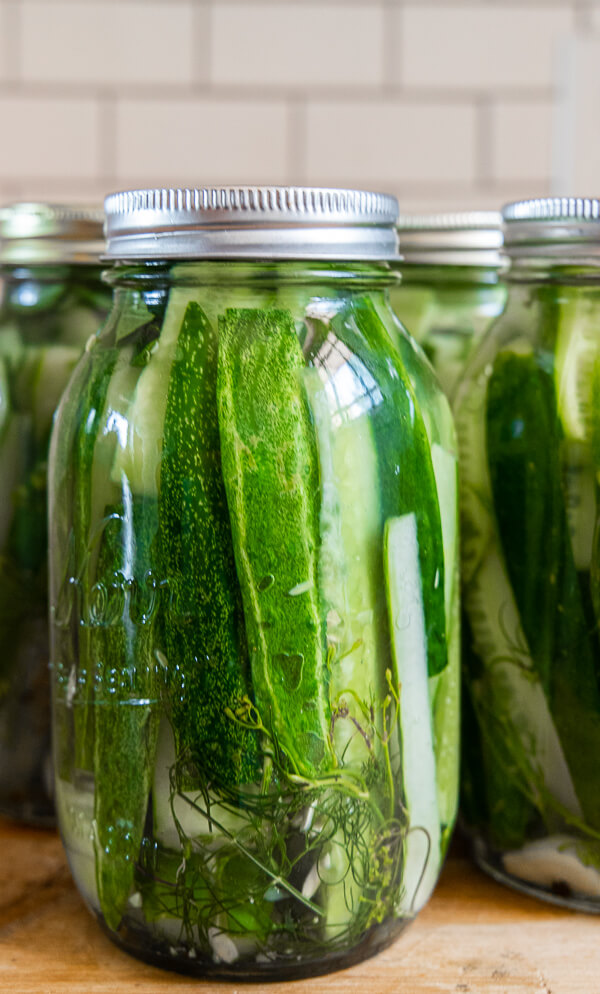 Like this recipe? Check these out too!
Summertime Charcuterie Board Ideas for A Crowd
Easy Homemade Spaghetti Sauce Recipe
Homemade Meatballs Made 2 Ways
GET YOUR FREE GUIDE to 30 DIY projects that can be done over the weekend!
By subscribing, you will gain access to my FREE guide with 30 DIY projects that can each be done in a day, or over a weekend!
You will also receive a weekly email with some of my favorite tips, tricks, and design ideas.