I live in a small town. We have about 2.5 restaurants here, and sadly, In-N-Out is not one of them. Man, having a great burger joint would be so awesome. Alas, we do not and because of that, we have to get a bit creative at home and try to recreate some of our favorite meals from our favorite restaurants. So, today I want to share my copycat In N Out sauce recipe with you! How about making one of those amazing hamburgers at home?
Theres nothing I love more than an In-N-Out Cheeseburger. If you are a fan of them too, this is the recipe for you to try at home. Do not get me wrong, when I am in the vicinity of an In-N-Out restaurant, I will definitely jump at the chance to get myself one. Sadly the closest one to my is 2 hours away, making it pretty hard to enjoy them very often. So, we began making our own copycat recipe and it has been amazing! There is nothing better than the real thing, but this definitely does not disappoint!
I have to give credit where credit is due. My 14 year old son is the one who has been creating this yummy In-N-Out sauce recipe. He is a big fan of eating at restaurants and is constantly trying to recreate his favorite meals. This recipe is a super easy one. You may have even heard it being called thousand island dressing but it is different. Plus, homemade is so much better anyways and it is super easy to make! It makes the perfect burger and with simple ingredients, you most likely have all of them on hand.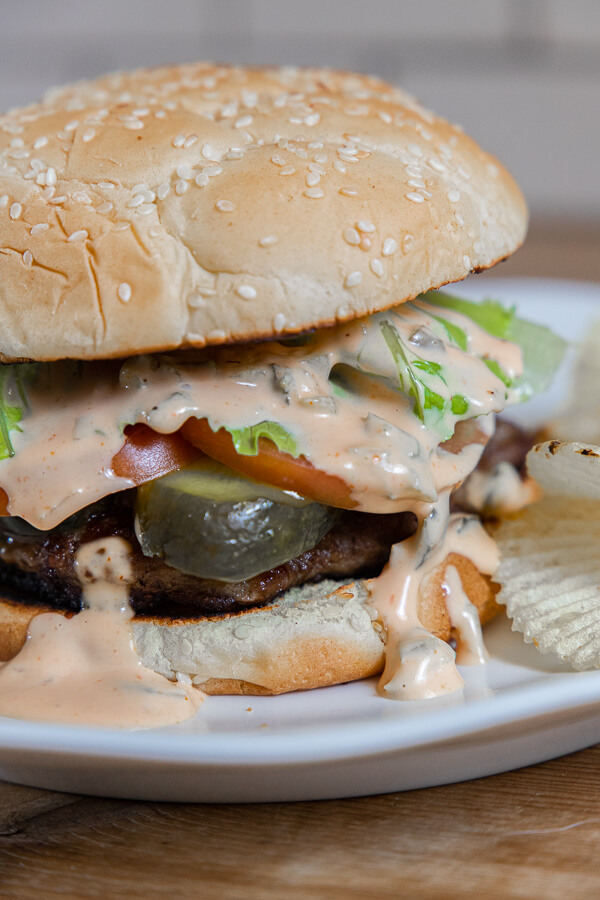 There's not one time that we make hamburgers that we don't make this copycat In N Out sauce. It's such a good addition to your hamburger and it stays good in the fridge. Its amazing with french fries too! It is similar to fry sauce but with the addition of dill pickles or sweet pickle relish.
If you are wondering why I am sharing this copy cat recipe with you….well first, its just a really great, easy recipe to have on hand. Second, I am sharing this In-N-Out burger spread with a bunch of amazing bloggers, all sharing one of their favorite copycat recipes. Make sure to check them out at the end of this post!
This is the best burger sauce in my opinion, since well, I like it on my burgers! You may like something different and that is totally okay!

How to make this easy In-N-Out sauce recipe:
We have experimented a lot with this recipe and feel like we have ruled out a couple things that other people have liked. Some recipes use sweet pickle relish, but we do not necessarily like sweet pickle relish so we have opted for dill pickle relish. In a pinch, my son will just chop up dill pickles and add them to the mix. Do what you like or try it a couple different ways to see what is your preferred way.
The main ingredients of this tangy sauce are mayonnaise, ketchup, pickle relish, white wine vinegar or white vinegar, and lemon juice and salt. Optional ingredients are garlic powder and onion powder as well as pickle juice. We will sometimes add a bit of this in addition to the vinegar if we want it a bit more tangy, which makes delicious burgers .
All you have to do is put these ingredients in a small bowl and mix it together. I prefer to wait on the onion, garlic and salt. I will taste it once it has been all mixed together and decided what it needs. If it needs a bit of salt I will add it. Sometimes it depends on our mood how we want it to taste. You only need a pinch of salt for this recipe.
Copycat In N Out Sauce Recipe
Make this easy sauce at home to enjoy on your hamburgers any time! Skip the line and enjoy this at home!
Ingredients
1/2

cup

Mayonnaise

2 1/2

tbsp

Ketchup

2 1/2

tbsp

pickle relish

(we do not use sweet pickle relish but you can, you can also chop up a few pickles instead and use that.)`

2

tbsp

white wine vinegar

Regular white vinegar will work

1

tsp

lemon juice

salt to taste

garlic and onion powder

optional
Instructions
Take all the ingredients and put them in a small bowl.

You can let it sit in the fridge until ready to be used or use right away!

Add to your favorite hamburger.

Store the leftover in the fridge in an airtight container.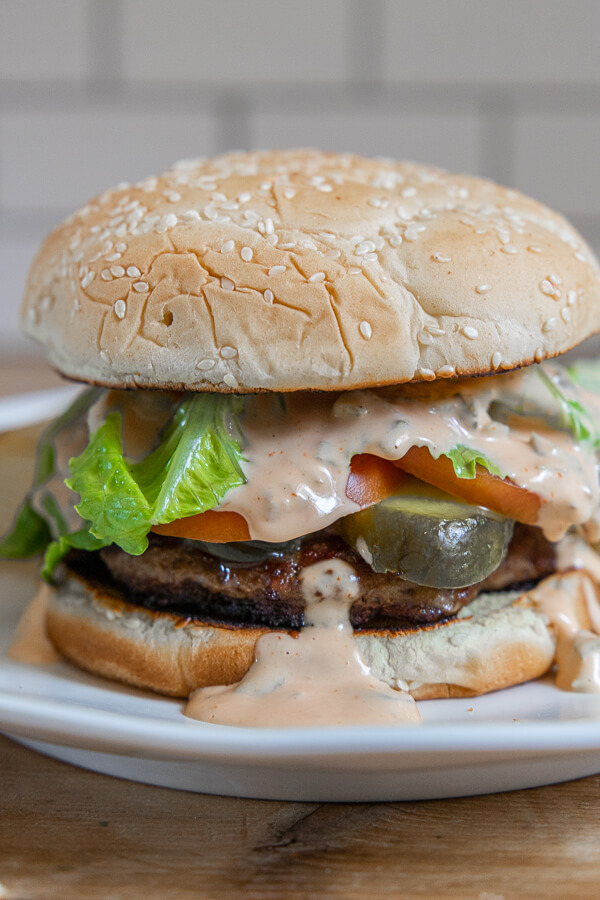 When we make our burgers, we make sure to add other ingredients and elements to the burgers to make them as tasty as they can be! Here are a couple things we like to do:
Toast your top bun and bottom bun until golden brown (we like to use the larger buns that hold the beef patties better.)
drizzle a small amount of Worcestershire sauce on each hamburger patty along with a shake of garlic salt.
A slice of American cheese is another must for me. I have on child that does not like melted cheese so we omit it, but the rest love it. Change it up by using Swiss cheese! It's amazing.
Other things we like to top our burgers with are a fresh onion slice and tomato slices and pickle slices! I cannot get enough pickles when it comes to a burger. That and some iceberg lettuce are a great way to add crunch to your burger.
If you have been to In-N-Out before you might know about their secret menu . Their animal style burger and animal style fries are some of my kids favorite things. Animal style is essentially a burger with all the fixings as well as caramelized onions. I believe they also add yellow mustard to an animal style burger.
Since this homemade version of the famous In-N-Out sauce you can adjust and change according to what you feel it needs. I think everyone tastes things a bit different and its okay to change it to accommodate what you prefer.
So, if you are a big In N Out fan, or if you have never tried this, its worth making at home! We get to enjoy our copycat burgers any time we want, without the long drive or long lines.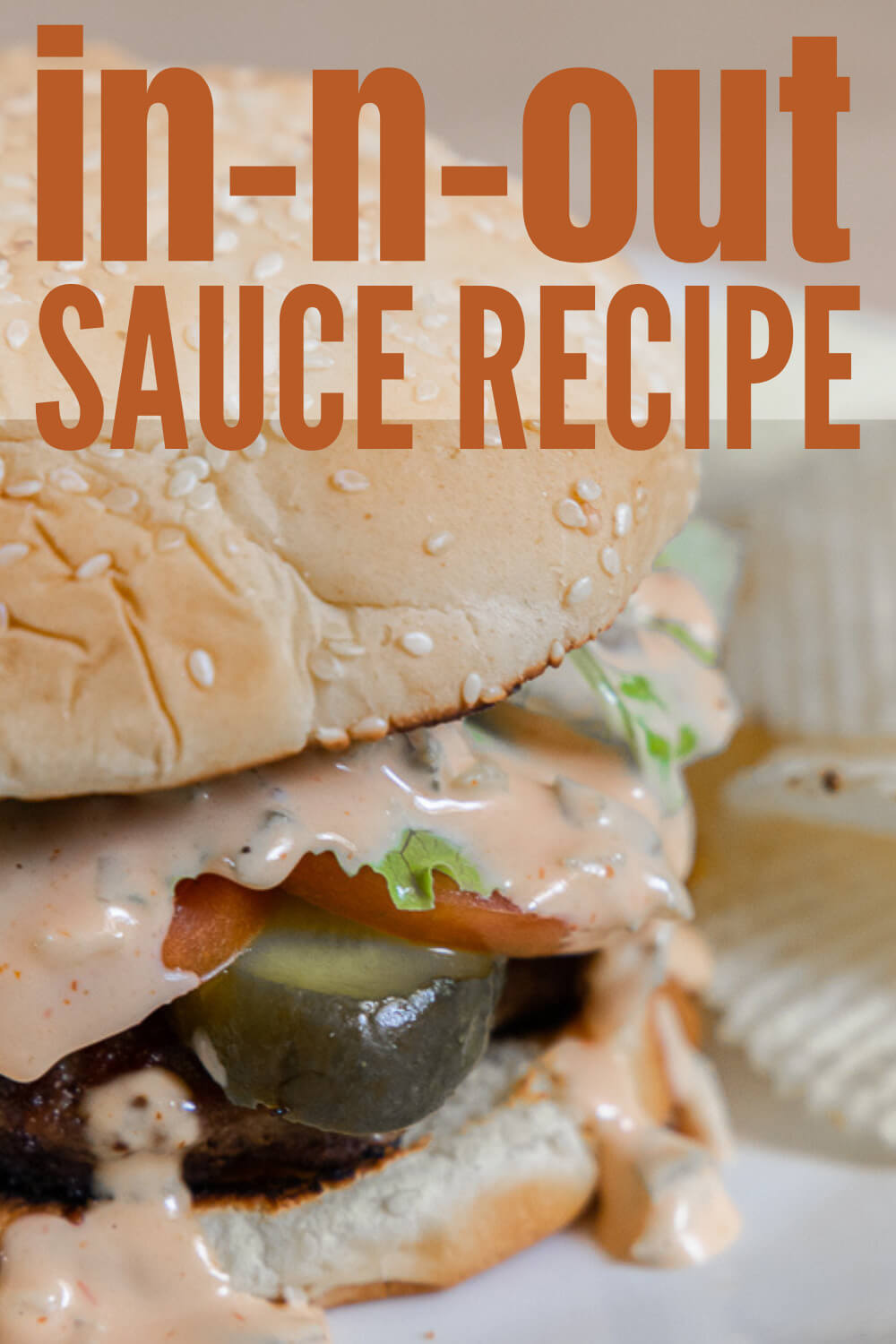 Make sure to check out the other great copycat recipes below!

Summertime Peach Whiskey Sours // Modern Glam
Healthy Pumpkin Spice Latte Starbucks Recipe // My 100 Year Old Home
Copycat Starbucks Vanilla Sweet Cream Cold Brew // My Sweet Savannah
Copycat Chick-fil-A Frozen Lemonade Keto // Tatertots & Jello

Buttermilk Doughnut Recipe // Happy Happy Nester
Red Hook "Connecticut" Lobster Roll // Most Lovely Things
Copycat In N Out Sauce Recipe // Twelve On Main
The Best Broccoli Cheese Soup Panera Copycat // Inspiration For Moms
Make sure to check out these other amazing recipes:
TikTok Air Fryer Pasta Chips Charcuterie Board Ideas
Easy Homemade Spaghetti Sauce Recipe
The Tastiest Broccoli Cheese Soup Recipe
The Most Decadent Caramel Sauce Recipe Your Family Will Swoon Over!
GET YOUR FREE GUIDE to 30 DIY projects that can be done over the weekend!
By subscribing, you will gain access to my FREE guide with 30 DIY projects that can each be done in a day, or over a weekend!
You will also receive a weekly email with some of my favorite tips, tricks, and design ideas.