Hey friends! I have been having fun this fall and decided to change things up in the living room. One thing I decided to change up was my Halloween mantel. I originally kept it pretty neutral for the fall season but decided it was time to change it up a bit.
It is honestly so easy to create fun Halloween mantels without making a huge change or spending a ton of money. I think that is why a lot of people shy away from decorating. But, with only two items, I was able to create a pretty fun Halloween mantel that will not be the focal point of the living room. That reason would be Skelly, our life sized skeleton.
If you saw my Halloween porch this year, Skelly spent some time out there, but recently the kids have been moving him around the house, kind of like an Elf on the Shelf, but we will call him the Skeleton on the Mantel. Hahahah
I was sitting on my couch today reading a book and I decided to change things up and for some odd reason I thought having old Skelly on the mantel would be fun! I do have to say it is very fun having him!
My Halloween Mantel
Simply adding the skeleton and a bunch of real pumpkins to the mantel I have created a fun and simple Halloween mantel that will definitely be a conversation piece!
I love the way he looks like he is just perched there, hanging out, and watching over the home, like he is its creepy skeleton guard.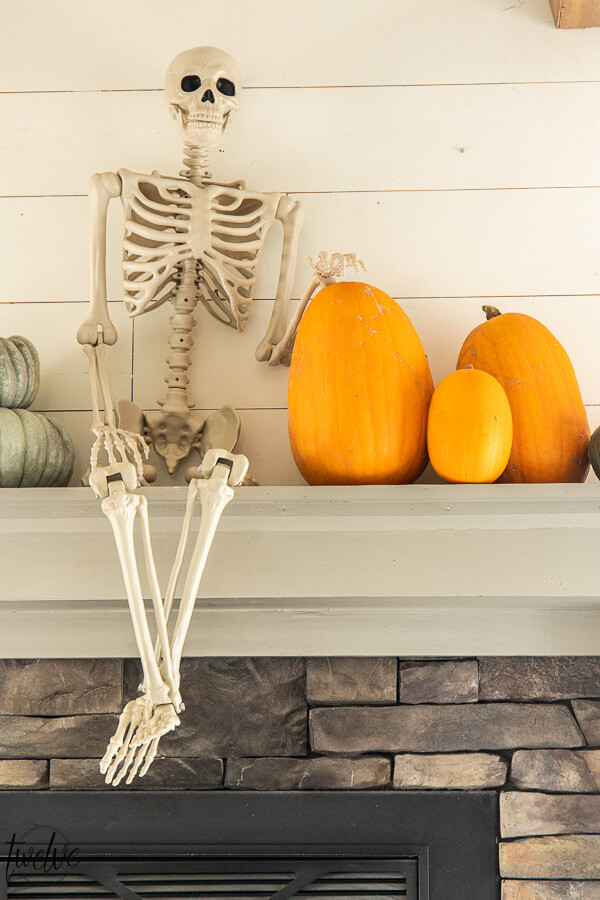 He is so happy, which makes it more fun to have on the mantel. With his casual body language, with his ankles crossed, he is no threat to anyone, he's just here to have fun:)
It still kind of cracks me up when I see him on the mantel. Its such a departure from normal mantel decor, but somehow he works.
I do have to say that purchasing this life sized posable skeleton was the best purchase of 2020! It was affordable and has given my kids tons of enjoyment over thee past month. The real pumpkins are my favorite way to accessorize any space, and my mantel is no different.
Now, I think we are ready to truly enjoy and celebrate Halloween this year.
Want more Halloween ideas? Check these posts out!
Super Chic and Stylish Halloween Printables! Get the Whole Set Now!
A Very Witchy Halloween Mantel
Personalized Stylish Halloween Sign Using My Cricut Products
30 Stylish Halloween Pillows You Need to Get Your Hands On
Halloween Wreath DIY When you dont feel like decorating at all!
Make sure too follow me on Pinterest and Instagram to keep up with all the great stuff I am pinning and sharing!
GET YOUR FREE GUIDE to 30 DIY projects that can be done over the weekend!
By subscribing, you will gain access to my FREE guide with 30 DIY projects that can each be done in a day, or over a weekend!
You will also receive a weekly email with some of my favorite tips, tricks, and design ideas.