This is a sponsored conversation written by me on behalf of Cricut. The opinions and text are all mine.
I think it's obvious I truly am obsessed with my Cricut Maker. There are so many things you can use this machine for, and today I want to show you how I made a personalized Halloween sign using my Cricut products!
I find it difficult to decorate for Halloween. Mainly because I want everything to still look pretty, simple, neutral, and inspired. Thats a hard quest when you start to decorate for Halloween. I can quickly get out of hand. In the past I have gone all out for Halloween and decorated with all the things, scary, bloody, with the screaming witch. But to be honest, I have always loved decorating for fall much more. So, I try to keep my Halloween decor simple and stylish while having a bit of fun.
Adding a touch of personalization to your Halloween decor is a really fun way to make your decor stand out from your neighbors. And there is no better way to make personalized Halloween decor than with my Cricut Maker! So today i want to share with you how I made a super cute Halloween sign using my Cricut Maker and its products.
I love making signs for my home. I have made many including this cute farmhouse sign…
For this project I wanted to make a really cute, slightly creepy, but stylish sign that went along with the porch decor I already had. I wanted something fun and whimsical also. I searched through Cricut Design Space for some Halloween images and came across a cute crow image. Using crows in my Halloween decor is one of my favorite things to do. You can see my crow printable here.
I started thinking about what I wanted my sign to say and I knew I wanted our last name to be on it, since I wanted to personalize it, I was thinking of making a fun sign that could welcome people but also be festive and Halloween inspired.
I came up with this spooky sign:
Its so fun! And with the neutral color scheme it still goes so well with my porch!
Here is a list of supplies you need to make your own Halloween sign, or any kind of wood sign:
Cricut machine…I used my Cricut Maker
1/2 inch plywood cut to size, painted or stained to your desired color
paint to use for the stencil
1 by 2 inch wood trim to use as a frame for your sign
I want to show how easy it can be to create a custom made personalized sign with your Cricut products.
(If you ever have any questions, make sure to check out Cricut.com for all the information you need!)
Watch this video below for the full tutorial on my DIY Halloween Sign!
So lets talk about my sign for a minute…I also have it laid out in pictures if you cant watch the video….
I like to use simple 1/2 inch plywood for my signs. Its thick enough to frame around but thin enough to not be super heavy if you choose a bigger sign.
Cut out your design and remove the design from the vinyl with your weeding tool
Once it is ready you want to add transfer tape to the top of this. I wait to remove it from the Cricut cut mat.
Cover the entire design with the tape
Remove the design from the cut mat and also remove the backing from the vinyl.
Arrange your design on the wood sign and secure it to the wood. Use your brayer tool to smooth it out.
This soon to be Halloween sign is ready to paint!
Once in place, remove the transfer tape very carefully.
You now have your own custom stencil! Paint it using a stencil brush.
Once dried, gently remove the vinyl stencil.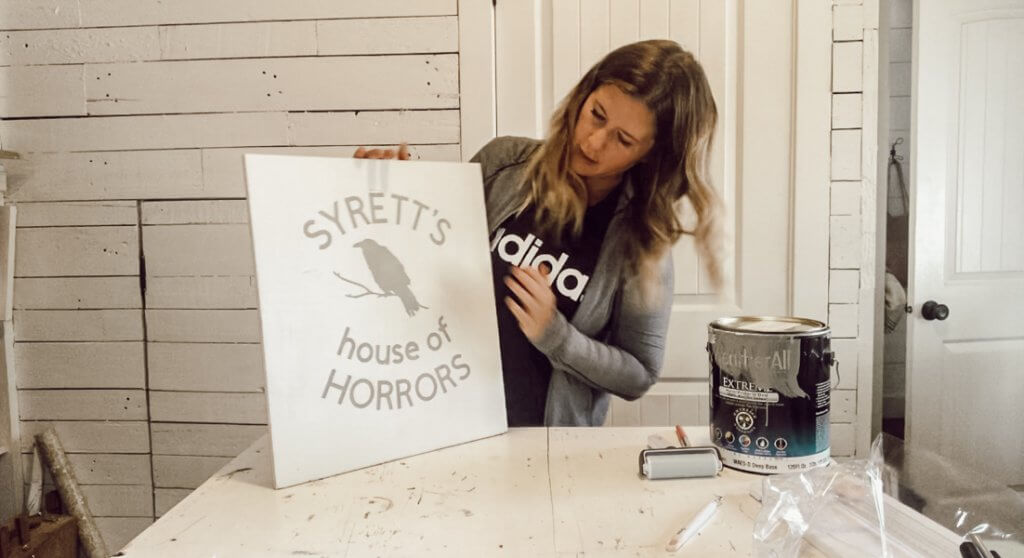 And now I have my very own personalized Halloween sign! I love how it turned out…lets have a look again….
My Halloween decor is simple. A jack o lantern, a spider web and my new cute Halloween sign! And yes, it is a house of horrors….have you seen my boys bathroom? Yikes! So scary!
But its also so cute! I matched the paint to the paint on my door so it would be a more subtle look.
Don't be too scared!
And all this was done with my amazing Cricut machine! I used my Cricut Maker, and I love it so!
Now, if you want to make this exact sign, you can customize it with your own name! Click here to access this project in Design Space!
Make sure you save this for later
Make sure to PIN IT for later!!
Want some more Cricut Projects? Check these posts out:
Cute Canvas Tote Bag Ideas with Cricut Infusible Ink
How to Use the New Cricut Infusible Ink
10 Things to Know About the Cricut Maker Machine Before You Use It
Complete List of Materials You Can Use with the Cricut Maker
How to Use Cricut Pens to Make Custom Printable Artwork
How to Use the Cricut Easy Press 2 Like a Pro!
GET YOUR FREE GUIDE to 30 DIY projects that can be done over the weekend!
By subscribing, you will gain access to my FREE guide with 30 DIY projects that can each be done in a day, or over a weekend!
You will also receive a weekly email with some of my favorite tips, tricks, and design ideas.