How to Make a Halloween Wreath With Dollar Store Skeletons
I am back with more really cute Halloween wreath ideas! I am going to share a how to make a Halloween wreath with dollar store skeletons,. Then I am sharing some wreath ideas from some of my favorite bloggers, so make sure to keep scrolling!
I am all about making seasonal decor easier! I just dont want to put a ton of work into something that is quite temporary. I also want wreaths that can be changed out if needed. I like to reuse wreath forms and coming up with ways to do that is always fun and exciting.
Items you'll need
This post contains affiliate links
This easy Halloween wreath is made using 3 Dollar Tree plastic hanging skeletons and some floral wire and a grapevine wreath. I liked the ideas of using an organic wreath form with the silly skeletons.
I decided I wanted them to look like they are excited to greet you at my door. I wanted them to have a bit of character. These hanging skeletons were 1.25 each and had a small plastic tab on top to hang the skeleton. I used some scissors to cut that off.
Next, I hung my wreath form on the wall (this is how I like to create my wreaths because they hang more accurately.
I then used some floral wire to wire the skeletons where I decided they looked best. I sat two in the center to the wreath and wrapped the wire in hard to see places, like an armpit or the hip bone. Can you see it?
Maybe just a little! But that is okay because that means I can reuse the wreath form later on if I decide. You can choose to hot glue the skeletons on the wreath form if you decide you want it to be permanent.
I wired this skeleton right at the armpit/shoulder joint. It makes it easy to hide it if you add it to these spaces.
Same with this guy. He is waving hi to my guests. I tied him to the wreath at his hip joint and shoulder joint.
I love these cute skeletons on the wreath. I think they add a touch of fun personality while keeping the wreath simple and stylish, consistent with my porch decor.
Don't forget to pin this for later!
Check out more great Halloween wreaths below!
BLOGGER'S BEST HALLOWEEN WREATH IDEAS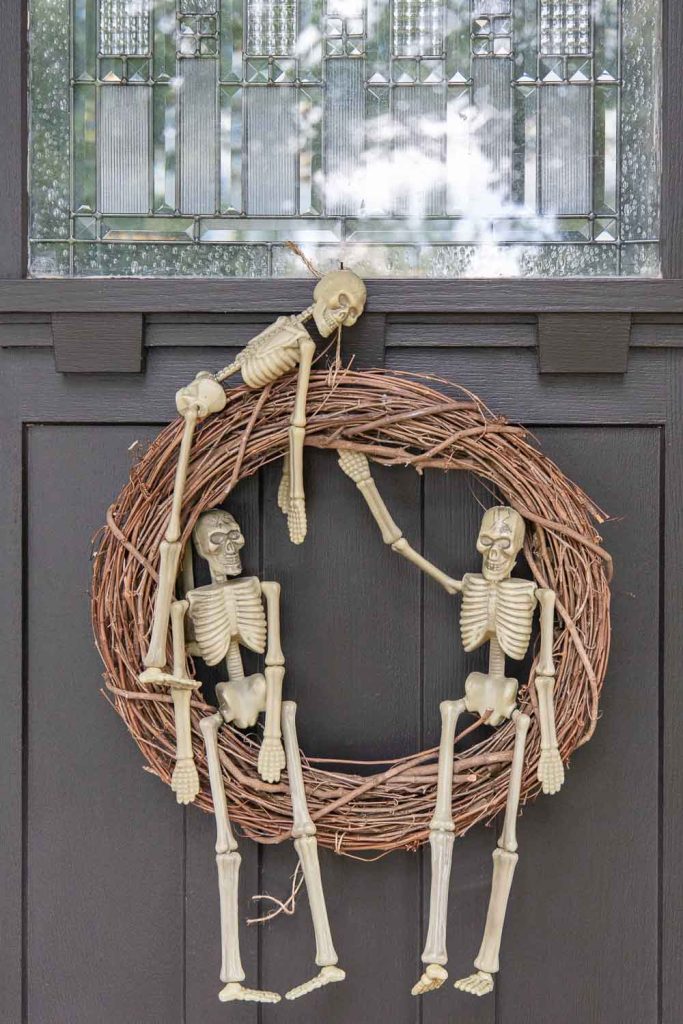 DIY Dollar Store Skeleton Wreath | Twelve on Main
How to make a Halloween wreath using dollar store skeletons! This is a quick and easy DIY wreath that anyone can make!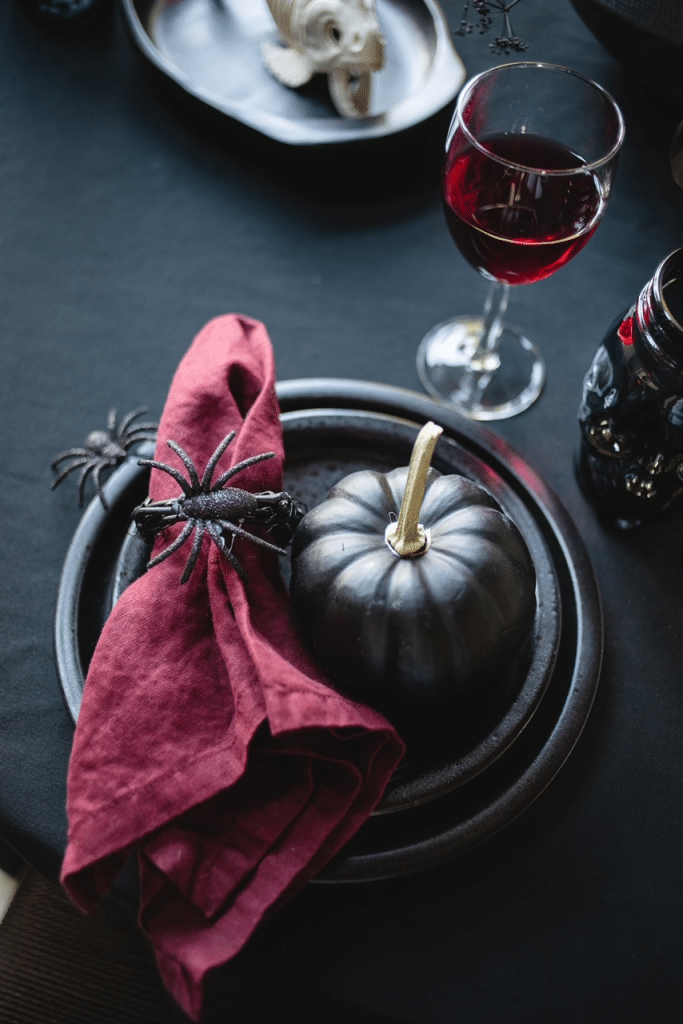 DIY Grapevine Wreath Napkin Holders for Halloween | My Sweet Savannah
Let's make these itty bitty wreath napkin holders. All you need is 4 inexpensive items to create these for your Halloween table!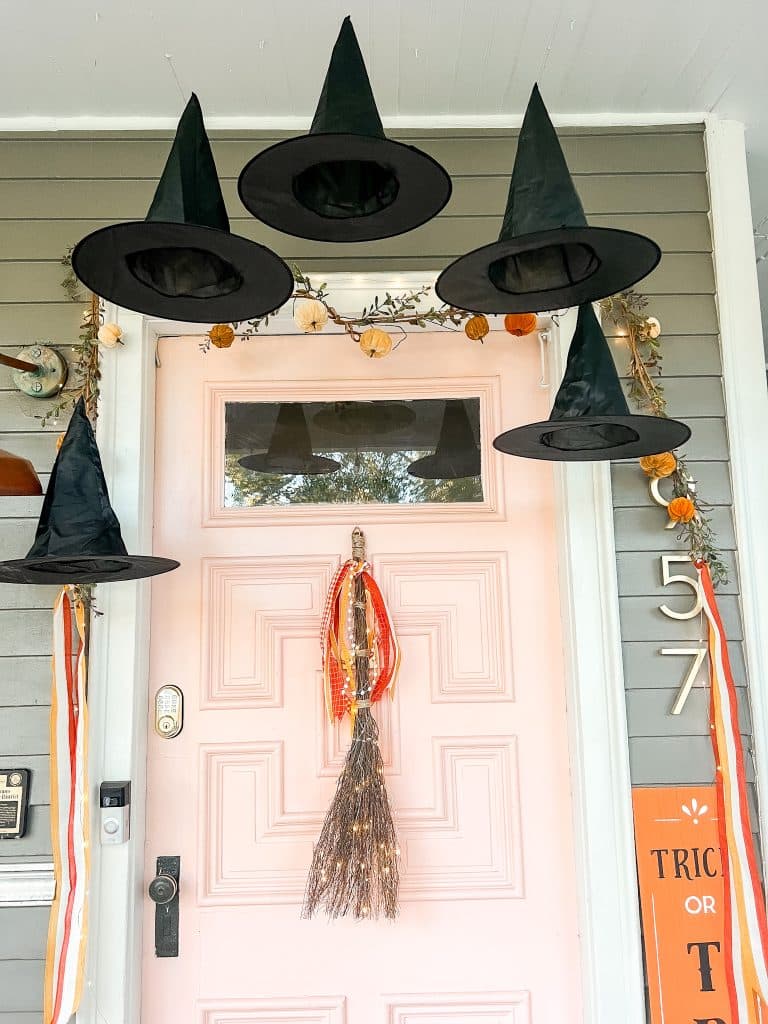 Halloween Witches Broom Wreath | Tater Tots and Jello
Cast a welcoming spell on visitors this Halloween by creating a delightful witch porch. A glowing witches broom is a whimsical wreath alternative. Battery operated shimmering lights will light the way for guests. This is a hack on the Pottery Barn version for a fraction of the price!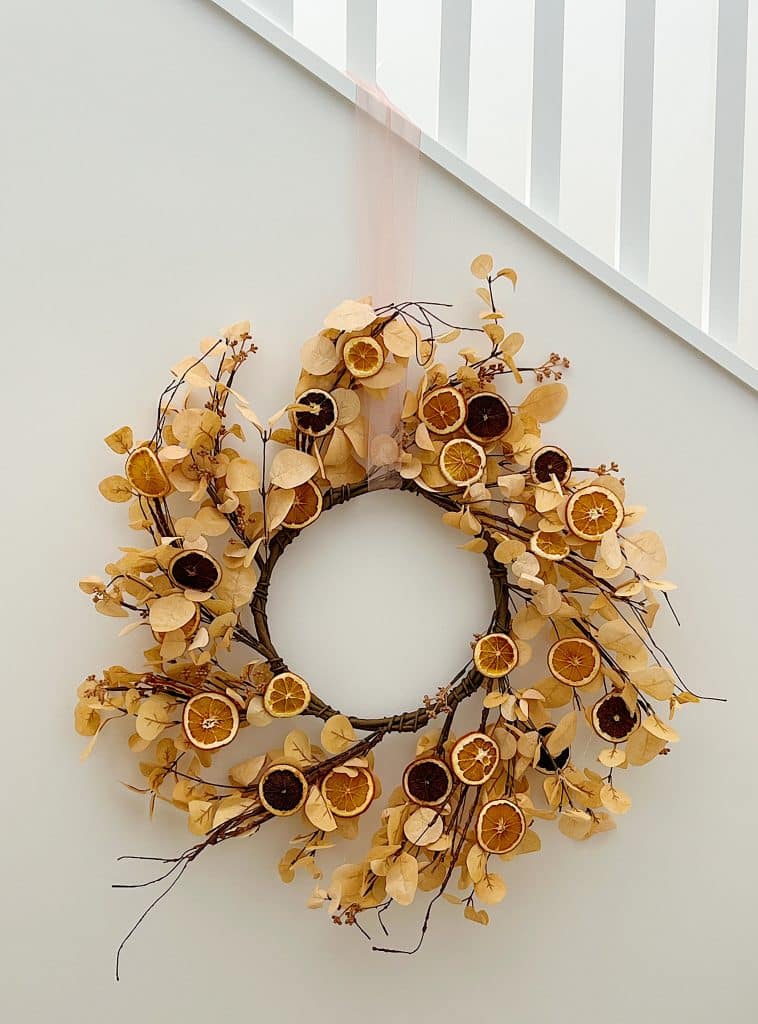 DIY Halloween Wreath Ideas | My 100 Year Old Home
I love my Halloween wreath … a timeless, elegant decoration that welcomes guests with festive charm. And it fits my style of decor.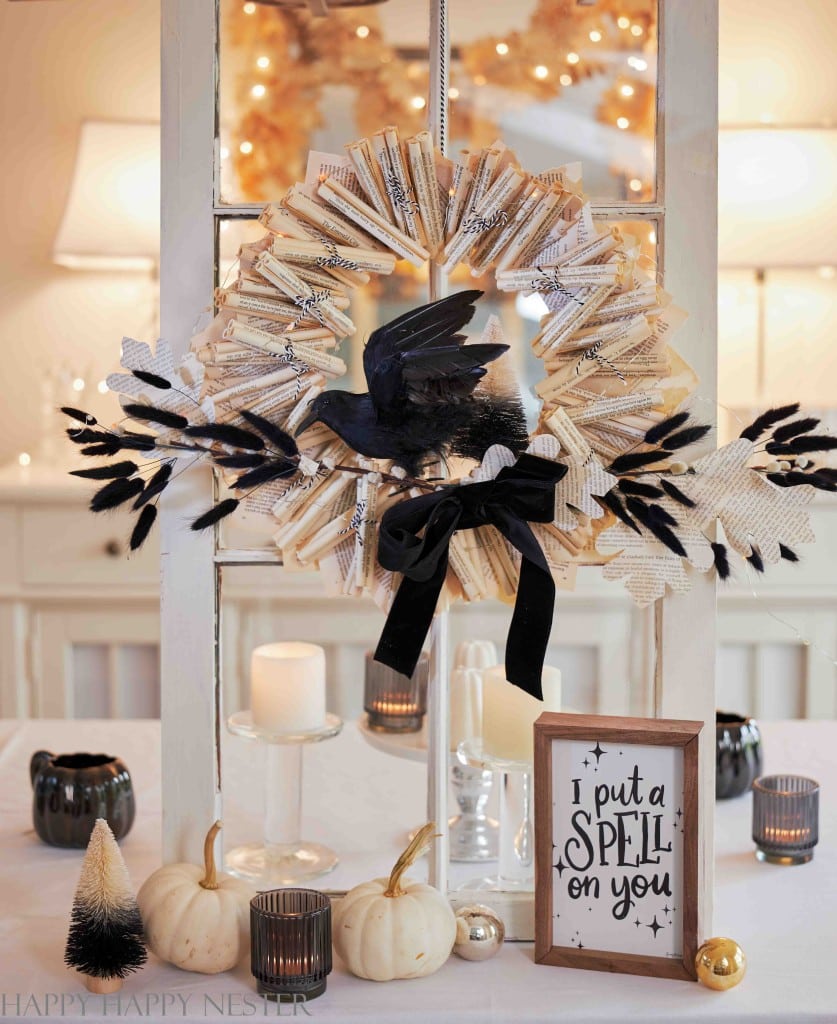 Book Wreath DIY | Happy Happy Nester
This Book Wreath is all decked out with a raven and lots of rolled-up pages. It's definitely a unique wreath. And this budget-friendly paper wreath only requires a few supplies but a little time commitment to roll the book pages.