Minimal Fall Front Porch Decor That Is Simple and Elegant
Hey there friend! I am excited for today's post! I have been working really hard on the makeover of our front porch and the first thing I got to do once it was finished was to decorate it for fall! I will be doing a full post regarding all different things we used to give our porch a new facelift. The finished product is gorgeous and now i get to share my early fall front porch decor on it!
Since it is still early and not quite fall yet I wanted to decorate the front porch with some minimal fall decor. Soon it will be full blown fall, full of pumpkin patch trips, pumpkin spice latte and so much more! I wanted to create something that has warmth and texture, but that doesn't scream that it is obviously fall.
I have been really excited to decorate the front porch after tearing out all the of the old porch decking and replacing it. We also got both of our crib mattress swings hung and let me tell you, they are the most comfortable place to sit and relax or even to take a nap. I love this space and it turned out just like I hoped it would.
Before, the decking was a faded and worn out trex type decking. I will go out on a limb here and say that I do not like that kind of decking. From the minute we installed it I was not impressed and it required a lot more maintenance than I expected. It was hard to keep it looking fresh and clean as it faded easily and just generally did not hold up well.
Something that always bothered me was that fact that the decking was faded and could not be revived and it contrasted with our darker beams on the front porch. I was able to match the new decking pretty close to the trusses, so I feel like it has a more cohesive look.

But I digress, lets talk about fall front porch decor and my fabulous fall porch decor tour!
From hay bales to corn stalks, pumpkins, fall foliage, and colorful mums, there are so many simple fall decor ideas. This year I am choosing to keep things really simple(at least for now). I wanted to incorporate some traditional fall colors.
With my new porch swings flanking the sides of the porch, thy are the perfect place to add just a touch of warm colors. I added matching fall inspired throw blankets to the swings so that you could coy up with a blanket when the weather gets crisp. A cozy porch swing and a soft blanket are just about perfection in my opinion
.
I decided to flank the sides of the new stairs with some colorful rust colored mums. I love using white mums usually but loved the color of these mums that I got from Walmart! I can't wait to see them in full bloom.
When it came to the front door, the new black that I applied last year is very striking with the fall colors. I decided to go cozy once again and add an antique ladder with more cozy blankets so that as we spend time out here we can use them. Since the front porch is completely covered I feel comfortable keeping them on the porch for now.
As the leaves begin to fall in our yard, I thought it would be fun to add our leaf rake and a basket of leaves. I think it is fun to add real leaves to my porch decor. Fall leaves are my most favorite thing about fall decor. I think they are the perfect finishing touch to any outdoor fall space.
I was going for a minimalist look for the front porch. In the future, I would like to add some black pots eventually. I just can't quite decide what I want to do. Really I think I would like to plant a small tree in one of our large planters and set it to the side of the door. But I think that will have to wait until spring.
I omitted a fall door wreath for now but I am planning to create a new fall wreath to add to the porch eventually. Like I said, this is early fall front porch decor. Its the vehicle that will get me from summer to fall. Right now I am using my natural fiber hat as a wreath! I love the color and style of this hat and I think it looks great as a front door wreath.
There are so many simple ways to add fall decor to front porches.
Here are some great fall porch decor ideas:
ornamental kale
colorful wreaths
bright orange pumpkins
bales of hay are a fun addition to a porch
a fall welcome mat
bushel baskets
pumpkin topiaries
white pumpkins
corn stalks
fall flowers (fall mums are great)
natural elements such as colorful leaves
TIPS:
Choose a color scheme and use those colors in different areas of your decor. I chose some really pretty blankets for the porch swings and that rusty color was repeated in the decking, as well as in the rust colored mums on the stairs.
Many of these decor ideas can be used on a large porch or a small front porch. There are so many great front porch decor ideas out there, and these are just a few!
My new porch is a great place to sit and enjoy the gorgeous fall weather. Its the perfect time to get ready for fall, so that when it is in full swing, you can sit back and enjoy it. I think my inviting fall porch s just the beginning of my fall decor this year.
Now make sure to check out all the other amazing fall idas below!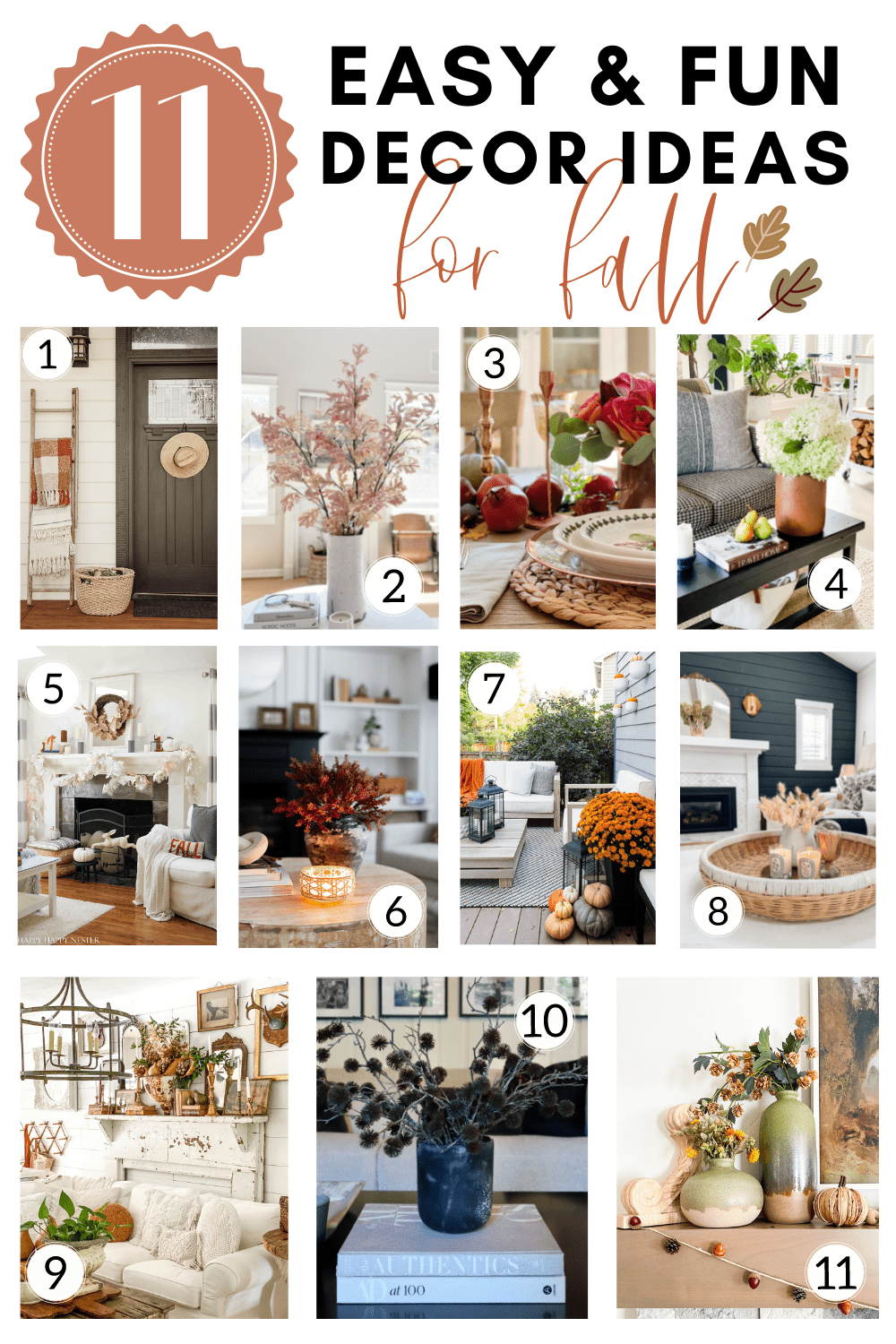 Minimal Fall Porch Decor by Twelve on Main
Simple Fall Decorating Ideas to Get Excited About by Pasha Is Home
Fall Table Ideas For Your Dining Room by My 100 Year Old Home
Four Simple Things to Refresh Your Home For Fall by Most Lovely Things
Paper Wreath DIY by Happy Happy Nester
Touches Of Fall by Craftberry Bush
Minimalist Fall Decor Ideas by Inspiration For Moms
Super Easy and Minimalist Fall Decor Ideas by Modern Glam
Create Simple Fall Mantel Decor with 3 Unique Accessories by Robyn's French Nest
Minimalist Fall Decor by My Sweet Savannah
Simple Fall Mantel Decor Ideas by The Happy Housie
Make sure to check out these other great fall posts!
Affordable Fall Home Decor Ideas That Last The Entire Year
Simple Outdoor Fall Table Decor Ideas
15 Organizing Tips to Help You Prepare for Fall
Simple Fall Floral Arrangement From My Backyard
15 Organizing Tips to Help You Prepare for Fall
GET YOUR FREE GUIDE to 30 DIY projects that can be done over the weekend!
30 DIY Projects to do this weekend!