I think my favorite meal of the day is breakfast. I love all things breakfast. Pancakes, waffles, eggs, french toast, hash browns, and so much more. I love them all! One thing my family loves is breakfast burritos. We make them all the time, and often make extra so that they can easily heat up the filling and make themselves breakfast when I am not around.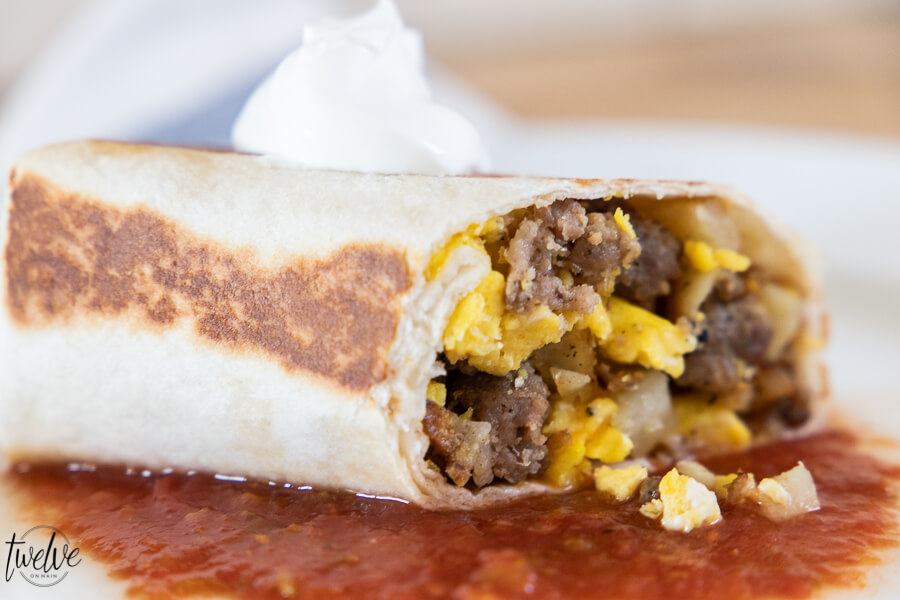 I think its pretty self explanatory how a breakfast burrito works, and I really only want to share this combination because it is one oof our absolute favorites. I also want to share how we make extra, and can reheat them through the week for a quick and wholesome breakfast that is still homemade and fills you up.
When I make these breakfast burritos, I make a large batch. I use a couple potatoes, a package of Jimmy Dean sausage, and about 12-16 eggs, depending on how much. want to have for the rest of the week.
The secret to making these breakfast burritos really easy is the use of my Air Fryer. I use this to crisp up the potatoes while the sausage and egg cook up. They get perfectly crispy and you don't have to watch them, flip them and make sure they don't burn!
I start these breakfast burritos by peeling my potatoes(you can use homestyle hash browns cut into squares as well) and dicing them into small squares.
I pour a small amount of olive oil on them and stir them around. Then I pour them into my Air Fryer and turn it on 350 for about8 minutes.
They come out perfectly crispy!
While the potatoes are cooking, I cook up the sausage in a large pan. Once the sausage is cooked I remove it from the pan and let it drain on a paper towel. I use the same pan to cook my eggs in. I whisk up 12-16 eggs with a small amount of milk and scramble them in the pan. When they are almost completely done, I add my sausage and potatoes into the mix. I let everything cook up for another minute until the eggs are fully done.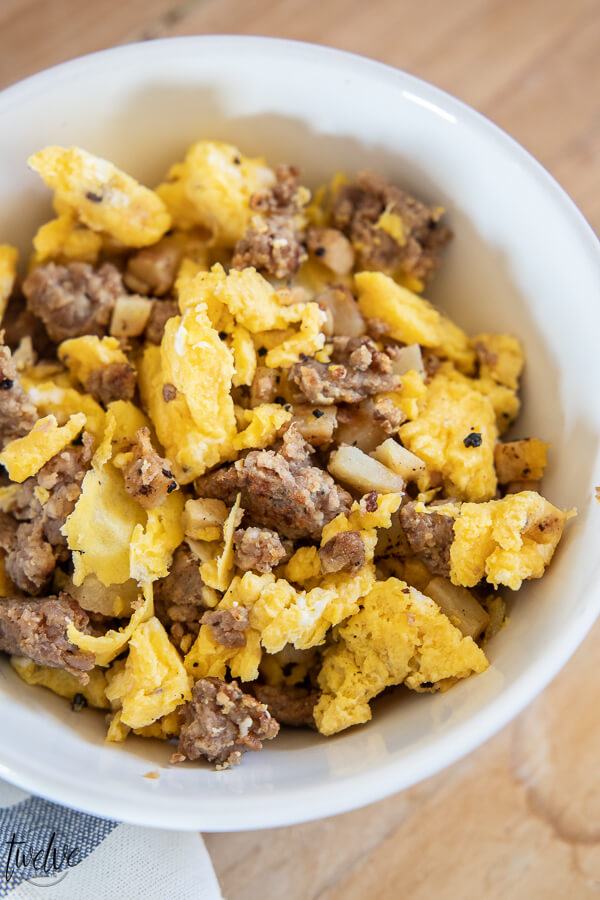 This makes quite a bit of filling. Sometimes I will make all the burritos and freeze them or keep them in the fridge for a couple days. Sometimes I put the leftover filling in a tupper ware and they can heat up just the amount they need and make a breakfast burrito andThe kids can heat them in the microwave or they can toast them up in a pan, giving the flour tortilla a crispy edge. You could also reheat them in the Air Fryer! I find my air fryer is perfect for reheating and giving leftovers a bit more life!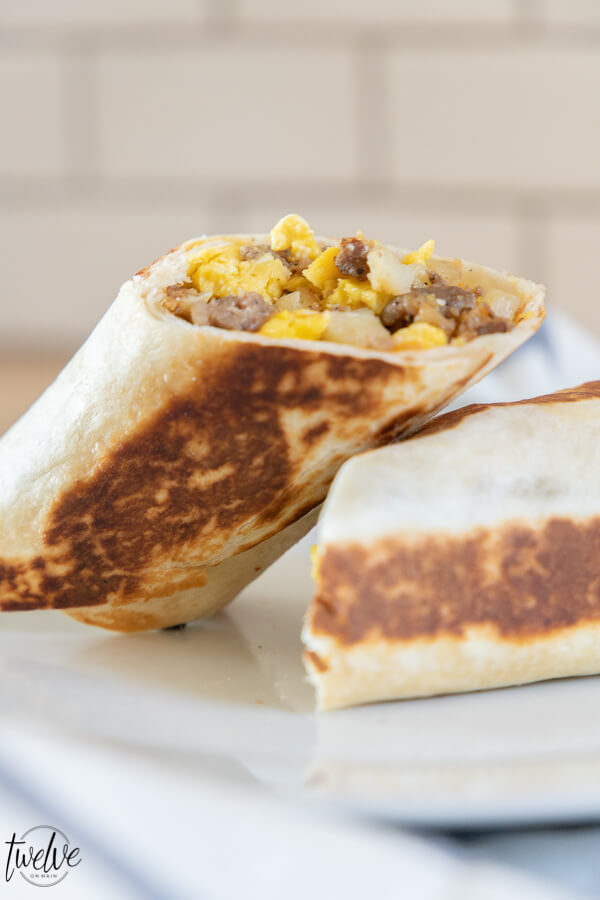 I love to make me a nice big breakfast burrito, wrap it up and brown and crisp up the edges of the burrito. We love ours with sour cream and salsa. You could add avocado, as well as other veggies including peppers, mushrooms, and kale or spinach.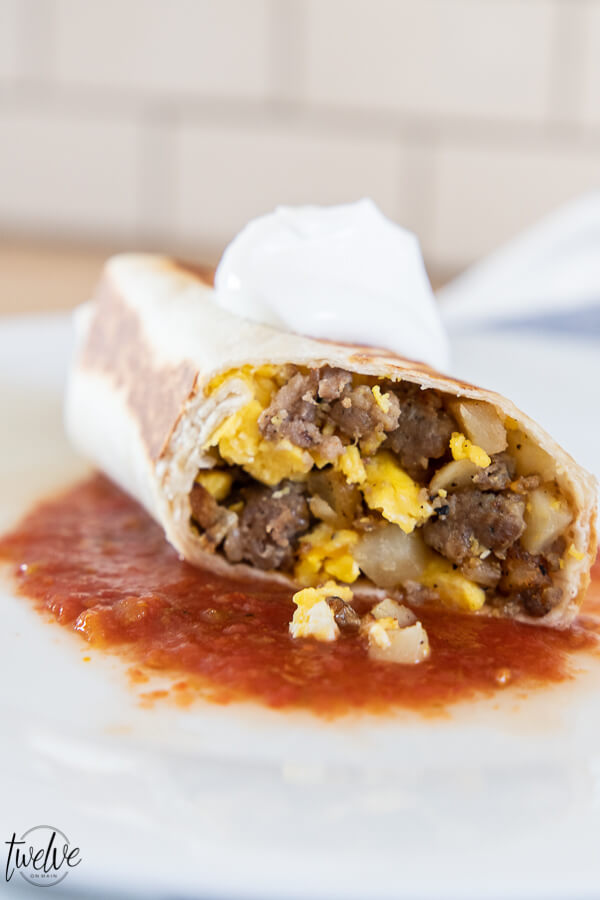 This is a simple go to breakfast and we love them. The potatoes are a great way to make these burritos go further and they add tastiness and texture to the breakfast burritos.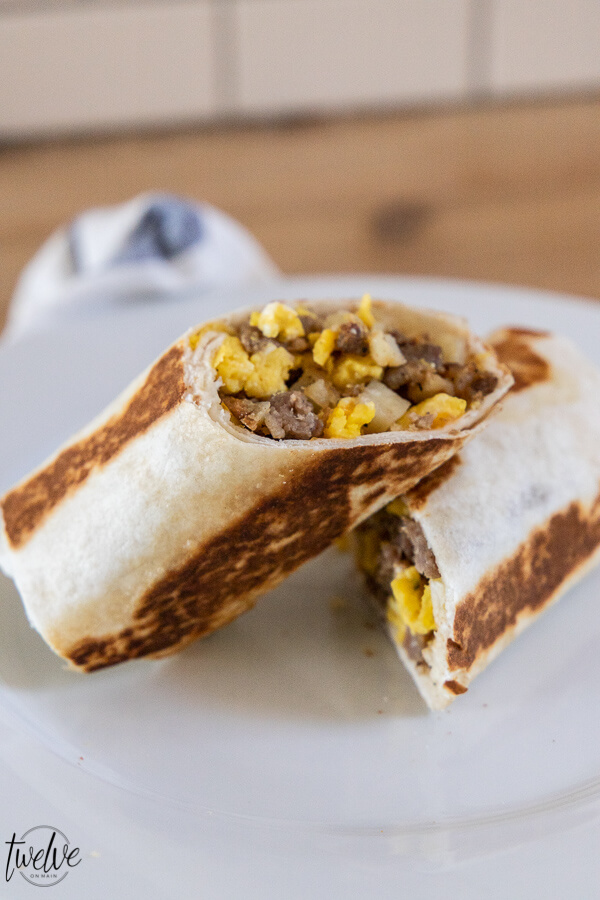 Want more great breakfast recipes?
The Easiest Crustless Quiche Recipe Ever
Easy Homemade Bisquick Mix Just Like the Real Stuff!
Super Easy Light and Fluffy Blender Whole Wheat Pancakes
Easy and Delicious Flakey Biscuits Using Sourdough Discard
The Tastiest Sweet Potato Hash You'll Ever Eat!
Light, Fluffy and Super Yummy Sourdough Pancakes
Our favorite breakfast burrito recipe: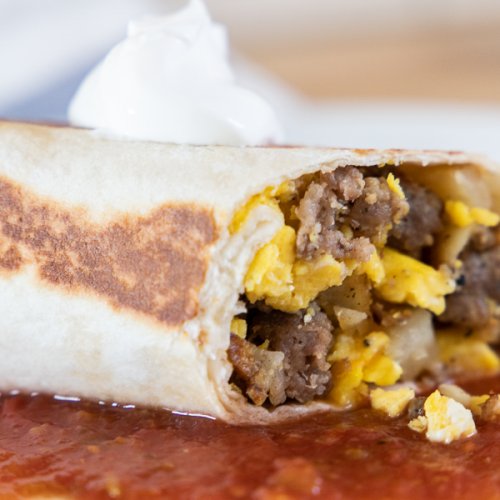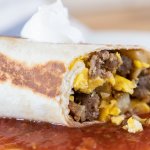 Sausage, Egg, and Potato Breakfast Burrito Recipe
How to make one of our favorites! Sausage, egg and potato breakfast burritos! These are the perfect breakfast to make extra and eat it all week long!
Ingredients
12-16

large

eggs

1

package

sausage

(we love the jimmy dean sausage)

2

potatoes

peeled and diced

olive oil

salt and pepper for taste

salsa and sour cream to top

(you can also add avocado)

flour tortillas

(you can use whatever kind of tortillas you like)
Instructions
I like to use my Air Fryer to cook up my potatoes. Once they are diced up I pour a small amount of olive oil on the potatoes, toss them around and cook them in the fryer for about 8 minutes.

While they are cooking, I cook up my sausage, remove from the pan and let drain while I scramble my eggs. When they are just about done, I add the sausage and potatoes back into the egg mixture and finish off the cooking.

This makes a large amount of filling. You can refrigerate any leftovers or freeze them!

You can also assemble all the burritos and freeze them or keep them in the fridge.

I like to keep the filling separate and the kids can heat up just the amount they need and whip up a quick breakfast.

We love these breakfast burrito recipe and hope you do too!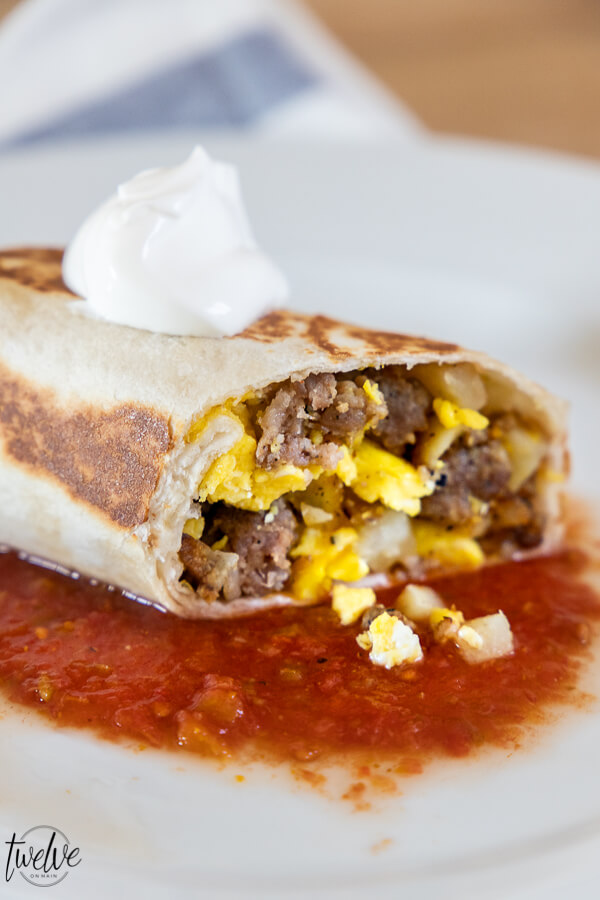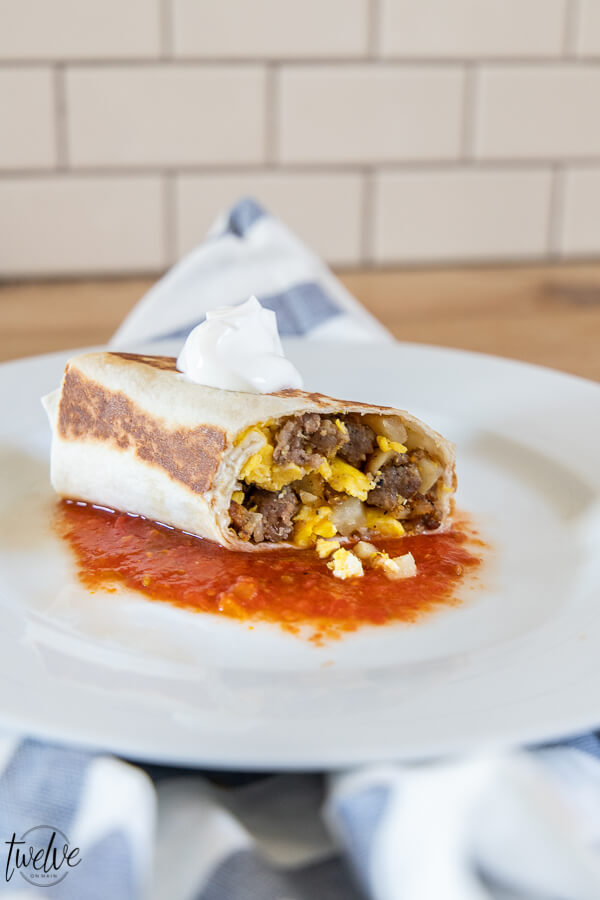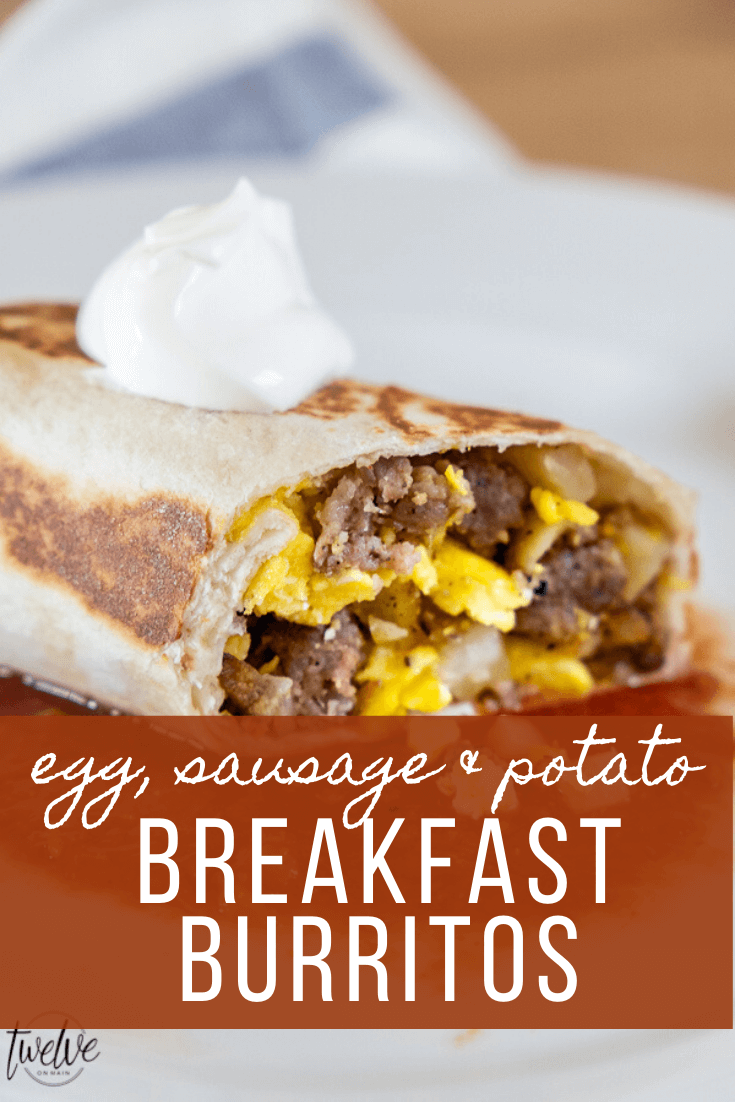 GET YOUR FREE GUIDE to 30 DIY projects that can be done over the weekend!
By subscribing, you will gain access to my FREE guide with 30 DIY projects that can each be done in a day, or over a weekend!
You will also receive a weekly email with some of my favorite tips, tricks, and design ideas.