Sourdough is one of my most favorite things. Over the past 8 months as I have been working on healing my gut, and being the most healthy. I can be, sourdough seems to me the light in my lifestyle change. I have given up gluten and most dairy and I can tell you it has been hard. The thing I have missed most was my easy sourdough pancakes. The only problem, they aren't true sourdough because you use flour and make them immediately, so you don't get that fermentation of the flour. My overnight sourdough pancakes are just the right combination of the fluffy, flavorful pancakes I love with all the benefits of long fermented sourdough.
This is a super easy sourdough pancake recipe using sourdough starter discard, but the difference is, you let it sit on your counter overnight and in the morning you finish mixing up the pancake batter and then you can make the most amazing sourdough pancakes.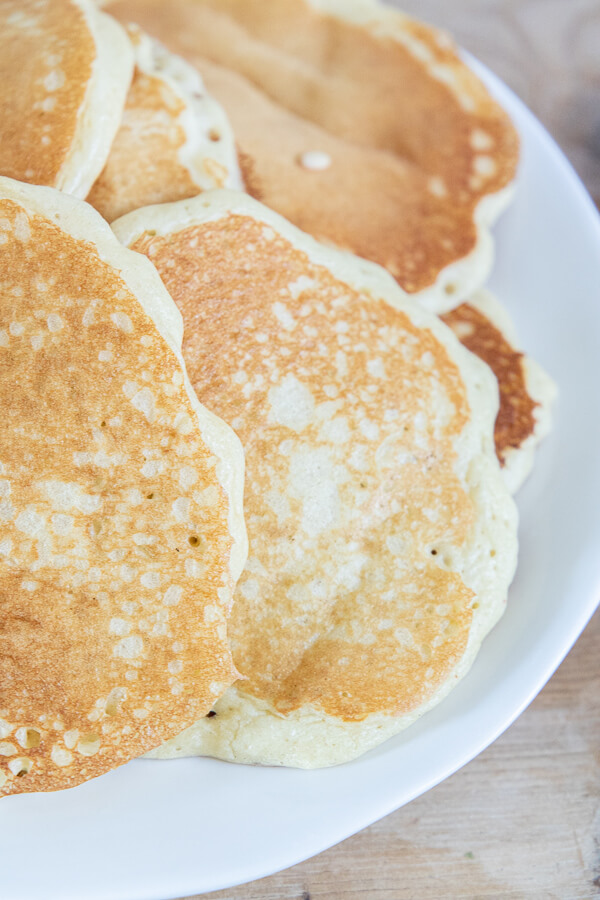 There are a few things that will be different about this pancake batter. First, it will almost seem more like a dough consistency instead of a runny pancake batter. This took some getting used to. It will have that distinct sourdough smell and the flavor is out of this world.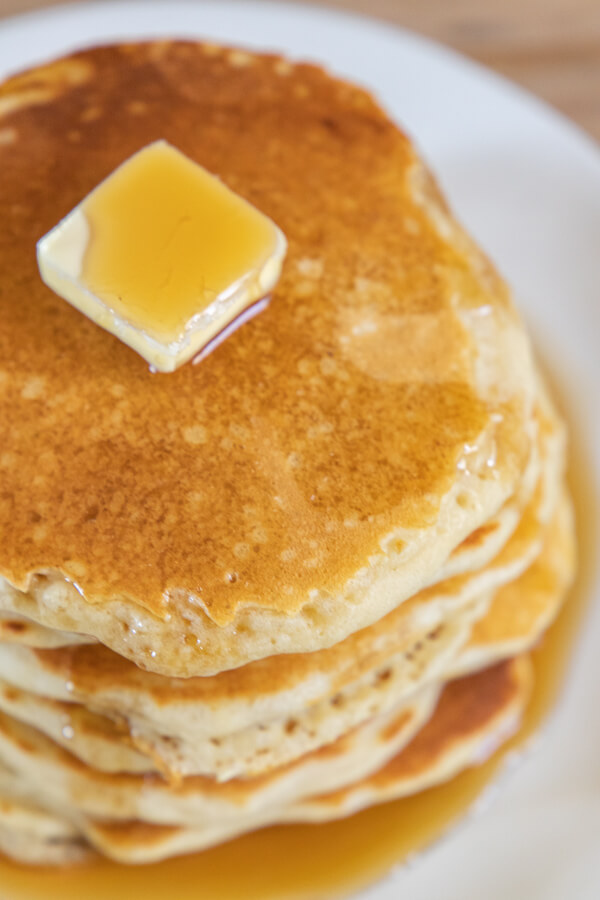 Lets talk about how to how to make these easy overnight sourdough pancakes:
This is super easy to do, to begin you just need to mix up the flour, leftover sourdough discard, and milk in a large mixing bowl. You will then cover it with a towel or plastic wrap and let it sit on the counter overnight at room temperature. This will allow the good bacteria to break down and ferment the mixture.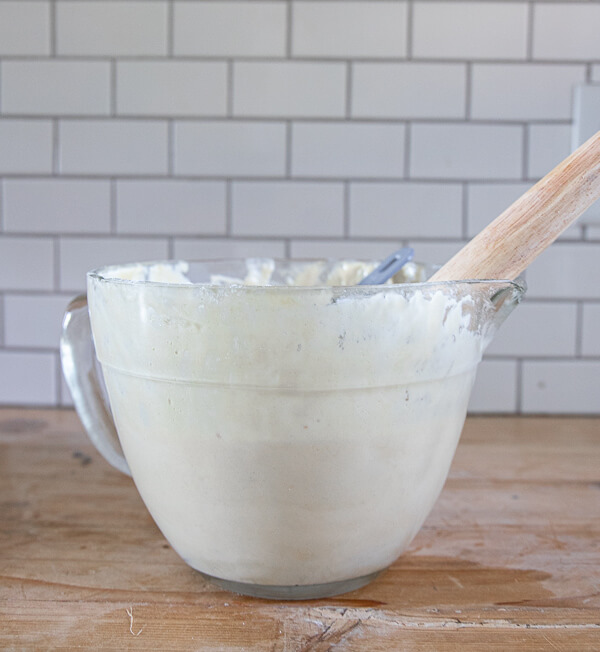 The next morning when you are ready to mix up your pancake batter, you will add the rest of the ingredients which include honey, salt, baking powder, eggs, vanilla extract, melted coconut oil or melted butter, and baking soda to the mixture. Mix it well. The batter will be thick and have a slightly different texture because of the long ferment. Its okay though! You can add a bit more milk to it to loosen the batter if you feel it is too thick.
Heat your cast-iron skillet or griddle on medium-high heat. Ladle about 1/3-1/2 cup batter onto the pan and let it cook until you see bubbles forming and the sides are starting to look slightly done. Flip pancake once. I do not like flipping them more than once. I feel like it ruins the fluffy texture of the pancakes. The cast iron skillet gives the pancakes a crispy edge that is so yummy.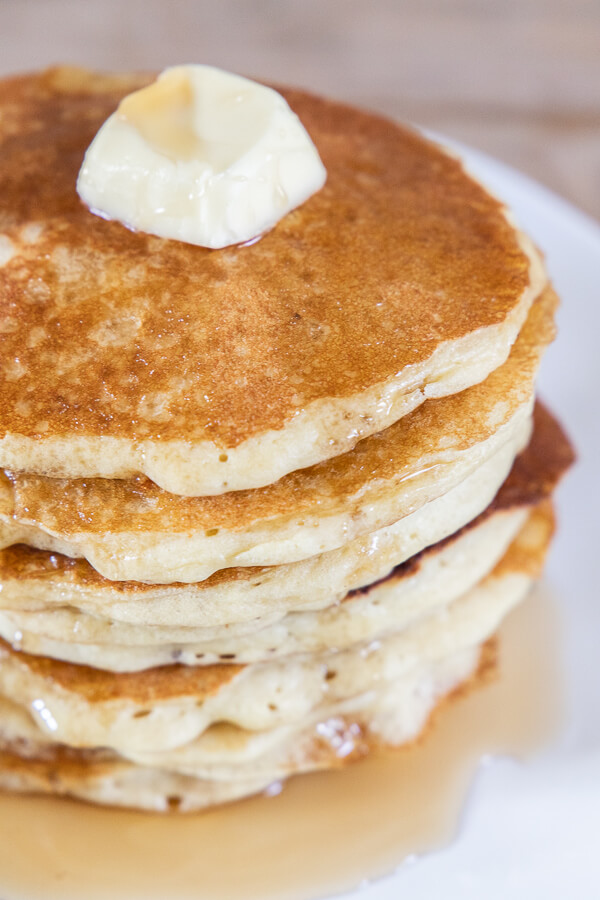 I top mine with peanut butter and real maple syrup. I am a sucker for peanut butter on my fluffy sourdough pancakes, and real maple syrup is unmatched. Fresh fruit would be another amazing option to put on top of these pancakes. Add some chocolate chips to the pancakes to feel like you are really indulging.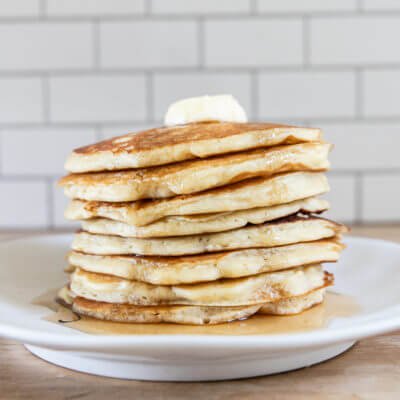 Overnight Sourdough Pancakes
These overnight sourdough pancakes are so easy to make, taste amazing and are the perfect breakfast anytime! All you have to do is let it sit overnight!
Ingredients
2

cup

flour

1

cup

sourdough starter

4

tsp

baking powder

1

tsp

baking soda

2

tbsp

honey

1

tsp

salt

1 1/2

cup

milk

1

lg

egg

2

tbsp

liquid coconut oil or melted butter

1

tsp

vanilla extract

dash cinnamon

optional
Instructions
Mix your flour sourdough starter, and milk in a large mixing bowl.

Cover with plastic wrap and let sit overnight at room temperature.

In the morning when you are ready to make them, add the rest of the ingredients, including the egg, baking soda, baking powder, salt, honey, vanilla, coconut oil, and cinnamon(optional)

Mix it all well, and add a bit more milk if you feel it is too thick. The texture of the batter will be slightly different because of the long ferment process. It will seem more doughy.

Ladle about 1/3-1/2 cup of batter onto a heated cast iron skillet or non-stick griddle. Flip when the batter begins to form bubbles.

Serve hot with butter and pure maple syrup or add peanut butter to them for an even more flavorful experience!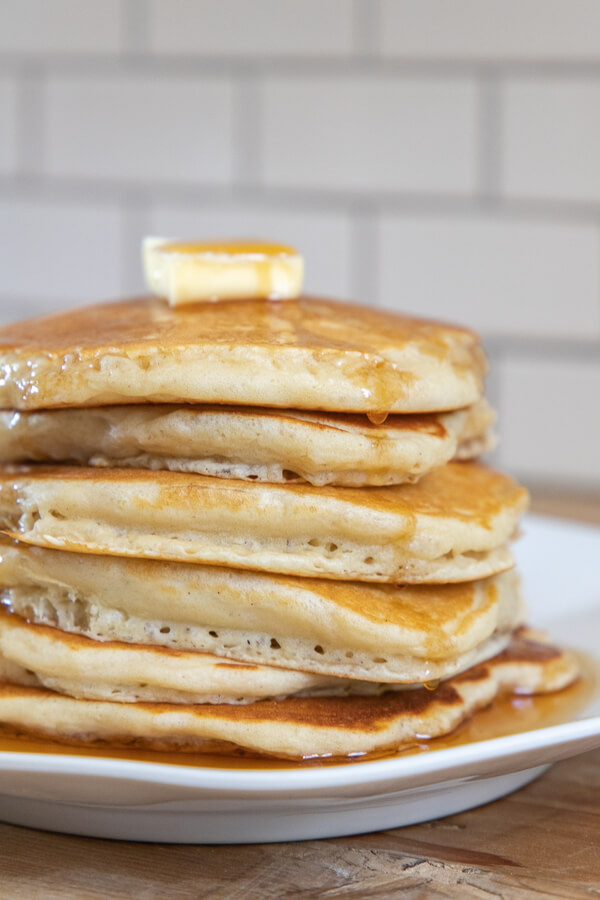 This simple batter makes amazingly fluffy pancakes. It is a great way to use your sourdough starter, and it feels good to provide a healthy yet tasty option for my family. I have found that I am able to digest these pancakes much better than my sourdough discard pancakes, or any other regular pancake recipes.
The overnight method allows the protein to be broken down, similar to true sourdough bread. I use goats milk in my pancakes but you can also use non-dairy milk, which I have also used. I find that I can tolerate goats milk more than regular milk from cows.
These have such a delicious flavor, with a little bit of butter and a drizzle of maple syrup you will be in heaven! If you have excess sourdough starter, this is the perfect way to use it up!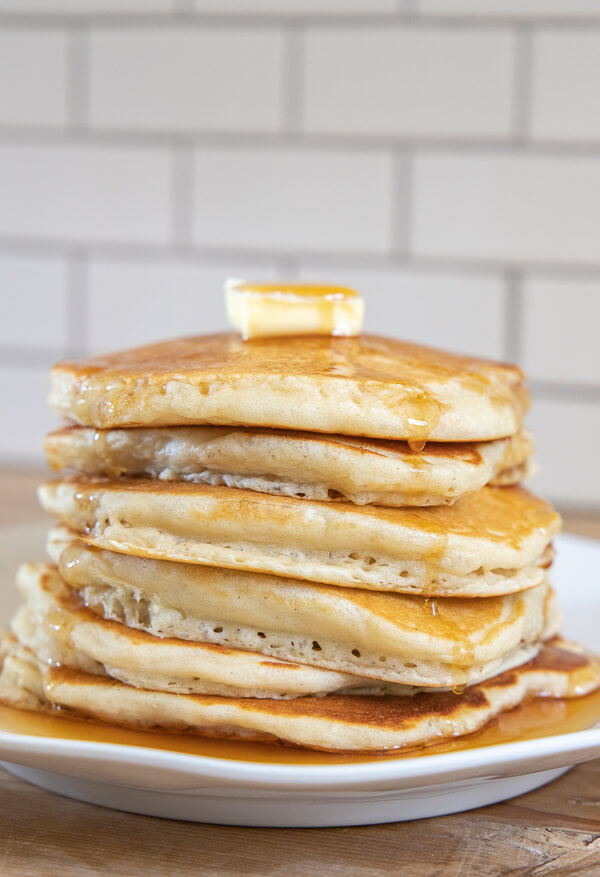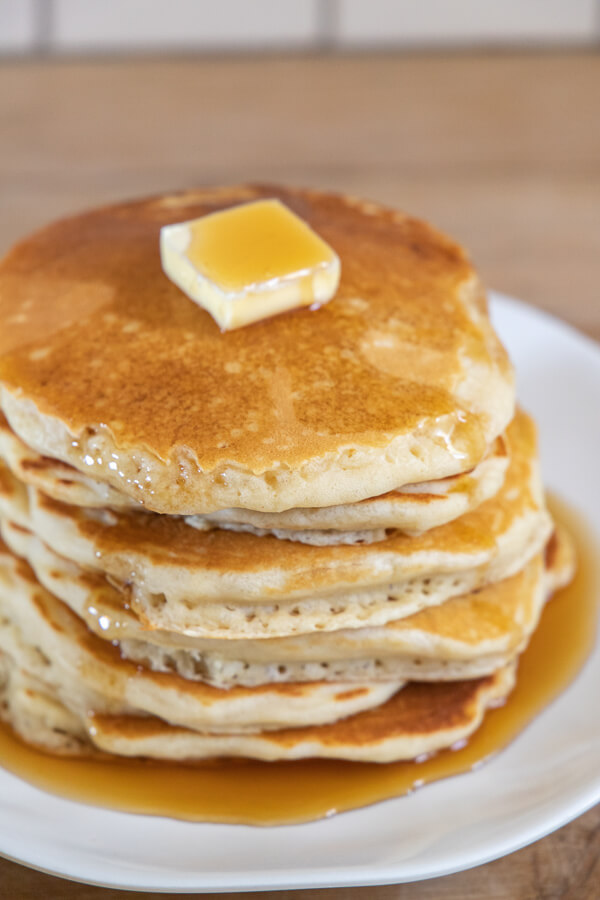 Are you looking for more sourdough recipes? These are some of my absolute favorites!
How about more pancake recipes?
Light and Fluffy Banana Oatmeal Pancakes, Low Fodmap and Gluten Free
Light and Fluffy Oatmeal and Sourdough Discard Pancakes
Light, Fluffy and Healthy Oatmeal Pancakes
Super Easy Light and Fluffy Blender Whole Wheat Pancakes