Sometimes when we move into a home, we love so many things about it. And sometimes there are things we do not love. Eventually we find ourselves deep in DIY projects or have hired someone to change things for us. I find fireplaces to be a big thorn in home owners sides. Fireplaces can become dates very quickly and sometimes they can just be downright ugly. Fortunately for us, there are limitless possibilities of what we can do to make them better. Today I want to show to over 30 amazing fireplace makeover ideas.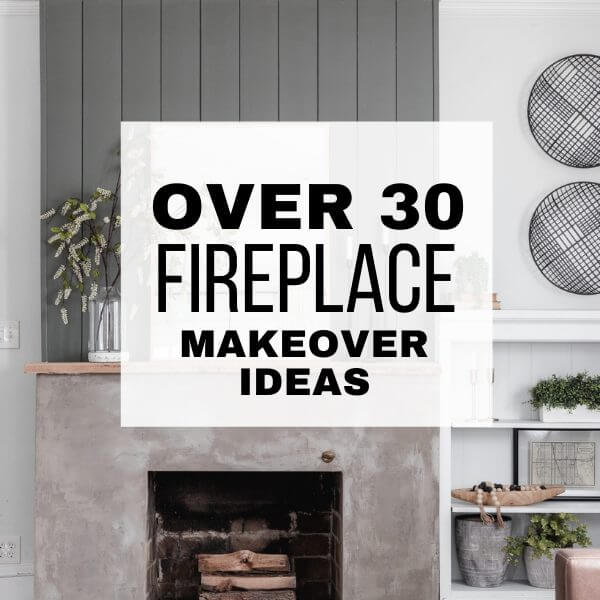 When it comes to fireplace makeovers there are a million different ideas out there of things you can do to make them look better.
One of the easiest and most popular (and inexpensive)ways to update a fireplace is to paint it.
Whether your fireplace mantel is brick, rock or wood, you can easily paint over it and give it an updated look. There are certain things you need to make sure to consider including deep cleaning the mantel surface, prepping the surface with a primer and by using a good heat resistant paint.
In addition to painting a fireplace you can use techniques such as a German Schmear which adds a plaster kind of material and is added spread across the surface of the rock or brick, covering part of the surface and filling in the cracks.
Another popular fireplace makeover option is to change the fireplace surround by adding new marble tile, brick or other materials. This can quickly update an outdated fireplace.
There are so many tile options out there and if you have a fireplace that you can work with, tile is a great option. A faux brick surround is another great option. You can use thin brick tiles, or a faux brick panelling to create a cozy brick look.
Adding a new wood mantel to a fireplace makeover is a great way to update an ugly fireplace.
By painting an ugly mantel or by building an entire new one without tearing out the fireplace, you can give your fireplace an immediate transformation. We build a new mantel for out family room fireplace and it made such a difference!
With all these different options available I wanted to share over 30 fireplace makeovers that i found that showed some great ideas, tips and tricks to give your fireplace a new look.
Keep scrolling to see all the beautiful fireplace makeover ideas and click the link below the image to read more about that specific project.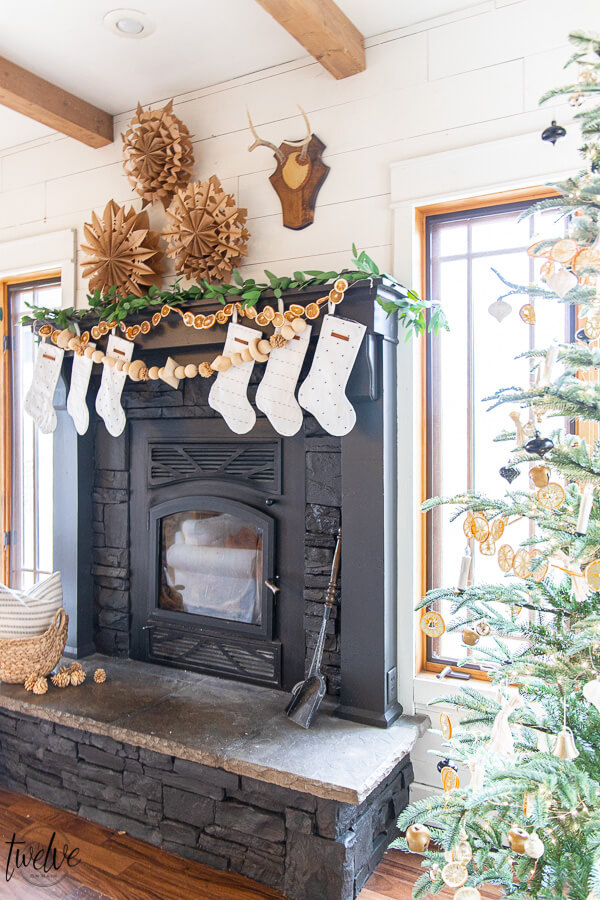 Painted Stack Stone Fireplace | Twelve On Main
Last year I decided to paint my cultured stone fireplace. This is not real stone and it was looking dated. It now has a new modern look and is a great focal point. Some might not think its a great idea to paint rock, but with the right prep, it can be a game changer.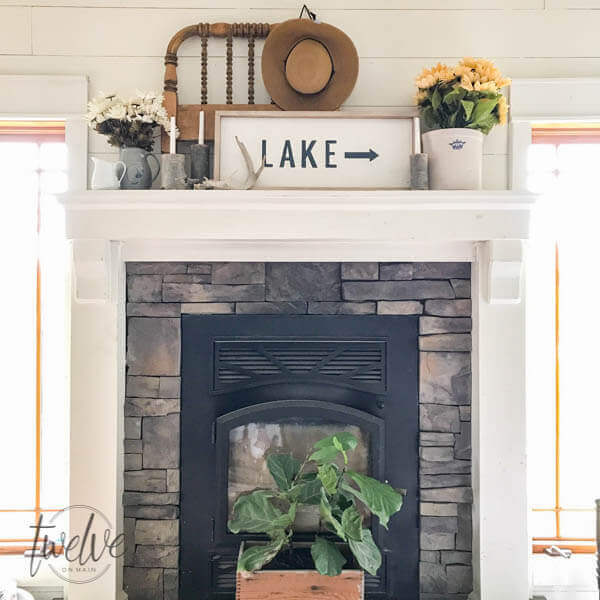 Stacked Stone Fireplace Gets Facelift | Twelve On Main
Before we painted out fireplace, we felt it needed a facelift and we built a new mantel which completely changed the entire fireplace. I love the change and after it was painted it made it even better. We added a new wood mantel to the existing fireplace. This was a great way to update it without spending a lot of money .
.
Updated Painted Black Fireplace | Twelve On Main
We have a faux fireplace in our master bedroom, and we recently painted it with a nice coat of black paint. It added contrast and a more modern look to the space. Painting a fireplace different colors will make them stand out in a space.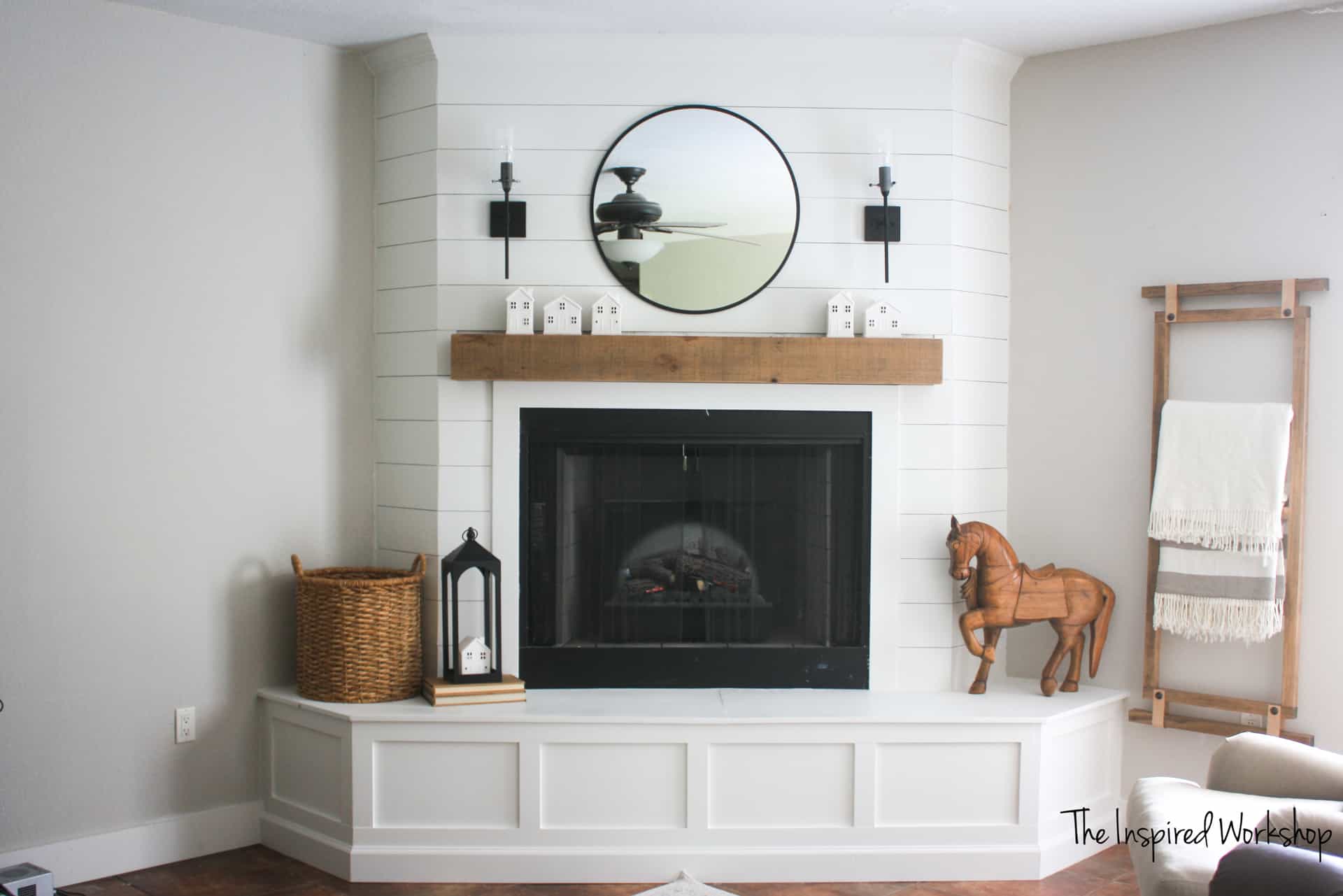 Fireplace Makeover | The Inspired Workshop
This is a great example of a gorgeous fireplace makeover. I think it makes a dramatic focal point for the room. Make sure to click the image above to see the before and after!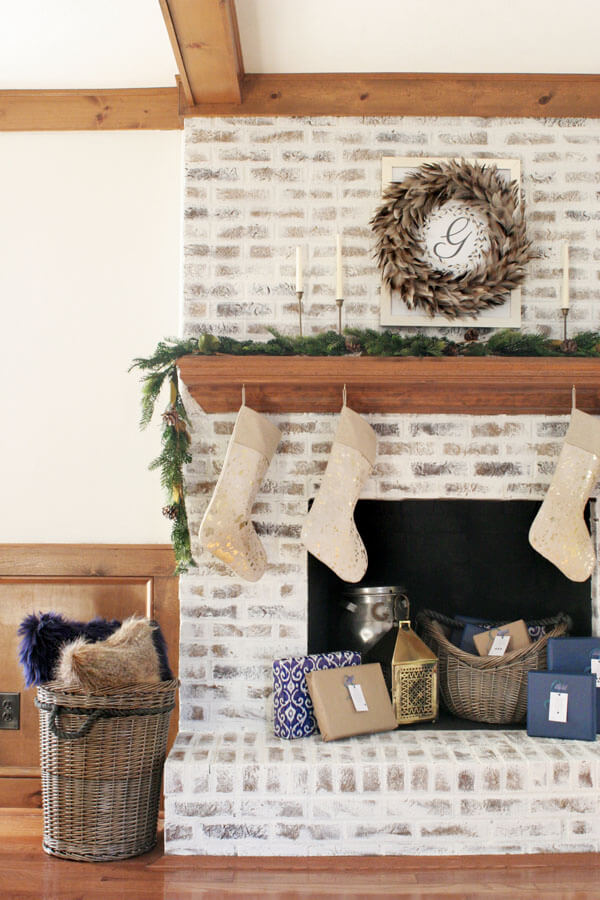 German Schmear Tutorial | Craftivity Designs
This is a beautiful example of an old brick fireplace that was given a German Schmear treatment. It softens the harsh lines of the brick and updates it as well.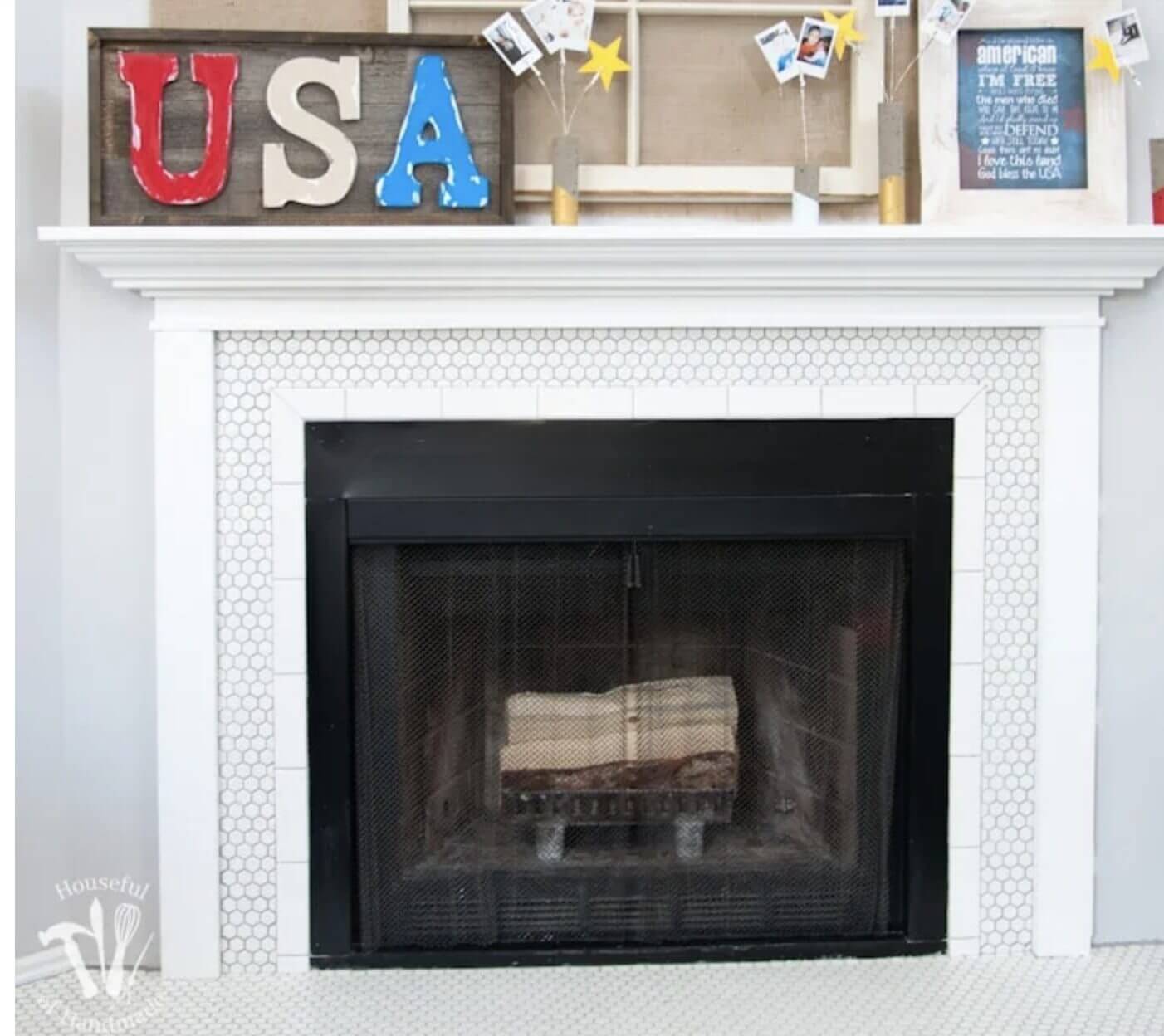 Farmhouse Inspired Fireplace Makeover | Houseful of Handmade
Adding a new tile surround is a great way to update a fireplace and it can be super affordable too! This new fireplace makeover will give the homeowners years of use and enjoyment.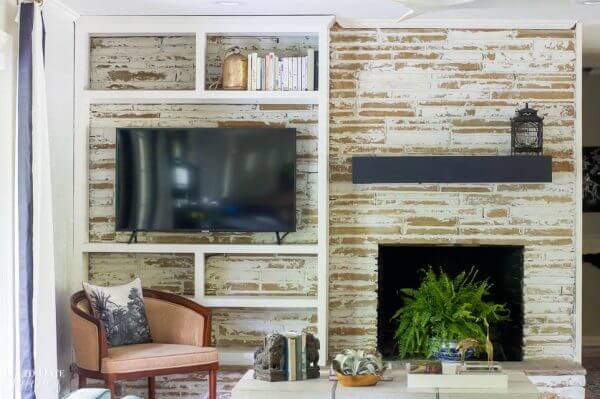 German Schmear for Under 10 Dollars | Up To Date Interiors
This German Schmear on a stacked stone fireplace is so cool, I think it gives it such a unique paint job.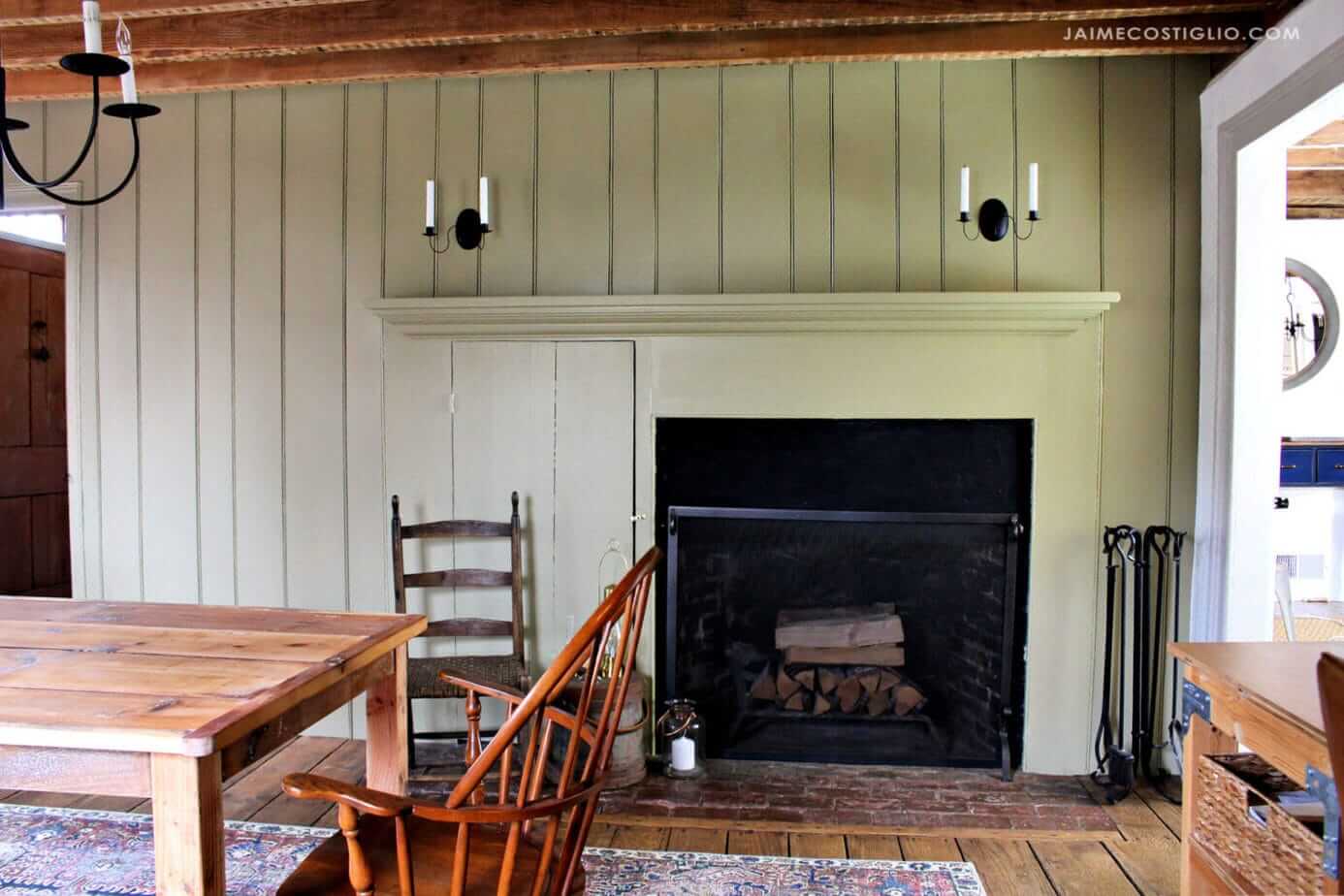 Old Farmhouse Fireplace Makeover | Jaime Costiglio
I love these old fireplaces, and the charm and character that they have. This fireplace makeover includes a tutorial on how to make your very own bead board wood paneling. I love that they kept all the charm of the original fireplace. You can tell the old house has tons of character and I love that it is in the dining room. I hav often wanted to add one to mine as well.
How to Choose Fireplace Trim | Handyman's Daughter
This is a great tutorial on how to choose the right trim for your fireplace. Check this out!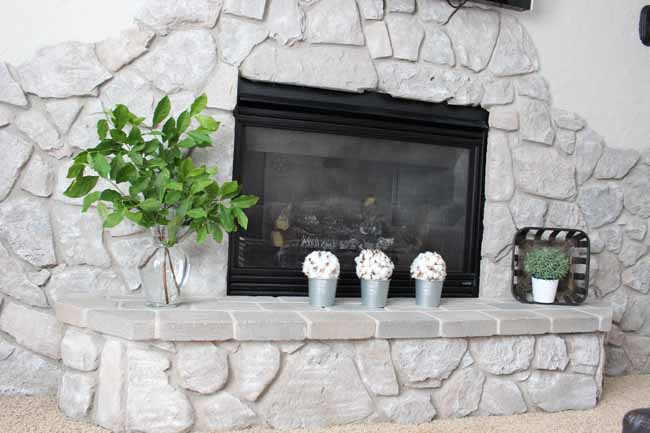 How to Update a Stone Fireplace | Love Our Real Life
This is a great example of how to update an old unattractive stone fireplace. She gave the whole thing a fresh coat of paint using a wash technique. It has so much character.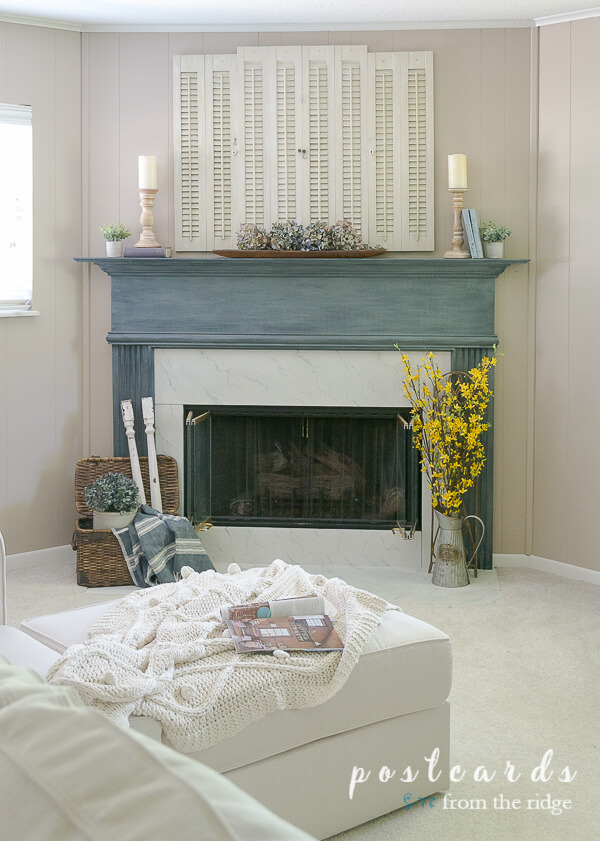 How to Paint a Mantel and Get Clean Paint Lines | Postcards From the Ridge
This post has some really great tips for how to paint a fireplace and get crisp clean lines.
How to Refinish A Fireplace | Just Paint It
This is a great faux finish effect on this fireplace mantel. Make sure to check out how she did this.
How to Paint A Stone Fireplace White | A Girl In The Garage
I am obviously a fan of painting stone if it is not what you love having in your house. Everyone should have a space they love and if painting it does that, then I would highly recommend doing it. A fresh coat of white. latex paint can really transform a space. I think it makes a huge difference. The oak mantel pops off the fireplace design.
.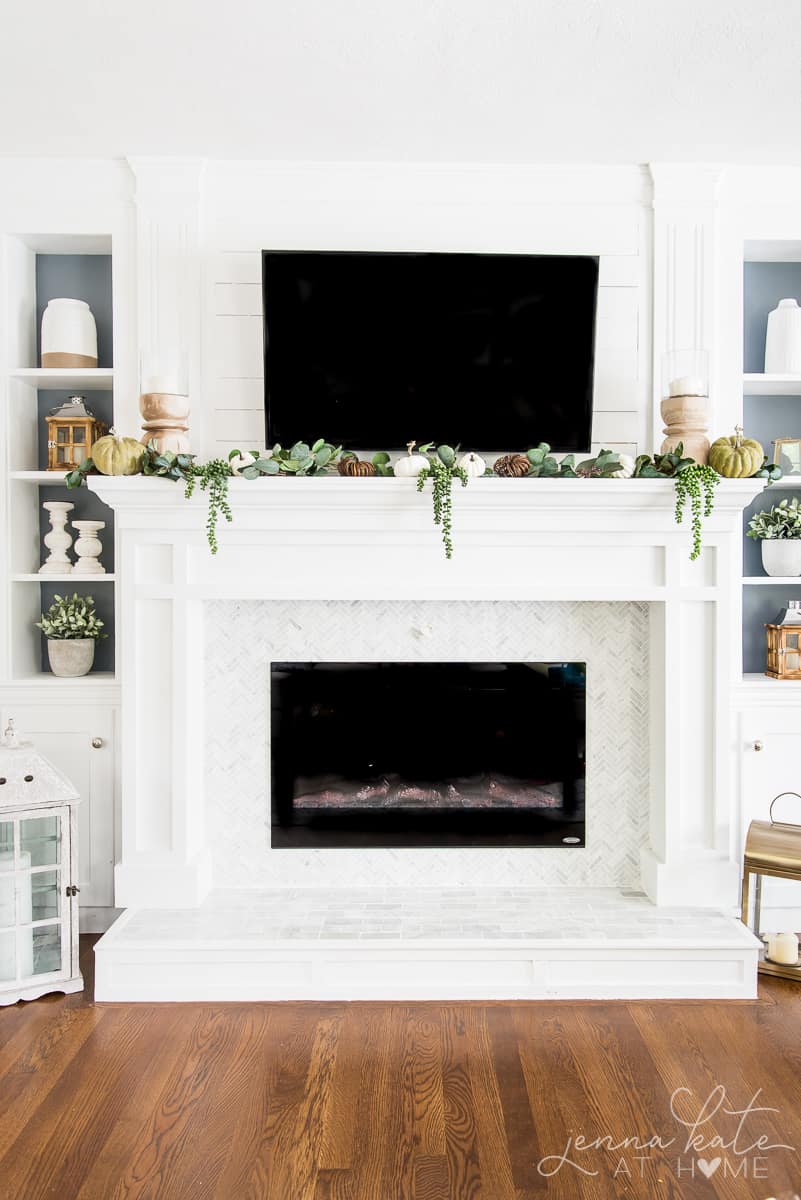 How to Build A Fireplace Surround | Jenna Kate at Home
This fireplace is gorgeous and has great step by step pictures on how they built this fireplace. It looks as if they built around a gas fireplace insert, and I think. it looks amazing.
,,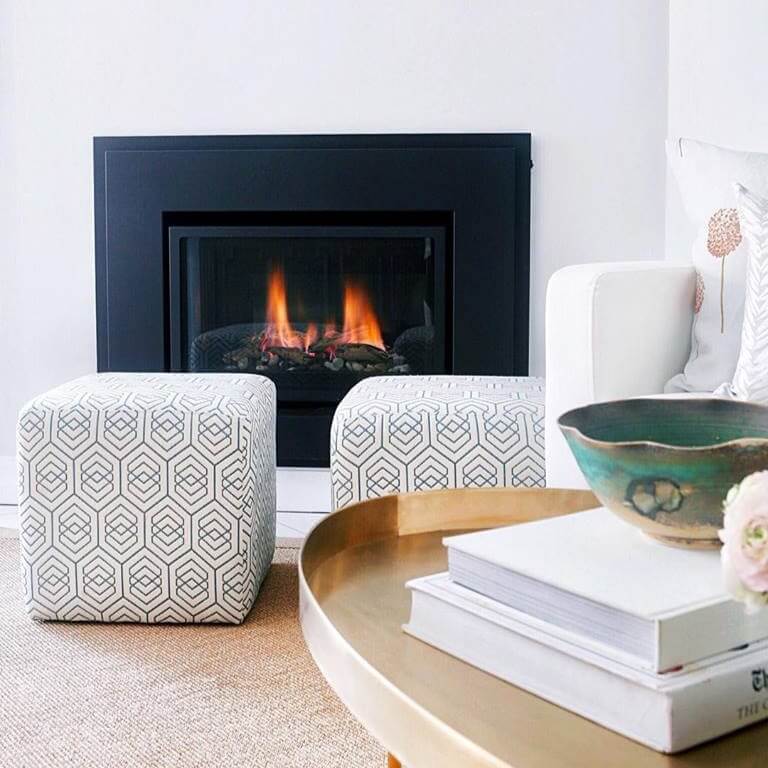 Brick Fireplace Makeover | Birdz of A Feather
This is quite a big change and its really pretty. I love the modern look. The entire thing looks modern and makes a big difference in the space.
How to Tile A Fireplace Surround | South Georgia Style
Have you wanted to add tile to your fireplace? Check out this tutorial. Whether you use porcelain tile, ceramic tile or natural stone there are so many options and if you do not feel comfortable doing it yourself, you can hire a tile installer to do it for you.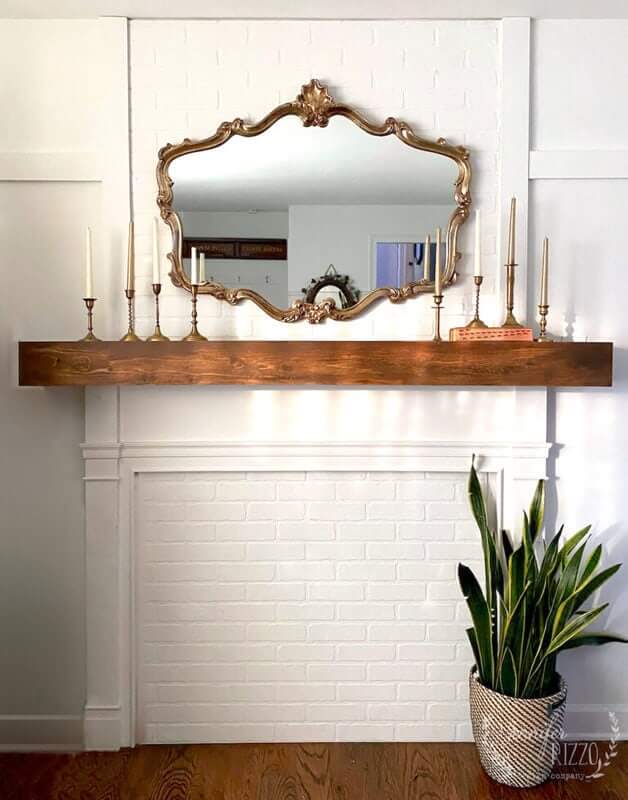 Fireplace Overmantel Brick Makeover | Jennifer Rizzo
This is a really pretty faux fireplace with brick. Even if you don't have a real fireplace you can create one!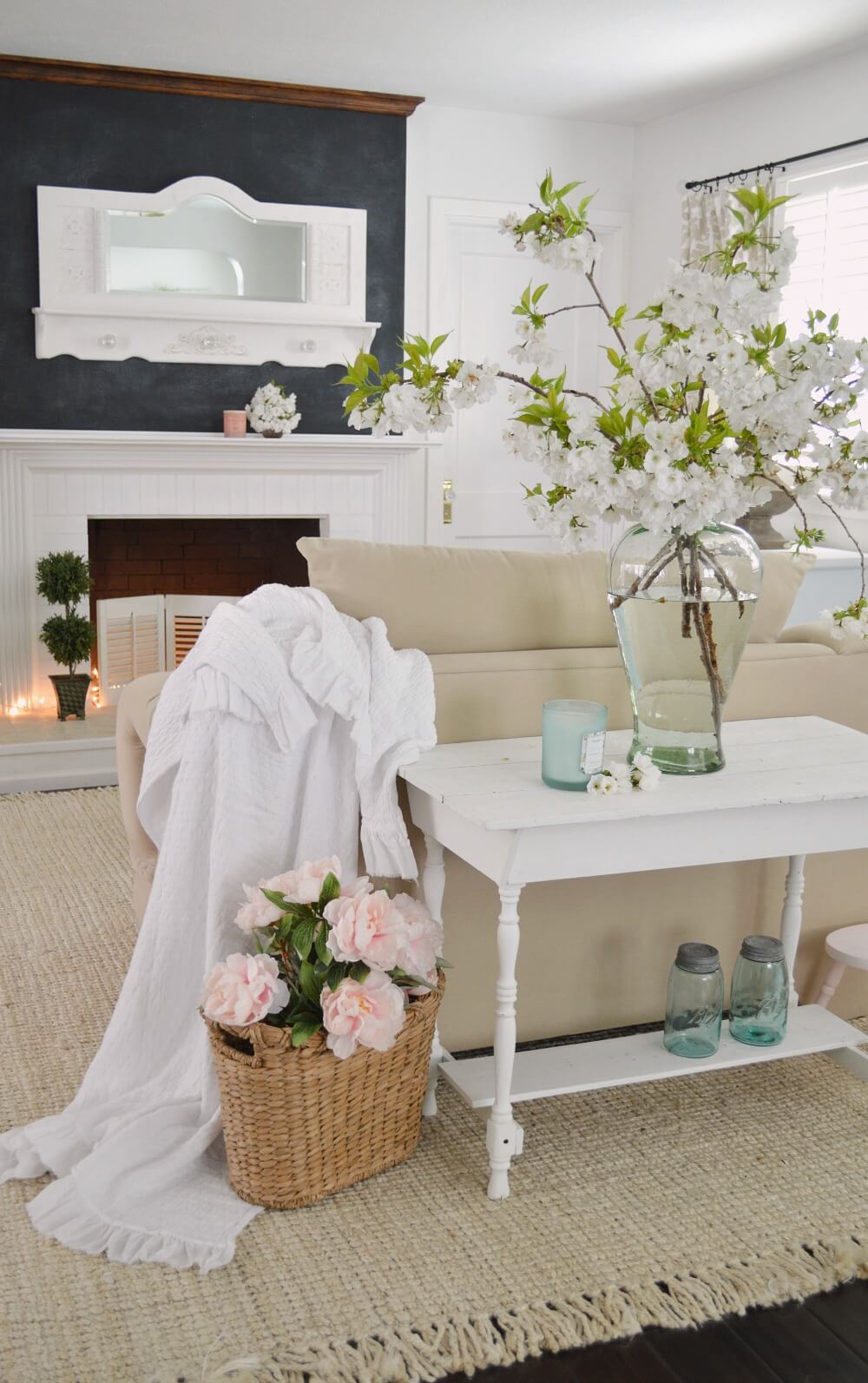 DIY Mantel and Hearth Makeover | Fox Hollow Cottage
Check this amazing makeover out by my friend at Fox Hollow Cottage. I love this look. That is a beautiful mirror , and I find tons of inspiration from the whole fireplace.
Easy Peel and Stick Fireplace Surround | Sondra Lyn at Home
Don't want to put permanent tile? Maybe you want to keep your budget a bit smaller? Check out peel and stick tile!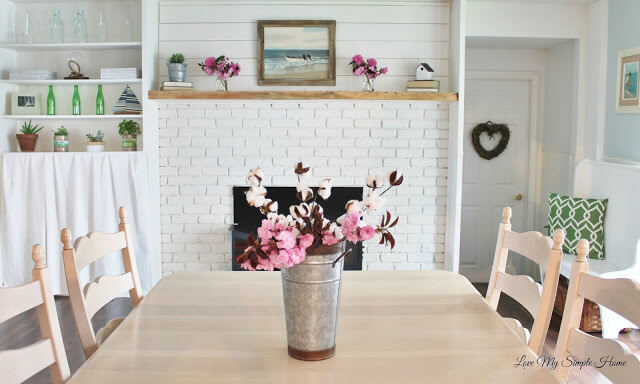 Farmhouse Fireplace Makeover | Love My Simple Home
This is such a charming fireplace makeover. I love the brick along with the shiplap wall.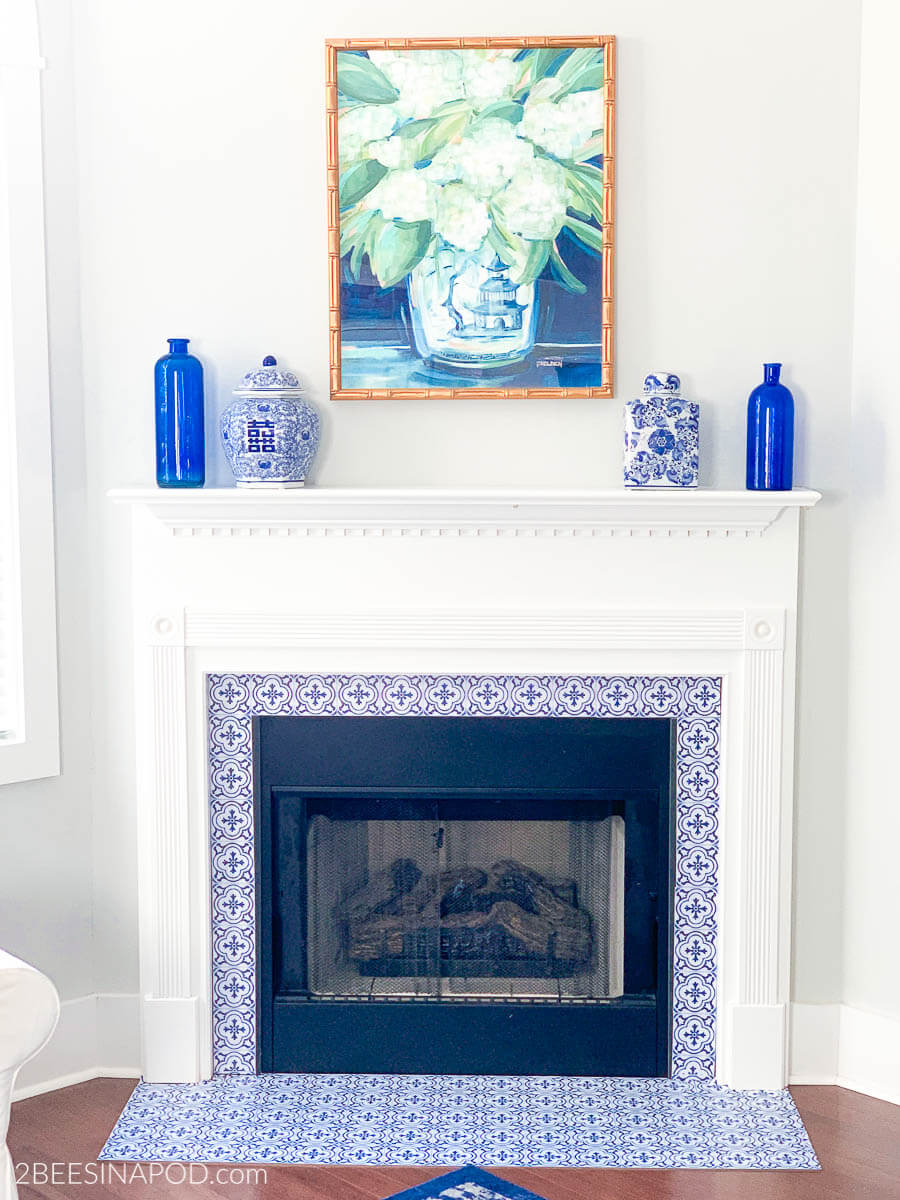 Fireplace Makeover With Sticker Tiles | 2 Bees In A Pod
Another great fireplace makeover with peel and stick tile. There are so many different options.
Fireplace Makeover | Lydia Outloud
Check out the before and after of this beautiful firepalce.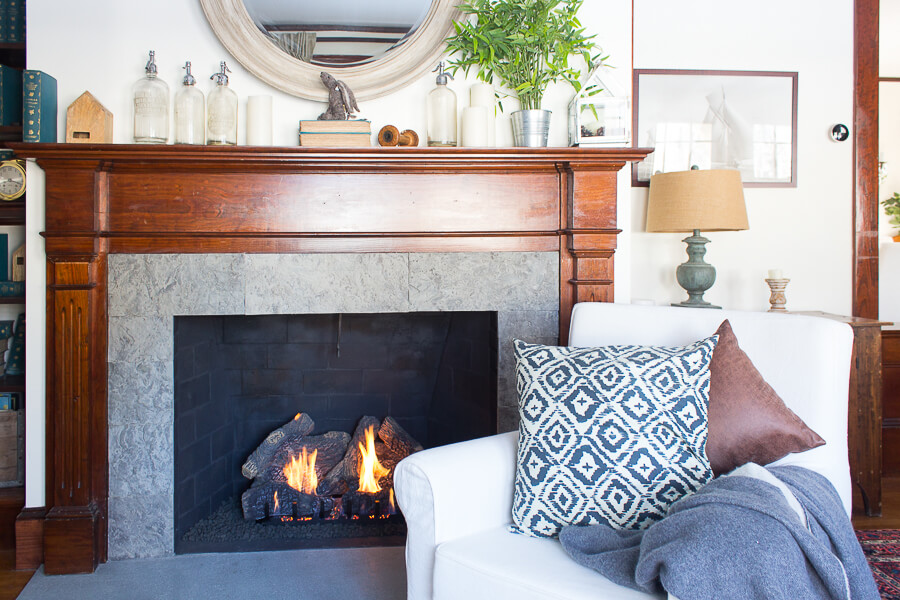 Fireplace Makeover | Finding Silver Pennies
I love the change in this fireplace with the stone surround. Check it out!
How to Paint a Fireplace | Made In a Day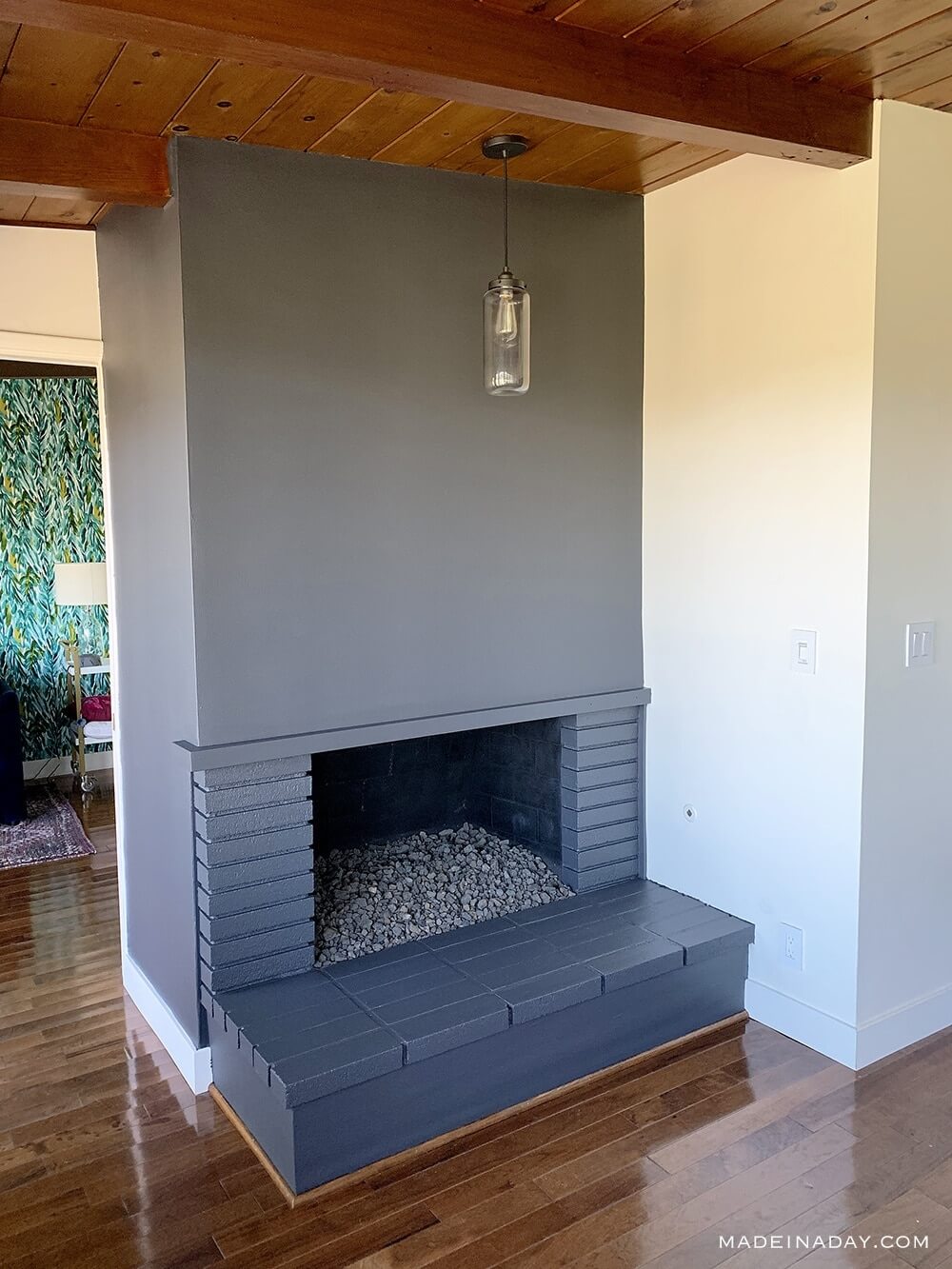 I love a tone on tone fireplace and this color is gorgeous.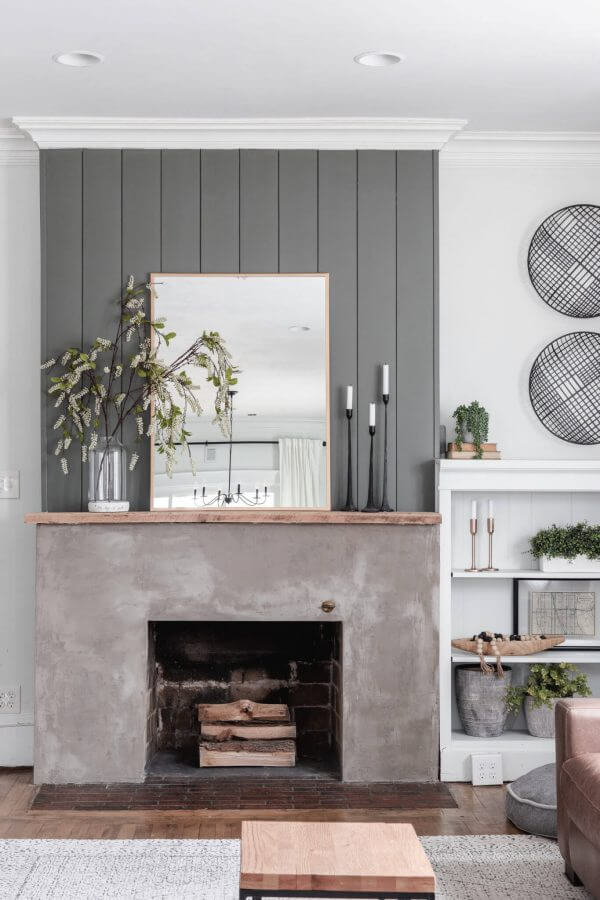 DIY Concrete Fireplace Makeover | Cherished Bliss
I am completely obsessed with this fireplace by Cherished Bliss. The concrete look is so beautiful and I am tempted to refinish the fireplace in my bedroom with this look.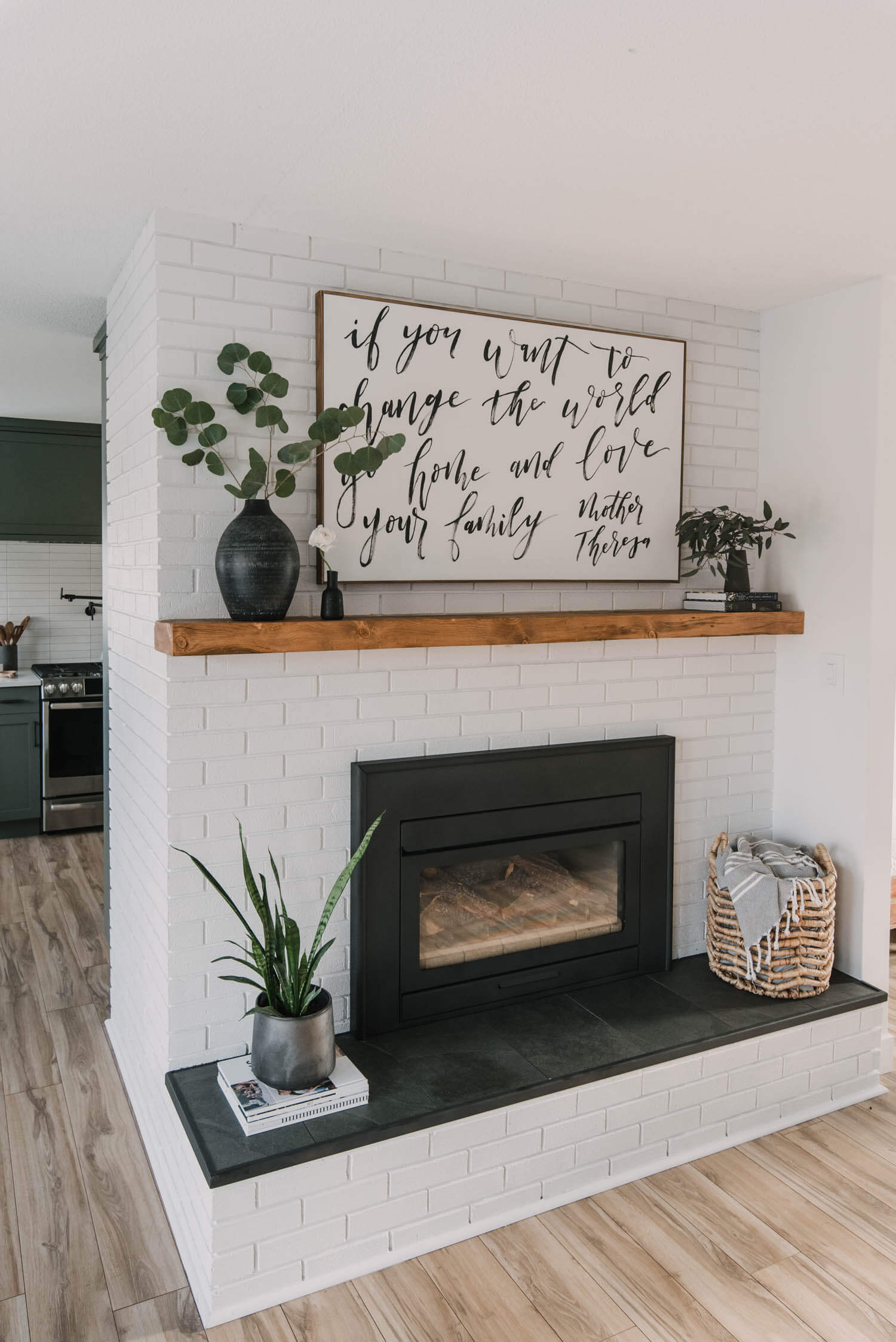 DIY Brick Fireplace Makeover | Lemon Thistle
Another great painted brick fireplace. This is a great way to update an old dated fireplace.
Painted Fireplace Refresh | Lemon Thistle
How about more painted rock? Yes, I love the way it brings out the texture of the stone.
Painted Brick Fireplace Makeover | My Repurposed Life
I like that this has a two toned painted look with the fireplace. It allows the fireplace surround to stand out.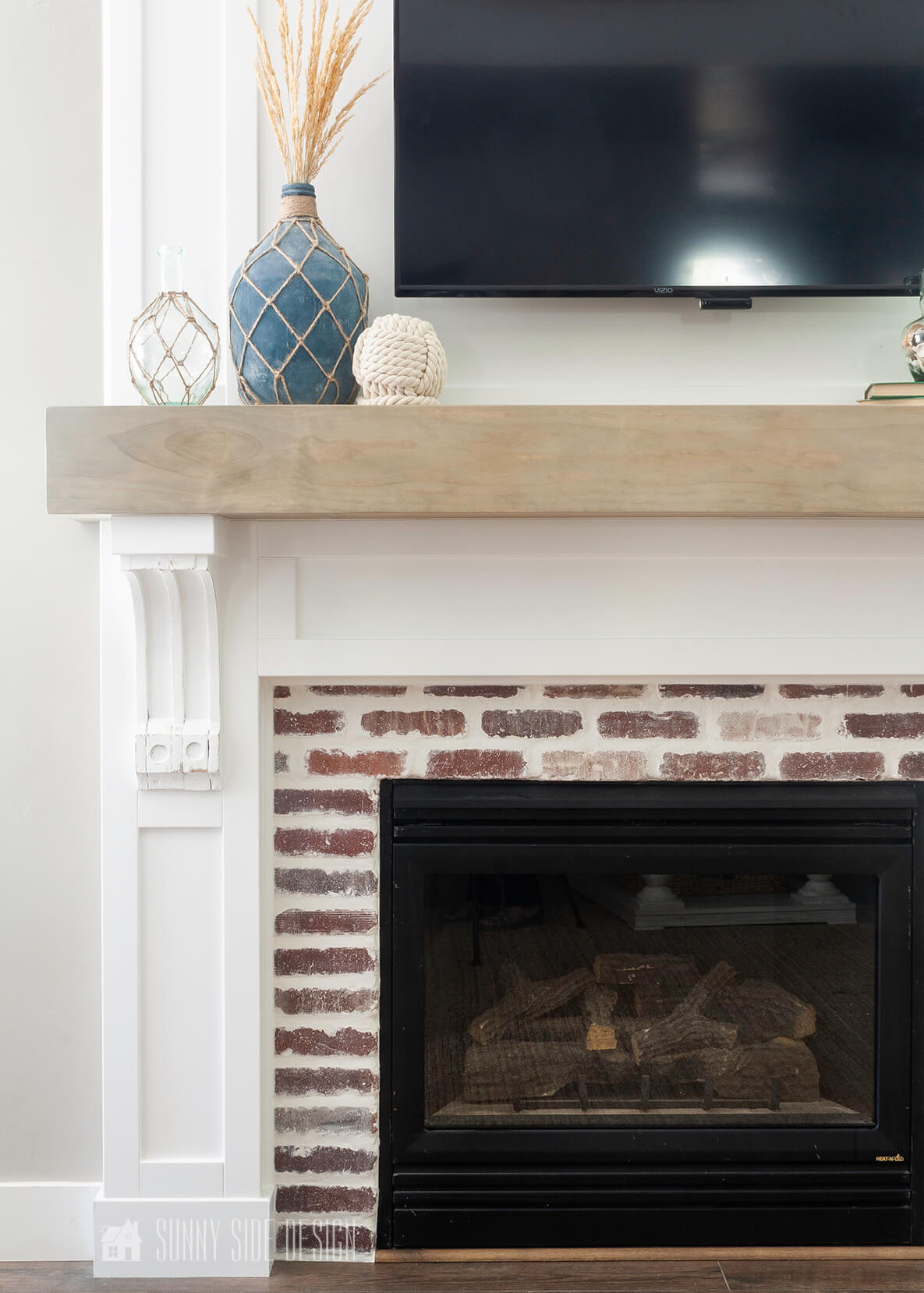 How to Install a Brick Veneer Fireplace Surround | 2 The Sunny Side
I love the way they installed the brick veneer in this fireplace surround. The thick channeling of mortar looks great.
DIY Fireplace and Mantel Surround | 2 The Sunny Side
Such a classic and beautiful look on this fireplace. Make sure to check out the before!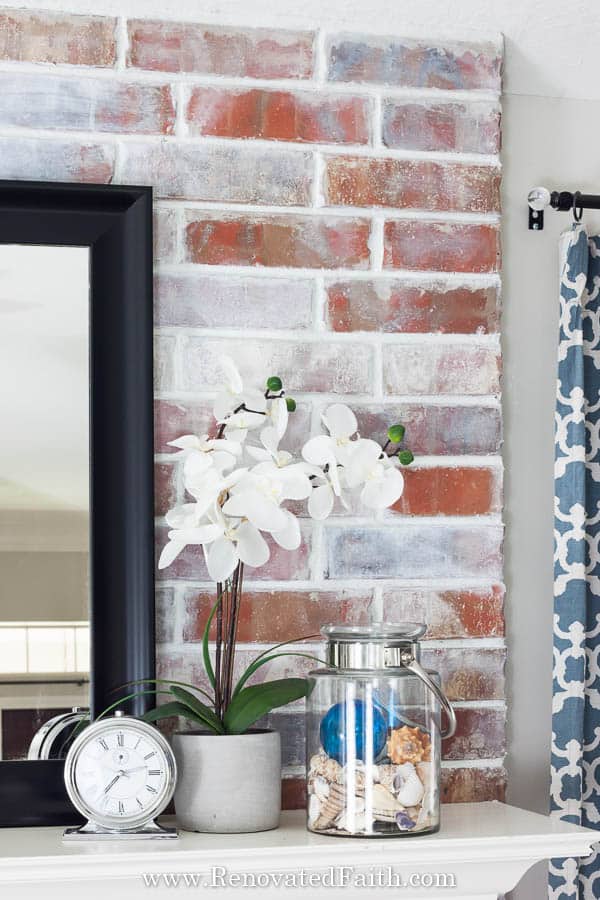 How to Whitewash a Dated Brick Fireplace | Renovated Faith
Whitewashing brick is another great thing to do, and its not as drastic as painting one.
DIY faux Stone Fireplace Chimney | H2O Bungalow
The stone above the fireplace is so pretty! I love this added texture.
Lessons to Learn About Tiled Fireplace Surround | The Lived In Look
And last, if you are thinking of tiling, make sure to read this and avoid having to learn your own lessons. There are so many things you can avoid.
There are so many helpful website articles out there that can help you no matter what project you are wanting to work on. If you are thinking about a fireplace makeover, I hope these that I have shared can help you be inspired in your own project.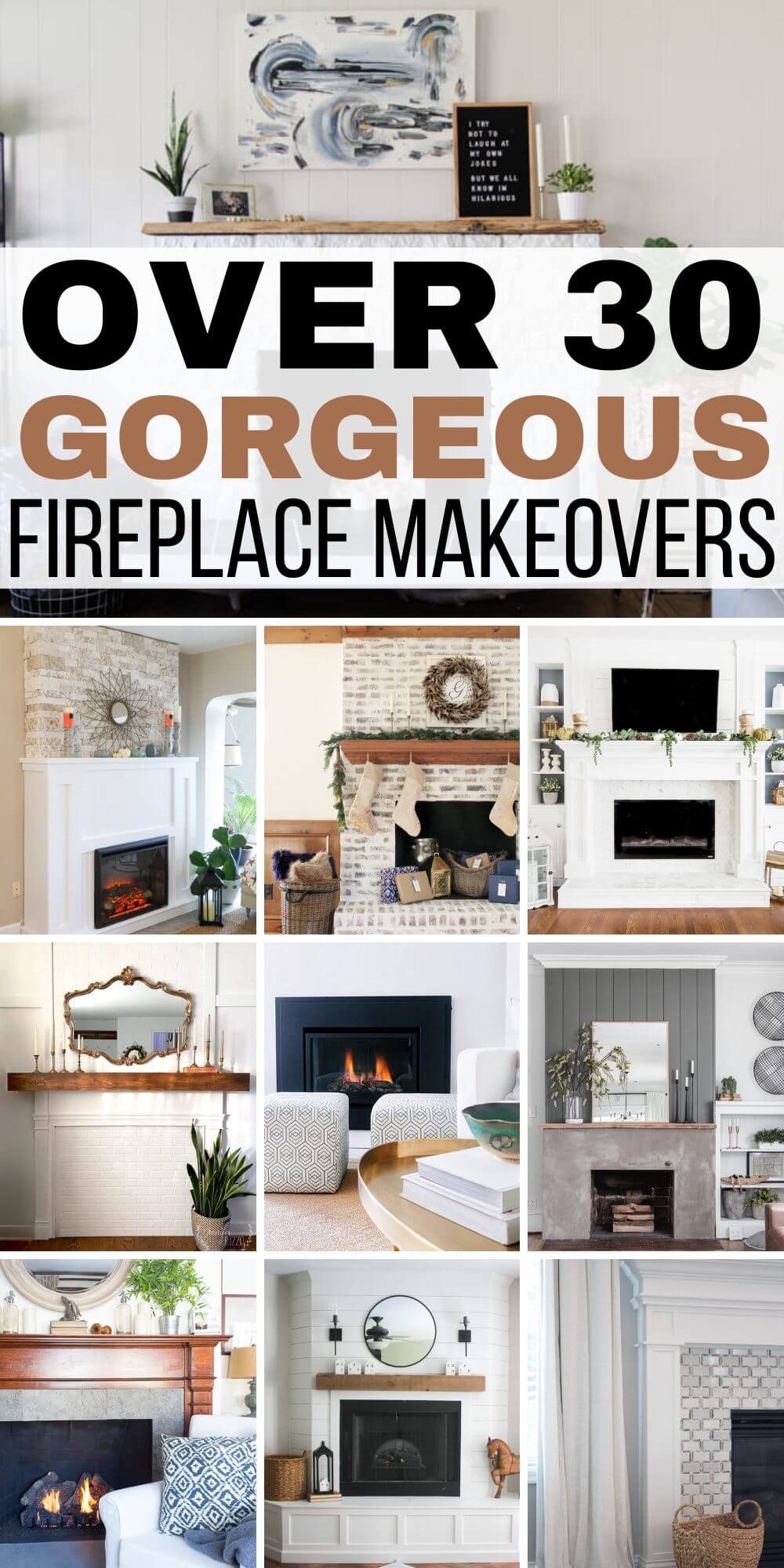 fireplace makeover ideas to inspire you. There are so many great ideas." width="600″ height="1200″>
Want more great fireplace ideas? Check out these posts:
Gorgeous Office Bookshelves with a Built In Electric Fireplace
Updated Painted Fireplace in Our Bedroom
13 Stunning DIY Fake Fireplace Ideas to Make Now!
DIY Faux Farmhouse Style Fireplace and Mantel
Stone Fireplace Surround Gets a Farmhouse Facelift
GET YOUR FREE GUIDE to 30 DIY projects that can be done over the weekend!
By subscribing, you will gain access to my FREE guide with 30 DIY projects that can each be done in a day, or over a weekend!
You will also receive a weekly email with some of my favorite tips, tricks, and design ideas.