I think we can all use a little bit more storage in our bathrooms, especially if you are dealing with a small space. Bathroom over the toilet storage ideas are key to giving us great inspiration on how to create that extra storage in a creative and often stylish way. We have used many different kinds of over the toilet storage ideas in a couple of our bathrooms and I want to share the different kinds that you can incorporate into your bathroom decor.
It is key to use the storage in the bathroom in the best possible way. Often times, bathrooms do not have enough storage for those bathroom essentials that we need.
If you do not have extra space to store some of your bathroom essentials, then these toilet storage solutions might be perfect for you. Bathroom space
seems to be at a premium, and I want to share some good options that can help store all the things.
Lets talk about different kinds of bathroom over the toilet storage ideas that I have found:
Wooden Crates: I have seen so many creative wall storage ideas using wooden DIY crates. You can hang them in their side and use them as shelves. You can add bathroom items such as toilet paper, towels and more! I love this idea and the fact that it is an economical option.
Wood Shelves: We have built wood shelves in a couple of our bathrooms above the toilet. My favorite ones are in our master bedroom. We built a simple DIY shelf. We built them out of reclaimed wood. I can use wicker baskets to hold feminine hygiene products, toilet paper rolls, hand towels, and more.
Freestanding unit: Many stores sell freestanding units that stand over the toilet tank and fill the vertical space above the toilet. You can get many different styles, all of which provide additional storage. Often the have open shelves, a towel rack and even a closed in cabinet. This is the perfect place to hide extra toilet paper, hair products, extra towels, and more.
Shelving unit: You can easily purchase shelving units that can offer you the storage you need when you have limited space. You can even find some awesome shelving brackets here if you want to create your own shelving unit.
Wall Cabinet:
How about a traditional wall cabinet? You can get on with glass doors, which allow you to have a more modern look, as well as a place to add decorative items as well as thee most functional items. Its the perfect solution for your storage needs. They give you the extra storage space bathrooms are often lacking. They are great for towel storage.
Medicine Cabinets: Want something a bit more streamlined? Why not go for a medicine cabinet. Depending on the size of your small space, this might bee a great option for you.
Towel Ladder or ladder shelf: Last is something have also used. We built a towel ladder shelf in our boys bathroom. It is a great place to hang extra towels. With a hanging basket we can store toilet paper and other necessities easily.
Now, lets have a look at some inspiration from some great bloggers.
There are so many original ideas and these all fall into that category. Maybe they will give you the inspiration that you need to overcome your own storage issues.
First, I will share a couple of my own. The first one is the over the toilet towel ladder. I consider these to be non traditional towel bars in a sense. You can hang the towels, and with the hanging basket, you can add a couple extra rolls of toilet paper. Since the toilet is closed off from the rest of the bathroom it gives you the essentials that are needed. There is no need to have to store any other toiletries here.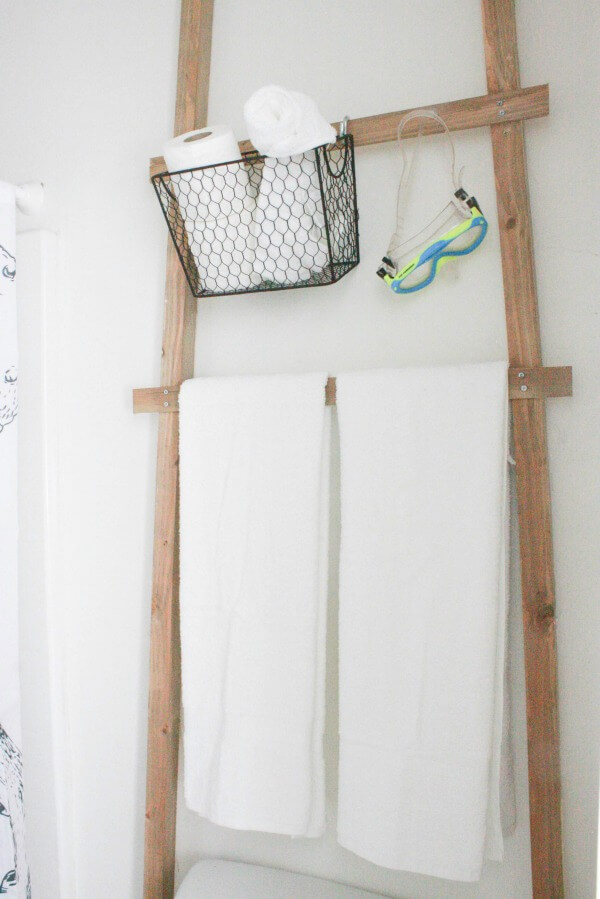 Here are the shelves I built above our master bathroom toilet. Open shelving can seem daunting, but you can use baskets and other containers to conceal the things you might not want others to see. Its a great way to store toilet paper as well as feminine hygiene products.
NOW LETS CHECK OUT SOME MORE GREAT OVER THE TOILET STORAGE IDEAS: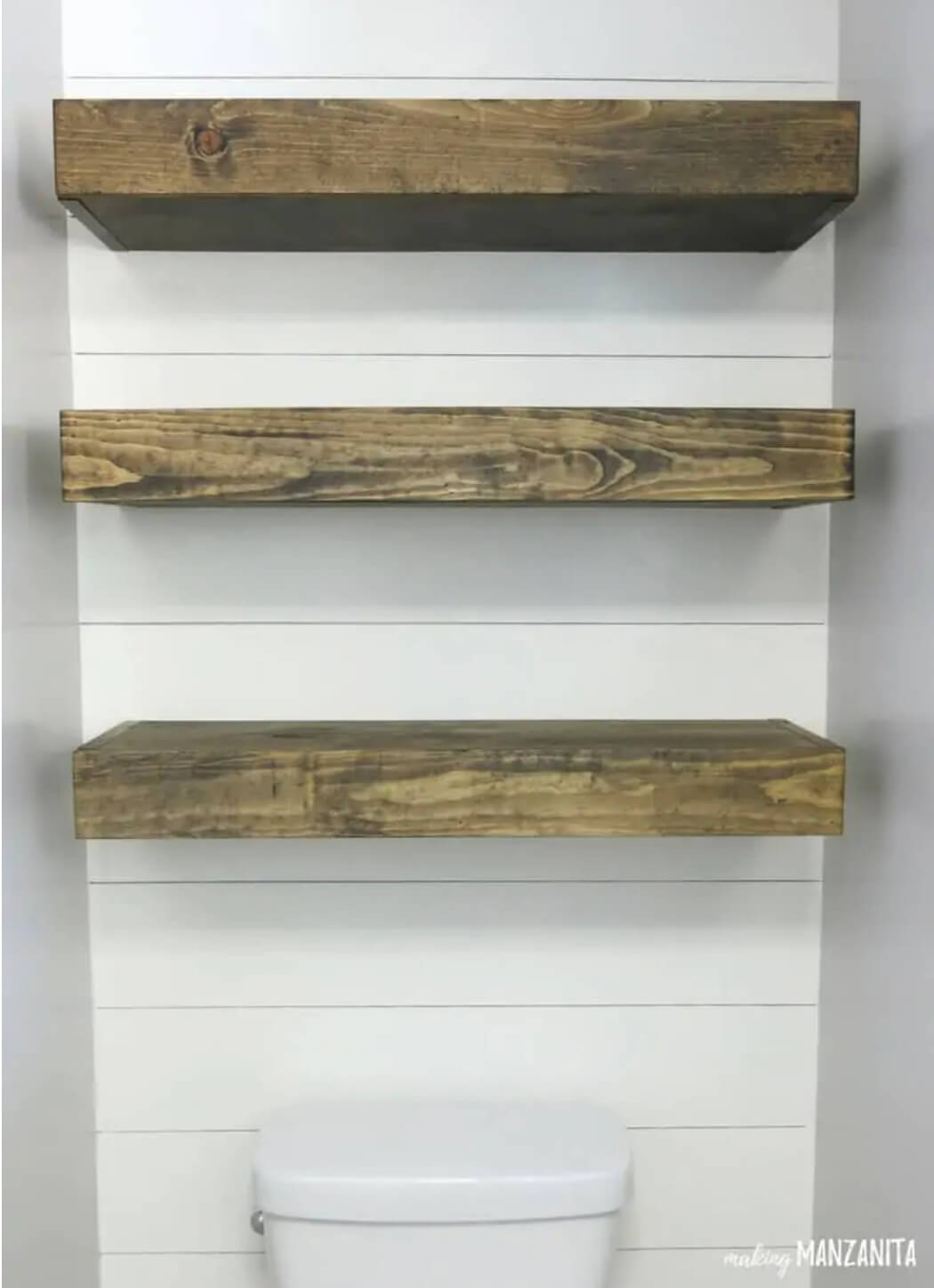 Here is a great tutorial on how to build floating shelves above a toilet by Making Manzanita. This is a great option for a streamlined look. It takes advantage of the vertical space, while also adding some style and character. Imagine how many towels and toilet paper rolls you could store on these shelves. Wicker baskets would be a great addition to store those things you want hidden. It is easy access to all the items, and it makes an otherwise plain toilet room look great.
These are unique, more modern toilet shelving options by Amber-Oliver. There are so many different shelving options out there, and I think most people like them because they combine the functional aspect, and allow you to make them pretty as well! Shelfs are a great idea.
Another great over thee toilet cabinet. It is such a unique piece of furniture used by Houseful of Handmade
How adorable are is this DIY over the toilet storage using cedar wood by Charleston Crafted. I love how they took advantage of their space and created something that would work exactly for them.
These shelves by Lovely Etc. are so great. I have similar DIY shelves in my laundry room, dining room and kitchen!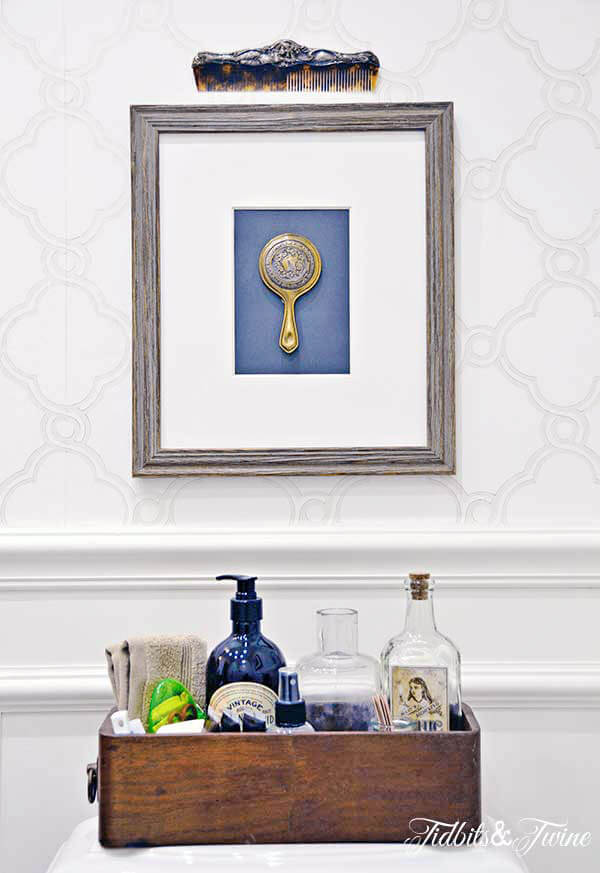 You over the toilet storage can be as simple as an old sewing drawer. I love how Tidbits & Twine used this to store extra items.
And last, these shelves by Salvaged Living are so cool in this rustic boys bathroom. I love the unique paneling, the awesome shelves as storage and just the look of it all.
There are so many ways over the toilet storage ideas and I feel like I have just brushed the surface, but at least we addressed the different kinds that are available.
I want to share some over the toilet storage options that you can easily purchase. Simply click the image to go straight to the product:


Want more great posts? Check these out below!
Farmhouse Style Reclaimed Wood Shelves Built In No Time!
Gorgeous Office Bookshelves with a Built In Electric Fireplace
My Budget Friendly Bathroom Makeover | Reveal
Farmhouse Master Bathroom | Final Reveal
Create Thrift Store Basket Storage
Tips for Organized Farmhouse Style Closet Design
GET YOUR FREE GUIDE to 30 DIY projects that can be done over the weekend!
By subscribing, you will gain access to my FREE guide with 30 DIY projects that can each be done in a day, or over a weekend!
You will also receive a weekly email with some of my favorite tips, tricks, and design ideas.