Sometimes, I find myself yearning for the traditional look of Christmas. Last week, I gave a tour of my family room, with a more non traditional twist. Today I am excited to participate in a Christmas tablescape bloghop with some of my most favorite bloggers! My Christmas tablescape this year is a little bit whimsical and a lot farmhousey. I want to show you how I have blended that non traditional look with some more classic red and white decor with this red and white farmhouse Christmas tablescape.
My Red and White Farmhouse Christmas Tablescape Inspiration…
I was inspired to create this red and white farmhouse Christmas tablescape from a mini gingerbread house kit I found at the store. They looked like they would be so much fun to make and just the most adorable thing to add to my table.
Sometimes all it takes is one thing to inspire a while space, like a rug did for my Christmas living room.
I debated whether to go crazy on this table or keep it simple, and as I let myself go overboard, I end up always editing down, and finding happiness in the simplicity.
I started this table with simple pieces of my ticking stripe fabric as a sort of runner under my plates. I let them hang over the table a bit, adding just a bit of drama.
I layered my plates first with my seagrass chargers, topped with a simple wooden charger I found at the Dollar Spot at Target, and then topped those with my favorite white plates.
I wanted something simple on the top of the plate so I added a candy cane and a bushel of pine needles from the Ponderosa Pine tree in my front yard. I am always scavenging for decor.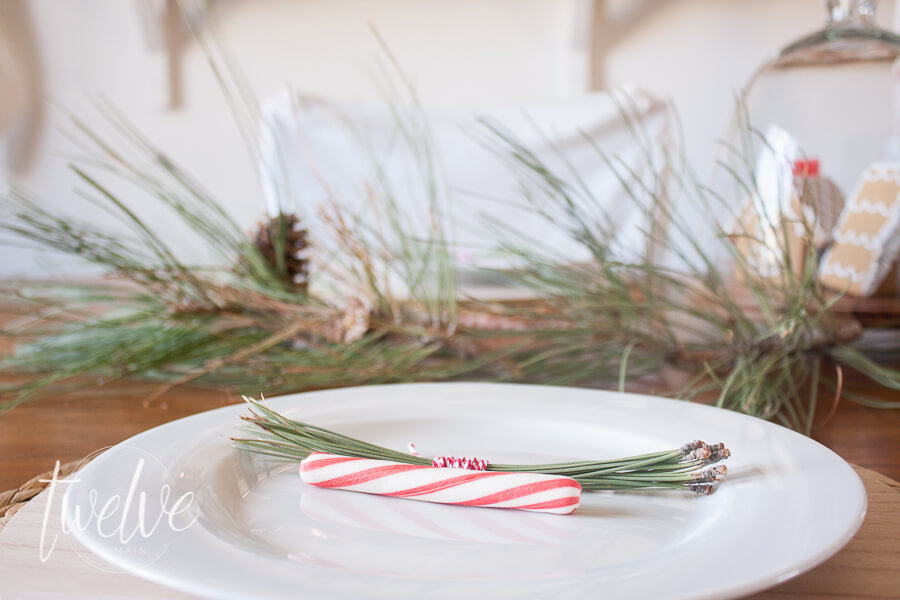 I used some simple utensil holders out of strips of jute webbing from the fabric store.
This was a super simple project. I cut the pieces of webbing long enough to fold over itself, while leaving more in the back and enough space to add the utensils.
Then I took my hot glue gun and glued right along the edges of the webbing, folding it over and securing the top to the bottom. It makes a little envelope.
Aren't they adorable?
I stayed up late on night, working on my gingerbread houses, while watching The Great Holiday Baking Show…and lets just say, I thought that it would inspire me to create the most beautiful little gingerbread houses. Well, it didn't, and I ended up scraping them off and starting again. This time I kept them simple, and focused on the use of the white royal icing.
And don't fret, I didn't neglect my kiddos when it came to decorating the gingerbread houses. They got to decorate the largest gingerbread house, which will be part of my dining room and kitchen tour later this week.
I think they are just the most adorable inside my glass cloches. My sister and I had quite the interesting time trying to find just the right cloche….mostly because she couldn't figure out what it was I was saying. Ha!
It was also the same night I convinced my niece that the aisle of tree skirts was actually Christmas ponchos, and she tried one on. Haha! It was perfect. Especially when a man walked by and asked her why she was wearing a tree skirt. I wish you could have seen how much we laughed/cried over this.
So, now…tangent over. With my gingerbread houses in place in their cloches, I didn't want to add anything that would take away from them being the focal point. I added freshly cut pine boughs from the same Ponderosa pine tree in my yard.
I also added an enamel ware bowl full of hand picked pomegranates from my moms house to my red and white farmhouse Christmas tablescape. Just the right amount of red, with so much of that nature inspired goodness.
This red and white farmhouse Christmas tablescape is absolutely one of my most favorites ever.
Like this room? You can see similar and exact products that I used in this room below:


Want to see more holiday tablescape ideas? Check out the rest of them below!
Make sure to visit the other tablescapes in this blog hop!
Top to Bottom, Left to Right:
Shannon from AKA Design | Shayna from The Wood Grain Cottage
Sara from Twelve on Main | Ashley from Cherished Bliss
Courtenay from The Creekline House | Thalita from The Learner Observer
And make sure to check back throughout the week, I have so many fun Christmas room reveals to show you!
If you are looking for more Christmas decor inspiration check these out:
A Cozy and Simple Farmhouse Christmas Living Room
A Farmhouse Christmas Porch and Entry
Farmhouse Christmas Home Tour Part 1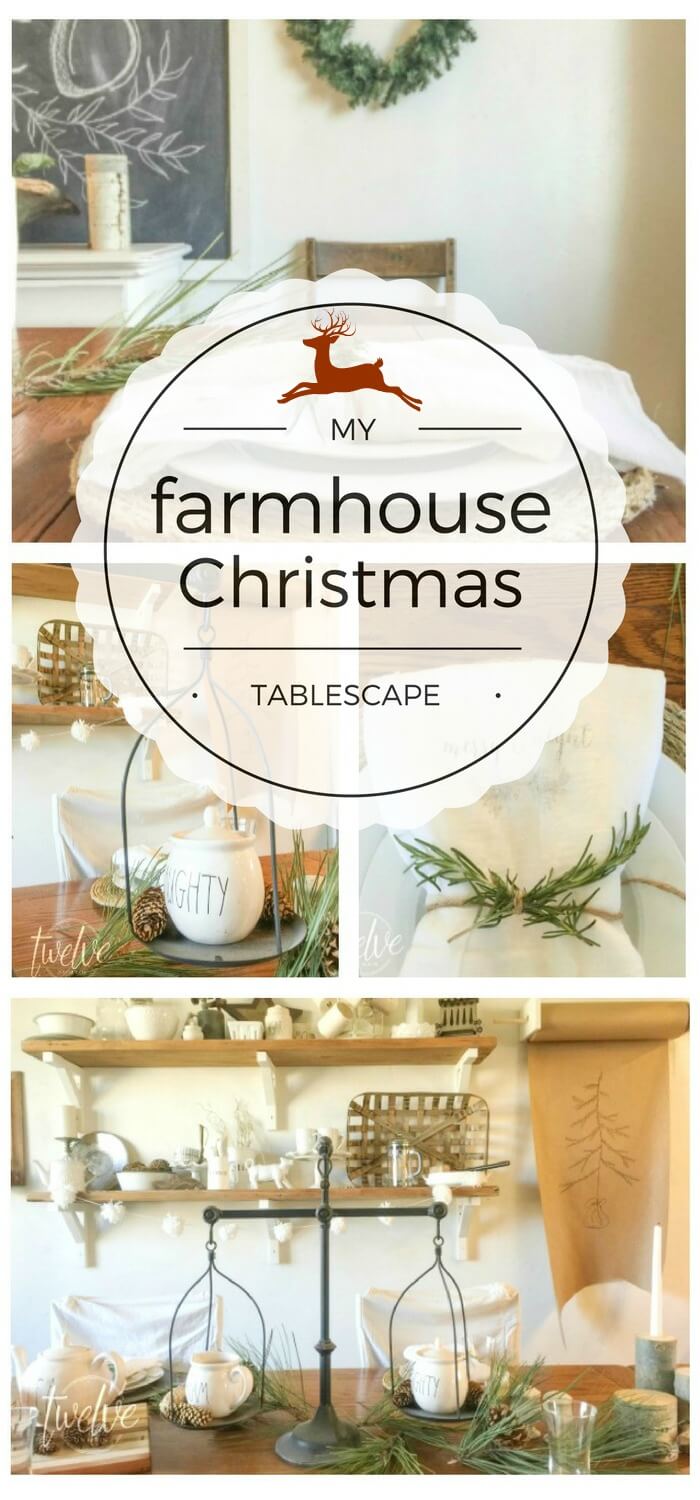 My Farmhouse Christmas Tablescape
GET YOUR FREE GUIDE to 30 DIY projects that can be done over the weekend!
By subscribing, you will gain access to my FREE guide with 30 DIY projects that can each be done in a day, or over a weekend!
You will also receive a weekly email with some of my favorite tips, tricks, and design ideas.