I think its about time I share this one hour dinner rolls recipe with you. I love making my favorite crescent rolls, but they are a bit more time intensive than we sometime have on busy weeknights. So, its great to have a super fast 1 hour dinner rolls recipe that is easy to make and tastes amazing. There is nothing like homemade.
Now, I am not going to tell any stories with this recipe. I am not going to tell you how I came about to create and use this recipe or how I have been using it in my home. I want to keep this post simple and easy, just like these rolls~
These one hour dinner rolls are honestly the easiest and I want to share how to make them.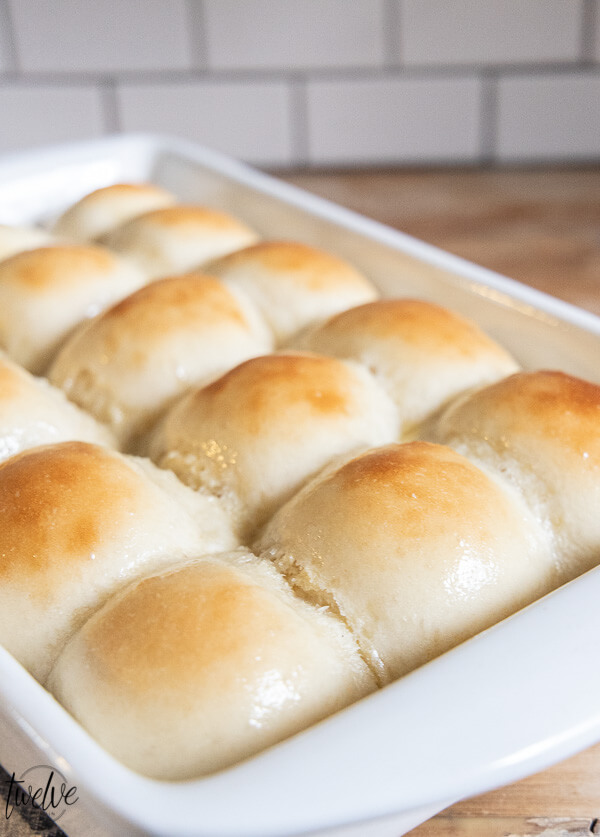 Easy 1 Hour Dinner Rolls Recipe
You will put milk, water, butter and honey in a microwave safe bowl. Microwave or heat on the stove until it is warm but not hot. I usually microwave for about 1-2 minutes.
Pour this mixture into a stand mixer and add the yeast to the bowl.
Let it sit for a couple minutes while you get your flour and salt.
Start pouring your flour and salt in as you turn on the mixer using a dough hook. Add flour until it is pulling away from the sides, and just barely sticky, and slightly firm.
Let it knead for about 5 minutes.
Set it in an oiled bowl and cover with a towel for 15 minutes.
Preheat your oven to 400 degrees. Take the dough out of the bowl and cut into 15 even pieces.
Spray a 9 by 13 pan with nonstick spray or butter. Roll your dough pieces into balls, (you can use a food scale to do this)and place them in the pan, 3 wide 5 tall.
Let them rise for 15 minutes and then place in the oven to cook for 15-20 minuets, or until the tops are golden brown and when you tap them, they should feel hollow.
After you take them out of the oven, use a pastry br
ush to brush on a but of butter to the tops to give them more flavor and soften the tops a bit.
I wait about 10 minutes before serving to let them cool slightly, but we love them nice and warm. These are so soft and buttery. They are amazing dinner rolls.
Want other great bread recipes? Check these out:
Yummy Light and Fluffy Sourdough Cinnamon Rolls
Soft and Fluffy Crescent Rolls Recipe
Light and Fluffy Cinnamon Rolls
Easy French Bread Recipe in Under 2 Hours
How to Make Wheat Bread That is Easy and Delicious
Get my 1 hour dinner rolls recipe here:
One Hour Easy Dinner Rolls
Make these amazing soft and buttery 1 hour dinner rolls now! They are perfect for a busy weeknight when you want the homemade feel without the time and labor involved. These are amazing, so buttery soft, have an amazing flavor and are practically fool proof!
Mixing and Rising Time
25
minutes
Ingredients
1

cup

water

1/2

cup

milk

2

tbsp

butter

2

tbsp

honey

1

tsp

salt

3.5-4

cups

flour (all purpose or bread flour will work)

1

tbsp

yeast
Instructions
Put the water, honey, milk, and butter in a microwave bowl.

Heat in the microwave for 1 minute. Check to see how warm it is.

You want the mixture to be warm enough for the yeast to bloom and not kill it. I end up usually heating it about 1 minute and 30 seconds, but I also add warm water when adding my ingredients.

Once it is heated, add it to a stand mixer and oiur your yeast in. Let it sit while you gather your other ingredients.

Pour 3 cups flour and salt into the water mixture and begin mixing with a dough hook.

Once it has all incorporated, continue to add the flour until it pulls away from the sides, and is not very stick but not stiff. I usually add slightly more than 3.5 cups. Let it knead for about 4 minutes.

Set it in an oiled bowl and cover wioth a towel for 15 minutes.

Preheat oven to 400 degrees.

Once you are ready, separate the dough into 15 even pieces and spray a 9 by 13 pan with non stick spray or butter.

Roll your pieces into balls, and place them in the pan, 3 wide, 5 tall.

Cover and let rise for 15 minutes.

Put in the oven, and bake until golden brown on top, about 15-20 minutes. They will double in size.

Brush on some melted butter to the tops of the rolls and let cool for about 10 minutes.

Eat them hot or cold. They are amazing, buttery soft and just the most comforting roll.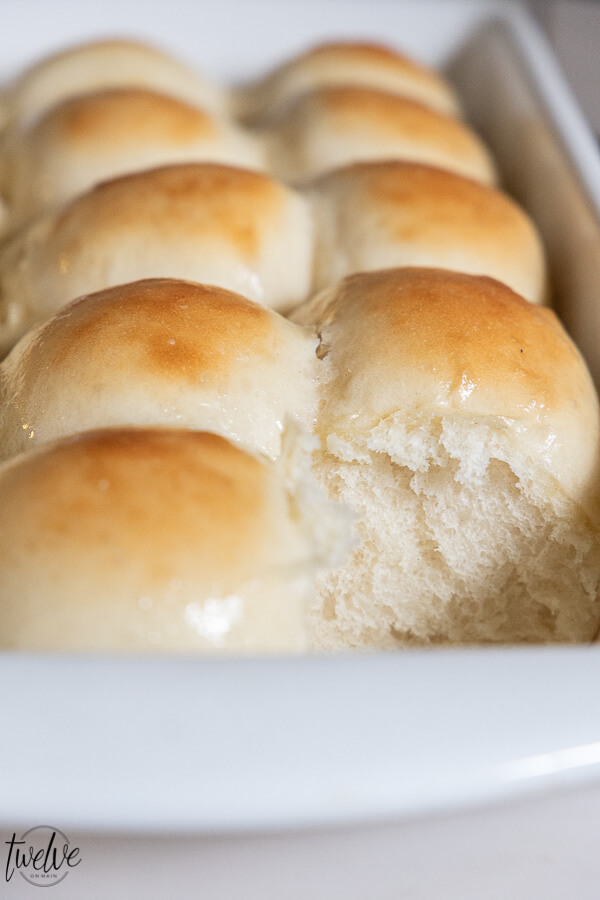 This dinner rolls recipe is amazing and so easy to make. Make sure to try it out!
I love baking rolls in a smaller pan, so that they rise up and connect to each other. The have the softest edges, and as you pull them apart, you can see how soft and tender they are.
Make sure to follow me on Pinterest to see all the amazing recipes and DIY projects I am sharing!
GET YOUR FREE GUIDE to 30 DIY projects that can be done over the weekend!
By subscribing, you will gain access to my FREE guide with 30 DIY projects that can each be done in a day, or over a weekend!
You will also receive a weekly email with some of my favorite tips, tricks, and design ideas.