Do you like to make your own iron-on t-shirts, but have a hard time finding quality shirts that are soft, comfortable, well fitted and a good price? I have searched high and low to find the perfect t-shirts for iron-on transfer projects. Trust me, you will be so very grateful for these products! Keep reading to see them all.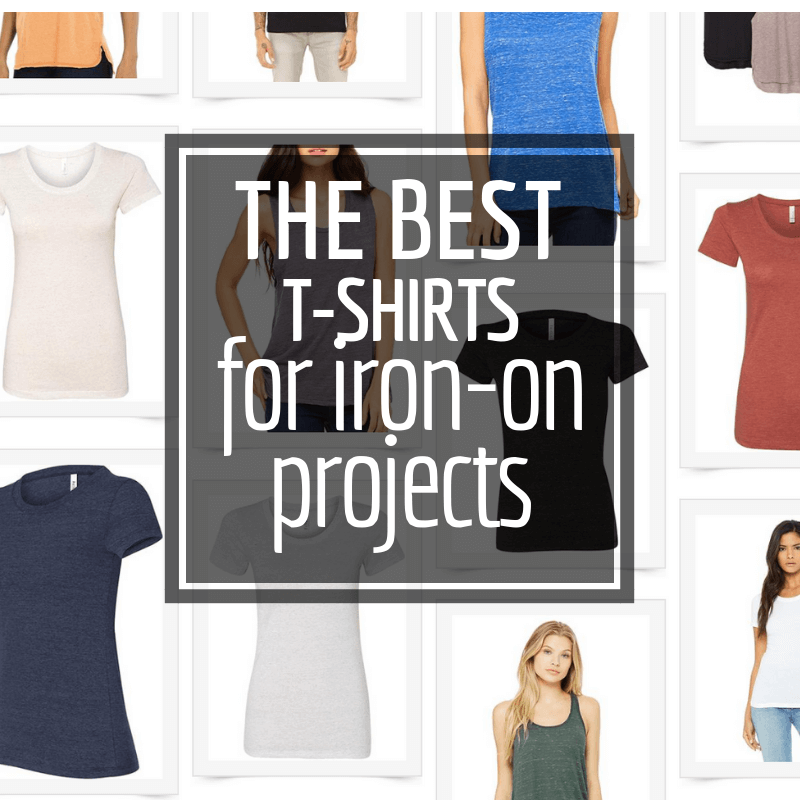 I'll get real with you. I have never been a fan of regular plain old t-shirts. You know, those t-shirts that have sports logos, funny sayings, and so much more.
I always find them to be rough, stiff and just not comfortable overall. I want my shirts to have a certain fit. I want them to be soft, hang nicely, have a bit of a loose look to them so that I can tuck the front of the shirt into my jeans if I want. Most often, generic t-shirts that are used for screen printing or vinyl do not feel very
When we travel, you'd think I would want to buy a t-shirt as a souvenir, but I would rather spend that money on an article of clothes that I would actually wear.
Recently, I was able to try out the new Cricut Maker, the Cricut Easy Press 2 and so much more. I have a huge desire to create so many things with these products and one of them is iron-on apparel. I spend a lot of time working out and love wearing fun workout tanks and tees that represent my personality a bit.
You can see some of my favorite cricut projects ideas here on Pinterest.
I also like to give my husband a bit of a warning as far as my mood for the day depending on what I-shirt I am wearing haha!
I also think that athleisure is where its at this year. I cute, super soft tee, a pair of leggings and some cute Adidas is my go to lately and I am so excited to make some fun t-shirts, sweatshirts, and tanks for my collection.
Finding a source for t-shirts for iron on projects is like striking gold. Having a shirt that is soft, wears and washes well is key when creating your own t-shirts. We've all worn those cotton tees that are rough to the touch and don't lay well.
Once I found the source for a great iron-on t-shirt, I was thrilled to order a few and try them out on my Cricut Maker and Cricut Easy Press 2. The first thing I purchased was a couple of their sweatshirts. I then bought some t-shirts and tank tops as well.
The prices are so good, I felt confident in the purchase even if they didn't work out. But they totally did. I found this brand because I had purchased a screen printed shirt back when we visited Seattle last year. I was obsessed with the softness of the shirt and had to look into it. So, you could say that I am not inventing the wheel, I am just hoping to provide some sources for those that may not have known where to look.
Why not check out some of the t-shirts for iron-on transfer projects:

As you can see I have found some really great t-shirts for iron-on transfer projects. The sweatshirts are the best I have found! They are super soft and wash up so nice. All of the ones I have tried have not shrunk or gone rough after a few uses.
I love wearing fun workout tanks, so I found some of my favorites that I have and added them to it too.
Here I am wearing my favorite soft sweatshirt.
Make sure to PIN IT for later and share this with others! Sharing IS caring!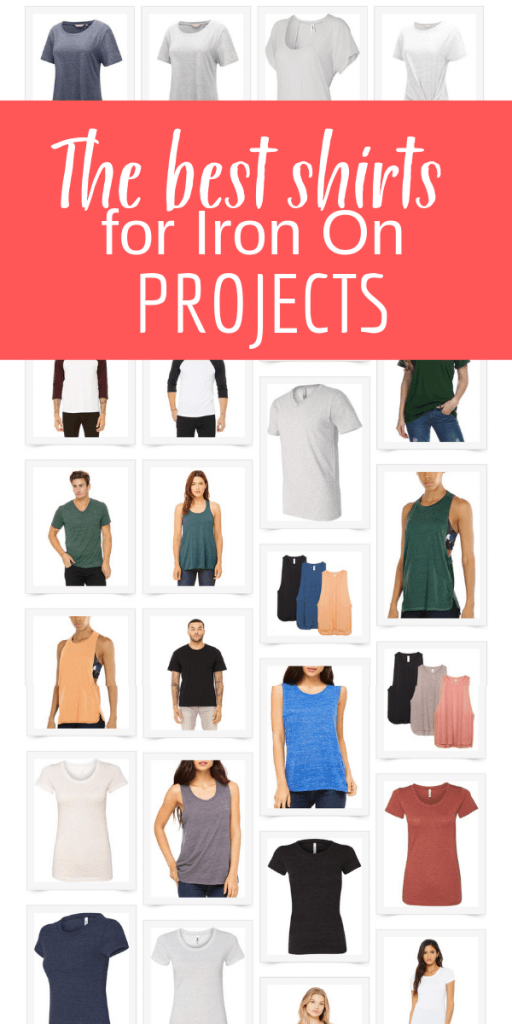 GET YOUR FREE GUIDE to 30 DIY projects that can be done over the weekend!
By subscribing, you will gain access to my FREE guide with 30 DIY projects that can each be done in a day, or over a weekend!
You will also receive a weekly email with some of my favorite tips, tricks, and design ideas.