This year I have a couple new projects I am considering in the home. One of them is to remodel my sons bathroom. Currently we have a built in single sink vanity. Its okay, but I have bigger and more stylish plans for this bathroom. I want to create a more of a furniture style piece to hold the sink. I want to retile the floor and add some wallpaper to the walls. I would also love to tear out the fiberglass shower insert and install a gorgeous tile surround. Its a lot of stuff, I know but I feel like its time to give it an update. Today I want to share some of the research I have done looking for single sink vanity ideas for his bathroom.
My sons bathroom is not necessarily a small bathroom, but there is just enough space for a single bathroom vanity, a toilet and a shower and bathtub. I would love to have a double sink vanity in this bathroom but theres just not enough space. So, I want to replace the original vanity with one with ample storage space for all those bathroom essentials.
Larger bathrooms might have storage closets in them, but since ours does not, I need more storage solutions. Drawer storage is essential for small items as well as a couple fo cupboards. Some open shelving would also be nice. I have seen a variety of styles of single-sink vanity options with these elements all included.
The new vanity will be taller as well. When we built the house we did not think about taller vanities but with all the tall people in my home. But, I have found even a couple of extra inches makes it so much more comfortable when leaning over the sink and when using it. If I had it all to do over again, I would have put taller vanities in all the bathrooms and just had my kids use step stools until they were older. Our master bathroom has a taller vanity and it is really nice!
There are some great resources for already made single vanities at big box stores such as The Home Depot and Lowes Home Improvement. I find that the prices on these vanities are pretty affordable since they also include the sink as well as the faucet. I personally would prefer to choose a different faucet depending on the style the include but that is something that can be done after.
The style of vanity I am looking for is one that opens up the floor space or at least makes it look more spacious by not being connected to the ground. I want the vanity to be free standing. I want the tile to go under the vanity and for the vanity to have legs on it so that it lightens the room.
Open shelves would be great for extra towels. I would also love a bit of countertop space. Depending on the size of the vanity that I can fit in the bathroom, I can find one with the countertop space I want.
The most common sizes of single vanities are the 48-inch vanity and a 60-inch vanity. I would love to have one with a white marble countertop. I find that this goes so well with just about every style and will last the test of time.
I have been looking at some of the online selections from The Home Depot and Lowes and have found some really pretty vanities. They offer natural wood vanity base options as well as painted varieties. The are numerous storage options available as well as various door styles. They often come with the cabinet hardware as well as a sink. Often times you can get these options in a single vanity or as a double sink vanity.
I have found some really great single sink vanities and I wanted to share them with you.
I have found more than 45 stylish single sink vanity options perfect for any style, with classic lines and details. Check them out below!
Make sure to click on the image to see more information about that specific product.

Interior design has always been a big love of mine and I love putting rooms together. I cannot wait to put one of these gorgeous sink sink vanities in our sons bathroom along with all the other details including new tile, wall coverings and more.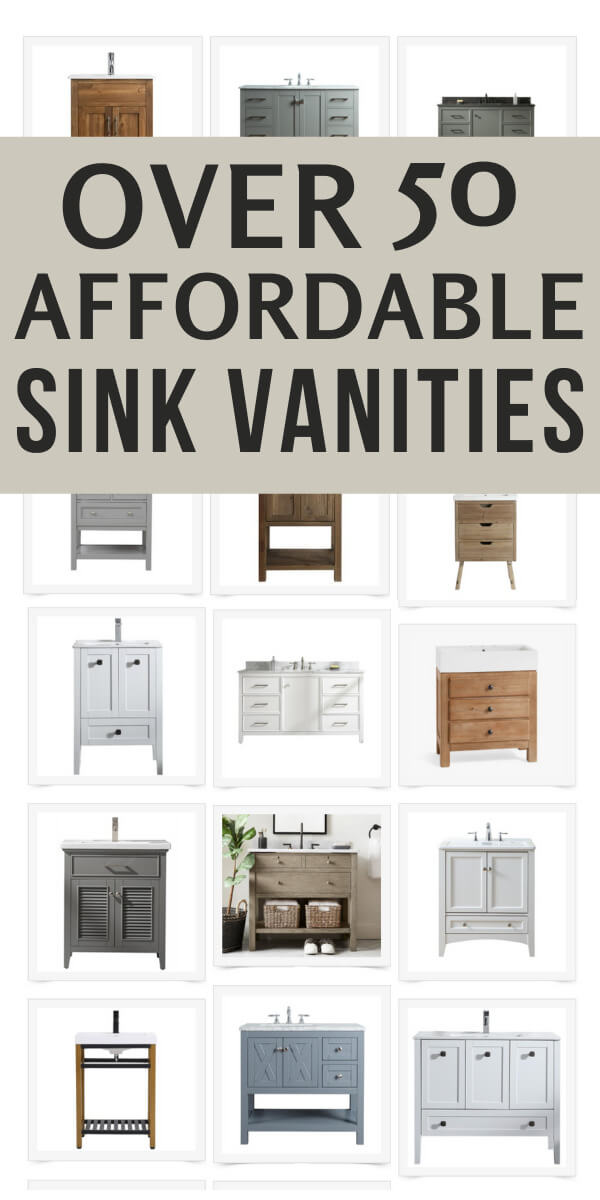 Make sure too check out these other great posts!
Over 60 Gorgeous Entry/Foyer Bench Ideas to Keep Your Home Organized
Over 50 Gorgeous and Affordable Washable Area Rugs
Over 40 Stylish Front Door Mat Ideas for your Home
Over 30 Gorgeous Mudroom Bench Ideas
Over 40 Bathroom Over the Toilet Storage Ideas and Solutions
Over 60 of the Most Popular Black Outdoor Light Fixtures for 2021
GET YOUR FREE GUIDE to 30 DIY projects that can be done over the weekend!
By subscribing, you will gain access to my FREE guide with 30 DIY projects that can each be done in a day, or over a weekend!
You will also receive a weekly email with some of my favorite tips, tricks, and design ideas.