Oodles of Barn Door Ideas for the Bedroom
Barn doors in the home have been popular for quite sometime. They give one an opportunity to add some interest and change up the standard doors in your home. With so many different styles of what can be done, it can be overwhelming. Over the past couple of years I too have taken the opportunity to add some of these fun doors to my own home, replacing my traditional doors in the process. I have a couple in my mudroom / laundry room and one in my master bedroom. I love the way they change up the space and give it character. Today I want to share some fun sliding barn door ideas for bedrooms.
Over the past couple of years I have added some sliding doors to my home. Adding barn doors to your interior doors is a great way to add a focal point to a room. There are so many different interior barn door options and I want to show you some of the ideas that I found. These are all great barn door ideas for bedroom spaces.
Check out these barn door ideas for bedroom spaces below: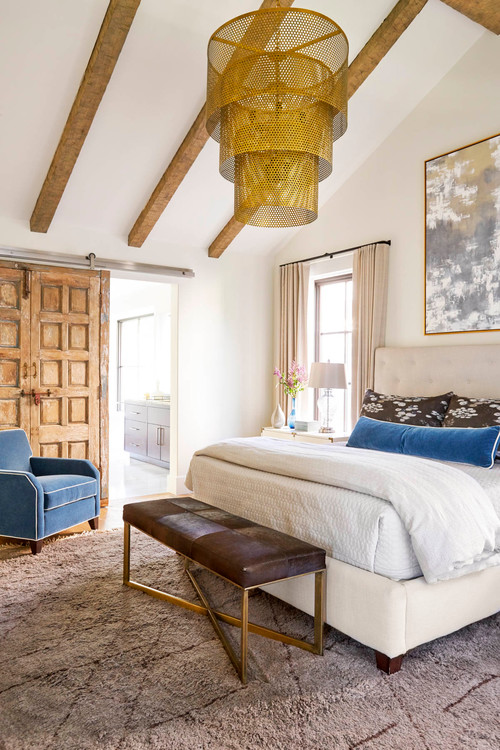 Photo by TATUM BROWN CUSTOM HOMES – Look for bedroom design inspiration
I love love this use of an antique door as a barn door in this space. I did something similar in my mudroom!
One of my mot favorite ways to create a barn door is by reusing an old door, especially one with unique style. I love the look of these antique barn doors. I used similar doors in my mudroom. You can see my own barn door below. I love the rustic look they can give with the raw wood. I ended up sanding down the original finish and leaving them all natural.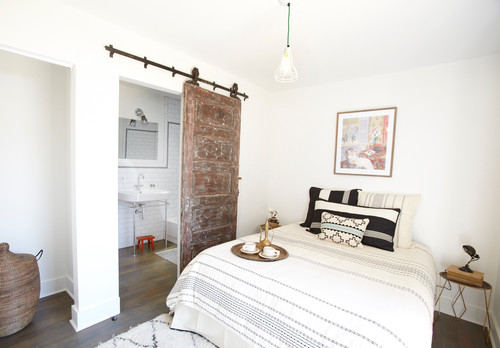 Photo by Platform – Search bedroom design ideas
Here is another great example of a barn-style door using an old antique door. The fact that sometimes you can find these in salvage yards or other places. I love that these old doors get repurposed into something else that highlights their beauty.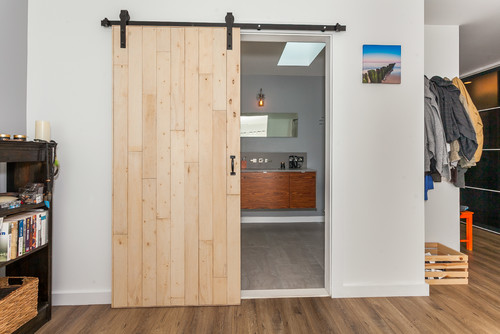 Photo by Pearl Remodeling – More bedroom photos
If you are looking for more of a modern look to your barn door design, this one above is a perfect example of how to incorporate a more modern style barn door.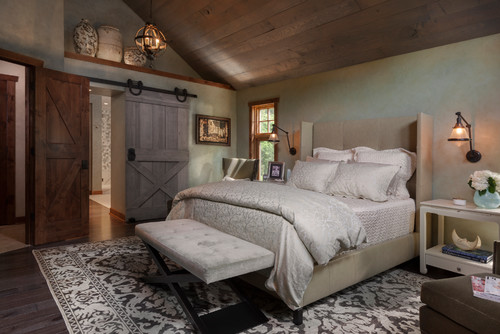 Photo by Ryan Hainey Photography LLC. – Browse bedroom ideas
This is the epitome of a rustic barn door. With the barn wood look, the X design and the rustic touch of the wood ceiling makes it all work together well. Rustic interiors always make the perfect spot for a solid wood barn door or two.
CHECK OUT THESE GREAT BARN DOOR OPTIONS AVAILABLE FOR PURCHASE!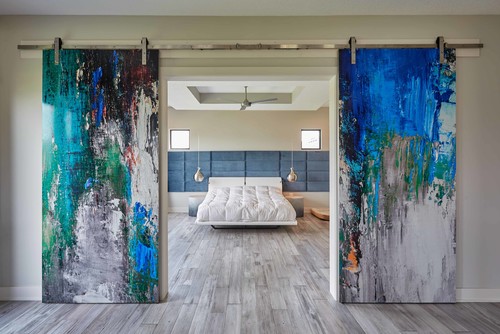 Photo by J. Thompson Builders – Search bedroom pictures
These double doors are so gorgeous! I love the different colors that are incorporated in the abstract art style of these doors.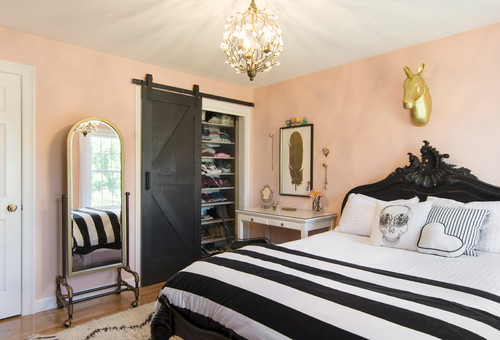 Photo by kelly mcguill home – Discover bedroom design ideas
Barn doors are a great option as a closet door. Barn doors are generally super low profile and they easily slide out of the way. Since they do not swing into a room, they are perfect for a small space. Just make sure you have plenty of wall space so that it can slide fully out of the door frame.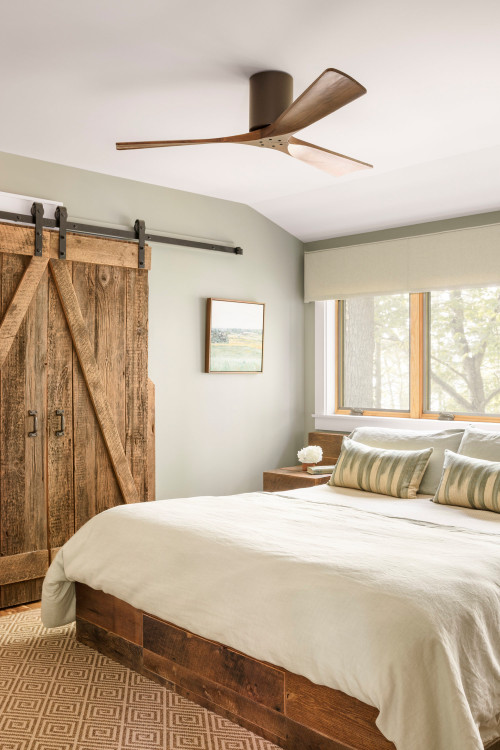 Photo by Fiore Interiors – Discover bedroom design ideas
Here is another great example of barn door styles for the bedroom. I love the rustic look of these doors in this small bedroom.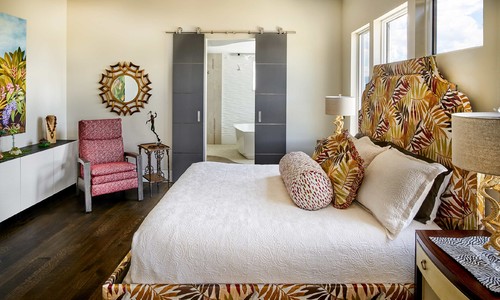 Photo by KGA Studio Architects, PC – Browse bedroom photos
These split double barn doors are a great idea for a master suite, where it opens to the master bathroom. Something to consider in a space like this is the barn door hardware. Consider hardware that can lock for privacy.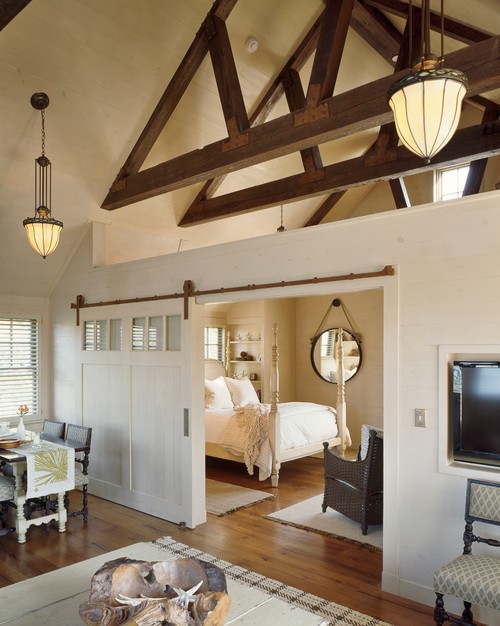 Photo by C.H. Newton Builders, Inc – Search bedroom design ideas
I love these barn door styles with glass panels. They provide a great way to transfer light from one space to the next.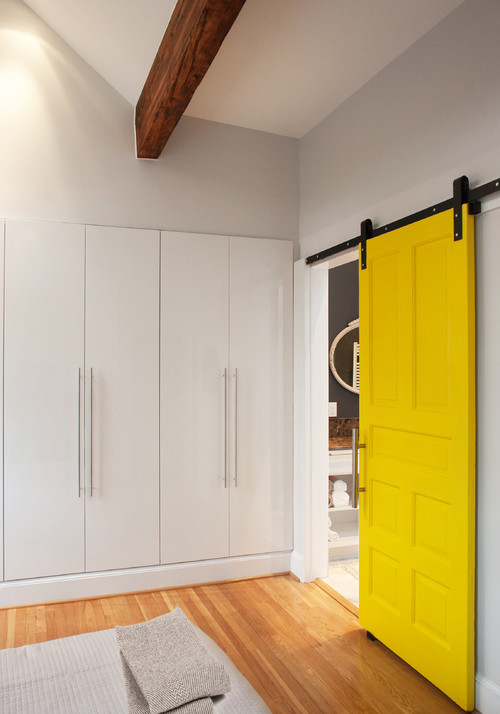 Photo by DISTRICT DESIGN – Browse bedroom ideas
A bright barn door is a beautiful way to add a pop of color as a focal point in a room.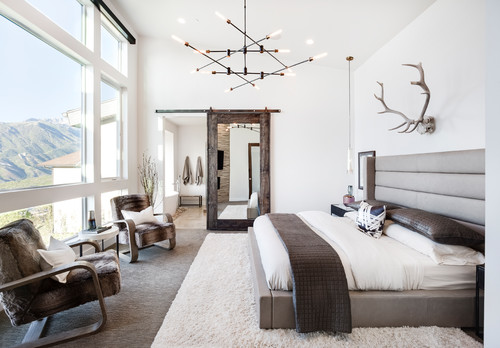 Photo by Ezra Lee Design+Build – Browse bedroom ideas
Glass barn doors are beautiful. They may not be useful when looking for privacy, but in an office or other public living space they are a great way to add design and style.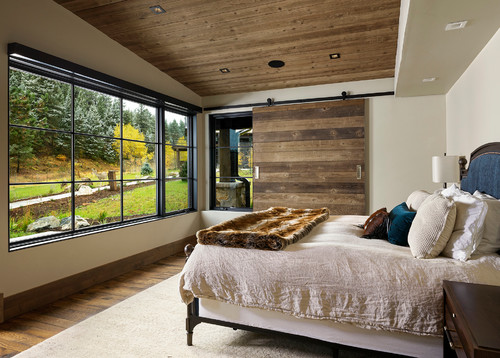 Photo by Best Custom Homes, LLC – Discover bedroom design ideas
DIY barn doors can be really easy to build. I love the simple wood design of this large barn door.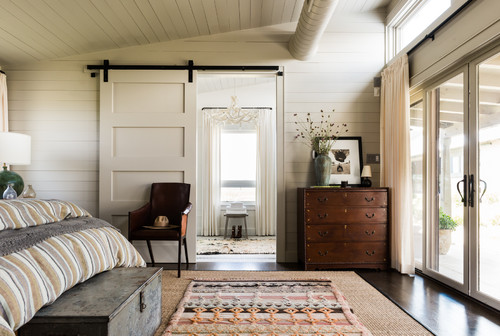 Photo by Jan Jones LLC – Browse bedroom photos
You can also find some really nice barn doors from places like The Home Depot. With them being already made, you can easily install the barn door as long as you have enough space. This white barn door is so pretty in this space, with its classic three panel style to it.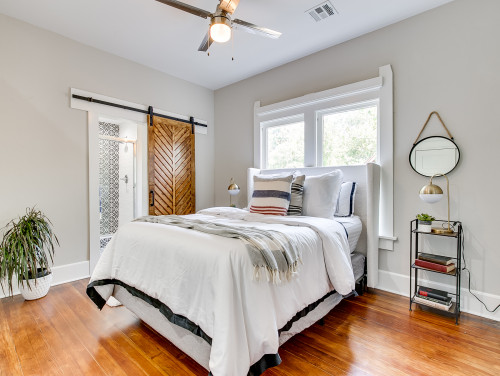 Photo by Dream Construction – Browse bedroom ideas
This beautiful herringbone style wooden barn door is beautiful and yet another example of something you can build yourself or hire out.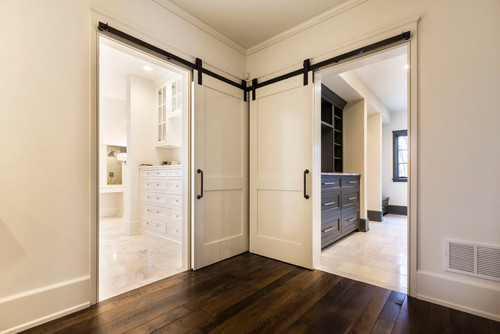 Photo by Schlabach Woodworks – More bedroom photos
I love the use of these barn doors in this modern farmhouse. It is a nice change from a regular door.
Whether you are dealing with single doors, french doors, or large door openings, a barn door is a great option for so many spaces around the home and I hope these barn door ideas are helpful. It adds so much to your home decor, and makes your space more unique. They are perfect for modern farmhouse styles, rustic interiors and even simple modern homes. I love the barn doors I have in my home. Make sure you get a high quality barn door hardware set, and make sure that you have enough space for your barn door to slide completely out of the doorway.
I hope that whatever barn door design you are looking to add to your home, that you go for it. I hope this post helps give you some inspiration and design ideas for your own home.