We hHey there friends! Are you ready for some amazing 5 ingredient recipes? Something I love about cooking and baking is when it can be kept super simple, with great ingredients, but only just a couple. I love creating 5 ingredient recipes, and this 5 ingredient grape salad is so very amazing and so very perfect for the summer!
I am so excited to be sharing one of my most favorite summer salads with some of my most favorite bloggers! We are all sharing a great 5 ingredient recipe and cant wait to share them with you! Make sure to scroll to the bottom of the post to see all the great recipes!
I am a fan of simple dishes, you can see my 5 ingredient pasta here. Life just needs to simplified sometimes. And that is what this fresh grape salad is!
I seriously cannot get enough of this grape salad. I had it at a get together a while back and became obsessed with it. I changed it up just a bit too suit our needs.
This grape salad has 5 simple ingredients:
grapes (green and red)
sour cream
cream cheese
sugar
brown sugar
Watch this video to see how easy it is to make this easy grape salad:
This grape salad could not be simple enough. Wash and de-stem your grapes. Dry them off and set aside.
Mix the sour cream, cream cheese, and sugar in a mixer until creamy. I like to use my KitchenAid.
Put your grapes in a large bowl and pour the cream cheese mixture over the top and combine. Add the brown sugar right before serving, simply sprinkle it over the top and enjoy!
The tart and tangy combination of the grapes and the cream cheese/sour cream mixture is amazing. The brown sugar brings it up a notch adding a touch of sweetness to balance the tangy.
Want the full recipe for this 5 ingredient grape salad?
Check it out below!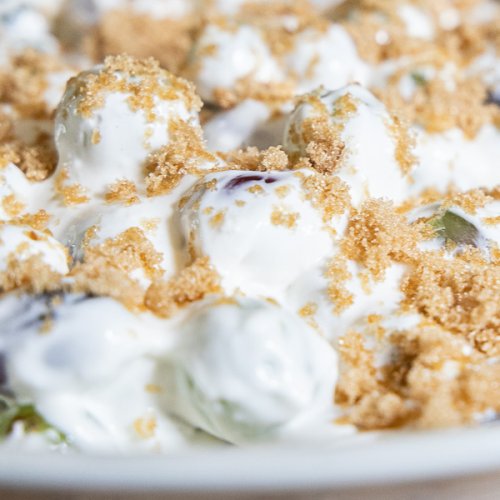 Creamy Grape Salad
Ingredients
2

lb

red seedless grapes

2

lb

green seedless grapes

8

oz

cream cheese

1

cup

sour cream

1/2

cup

sugar

1/4

cup

brown sugar to sprinkle on top
Instructions
Wash and remove all grapes from the stems. Let them air dry for a bit while you mix up the creamy sauce.

In a mixer( I like to use my KitchenAid), add sour cream, sugar, and cream cheese to the bowl. Mix all ingredients until nice and creamy

Put the grapes in a large bowl and pour the cream cheese mixture over the top. Stir up to cover all the grapes.

Let sit in the fridge until you are ready to serve.

Right before serving, sprinkle the brown sugar on the top. If you sprinkle and then refrigerate for a couple hours, the brown sugar will begin to start turning into liquid.

This stays well over night in the fridge, but make sure to add the brown sugar before serving.

If you have leftovers, I like to mix the remaining brown sugar on the salad into the salad and put it into a tuperware. It will be amazing the next day!
This salad is always a hit when I make it!
This 5 ingredient recipe is perfect for summer barbecues, get togethers and so much more.
It stays really well in the fridge too! I will recommend that you leave the brown sugar off until you are ready to serve it. If you have any salad left over (which we rarely do) stir it all up and put it in some tupper ware, it will be still as amazing the next day, if not better!

Make sure to save this 5 ingredient recipe for later and PIN IT!
WANT MORE 5 INGREDIENT RECIPES? CHECK THESE OUT BELOW!

Layered Hummus Dip – Modern Glam
Appetizer Trio With Roasted Rosemary Cashews – Classic Casual Home
Have you Made Pesto Lately? – Most Lovely Things
Homemade Hummus – Lemongrove Lane

How to Make Bubble Tea (Boba Tea) – Happy Happy Nester
Lemon Rosemary Shortbread Cookies – Finding Lovely
5 Ingredient Blueberry Crepes – Zevy Joy
Raspberry Lemonade Sorbet – Jenna Kate At Home

Easy Pasta Recipe – My 100 Year Old Home
Easy Italian Sausage Pasta – Maison De Pax
Creamy Grape Salad – Twelve on Main
Want more great recipes? Check these out:
Our Favorite Zesty Fresh Salsa Recipe
The Most Amazing Beef Stroganoff Recipe You Will Ever Make!
Colorful Wild Rice, Kale, and Pomegranate Salad
Light and Fluffy Cinnamon Rolls
GET YOUR FREE GUIDE to 30 DIY projects that can be done over the weekend!
By subscribing, you will gain access to my FREE guide with 30 DIY projects that can each be done in a day, or over a weekend!
You will also receive a weekly email with some of my favorite tips, tricks, and design ideas.