Make Your Own Fabric Flag for Fall with Dropcloth
I love making homemade decorative items for my home. One thing I love to use is dropcloth. There are so many different ways to use dropcloth in your home, and today I want to show you how to use dropcloth to make a fabric flag to use for fall or for any season!
A few nights ago, I posted a picture on Instagram at about, oh, midnight. I was knee deep in projects and could not see an end in sight. Now, not every night is like this for me, but this night hit all the marks. Hubby was away on business, kids asleep, Jimmy Fallon on TV and a whole lot of ideas and brainstorming ready to get out. I started this fabric flag about a week ago. It was an experiment. I am happy to report it was a successful experiment! And, in all honesty, really not a hard project. No really, I promise.
For years I have been searching for a cute fall fabric flag to hang up in place of my American flag that I hang throughout the summer. And you can just ask my husband, I am hard to please. For one, don't you think that something like that is one of the first things a person is going to see upon coming to your home? It sets the tone, the feel that they will get for whats to come. I guess you could say, I haven't found one that sets the right tone for me and my home. So after a few years of thumbing my nose at many cheesy store bought options, I finally decided I would just make my own! Do you see a theme here? If I cannot find what I am looking for, you bet your bum I am going to make it, or at least try.
DIY Fabric Flag for Fall
Here are the items I used for this project:
White Paint
Black Sharpie Marker
Okay, so I dug out my drop clothes and the first thing I did was measure how large I wanted to make my fabric flag. I compared the size to some other flags I have stored up and decided the width. I had a very specific design in mind for the fabric, you could always make it a simple square, or rectangle. Really, whatever you want. Don't be afraid to try it!
I thought you might like to see what hangs here in the summer.
Okay, now back to it.
Now, I am sure I this looks weird, and yes, that is a level that I am using to measure out the width of my fabric flag. I decided to make the width 34 inches.
Once I picked the width, I made a mark in the center at 17 inches. That will come in handy in a minute. First, I cut the drop cloth to the width I had decided on. Then I had to pick a length. I decided this at random. Just what I thought looked good. I then measured the center of the cloth again toward the bottom where I wanted the point. I then decided the angle I wanted the bottom part of the flag to be at and made a mark on the edges of the cloth. I then grabbed my trusty Sharpie Marker
and connected the lines. I used my Rotary Cutter
along with my level to achieve a nice straight line.
.
And here is my flag, ready for some sewing. If you don't want to sew, you could definitely use glue. I sewed the two long sides first, using a 1 inch hem. Just a straight stitch will do. I then sewed one side of the point with the same 1 inch hem, finally ending with the other side of the point
I then quickly sewed a pocket along the top, where the wood pole was to be. Now, listen. I did not pin the sides down, I didn't make exact measurements here. I told you, this was an experiment, and taking all those extra steps was going to take soooo long! And hey, it turned out!
Here is a photo of the end point of the flag and what my hem job looked like. Don't judge, I am not a seamstress. Do not fear, all this mess will be painted over. Yes you heard me right.
Here it is ready for paint.
I used my trusty white paint and some Plaid Delta 8-Ounce Textile Medium Acrylic Paint Ceramcoat
to paint the fabric flag. The textile medium will help the paint be pliable and not crack. Use the instructions on the back of the bottle to see how much medium you need to mix into your paint.
Painting done. Now to wait for it to dry. I guess that means I need to work on another project for a bit. I brainstormed for a while on what I wanted to paint on the fabric flag. I kind of got stuck. That is until late one night. You know, the night I spoke of at the beginning? Sometimes, inspiration comes at late night hours. Maybe it was the Jimmy Fallon.
My trusty assistant couldn't wait to get started. I do believe I trained him right:)
I pulled out my stencils and traced the letters onto the flag. I decided on "WELCOME FALL" for the greeting, and drew up a graphic tree image for the center of the flag.
I have to tell you I think I watched the funniest Jimmy Fallon episode while I was creating this that night. I am amazed I was able to keep all my lines straight with all the giggling happening. You need to go watch him "whip it".
Once everything was drawn out I used my Sharpie Oil Paint Marker
to fill it all in. I LOVE these markers. I can create a much cleaner line with these instead of using my traditional stencil and paintbrush method. Plus, since I was free handing the tree in the center, I can control what what I am doing.
Well that's a weird tree.
Here is my finished product. I think it was about 1 am, but I was doing my happy dance anyways! I then created the exact same graphic on the backside so it is visible from both angles. I am extremely pleased with the final fabric flag! Once again, I wanted something that set the tone for what people can expect upon entering my home. Simple, classic, with a touch of farmhouse style.
I hope you've enjoyed checking out how I made this fun flag! I am thinking I will have to make one for Christmas too! I'll just add that to my project to do list. I would love to hear what you think! Thanks for stopping by!
*This post contains affiliate links for your convenience*
If you like this post, you'll love these:
Non Traditional Fall Antler Wreath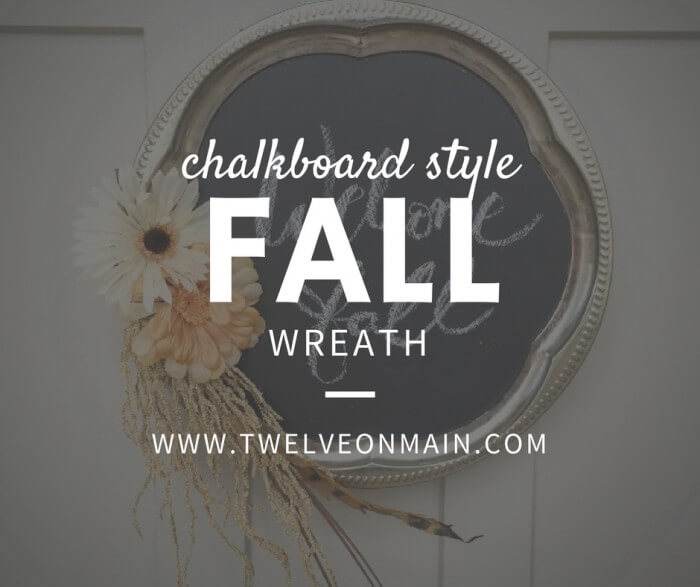 Make an Easy Decorative Drop Cloth Fabric Sign for Each Season
GET YOUR FREE GUIDE to 30 DIY projects that can be done over the weekend!
30 DIY Projects to do this weekend!