This easy potato cheese soup recipe is one our family favorites! Keep on reading to get the recipe!
Hey friends! I can officially say this has been the weirdest and most uncertain week of my entire life. With so many things going on in the world with the Coronavirus, and with every school shutting down as well as businesses and more, I am taking this time to hopefully be a source of help and inspiration instead of fear. My goal is to help people learn simple skills such as making breads, simple meals that can be made from food storage and more! Let's have some fun while we social distance and maybe we can all come out of this a little stronger, more confident in our abilities to take initiative and do what we need.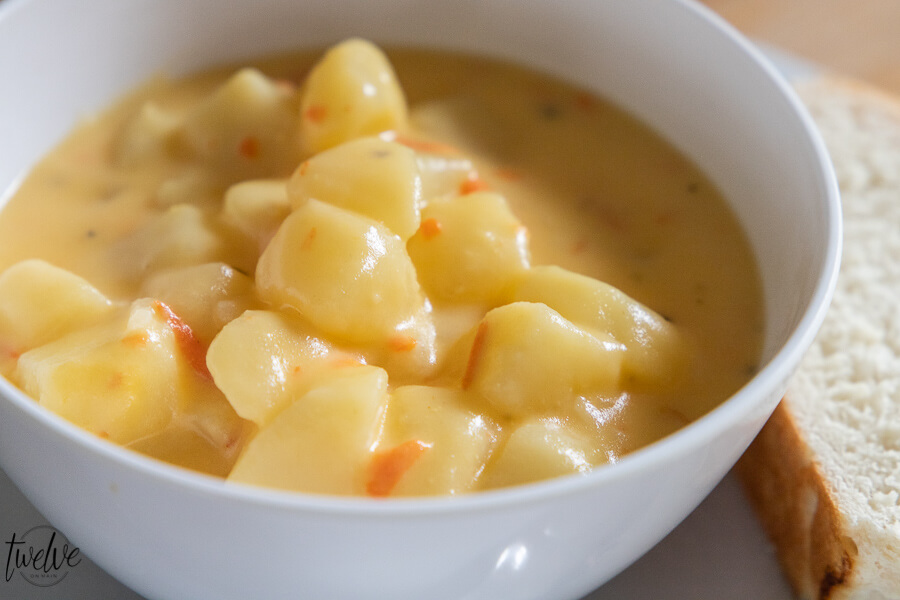 That seems like a lot to ask of a post about a soup! Haha, but I want to share as much as I can in hopes that it can help just one person!
Today I shared how to make super easy french bread as well as how to make this easy soup. I promised I would get the recipe out onto my blog, so here it is!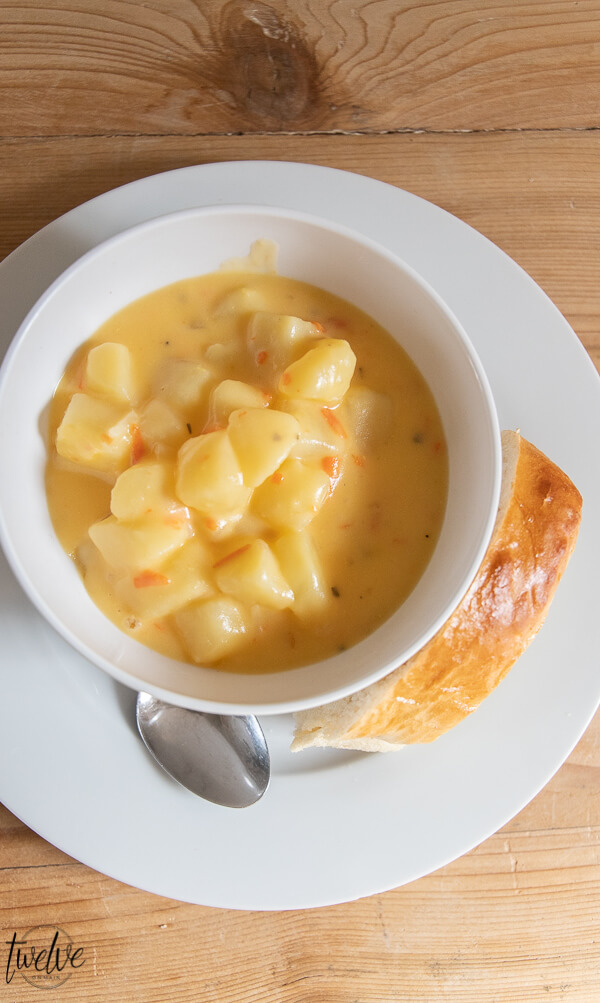 This is a really easy soup. All you need to make this potato cheese soup recipe is:
Potatoes, chicken broth, carrot, minced onion, milk, flour, and cheese.
I use my favorite white enamel dutch oven pot to cook all my soups, including this one.
It is really quite simple, so let's talk about how to make it.
Peel your potatoes and cut them in to 1 inch cubes. This soup recipe will make enough for at least 10 people so you can cut this in half if needed.
I use a 5 lb bag of potatoes for my family. That seems like a lot, and it kind of is, but we are a big family and it is full of growing boys. We end up with plenty left over which is great for lunch the next day for them.
In general use about 8-10 medium sized potatoes. I fill my dutch oven pot with my cut potatoes. I then cover the potatoes just barely with water. I add my Better than Bullion, one grated carrot, and 1 tbsp of minced onion and some parsley.
I let this all cook until the potatoes are just fork tender. When they are ready, it is time to add the milk/ half and half. I have used both and it turns out great.
Once you put the milk in with the potatoes, you can melt the butter in a separate pan and add the flour to the butter. Mix with a whisk and make a rue.
When the rue has cooked for a couple minutes, pour it into the soup and stir until it is mixed in well. The soup will begin to thicken quickly. Put the shredded cheese in the soup and stir until it is all combined and mixed in well.
At this point turn off the heat to avoid burning or curdling the soup with high heat. You can keep it on low if you desire.
I love eating this with my homemade french bread or my homemade wheat bread. Either one is so good with it!
Potato Cheese Soup
Make this creamy and hearty potato cheese soup! Its so delicious and is the perfect meal to make to comfort your family. Its also inexpensive and easy to make with items from your pantry!
Ingredients
6-12

potatoes peeled and diced in 1 inch pieces

1

carrot grated

1

tbsp

dried minced onion

1

tsp

dried parsley

3

qt

water

12

bouillon cubes or 6 tsp of Better than Bouillon

1

qt

half and half or milk( i have used both and its turned out great)

1

cube

butter

1/2

cup

flour

3

cups

grated cheese
Instructions
Put your potatoes in a large pot with water and bouillon. Add the minced onion, parsley, and grated carrot.

Boil until potatoes are just tender.

Melt your butter in a small pan and add flour to make a rue. Whisk it together until it is thickened. Pour into the soup and stir until well combined.

Turn heat on low. Add your grated cheese and stir until mixed well and all the cheese is melted and combined.

Season with salt and pepper to taste.
Its creamy and so very good!
I hope you'll try making this soup! It is such a great comfort food! We love having it on a cold winter night or really any time!
Want more great recipes? Check these out:
The Tastiest Broccoli Cheese Soup Recipe
The Best Tortilla Soup Recipe Ever for the Crock Pot, Stove Top, or InstaPot!
The Most Amazing Beef Stroganoff Recipe You Will Ever Make!
The Tastiest Sweet Potato Hash You'll Ever Eat!
The Ultimate Cream Cheese Peach Cobbler Recipe
GET YOUR FREE GUIDE to 30 DIY projects that can be done over the weekend!
By subscribing, you will gain access to my FREE guide with 30 DIY projects that can each be done in a day, or over a weekend!
You will also receive a weekly email with some of my favorite tips, tricks, and design ideas.