There is so much going on with the world right now and I know that this blog is not the most important thing in what is going on, but I am trying really hard to bring you fun and helpful content that might help you in this weird time. If this post can simple give you something to look forward to for dinner, then I have done my job! So today I bring you one of my favorite recipes ever. My hearty homemade chicken noodle soup recipe!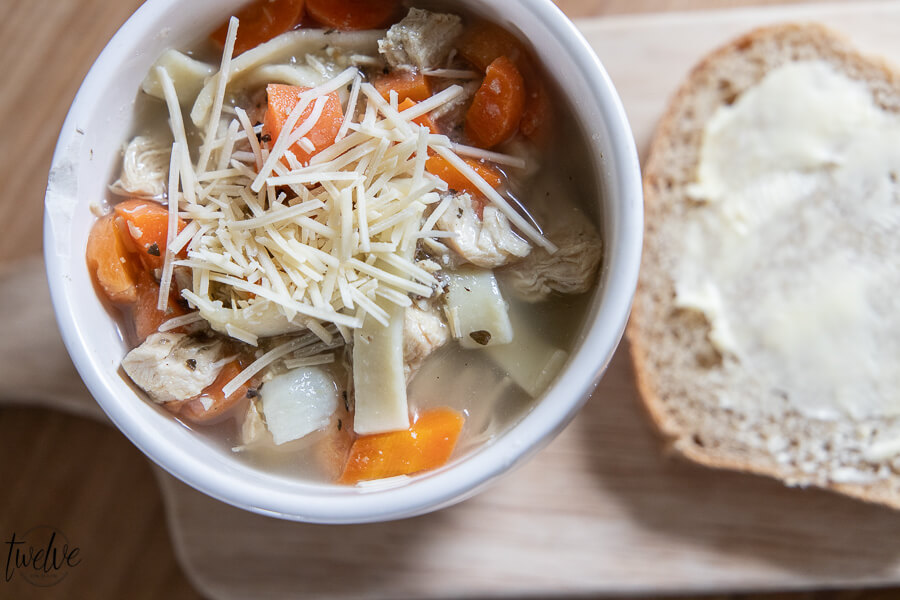 My husband says that if there is a cloud in the sky I make chicken noodle soup. I will admit, I just love it. My kids love chicken noodle soup. It is a regular meal around here. This week, on my Facebook page I have been doing fun baking Lives. My daughter and I have been doing some fun recipes, including my french bread recipe, my wheat bread recipe, our favorite potato cheese soup, and we made my chicken noodle soup.
Many people asked for the recipe, so I thought it was time to share. I really go for all the flavor in my homemade chicken noodle soup recipe.
Like all my recipes, I remember my moms chicken noodle soup and how much I liked it. I used her recipe as a starting off point and after many years, it has become one of the easiest recipes to make and also one of our most favorite.
I would say in general chicken noodle soup is not hard to make. It's one of those things that most people have their own version of. It is a pretty straight forward meal, but I add a couple things to mine that gives it even more flavor and comforting appeal.
I think the biggest element in my chicken noodle soup recipe is the herbs and garlic. My kids LOVE garlic, so I always go over the top and add extra to my soup. When we are sick and feeling under the weather, I make sure to load up on the garlic.
The combination of all the herbs really makes an amazing broth for this soup. Its amazing,
There is one element to this soup you might be wondering…and that is the shredded parmesan cheese on the top of a bowl of soup. Oh my gosh, if you haven't tried this yet, you need to! It melts into the chicken noodle soup and adds the most amazing flavor!
I used to add the rind of parmesan cheese to the soup and let it cook down, It gave so much flavor to the soup, but it was hard to keep a rind around, since it is so much easier to buy a bag of parmesan cheese already grated.
So, after I ladle a nice serving into a bowl, we top it with a bit of fresh parmesan cheese. The saltiness and savory flavor is so good with chicken noodle soup. And of course, a slice of fresh, warm out of the oven wheat bread is the icing on the cake! You should definitely try out my wheat bread recipe!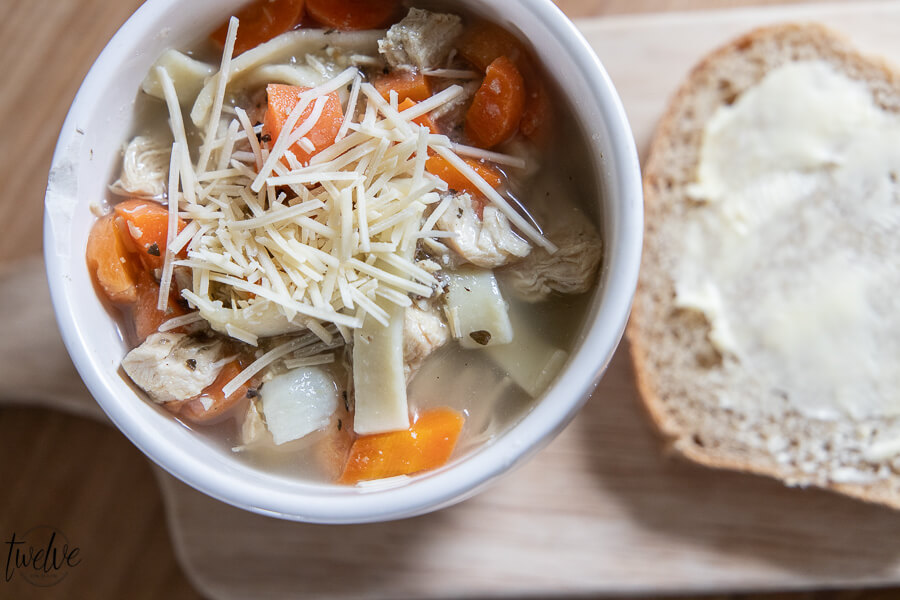 Now, this is completely optional. I have two kids that eat it without the cheese and the rest of us love it!
This recipe makes a big batch. We have 6 people in our family and there is always enough left over for a day or two. This is great though, because it means we can enjoy it longer, and my kids have an automatic lunch in the fridge!
You can easily cut this recipe in half and make less for you. But, its always nice to have a healthy, homemade meal in the fridge for you to eat later.
Here are some of my favorite elements I use in my homemade chicken noodle soup. Click the image to check it out!

Homemade Chicken Noodle Soup Recipe
This hearty and healthy homemade chicken noodle soup recipe is the ultimate comfort food. You are guaranteed to feel better after eating this!
Total Time
1
day
2
hours
10
minutes
Ingredients
3

quarts

water

you can also replace with chicken broth(I use Better than Bouillon)

4

tbsp

Better than Bouillon chicken concentrate

1

tbsp

dried oregano

1

tbsp

dried basil

1/2

tbsp

dried sage

1

tsp

dried thyme

1

onion finely minced

2

stalks of celery finely minced

1

tbsp

minced garlic

2

chicken breasts

1

large potato peeled and cut into small pieces

3

carrots peeled and chopped

1

pkg

grandmas egg noodles

1

bag

shredded parmesan cheese

Salt and pepper to taste
Instructions
In my Enamel Dutch Oven I fill it with the water and bouillon base. I add the onion, celery, oregano, basil, sage, thyme, garlic, and chicken to the water and turn the burner on medium high heat and bring it all to a boil.

I will turn it to low once it comes to a boil. I then let it cook on the stove on low for about an hour, just to let everything really mix together and create an amazing broth.

Then add the diced potatoes and carrots to the pot and let it cook on medium heat for about 10 minutes.

Add the noodles to the soup and let it cook until to noodles are done. if you choose to use simple wide egg noodles, let the potatoes and carrots cook longer before you add the noodles. If you want the more authentic wide noodles, they do take longer to cook. I don't think I need to explain this but, you know, I am thorough!
So, thats it for today! I hope you will try my homemade chicken noodle soup recipe! Another recipe? Yes, I know I am generally a DIY blog, but I really have a passion for baking and cooking and I want to share more of that with you. I hope you don't mind!
I hope you enjoy these recipes and make sure to check these great ones out below as well!
The Tastiest Sweet Potato Hash You'll Ever Eat!
The Crispiest Fried Chicken Recipe with Herb Infused Batter and Sriracha Honey Sauce
The Best Homemade Ranch Dressing Recipe
Our Favorite Grilled Chicken Recipe You Will Love Making
The Tastiest Broccoli Cheese Soup Recipe
GET YOUR FREE GUIDE to 30 DIY projects that can be done over the weekend!
By subscribing, you will gain access to my FREE guide with 30 DIY projects that can each be done in a day, or over a weekend!
You will also receive a weekly email with some of my favorite tips, tricks, and design ideas.