My Farmhouse Fall Home Tour
As fall officially makes its way to our homes, I thought it was time to do a fall home tour.  Over the past week, I have given sneak peeks to what has been going on here at Twelve On Main with my dining room tour, my outdoor fall tablescape, my fall garden tour, and my fall mantel.  Today I am excited to join up with some really incredibly talented bloggers and bring you my farmhouse fall home tour.  A tour of my home easily and simply decorated for fall.  (Make sure to check the bottom of my post for the other home tours)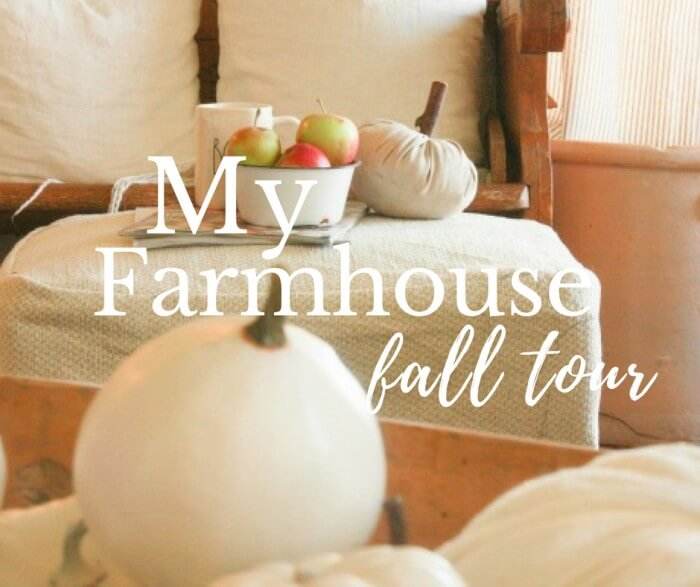 My farmhouse fall home tour…
An entryway is the first thing a guest sees when they come to you home.  I wanted mine to greet people with an inviting and simple space.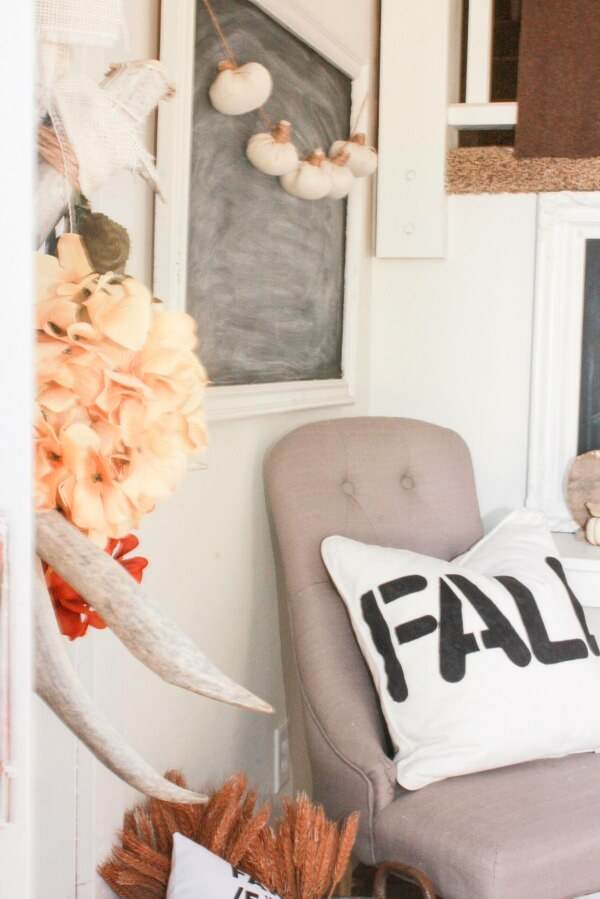 By adding a few fall pillows and fabric pumpkins, the space has been transformed into a welcoming fall entry.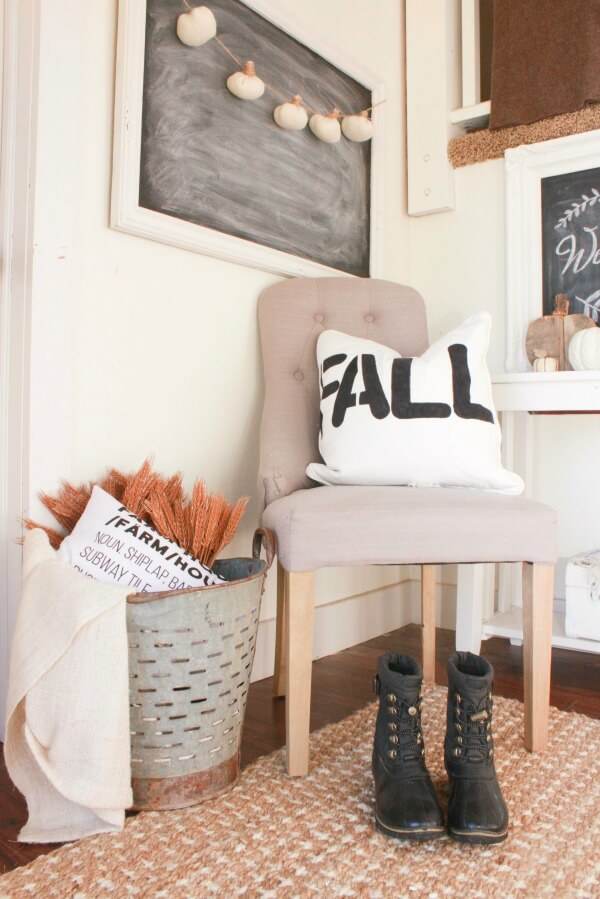 Take a seat, and make sure you take off your shoes.(I am trying the no shoes rule…its not working)  And don't you love my antique olive bucket?  That was a find from just last week!
My simple chalkboard with pumpkin garland has to be my favorite fall feature in my entryway.
Decorating for the seasons does not need to be complicated.  I literally changed out a few accessories with some fall accents and it was all I needed.
As you pass my entry, you pass some of my favorite furniture pieces.  My reclaimed hairpin leg table hangs out just off the entry.  Can you believe I found that table base in the junk yard?  On the right, you can see an old weathered piece of door molding I also found at a junk yard.
I have this small setback in my hallway that leads to some bedrooms, and I set my handmade(by my brother) hall tree in this spot.  I love to accessorize it with a few simple fabric pumpkins.
My family room is truly the heart of our home this time of year.  I have struggled for years to get furniture laid out in a way that flowed.  I am still working on it, but I really like what I've got going so far.
I know its rare to see a farmhouse style home without a white couch, and there are so many days that I almost bite the bullet and do it.  However, I think my leather couch makes my space unique.
I had to feature my baby fiddle leaf fig tree, as well as my vintage crate with the glass jar intact.  Look at that tree bathing in the autumn sunlight.
My fall mantle is full of nature inspired objects.  You can see more of it here.
I decided to use my antique dough bowl on my wire spool coffee table, filled with white pumpkins.  There are so many spots to hang out in my family room.
Just across from my couch, you can see my antique church pew softened with some white pillows and an ottoman decked out with the perfect necessities of fall.  A magazine, and a mug of tea.
With 4 kids constantly in my kitchen, I decided to show what we like to do most.  Pumpkin chocolate chips are always welcome in this home.
I filled my galvanized tiered tray full of apples from our apple tree.   Its amazing that something as simple as apples can be turned into decor.  Effortlessly.  Now we have a stylish space, and an endless supply of healthy snacks for the kids.
My farmhouse style fall dining room has to be one of my favorite spaces this year.  Simple, neutral, and white.  You can see more of my dining room here.
The last spot I want to take you to is my vintage farmhouse mudroom.  I did a tour a few weeks ago and you can check out all the detailed goodness here.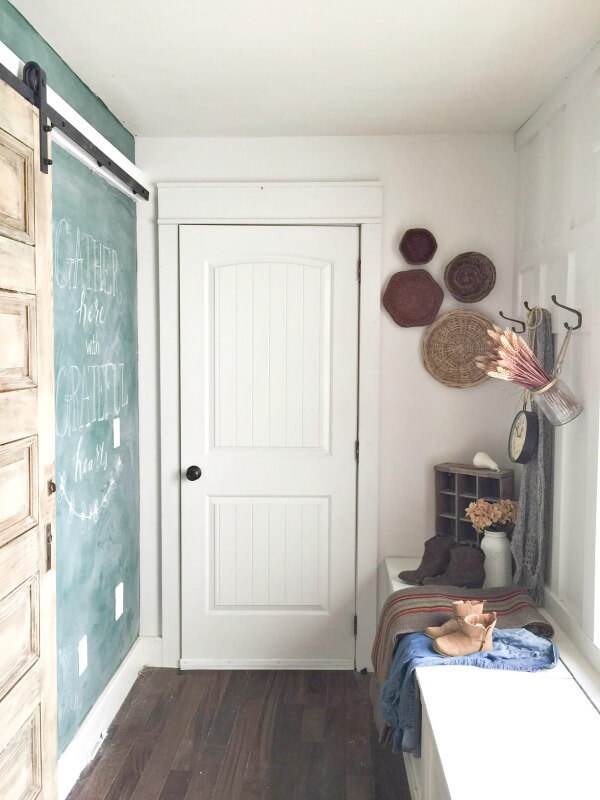 My vintage green chalkboard wall is the perfect place to write lists, keep notes, and draw messages to each other.  If you are even thinking about painting a chalkboard wall, I will tell you…DO IT.  It is such an easy way to add style and function all at the same time, and if you get sick of it, paint over it!
As you can see, decorating for fall does not have to be extreme.  My farmhouse fall home tour is the epitome of my style.  I wish keeping it clean was as easy and as fun as decorating it.  Well, we can't have everything, now can we.
Thank you so so much for stopping by today! It was truly a pleasure to have you here.

If there is anything you have found in my farmhouse fall home tour that you are curious about, don't hesitate to reach out!  For your convenience, i have gathered up exact and similar items from my home for you to peruse.
Family Room

Entry
Mudroom
Dining Room

Now make sure to visit the rest of the bloggers that are linking up!
Monday
Chatfield Court |Refresh Restyle | Remodelando La Casa| Savvy Southern Style | Love of Home
Tuesday
Debbie Doos | Duke Manor Farm | Common Ground | Twelve On Main |Mountain Mama
Wednesday
Shabby Fufu | Itsy Bits & Pieces | Little Farmstead | DD's Cottage | Knick of Time
Thursday
House of Hawthornes | Ash Tree Cottage | Exquisitely Unremarkable | My Kentucky Living | Sarah Sarna Blog
Friday
So Much Better With Age |Cassie Bustamante|  Blulabel Bungalow | Summer Daisy Cottage | Cozy Little House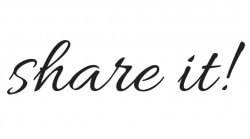 Have a great day and remember…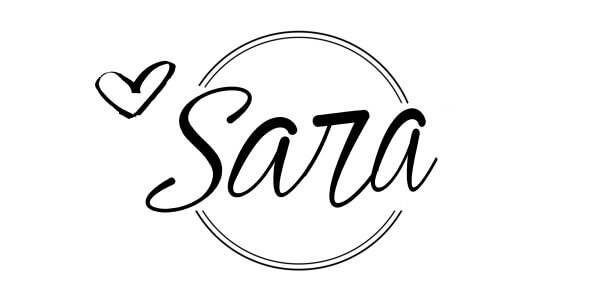 If you like this post, make sure to check these out as well!
GET YOUR FREE GUIDE to 30 DIY projects that can be done over the weekend!
30 DIY Projects to do this weekend!