Today was a good day. I spent it lazying it on the couch with my family watching a little General Conference, snacking until I was sick, and took a few photos as I decorate my home for fall. Its nice to have a large tour all at once, but I really like focusing on one room, featuring all the small details that get lost in a large tour. I've joined up with some of my favorite blogs to give you a fall home tour. Today I am showing you my farmhouse dining room for fall.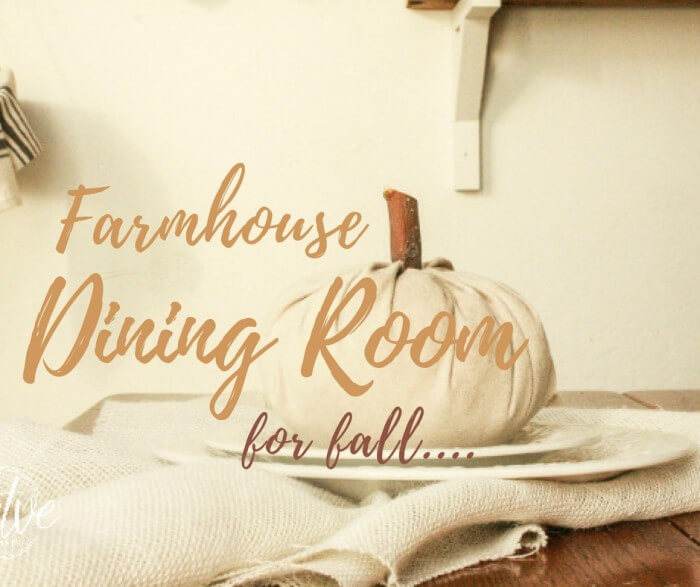 Farmhouse dining room for fall
This year, I have really wanted to simplify my decor. I have found that I am really jiving with an almost rustic, woodsy vibe. I have found a lot of satisfaction in using everyday items in my rooms. Something as simple as a bowl of apples can have quite a lovely effect on someone's senses.
I take satisfaction is using re-purposed items and using items for a purpose other than its original role. My farmhouse dining room for fall is simple.
On my white buffet this year, I have set up a few of my favorite pieces. How about an old ladder, an old crate, and a dutch tulip crate( made it myself wouldn't you know).
And, all of it set up in front of my giant chalkboard.
My table this year was inspired by my outdoor tablescape, but I changed a few things.
Instead of the rope charger, that I used in my ourdoor table settings, I wanted to try something different. I had squares of burlap from an even that I decorated and they were just begging to be turned into a fun "charger-esque" type of object.
I layered the white burlap with my white plates, and then topped each plate with one of my velvet pumpkins.
Of course I had to use my book page napkin rings as well.
The centerpiece is complete with a few old twig wreath forms and some white pumpkins. Why not a white pitcher full of autumn flowers. They are perfect for a farmhouse dining room for fall.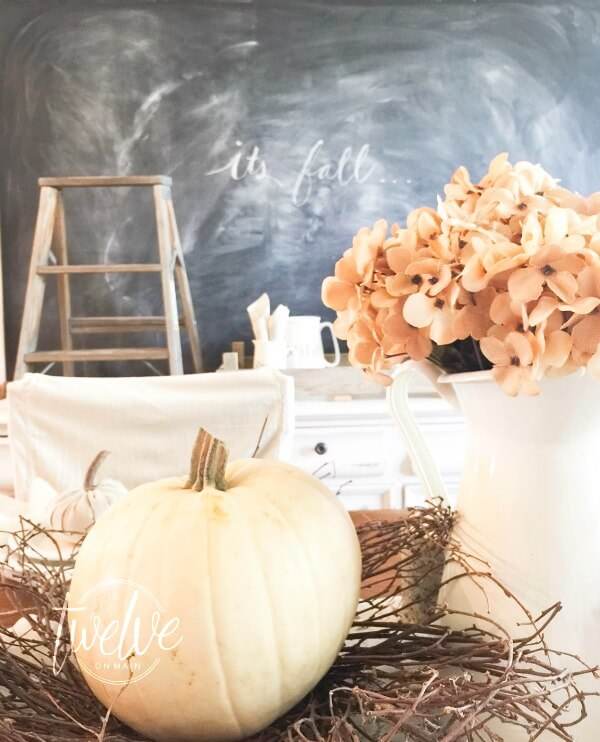 My favorite new crock blends perfectly with the rest of the table. Its perfect weather for soup, don't you think?
And what goes better with soup than a little bread. I could eat that meal every day.
My farmhouse shelves are always loaded with some of my most favorite pieces, and I thought it would be nice to add just a few simple accents. Nothing too obvious, I do want to keep it simple, remember??
I filled my farmhouse scale with my favorite white pumpkins. You know, the cheap, dollar store kind that were painted white?
I feel like I have been swimming in fall for the last month already! We do get the chilly autumn air a little early here where I live, and thats just fine with me. I am all to fine with a few extra weeks for fall. It is my favorite season, don't you know?
My farmhouse dining room is just the beginning of my home tour. I'll be posting up again this week with some more farmhouse fall goodness. I hope you will stop by again! I would be ever so lucky if you did.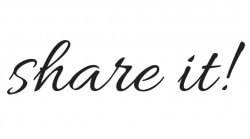 Now, make sure you check out these other ladies on this fall tour!
Thanks so much for stopping by.
Have a great day and remember….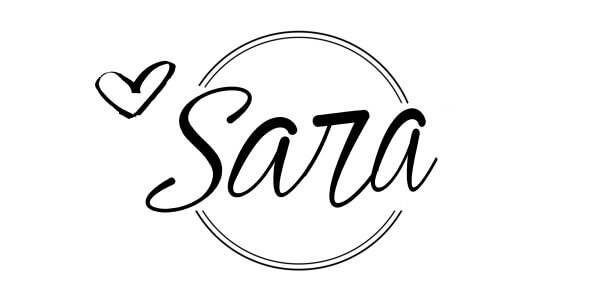 GET YOUR FREE GUIDE to 30 DIY projects that can be done over the weekend!
By subscribing, you will gain access to my FREE guide with 30 DIY projects that can each be done in a day, or over a weekend!
You will also receive a weekly email with some of my favorite tips, tricks, and design ideas.