Over 40 Thanksgiving Tablescape Ideas Perfect for Any Home
Its almost time for us to start planning for those holiday guests. Thanksgiving is one of my most favorite holidays. Mostly, its my favorite because I love food haha. But, I also love family and I love being able to get together to enjoy time spent together. What I also love is a gorgeous Thanksgiving tablescape.
I love dressing up my table all through the year, but I especially love it during the fall and winter seasons. So this year I have been looking for some inspiration and I think I have found plenty. That is why I decided that maybe I am not the only one looking for ideas. Maybe we all need a bit of inspiration.
So today I want to share over 40 gorgeous unique and stylish Thanksgiving tablescapes.
Thanksgiving Tablescape Designs
There are a million different ways to set a Thanksgiving table but first let me answer a few questions.
How do you make a Thanksgiving tablescape?
With so many different ways to create a Thanksgiving tablescape I could go on and on about this. How to make a Thanksgiving tablescape? Well, first, choose a theme.
THEME & COLOR SCHEME
Your theme could be pumpkins, fresh flowers, fall leaves, fruits, candles, natural elements such as pine cones, and much more. Once you have an idea, try to focus your centerpiece on the theme, which can be as simple as a few pumpkins or a vase with flowers. Of course you can combine these all as well.
Always remember that if you choose flowers or leaves in a vase that they are not high enough to block the view of the guests across the table. They should be able to eat and enjoy each others company and you do not want a vase of flowers to block someones head.
Try to narrow down a color scheme that goes with your theme as well! If you want to use white pumpkins and copper accents that would be a great starting off point! You can add texture along with other subtle colors to the table this way. Using autumnal colors is always a great way to go.
TABLE COVERINGS
Do you want a tablecloth to cover your table? Or maybe a simple table runner will suffice. I love using simple table runners as well as tablecloths. They are a wonderful way to soften the table.
PLACE SETTINGS
Consider your place settings. Do you want chargers or placemat under each plate? What kind are you wanting to use? You can use fabric, sea grass, and more. Consider using linens that are neutral and easy to wash after use.

What is a traditional Thanksgiving centerpiece?
A traditional centerpiece is made using a cornucopia. This is from traditional of old. One of the most popular decorations for Thanksgiving is the cornucopia, a horn-shaped basket filled with fruits, vegetables, nuts, and flowers. It is a symbol of an abundant harvest for which the Pilgrims were giving thanks during the first Thanksgiving
What are some common Thanksgiving decorations?
Common Thanksgiving decorations consist of many different things including pumpkins, corn, gourds, apples, turkeys, fall leaves and more.
So lets take a look at some wonderful Thanksgiving tablescapes perfect for any home!
Indoor Thanksgiving Tablescaps
Simple Farmhouse Thanksgiving Table |Twelve On Main
Sometimes thinking outside the box can create a fun table. This tablescape was made using old books, pumpkins and dried beans! There were also some fresh cut limbs from our tree. It was a fun table to create.
Simple Farmhouse Thanksgiving Table | Twelve On Main
Sometimes simple is best. I created this Thanksgiving table with that in mind. Simple pinecones and some lavender on the place settings. Its the perfect welcome for a Thanksgiving dinner.
Early Harvest Tablescape With Free Printables | Twelve On Main
A combination of plaid, pumpkins and fresh cut greenery shapes out this fall tablescape.
Cozy Thanksgiving Table | Twelve On Main
By far my most favorite table. This was centered around a moody and cozy candle centerpiece. The amber glass touches with the striped linens and rosemary round out this gorgeous tablescape.
Last Minute Thanksgiving Tablescape | Twelve On Main
Sometimes a last minute tablescape is the best course of action. I threw this table together in a bout 20 minutes with simple touches from around the house including some magnolia wreaths as centerpieces.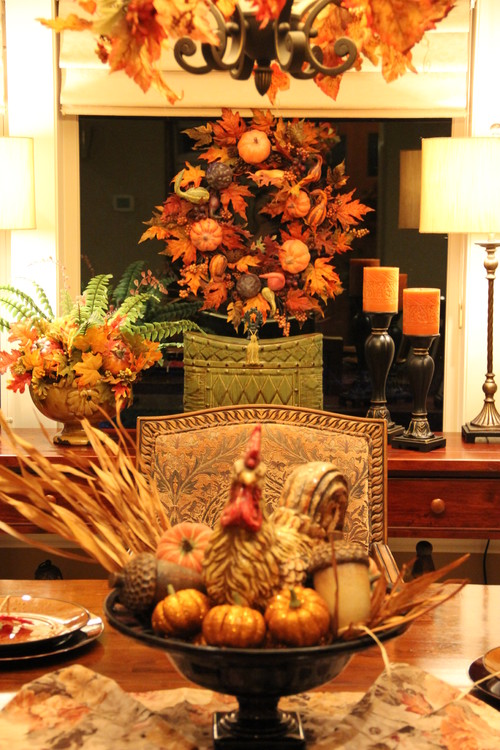 Fall Centerpiece | Happy Happy Nester
This beautiful and feminine table dotted with mini pumpkins is a great way to go. I love the delicate features of the silverware and white dishes.
Simple Fall Table | The Ginger Home
A simple fall table is always a go. I love this simple fall table. Click the link above to see more of it.
Fall Floral Arrangement with Pears | Sincerely Marie
This floral arrangement is a perfect Thanksgiving centerpiece. I love the addition of pears to the fall florals.
Rustic Thanksgiving Table | Nina Hendrick
You cannot go wrong with wooden candlesticks and pumpkins. This rustic table would be a great place to enjoy Thanksgiving.
Colorful Thanksgiving Table | Shades of Blue Interiors
I love every aspect of this Thanksgiving table. From the gold flatware to the wood chargers and the adorable personal pot pies on the plates. Such a pretty view!
Cozy Fall Table | Cherished Bliss
You cannot go wrong with plaids, pumpkins and wood. The pinecones are another great touch.
Simple Thanksgiving Table | Anderson and Grant
This simple table with a table runner is a great option!
Neutral Thanksgiving Tab;e | Taryn Whiteaker Design
I have always loved the idea of place cards and these are so unique. This Thanksgiving place setting is a great and easy option.
Farmhouse Thanksgiving Table | Little Glass Jar
The large pumpkins at the center of the table of this fall table create a great focal point. I love the addition of candlesticks and the plaid blanket.
Thanksgiving Table Setting | Happy Happy Nester
This is certainly a classy Thanksgiving table. I love the gold accents and the pears in the amber goblets.
Easy Thanksgiving Table | Modern Glam
Mini pumpkins and candles cannot go wrong!
Warm Thanksgiving Table Decor | Sanctuary Home Decor
The dinnerware in this picture is amazing. It is perfect for Thanksgiving and the runner full of pumpkins and fall foliage is perfect.
Natural Thanksgiving Centerpiece | Shabby Fufu
I am completely obsessed with this bright centerpiece full of fruits and flowers. The bright centerpiece with the rest of the muted table makes this pop and it looks gorgeous.
Easy Thanksgiving Centerpiece | Grace In My Space
Wreaths act as great fall centerpieces. Add a couple of candles and fall leaves and you are good to go.
Glamorous Thanksgiving Table | Jennifer Maune
The gold chargers, as wlel as the beautiful roses and pumpkins in jewel tones make this one classy Thanksgiving table.
Thanksgiving Centerpiece Ideas | My Sweet Savannah
I so love this simple fall table. Those black plates and the adorable personalized candles is such a sweet touch.
Thanksgiving Tablescape | Ella Claire Inspired
From the book place mats to the individual bread loaves, this Thanksgiving table is one of my absolute favorites.
Thanksgiving Tablescape | The Lady Slipper
This table is such a mood and I love it. The black and white plaid, along with the "menu", the wheat stalks, and the eucalyptus make this a gorgeous table.
Thanksgiving Table | jennysteffens.com
Simple garland or tree branches are another great way to set a table. I love the use of napkins o the plates with small branches on them. The combination of green, orange, and neutral pumpkins balances it nicely.
Pumpkin and Plaid Fall Table | Liz Marie Blog
I cannot say anything bad about Liz Marie and her tables. This plaid and pumpkin table is absolutely beautiful and perfect for a small gathering.
Outdoor Thanksgiving Tablescapes
Have you ever considered having an outdoor Thanksgiving? I would love to have ours outside if the weather was a bit warmer. Some Thanksgivings, we have hit 19 degrees, so outdoors is out for us. But if you live in a warmer climate, it is the perfect thing to do!
A Foraged Thanksgiving Table | Finding Lovely
I love this outdoor dining table topped with foraged foliage. A couple of simple white pumpkins round out the look.
Simple Outdoor Fall Table Decor Ideas |Twelve On Main
Last year we had a fun fall dinner out in our backyard. I dressed iit as I would want it for Thanksgiving. I love eating outside. This happened before the weather fell too cold. But, once again, candlesticks, striped napkins, pumpkins, and fall leaves round out this fun table.
Gorgeous and Simple Outdoor Fall Table Decor | Twelve On Main
We have also enjoyed a fall dining experience out in our field! I have always wanted to set up a dinner out there and I love the way it turned out and it was a lot of fun. The combination of mismatched chairs, drop cloth tablecloths, copper accents and fresh fall leaves make a perfect setting against that backdrop.
Fall Dining in a Field | Twelve On Main
Sometimes I set a table in the field just to see how pretty it looks. A simple table runner, a pumpkin and some fall leaves is all you really need.
How to Rock an Outdoor Fall Table | Twelve On Main
This last table was one of our most fun experiences. We set the table near our firepit and enjoyed the warmth while we ate our fall dinner.
With so many Thanksgiving tablescapes to choose from, you cannot go wrong with what you decide to decorate your table with. I am merely showing you just a small amount of tablescapes that inspire me!
I have a board on Pinterest called Tablescapes where you can see more amazing tablescape ideas as well!
Want more fall decor ideas? Check these out!
Gorgeous DIY Fall Eucalyptus Wreath
Affordable Fall Bedding Ideas for Those Chilly Nights.