Simple and Stylish DIY Wreath for Fall
Fall means new projects, updating and changing things around the house…and a host of other things. In other words, its the same as any other holiday or season change for me! I love to change things up for the new seasons and I am always coming up with some fun new ideas. Today I want to show you a simple and stylish DIY wreath for fall.
I love making wreaths. Over the past couple years I have made many different styles of fall wreaths, spring wreaths, and Christmas wreaths. By far, I have made many more fall wreaths and they are my most popular! The possibilities are absolutely endless. I have been wanting to create something this year that was simple, nature inspired and unique.
We all know that apples are a big part of fall. And walnuts…well they just have the coolest color and texture. Perfect for fall.
At the beginning of the week, I shared this DIY wreath on my Facebook Live. It was a really quick project, and I can share it with you right here.
Let's talk about what I used to make wreath for fall….
ribbon to hang your wreaths
This fall wreath project could not be easier.
You can watch the fall wreath tutorial here!
First I hot glued 2-3 apples onto the center of the grapevine wreath, making sure to lay them in different directions, making them look more organic.
Second I started adding walnuts by hot gluing them to the wreath as well. I nestled them in and around the apples, filling the center of the wreath with an abundance of walnuts. Once I had filled in the areas a the front of the wreaths, I was done! I cut some ribbon to use as a hanger and wrapped it around the wreath. A simple nail through holds it all in place.
I found some smaller faux fall fruits and decided to add a tiny pear to one of the wreaths. I made two of these wreaths for my front porch. One for each side of my front door.
The perfect DIY wreath for fall!
The deep colors of the apples and the walnuts are perfect for any fall decor. I love the way they look.
They were east to make and quite inexpensive as well!
These wreaths were the inspiration for my fall front porch, which I will be sharing tomorrow on the blog!
I cannot get enough!
Why not make a couple for yourself! Add your favorite fall fruits, maybe even find some other nuts to use. The earthy quality of these wreaths really inspired me this year!
Make sure to share this DIY wreath for fall with others!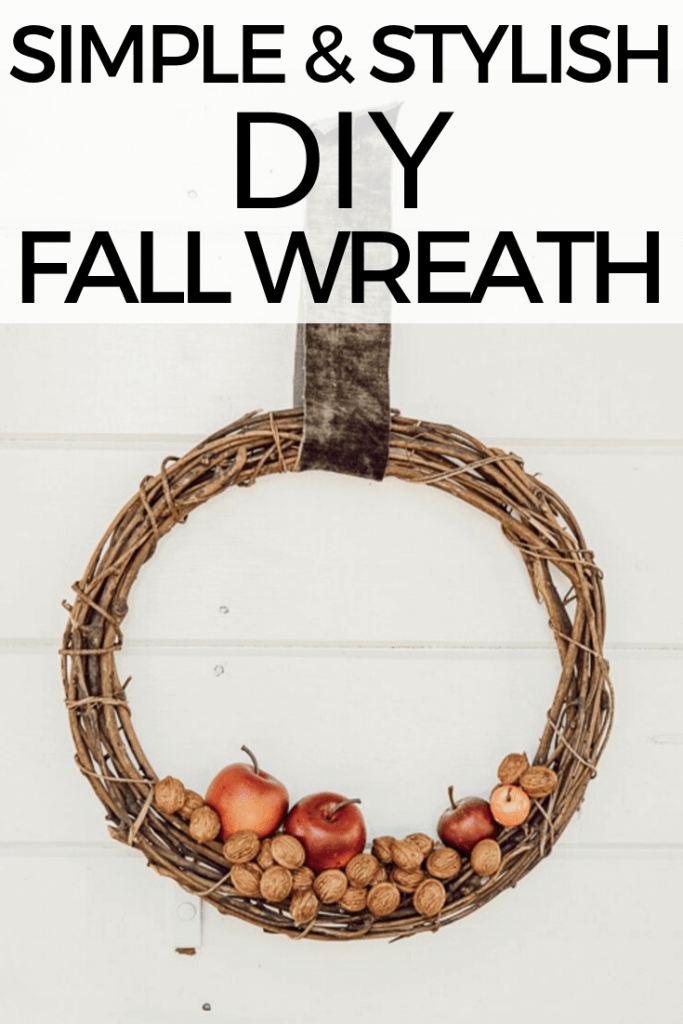 Want to see more wreaths? Check out my Pinterest wreath board!
Check out these other amazing fall wreaths!
Make a Fall Wreath; Its Easier Than You Think
DIY Basket Wreath for Thanksgiving
Jazz Up Your home With This Easy Antler Wreath!
Make this Chalkboard Wreath With Thrift Store Items
Make Your Own Fall Twig Wreath
How about some yummy Fall recipes as well!
How to Make Delicious Spiced Sauteed Apples in Minutes
Easy Cream Cheese and Spiced Apple Dessert with Homemade Caramel Sauce
The Most Decadent Caramel Sauce Recipe Your Family Will Swoon Over!
GET YOUR FREE GUIDE to 30 DIY projects that can be done over the weekend!
30 DIY Projects to do this weekend!