Okay guys its the last day of my popsicle overload! Today I want to share with you one of our favorites! Its the strawberry pina colada popsicles! These were inspired again by a drink we had on our vacations this year! Keep on reading to get the recipes and more!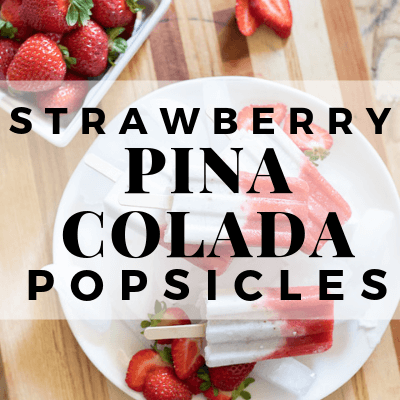 I feel like the universe was speaking to me all summer long. We have been on two great trips this year, one a Disney Cruise and the other a trip to Puerto Villarta with friends. It seemed like this popsicle themed drink was all over the place.
When we were on the Disney cruise they called it the Pina Colava, but it had raspberry instead of strawberry. When we were in Puerto Villarta we called it a Miami Vice. The combination of the creamy pina colada and the tart strawberry daiquiri. So for my last popsicle this week, I wanted to recreate this drink in frozen form!
Not only are these strawberry pina colada popsicles yummy, they also look so pretty together. The red contrasting the creamy white is so pretty!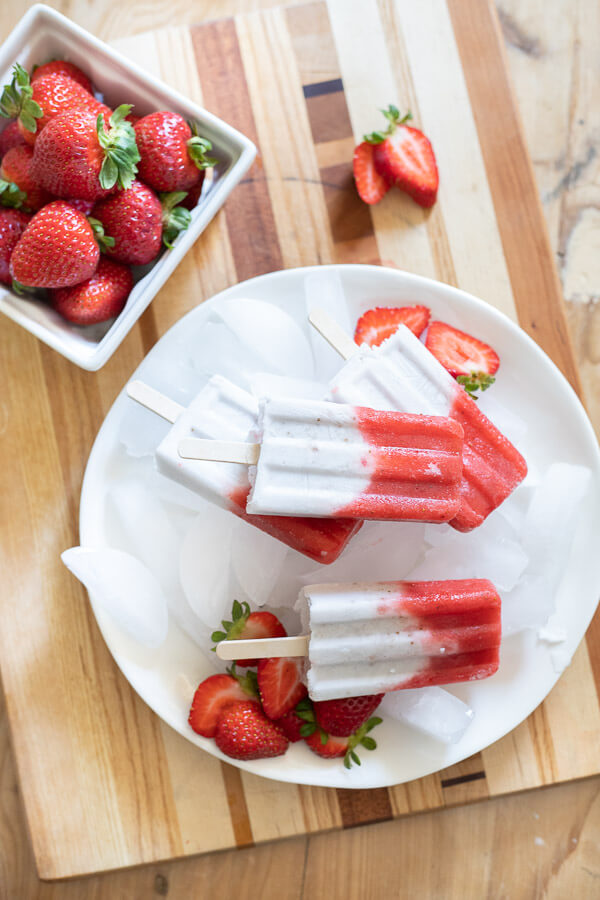 See what I mean?
This was actually quite easy to make.
To begin I blended up my strawberries with some lemon juice and sugar to create the strawberry part of the popsicle.
I then created the pina colada popsicle mix, which you can see here.
You then need to pour the strawberry mix into each mold only about 1/4 up. I then poured the pina colada right over the top and filled the rest of the mold with the pina colada. You can definitely freeze the strawberry before adding the coconut pineapple mixture, but I actually like it better this way. It gives it a more organic lo0k!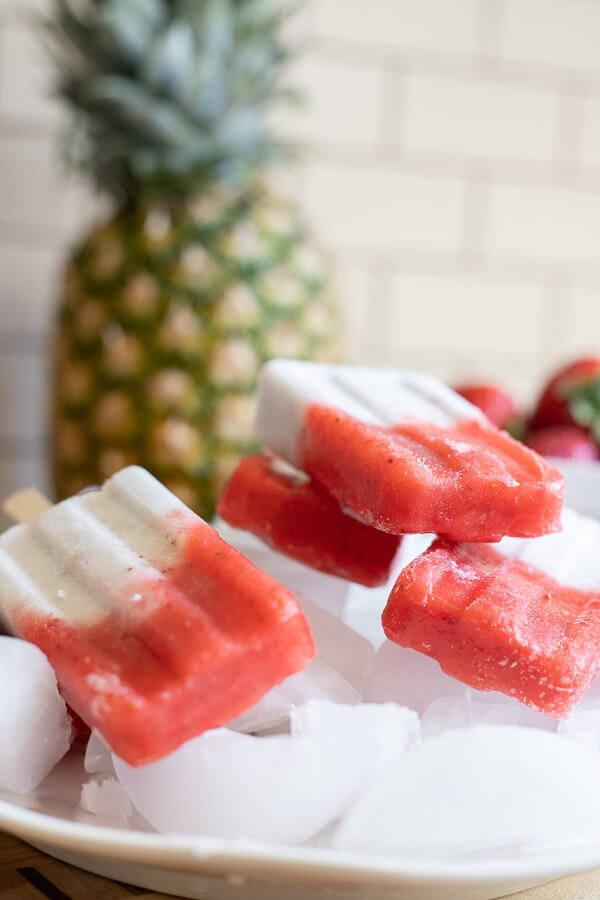 I feel like I don't even need to create a recipe card. These are super easy to make. You don't need very many strawberries for this.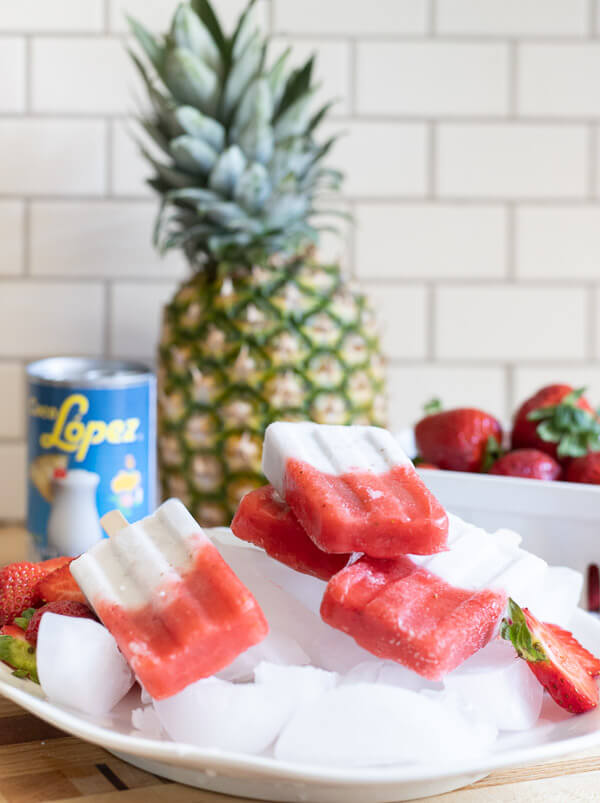 Here is the ratio for the strawberry part to make 10 popsicles:
1 cup pureed strawberries. (I like mine to be a bit chunky for texture)
1 tsp lemon juice or half a lemon
2 tbsp simple syrup
These ingredients can easily be changed up depending on how sweet or tart you want your frozen treats to be.
As I said before, you can use this Pina Colada popsicle recipe for the other part of the popsicle.
You will want to freeze these for at least 4 hours. Longer is better but after 4 hours they are usually frozen enough to eat.
What kind of popsicle mold should you use?
Popsicle molds have come a long way since I was a kid. Trying to dig those popsicles out of a plastic form was difficult. That is why I purchased a silicone popsicle mold. Not only is t really easy to work with…it has a lid, comes with a large bad of popsicle sticks, and individual bags for you to store your popsicles. I really have loved this popsicle mold. The best part is that the popsicles come out so easy!
I hope you enjoy these popsicles! Make sure you save it for later by PINNING IT!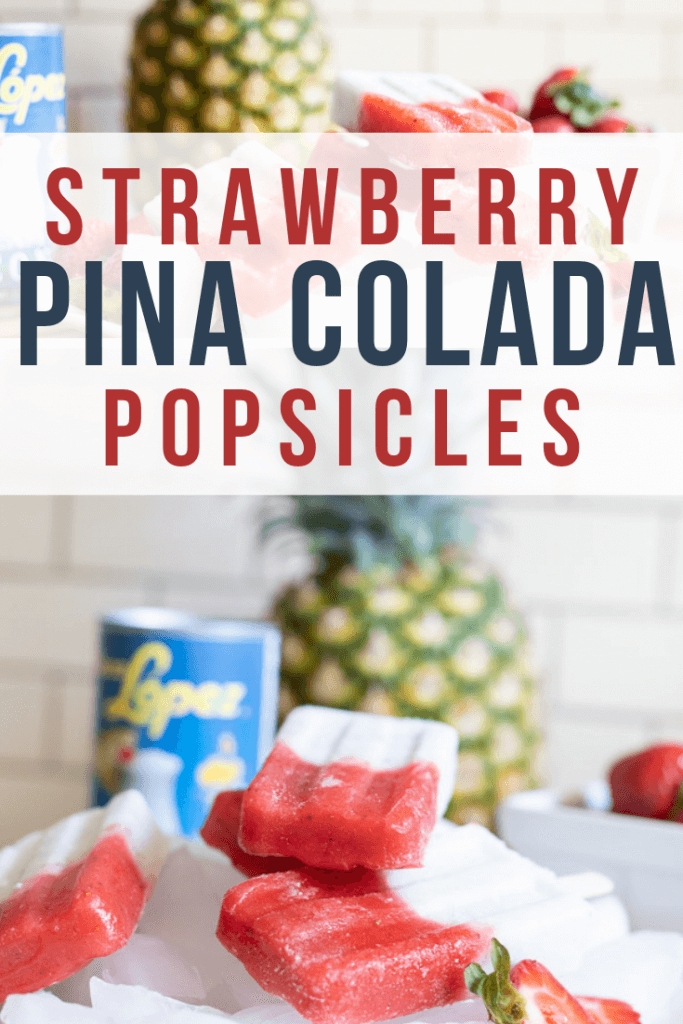 Get more great recipes by following my recipe board on Pinterest!
Here are some other great summer recipes:
Homemade Mango Mojito Popsicles that are Kid and Adult Friendly
Summertime Charcuterie Board Ideas for A Crowd
Strawberry Throw-up, Our Favorite Strawberry Dessert
What about some outdoor decor ideas?
50 Gorgeous and Cozy Outdoor Sofas Perfect for Your Patio
Find the Perfect Outdoor Dining Tables For Your Patio!
The Ultimate Guide to Outdoor Decor for the Summer
30 of the Most Stylish Outdoor Rugs for Your Home
GET YOUR FREE GUIDE to 30 DIY projects that can be done over the weekend!
By subscribing, you will gain access to my FREE guide with 30 DIY projects that can each be done in a day, or over a weekend!
You will also receive a weekly email with some of my favorite tips, tricks, and design ideas.