The Ultimate Farmhouse Bedroom Decor Ideas
Get ready to take a trip, a vacation of sorts. I mean….that is how I feel these days when I come into my brand new farmhouse bedroom. It is week 6 of the One Room Challenge by Calling It Home and do you know what that means? Its reveal day!!! Come see all the farmhouse bedroom decor ideas and see how we completed this room in under 6 weeks!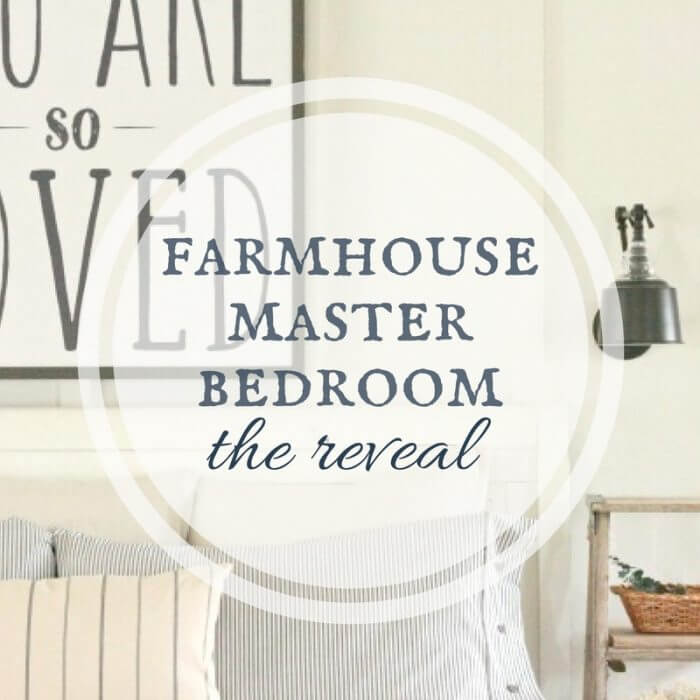 I can honestly say I wasn't sure this would ever happen. It seemed like this rooms progress advanced at a snails pace. However, This snail kicked it into high gear over the past week and I am thrilled to be done!
Last night, my husband asked me what else I needed to do, and I said "I just need to do the styling now" which he said, "and you don't need me right? Yes! I am going to go fall asleep on a couch somewhere." HAHA! I have to give a shout out to my husband for ALMOST ALWAYS being a good sport and helping me with whatever I need. He is a trooper, and I love him for it.
I also want to give a GIANT shout out to Lowes Home Improvement for their awesome cooperation and assistance throughout this whole farmhouse bedroom remodel.
They have been wonderful! I have to say they workers at our local Lowes know me by name these days, and are so very helpful!
So, if you have been following along for the last 6 weeks, you seen some our farmhouse master bedrooms progress. If not, check out these posts, which all have some super helpful tips including selecting farmhouse bedding , installing our Pergo laminate flooring, and installing faux beams.
If you have forgotten what my master bedroom looked like….well….here it is:
GAH! I am little embarrassed at how is used to look. But hey, life is life, and sometimes its just not pretty, or clean, or anything. It just is what it is.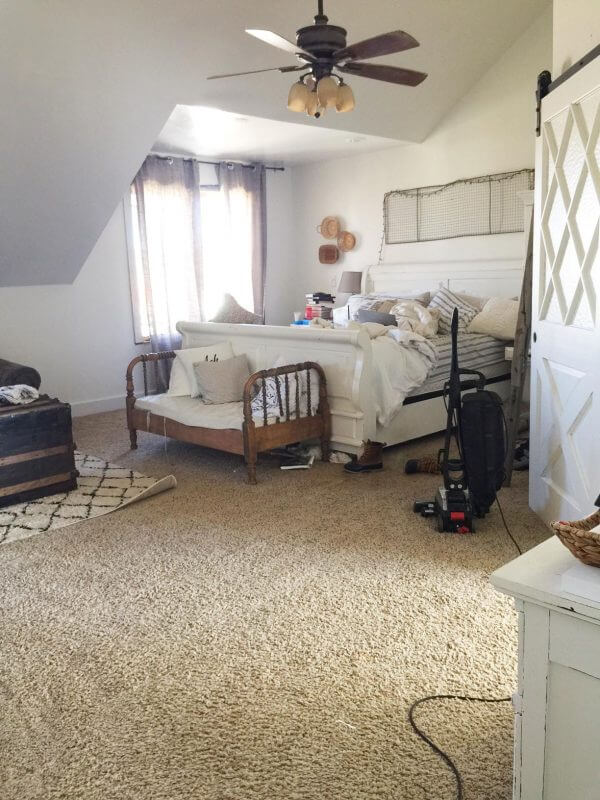 The room before lacked storage, organization, and grown up style. I felt like I was still a teenager or newlywed that was kind of scrounging things together. It was definitely not the rustic farmhouse bedroom of my dreams. Our bedroom was always the last thing we worried about because we could just shut the door and hide it. Well, not so anymore…….check out the AFTER.
My Farmhouse Bedroom!
Okay so there were a few changes! The whole room got a completely different traffic pattern, layout, and there is storage and function galore, as well as a few pretty things. Well, a lot of pretty things.
Here's a snippet of things we did to create our dream farmhouse bedroom:
New floors
installed board and batten
built faux fireplace and mantel
built window seats and book shelves
installed faux beams
installed new lighting
Move bed to opposite wall, which meant changing the wall a bit
painted with our favorite farmhouse white paint color
Now, its not really a short list when we get down into what each one of these things entailed. I am still quite amazed that I was able to get this finished by the 6 week timeline.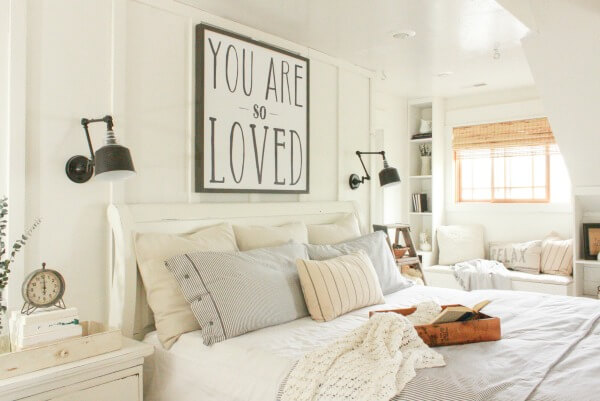 Lets talk about my farmhouse master bedroom decor and what we focused on to get this look……
I am going to start with the bed! Originally it was on the opposite wall, and I always wanted to have it on this wall, but the wall was actually too short for our bed, but after a little brainstorming, we realized we could add onto the wall, which meant my closet got just a touch larger. I am so glad we did it, the layout of the room is so much better now, and it seems so much bigger!
I dressed my bed with a ticking stripe duvet cover and made some euro pillow shams out of dropcloth from Lowes. My mom made this sweet quilt for my bed. These pieces all added to the farmhouse look I was looking for.
We took simple Osnaberg fabric and she quilted it up on her professional quilting machine. We left the edges raw, and once washed, it frayed just a bit. Perfectly imperfect for the farmhouse master bedroom.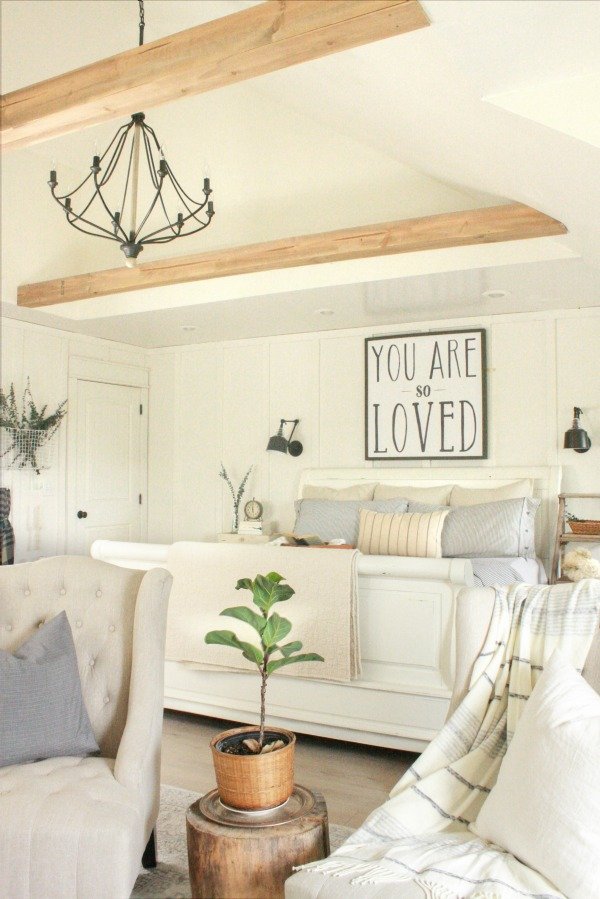 What do you think of our new chandelier. I think its pretty snazzy indeed. In fact, I love it. I think it goes wonderfully with our new DIY faux beams. Farmhousey goodness? Check! These rustic farmhouse decorating ideas were important
I am obsessed with the new swing arm wall lamps we installed next to the bed. I have always wanted some of these.
You are so loved. I love this large farmhouse wall art, the size of it, the saying….it all. This is definitely a great example you could add to your farmhouse wall decor ideas.
The whole room got a board and batten treatment. I was tempted to do shiplap, but I wanted to change things up. I love the board and batten and managed to add a little bit of shiplap here and there, just for a fun accent.
I opted for a new old nightstand for my side of the bed. I found this ladder at a junk yard, fixed it up and turned it into a functional night stand. I will be doing a tutorial on it soon, but for now lets just look at it:)
The rustic goodness of the ladder goes so well with my flooring, wall color, well, just about everything.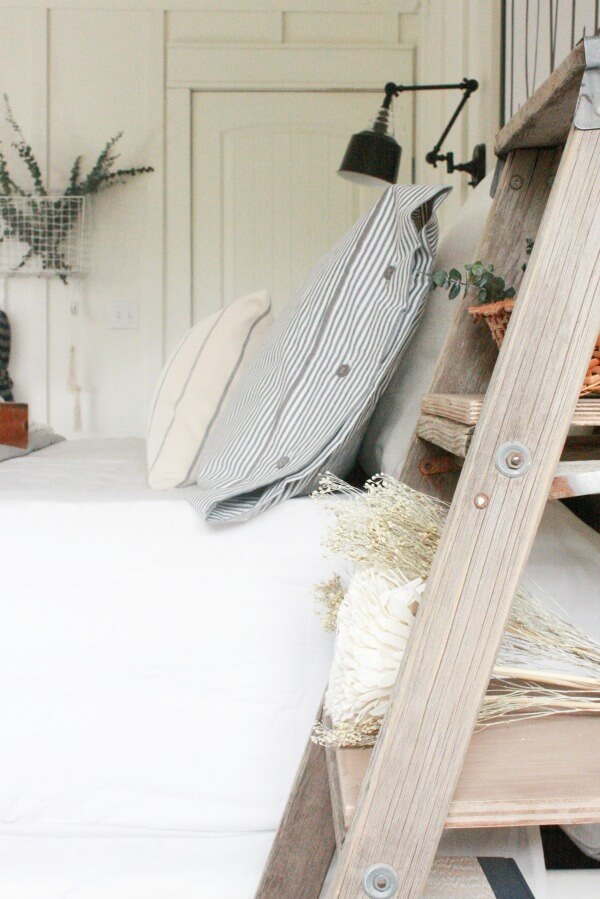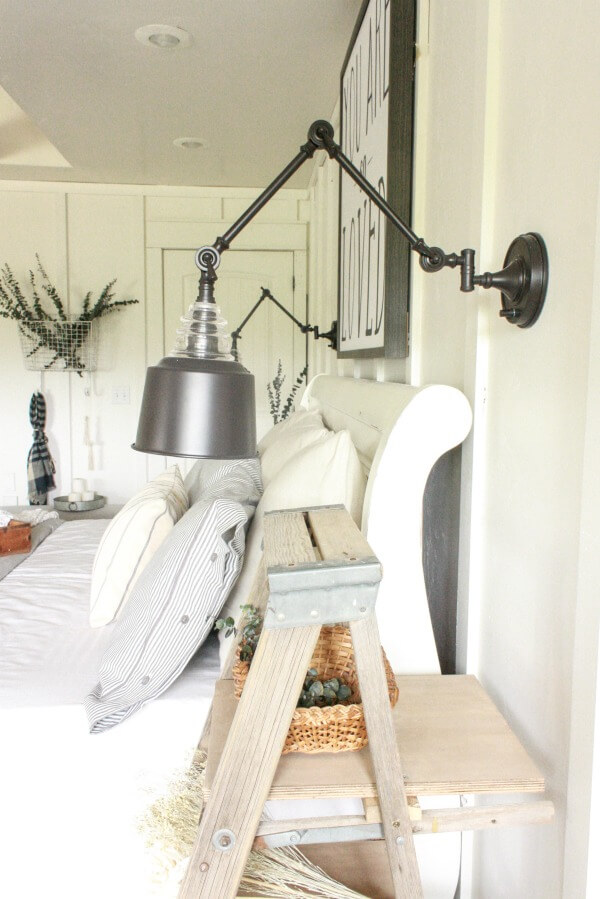 I really wanted a window seat in my bedroom, so imagine my excitement when my husband suggested two!! There is a big reason why I wanted these window seats…well…besides snuggling in on one.
My husband sleeps with an amazing amount of pillows and blankets, and I have struggled with a storage solution for during the day when he is not using them.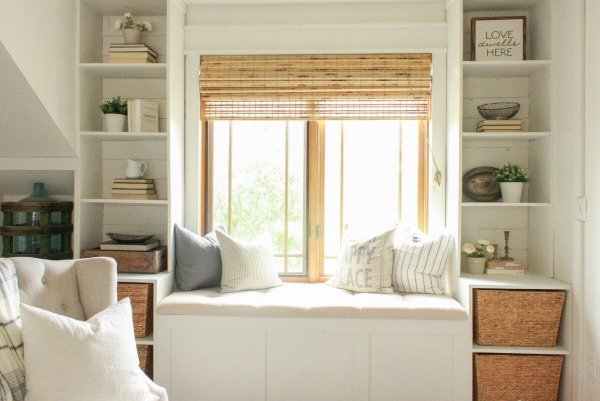 We also wanted a storage place where we could either put our dirty clothes hampers, or more of my hubby's pillows and blankets. I kid you not….he has that many. When we stay at a hotel, he cleans them out! I am more than thrilled with how they turned out, especially since there was a bit of a disagreement on how they should be.
You can see that we have a dormar wall, or "short wall" where our roof line is lower in one part of the room. While it adds character, it has always been a beast to decorate around. We decided to add built in book shelves with the window seats. This whole north wall of my room is built in window seats and book shelves. I am in heaven I tell you. I went from no storage, to literally more than I ever dreamed!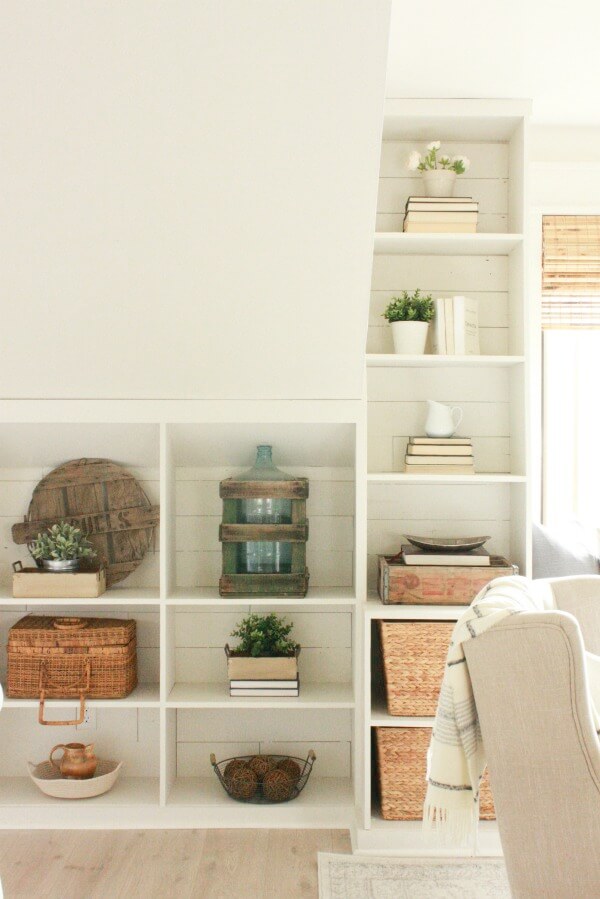 Its the perfect place to display some of my antiquing and junking finds.
We built these book shelves out of 3/4 inch plywood from Lowes. It was quite a project, but with such a unique wall shape, we had to do it ourselves. If you look closely, you can see a little touch of shiplap in the backs of the shelves.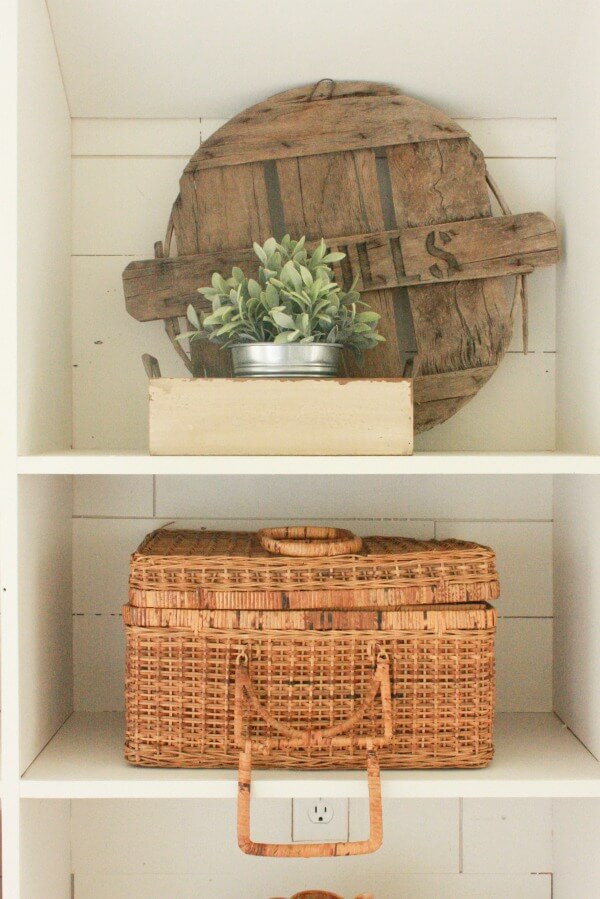 I added some of my farmhouse books to the shelves, since I am all about the neutrals these days and its the perfect addition to any farmhouse style room, including my farmhouse master bedroom.
Now, speaking of shiplap, this is where I really dove in.
We built a faux fireplace and mantel. I thought the idea of a fireplace in the bedroom was so dreamy, and since our room is always the coldest, it seemed to make sense. We didn't however want to install a wood burning fireplace for so many reasons…..hauling wood, keeping the space clean, having to install a chimney….and on and on. I found this amazing electric freestanding fireplace at Lowes, and it is the perfect compromise for the real thing.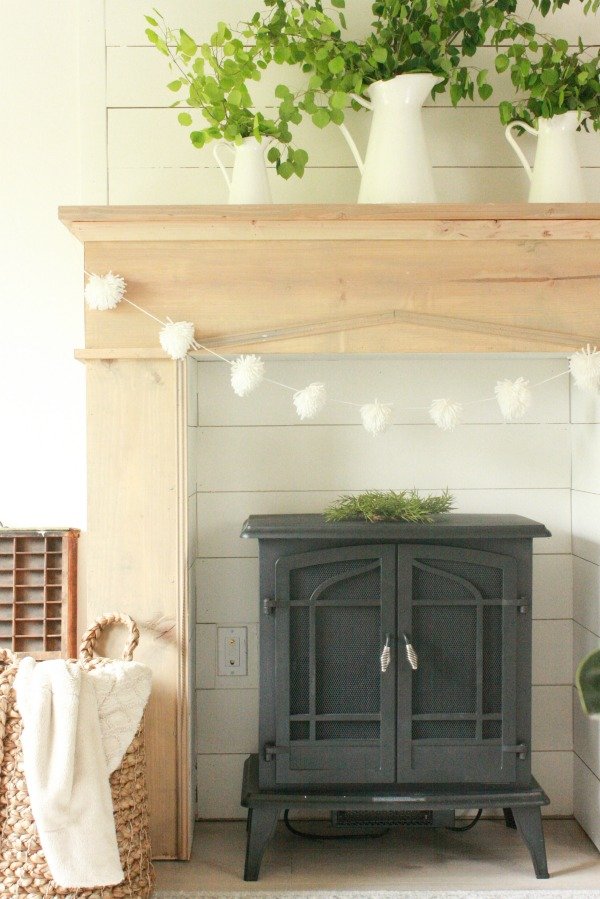 We built our faux fireplace and mantel out of that 1 by 12 common board you can find at Lowes. Once again, since I am difficult, this was the best course of action for a picky girl.
I installed shiplap to the inside of the fireplace and above the mantel, all the way to the top of the ceiling. And you want to know who figured out and cut all those angled pieces? Me! That was hard work!
I changed the whole room. It made it more cozy and intimate. It is the ultimate farmhouse bedroom and I love it. Last night, my son said…"its like a mini family room". Well, between the window seat, the fireplace, and my new swoon worthy chairs, he's not wrong.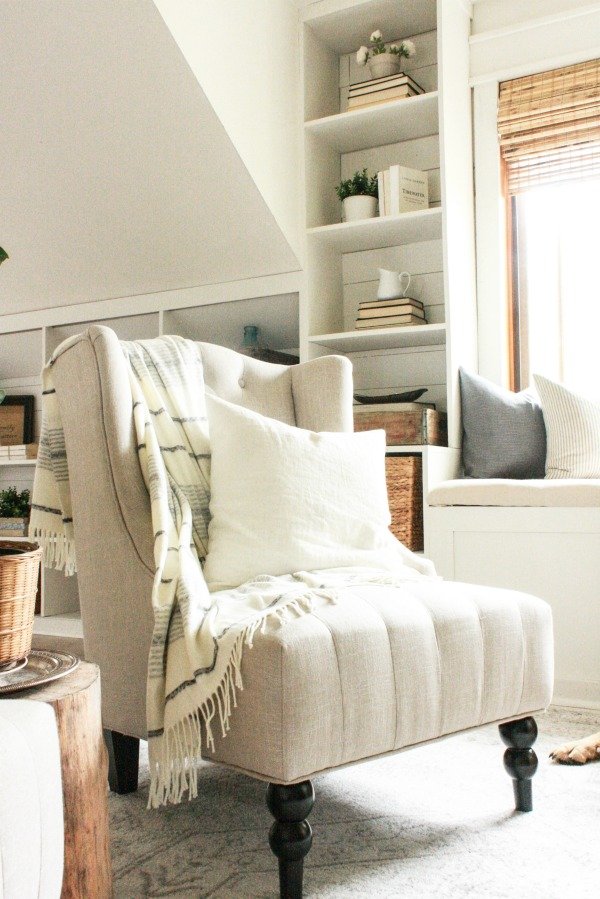 Now onto the flooring. I had had it with carpet. I have a dog….a big one. I have kids….4 of them. I have a husband…a big one. Between all of them, their hair, their messes, muddy shoes, I was done. Out came the carpet and in came this amazing Pergo laminate flooring in Modern Oak. Guys. Its amazing.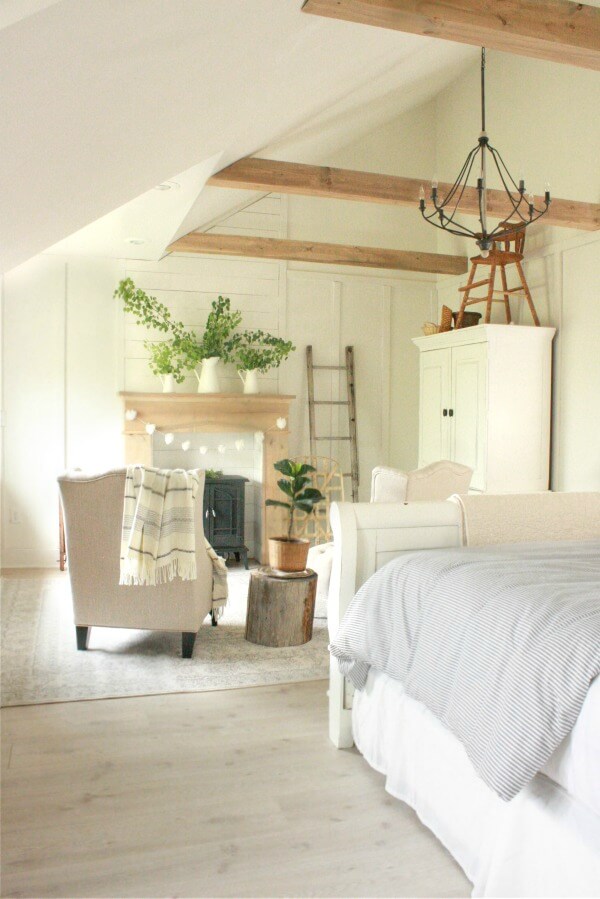 I was actually a little worried while we were installing it, because it was a big departure from anything I had installed before. But, once I started installing furniture, and decor, it was like it was the one thing I never knew I always needed.
Its an 8 inch wide plank, which is glorious. It is light, with a touch of grey and browns, somewhat of a weathered wood look. Its lovely. Stay tuned for a complete post about them.
I have to say, it also looks lovely next to my new rug.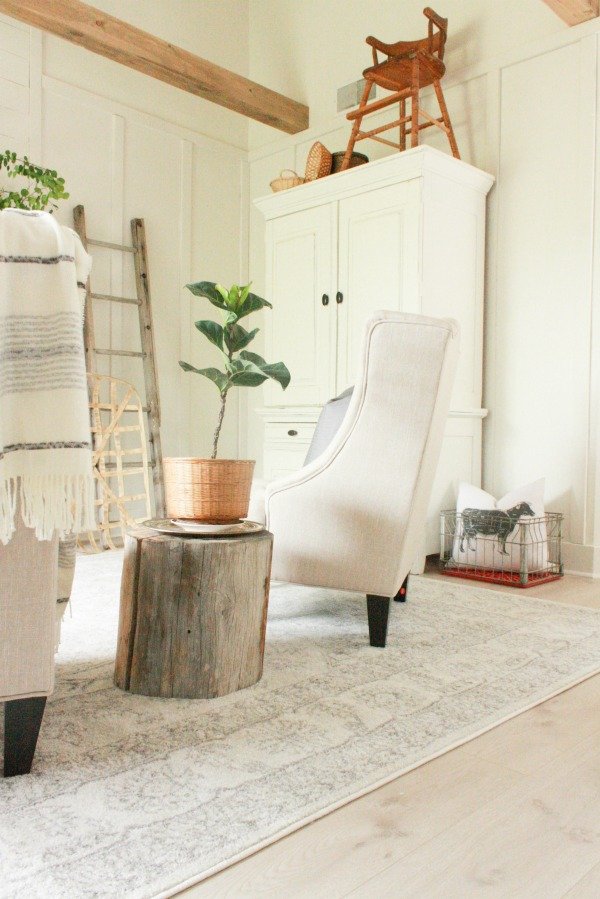 This rug is so soft and the silver and cream accents are perfect. I originally was going to go with a more blue rug, but this one was speaking to me, like it was yelling at me.
The soft pattern doesn't compete with anything else, and it definitely warms up the space.
Well….my friends, I believe that's the end! I will tell you one more thing. I am going to sleep so good tonight!! But not too much, because you see, I have another reveal coming soon. I start my master closet within a few days, so be on the lookout for some more inspiration! Until then, I hope you enjoyed touring my new farmhouse master bedroom.
If you are interested in anything from this room, I have rounded up similar and exact products for your convenience. Simply click on the image to be taken to the source:

NOW MAKE SURE TO SAVE IT FOR LATER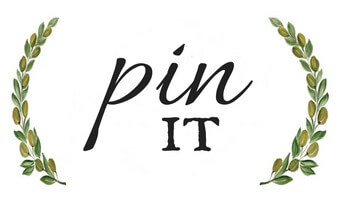 I am obsessed with this space, and I never want to leave. I may start eating my meals in here too. You can't stop me.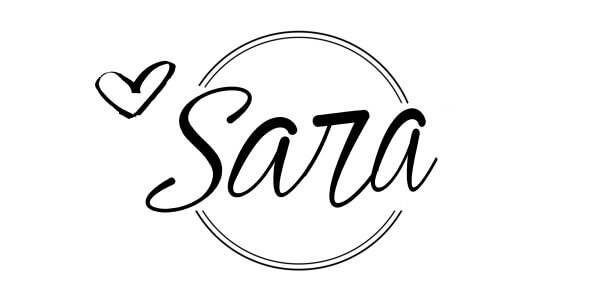 If you loved this One Room Challenge room reveal, check out my past rooms!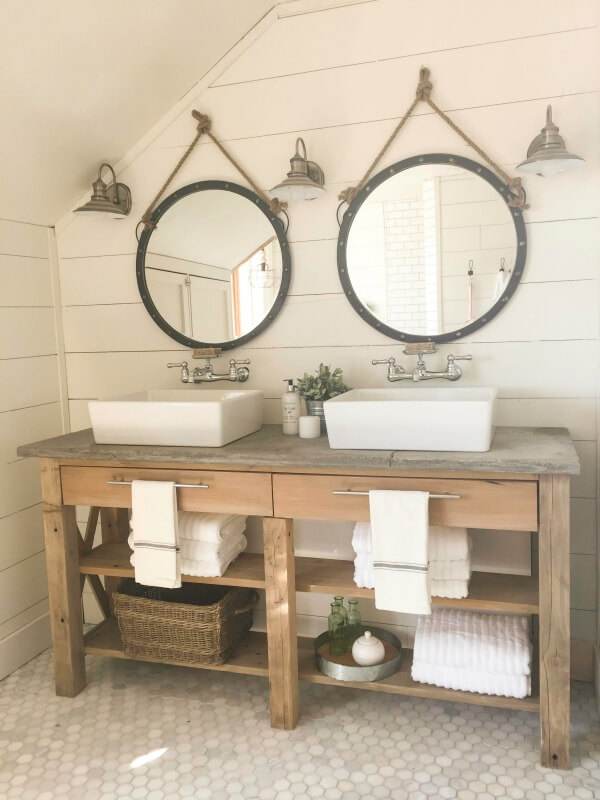 Farmhouse Master Bathroom | Final Reveal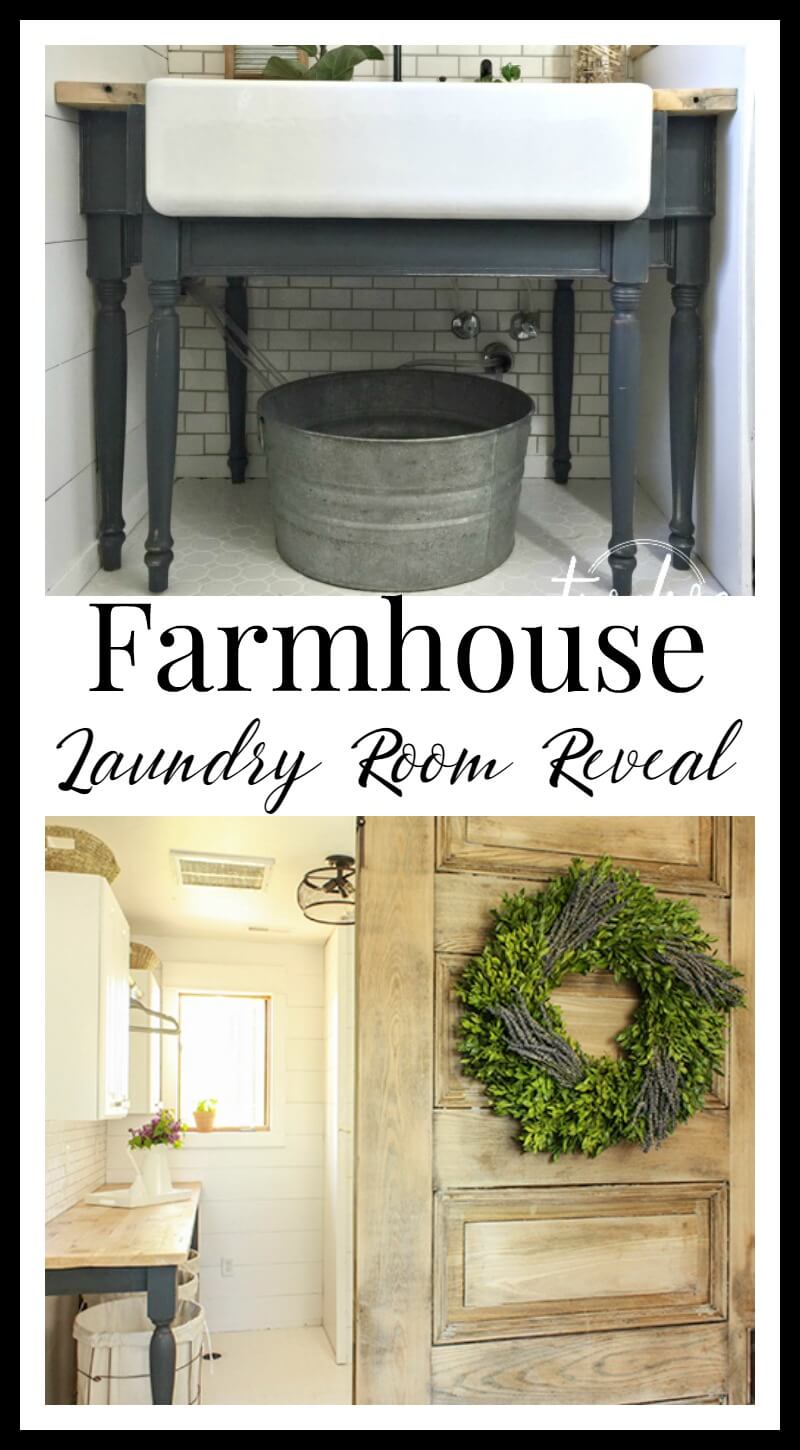 One Room Challenge- Farmhouse Laundry Room Reveal!
GET YOUR FREE GUIDE to 30 DIY projects that can be done over the weekend!
30 DIY Projects to do this weekend!