Decorating your house can be a daunting idea. There are so many elements that go into decorating and one of the big ones, decorating the walls of the home can seem more overwhelming than just about anything. I have found myself guilty of this many times over. I have ignored areas in my home because I just could not commit to what I wanted to decorate the walls with. It doesn't have to be that difficult though and I want to show you some great decor ideas for large walls.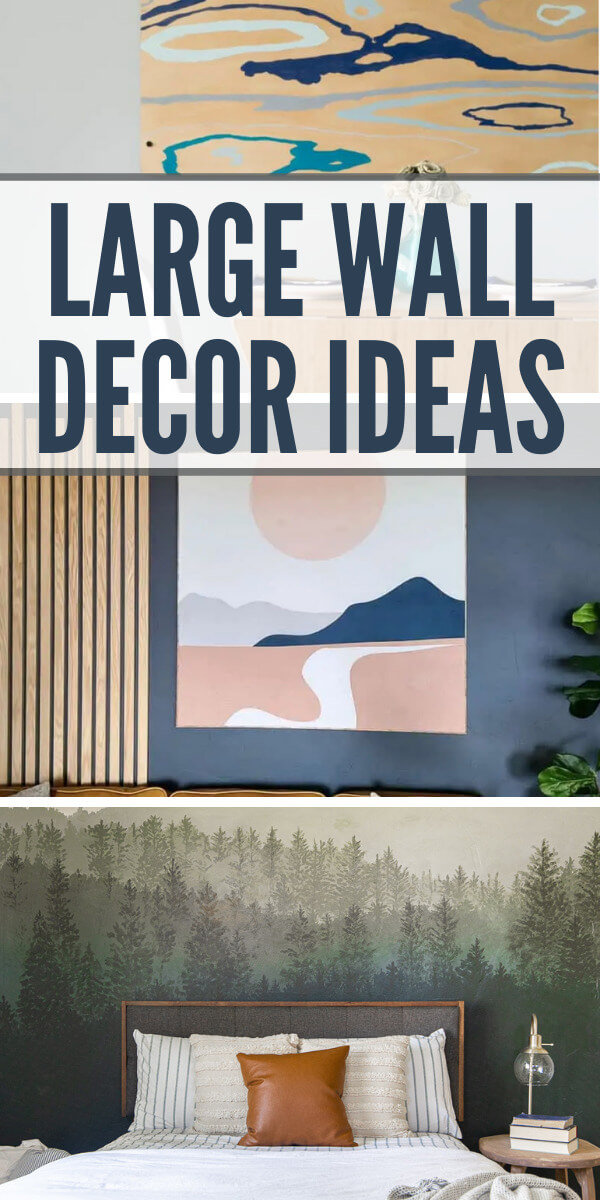 Decorating a large wall is a great way to add a focal point to yours home. Whether its a large living room wall, a dining room wall, stair wall or hallway, there are so many things you can do to make these spaces work for you and show your true style.
While it is easy t start with bare walls, these can often be the most daunting. You literally have a blank canvas, but you also have a blank canvas. See what I did there? Sometimes having nothing is harder. I want to share some inspiring wall decor ideas that might help you with that next big project.
I am inspired by so many ideas and these days, I am have been trying to conquer some of them. There is a big wall in my stairwell that needs to be addressed next, and this is why I wanted to share these ideas with you. It helps me gain the visions that I need as well. So lets chat about different things you can do to a large wall space.
Decor Ideas for large walls:
I have made a list of different things to inspire you to create a cohesive look in your home. If you have high ceilings, unique architectural elements, or weird angles, these can all be addressed to make a big impact.
Gallery Wall: I think gallery walls are one of the most popular ways to fill large blank walls . There are so many different ways to hang your gallery walls and I actually shared a post a couple of years ago with over 4o different layouts. Make sure to check it out here. Here are a couple ideas below of how other people have created their own gallery walls with family photos.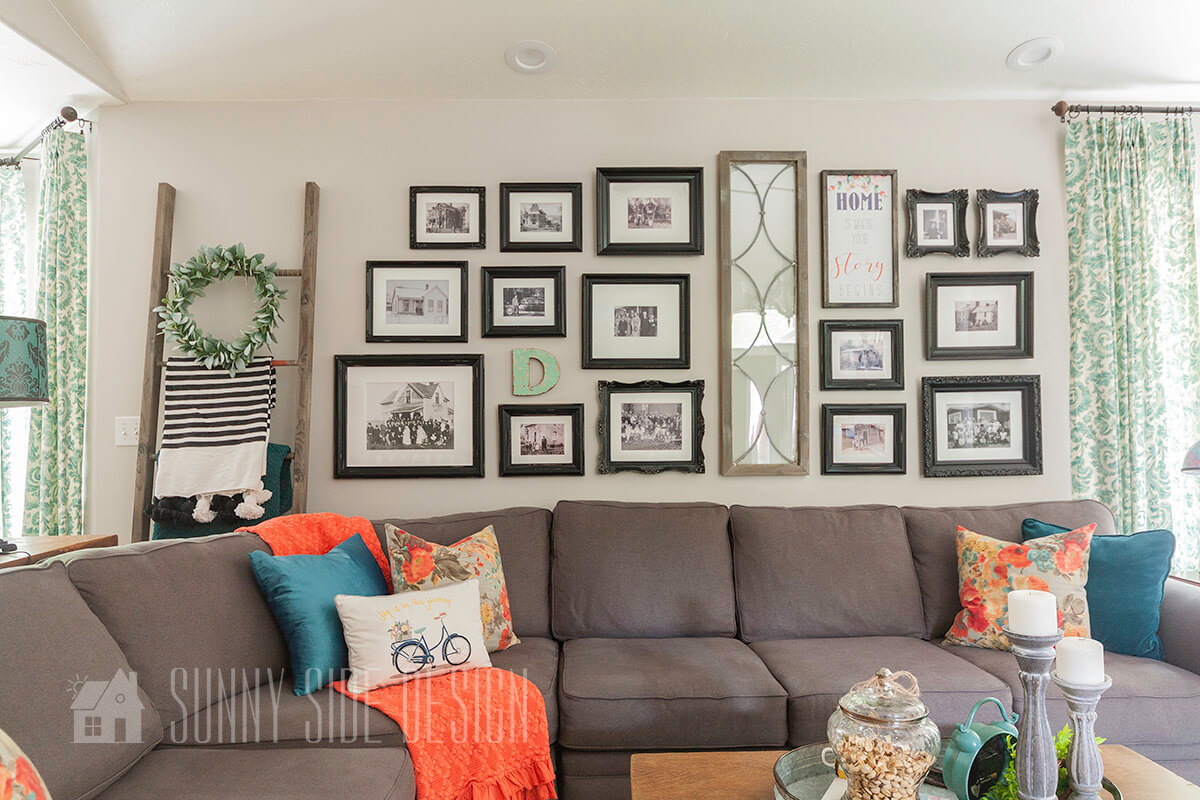 What a fun gallery wall by Sunny Side Design!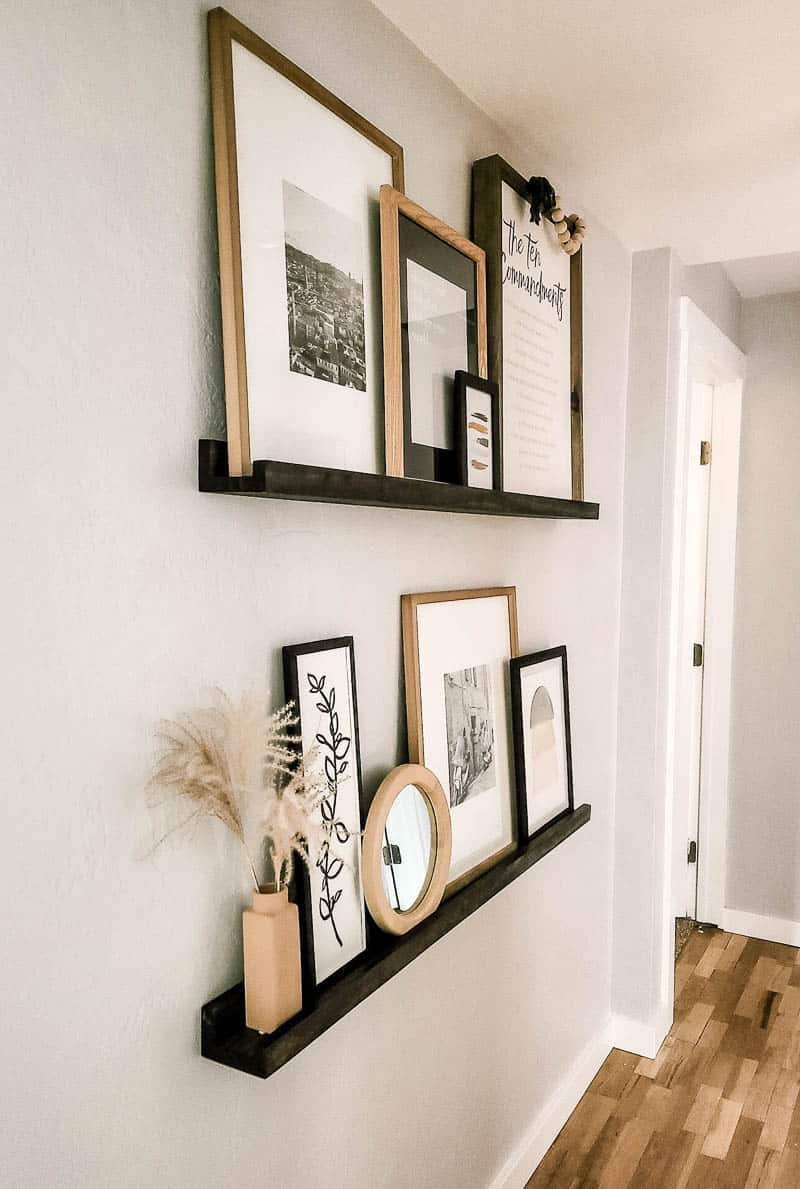 This gallery wall using picture ledges is beautiful by Making Manzanita.
Wall Hangings: Wall hangings can be tapestries, flags, rugs, or even some kind of fabric installation. I think that this can often be the perfect solution for a huge wall. Often it is a quick fix for a large space. Hanging a rug or tapestry on the wall can make a big impact and is an easy way to fill the space. find something that works with your color scheme.
This tapestry hanging by Making Manzanita is so cool. There are so many different things you can do!
Large Wall Art or Large Art prints: Something I love to use is a large piece of wall art or large art prints. I actually sell my very own original artwork on my website and you can order your very own here! I love incorporating a large piece of art into a room. Landscape art or abstract art in a master bedroom or above a couch in a living room is one of my favorite ways to use my art. You can find artwork to fit your personal style. A large-scale painting is the perfect way to fill larger walls. A single piece of artwork can evoke a specific feeling or mood that you want the room to take on. Artwork says a lot about the person. If you have a hard time choosing, spend some time on Pinterest and find pieces that catch your attention.
I used a large piece of art on my porch as a focal point you can see it here.
This is a great DIY painting by Made In a Day. Make sure to check out the tutorial.
This has to be the coolest DIY wall art idea. This wood grain wall art by Charleston Crafted is amazing.
This DIY Hexagon Wall Art by Houseful of Handmade is so great too!
Entire Wall Design/Wood panel designs: Having a large wall is a great opportunity to use the whole wall as decor. You can create so many amazing designs using wood planks or MDF on your large empty walls. There are many geometric designs including board and batten and more. The color pallet can also help to create a gorgeous wall. By painting the wall a different color you create an accent wall, which gives the room a more stylized look.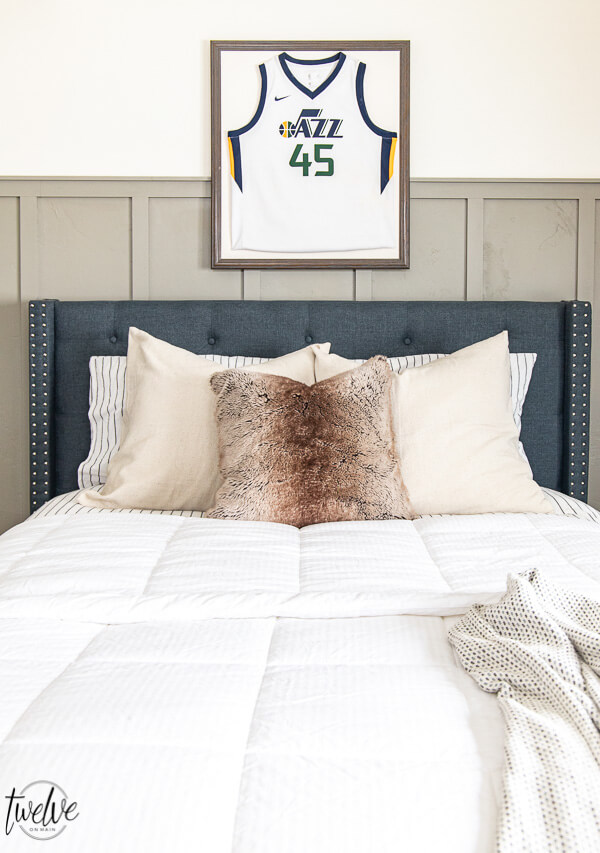 Oversized Mirror: If you have a small space with a large or taller wall, using an oversized mirror is a creative way to make the space look larger while adding style. You can also do a cluster of mirrors in a collection on the wall. Both of these options are effective ways of filling a blank space with something that adds gorgeous details. You can often find affordable mirrors at flea markets or at thrift stores.
Collection of Art: Does feeling like choosing one piece of seem overwhelming and hard? Try adding a collection of smaller artworks! I absolutely love these kinds of gallery walls.An art collection can fill a blank wall space with smaller pieces adding interest and design. The good news is that you can change the artwork out as you choose and make it what you want it to be.
This botanical wall art installation by Maison de Cinq is so beautiful!
Hanging Collection: This is something you can do easily! Hanging a collection of objects such as a group of baskets, hats, bags, or any other collection is a great way to fill a large wall and add an interesting focal point.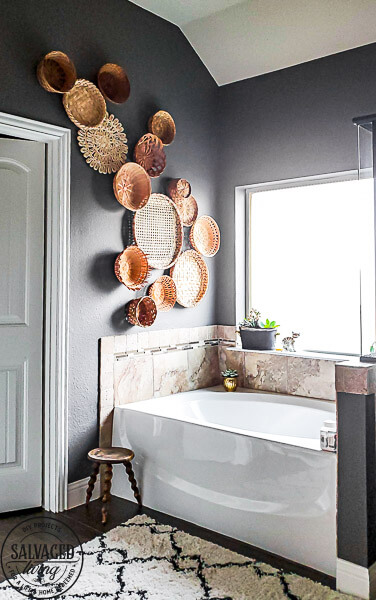 Love this wall by Salvaged Living. Its a great way to fill an awkward wall as well!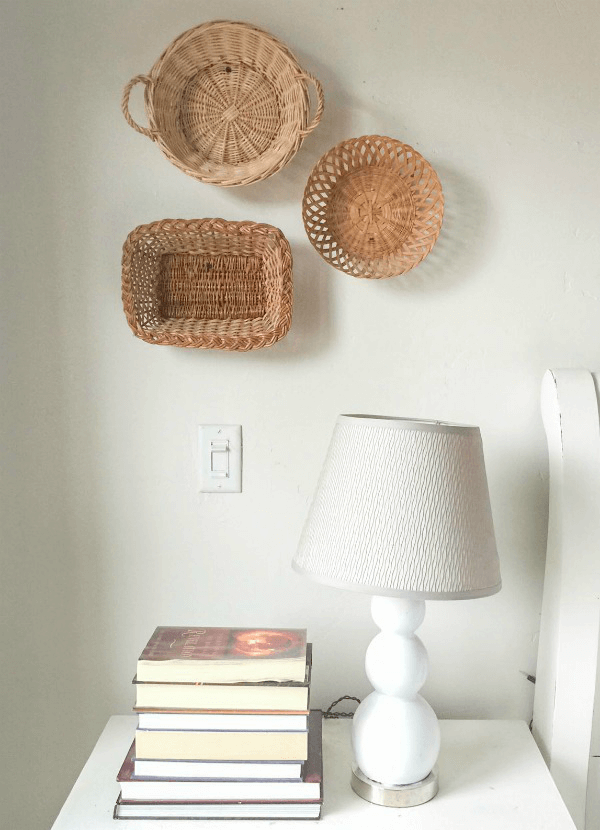 Here is an example of a small basket collection as well!
Wall Mural: This had to be one of my favorite large wall decor ideas. I recently painted a large mural on the wall in one of our bedrooms and it has become my most favorite wall in the house. Click here to see more! When you paint a mural it becomes the decor. There is no need to add anything else. You can accomplish a wall mural by using peel and stick wallpaper as well as permanent wall paper. The options are endless in terms of purchasing one. They are perfect for a big blank wall or tall walls. I am considering one in my stairwell because the walls are quite tall.
While there certainly are many more options than just what I have shared above, these are some of the most popular decor ideas for large walls.
A couple tips for choosing the decor that is right for you:
When trying to fill a large wall in a home, you can easily get overwhelmed. Here are a couple tips for you to make it easier.
If you don't even know where to start, take a minute and peruse Pinterest. Search large wall decor ideas, and just simply scroll for a minute. Pin those images that catch you eye and make you feel a certain way. I often know I have found something I love because of the way it makes me feel. The idea is not to copy the image but to use it as inspiration and as a jumping off point.
If you feel that you have a bit of artistic talent, try your hand at creating a large piece of artwork yourself! You can easily create a large abstract piece of art.
If you have a new home, take advantage of the blank canvas. I know it is hard to make that first nail hole on those white walls, but you just have to do it!
Start with a bare wall. Sometimes its hard to see what you want to do when there are other things on the wall.
If you are wanting to create a gallery wall, use templates of your picture frames using wrapping paper and tape them to the wall to find the best layout of design. It can help you with the spacing of the picture frames and the balance of them. Plus, it is easier to move the taped on ones than to move ones that are nailed into the wall. Less holes!
Your home decor should be unique to you! Do not compare what you love with someone else. This is what makes us each unique.
Hang a small piece of artwork inside a larger frame! This will add dimension and fill a wall with something essentially smaller! I love this idea below from Salvaged Living.
I hope this post helps you to feel the confidence and inspiration that you need to tackle that large wall or even an entire room! If you are wanting to tackle an entire space, filling a large wall with one of the ideas I shared is a great way to accomplish that and feel as if you are getting the room done.
Make sure to follow me on Pinterest where I share tons of decor ideas, recipes, DIY projects and so much more!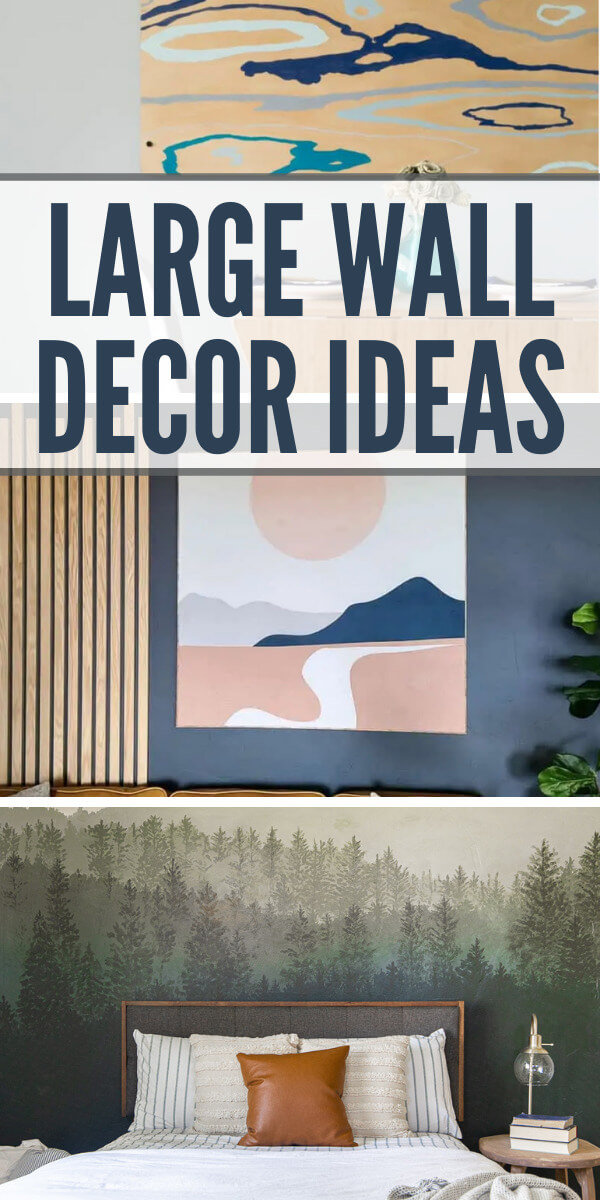 Check out these other great posts:
How to Incorporate Farmhouse Artwork into your Home
New Apple and Pumpkin Fall Printable Art For You!
Watercolor Peony Printable to Print at Home
Super Cute Pumpkin Printable for Fall
GET YOUR FREE GUIDE to 30 DIY projects that can be done over the weekend!
By subscribing, you will gain access to my FREE guide with 30 DIY projects that can each be done in a day, or over a weekend!
You will also receive a weekly email with some of my favorite tips, tricks, and design ideas.