Hi friends! I am excited to share me most recent craft at Twelve On Main with you today! Funny enough this all happened by accident. I want to show you how I made some super easy embroidered tea towels perfect for spring. Let me show you what I made! I really wanted to create some kind of spring decor for my home that would fit into my homes decor.
Just by chance, I happened to get my Grove Collaborative order a couple days ago. It had been sitting at the post office for about a week. We had forgotten about it during our Covid experience. So, as I was putting my order away, I realized I had new white flour sack towels in my order! I absolutely love flour sack or tea towels in the kitchen.
What is a flour sack towel?
Flour sack dish towels are called "flour sack" because they're modeled after the thin woven cotton bags that flour and grains used to be packed in, which were re-used as towels. That thin cotton yarn and the looser weave make for a towel that's extra absorbent. They are perfect for so many things including covering rising bread, absorbing water and they are my favorite to use for home decor in the kitchen.
Years ago I was really into embroidery and cross stitching. I mean, years ago, like in high school. But, some of those skills still live in the back of my brain. I would not say I am an expert by any means. I feel like I kind of made this up as I went, not really sure if my stitches were the right kind or if I should have used something fancier. Listen, I just made it they way I thought I should.
How I made my DIY embroidered tea towels:
I used:
The first thing I did was choose a design for my towel. Being me, I wanted something simple and classic. I tend to shy away from things that are bold and very specific to a season. After doing some searching, I chose a simple leaf branch design I saw on Pinterest. I just looked up leaf designs, or embroidery designs.
I used a pencil to freehand the design on the towel. You could get any kind of design and use transfer paper to trace it. I wanted this to be more organic and found drawing it up myself was super easy. For this embroidered tea towel, I used a simple straight stitch that I double backed on. I would make a stitch and then stitch further forward and come back through the edge of the first stitch. I don't think that made sense. Lets just say, hop onto Pinterest and you can find tons of helpful videos on simple stitches and how to make even more elaborate ones!
This isnt a perfect embroidery job, but I really didn't expect it to. I love the simplicity of it, and hanging on the counter or on my oven, it just looks sweet.
I thought about using a brighter color, but loved this wheat color.
You could realistically make anything you want, depending on your skills. Plus, flour sack towels are so inexpensive, you could make a ton of them! When I was done with the stitching, I ironed the towel to give it a nice clean look. These towels are notorious for being wrinkly.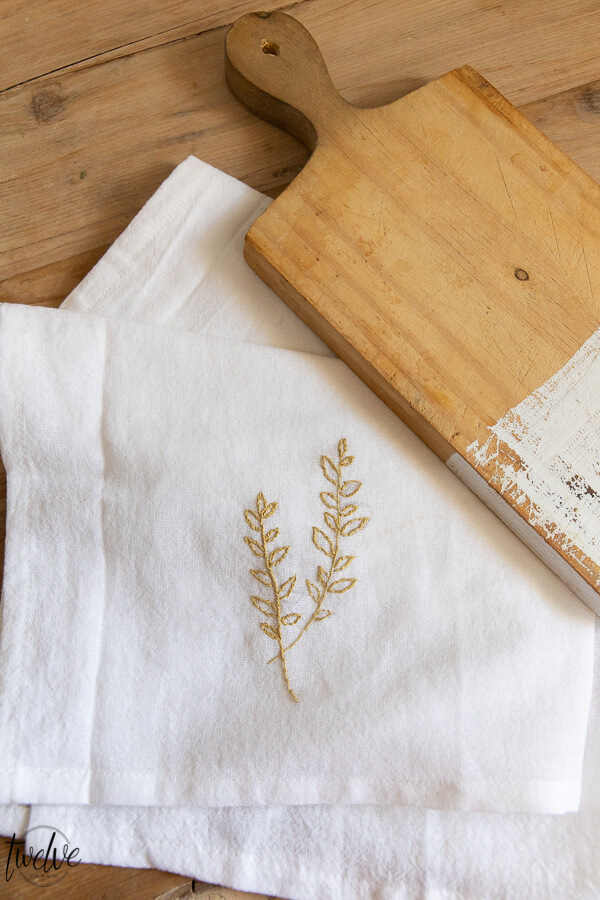 Are you good at stitching? This project actually made me want to dust off my stitching skills, so maybe I will have something even more elaborate soon. But for now, as basically a beginner, I was able to create something super cute and sweet for the kitchen. It is perfect for spring, and is a great way to add a simple touch to your kitchen.
Want to see more amazing spring fabric decor ideas? Check these out below from some of my favorite bloggers!

My 100 Year Old Home | DIY Craft Easy Vegetable Printing
Twelve on Main | Easy DIY Embroidered Tea Towels
Happy Happy Nester | How to Make Felt Flowers
Tattertots and Jello | Pillow Cover with DIY Macrame Fringe Trim

Most Lovely Things | DIY Canvas Wrap Vase
The DIY Mommy | No Sew Ruffled Tea Towel from Scrap Fabric
Zevy Joy | How To Sew An Apron From A Kitchen Towel
My Sweet Savannah | DIY Shibori Flag
Satori Design for Living | DIY Tea Towel Flatware Holder
I also have some more amazing posts on the blog! Check them out below!
Simple Spring Paper Garland Using The Cricut Maker Simple Spring Tablescape Ideas Easy Spring Flower Arrangement Using a Basket How to Make a Eucalyptus Wreath for Spring! DIY Ikea Tea Towel Farmhouse Pillows 4 Ways!! Make Your Own Grain Sack Fabric- When You Cant Get Your Hands On The Real Stuff Simple Boho Style Hoop Wreath for Spring
GET YOUR FREE GUIDE to 30 DIY projects that can be done over the weekend!
By subscribing, you will gain access to my FREE guide with 30 DIY projects that can each be done in a day, or over a weekend!
You will also receive a weekly email with some of my favorite tips, tricks, and design ideas.