Lets just say its been a minute since I created any new printables for my readers! But, I was able to sit down the other day and I was feeling inspired. I decided I wanted to paint something and I decided to paint something for fall! So you get a new fall printable wall art!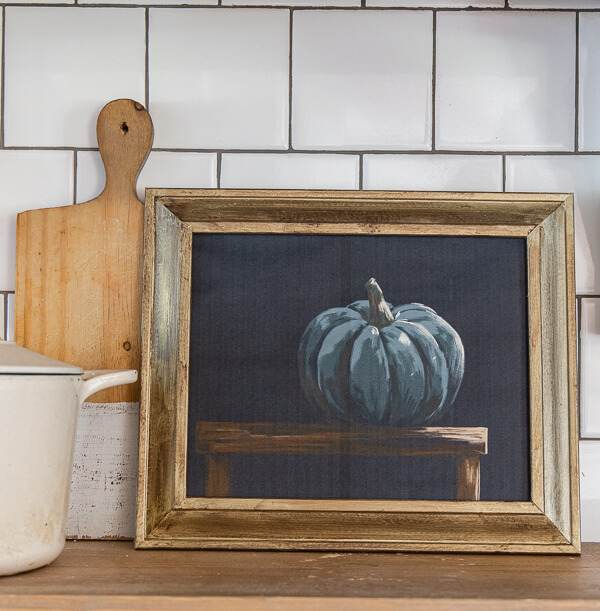 I. have always been inspired by other artists, and the old masters as they say have always been my favorites. When I was in college I did a study on Caravaggio. He was an Italian painter. He painted moody dark paintings, with strong light sources. I have always loved those kinds of paintings, and I even got to do an exercise in school where I had to create a Caravaggio of my own.
So, this week I decided to paint a simple pumpkin, using the Caravaggio style that I have grown to love so much. This printable wall art is a moody piece that really stands out when it is added to a shelf or in a collage on the wall. I framed mine in an antique gold mirror which makes it stand out even more.
What I love about creating these kinds of art pieces for you is that they can easily be printed right in the comfort of your home! You can also have a large size printed at places like Walmart. Keep in mind that these printables are only for personal use. You cannot share them with others, and do not use it in an commercial applications.
Its really easy to get access to this fall printable. I have an entire printable library full of over 50 printables. These printables are available exclusively to my email subscribers. By subscribing to my email list you will gain access to my entire printable library, as well as exclusive updates, tips, tricks and updates on new products and blog posts.
So, its pretty easy actually! Click the image below to subscribe to my email list. Once you have subscribed you will receive an email with the link and password to the printables library. Remember to add my email address to your contacts list so that it doesn't get sent to your spam account. If you cant find the email 95 percent of the time it has made its way to your spam account, so make sure to check there!
Now lets just have another couple looks at this gorgeous printable fall art!
I love how this turned out and its got me inspired to create more and more! So be on the lookout for more!
Check out these other great printable wall art options!
New Apple and Pumpkin Fall Printable Art For You!
Set of Vintage Fall Printables for You Home!
Super Cute Pumpkin Printable for Fall
Super Chic and Stylish Halloween Printables! Get the Whole Set Now!
Halloween Clipboard Decor With Free Printables
FREE Vintage Animal Skull Halloween Printables
GET YOUR FREE GUIDE to 30 DIY projects that can be done over the weekend!
By subscribing, you will gain access to my FREE guide with 30 DIY projects that can each be done in a day, or over a weekend!
You will also receive a weekly email with some of my favorite tips, tricks, and design ideas.