Fall Table Decor Ideas Using Target Dollar Spot Decor
The other day while I was shopping with my sister, we ran to Target to get some swimsuits for my daughter for our upcoming Hawaii trip and I stumbled, no I head first fell into the Target Dollar Spot. They had so many adorable and stylish decor items for fall and I knew exactly what I wanted to use them for. I want to share some fall table decor ideas using my Target Dollar Spot decor! I have tried to link to the items but Target does not have their Dollar Spot items online. You have to go in store.

For me, Target's Dollar Spot is hit or miss, and this day it was definitely a hit. I found so many great items to use that were affordable and fit my fall aesthetic. Lets talk about what I used in my fall tablescape this year.
The first thing I found was some really pretty glass pumpkins. Honestly I wasn't sure what they were meant for, they had a hole in the bottom. Maybe to put a light under it? I say them and knew they would be the perfect accessory for the top of my place settings.
When I dress a table, I like to add a small accessory to the top of the plate along with a napkin or the utensils. These gorgeous maroon color pumpkins went perfectly with my favorite napkins from Walmart.
The color scheme was decided by the items I found on this trip. Neutrals, raw wood, wine/maroon, rust orange, white and black.
The next item that I found was some really cute natural fiber pumpkins. I had to get them. I didnt end up using them on the table, but they look adorable on the shelves in the dining room.
I then stumbled across these rope trays. They were 3 dollars each, which was a steal! And had I only been buying one it it would have been even better, but I bought 6. I wanted to use them as the charger or placemat for my plates. I thought they would be a unique way to add texture and help add a focal point to my black plates.
The last items I found, which I was going to use in the centerpieces were these basket type decor pieces. The one that is maroon is in the shape of an apple and it has the most adorable lid.
The other two I purchased have a sort of pumpkin shape, or maybe like a little storage basket vibe. Either way they are too cute. Alas, I didnt end up using them on my table, because I loved the way they looked on the shelves as an accessory.
I also found these candle sticks at the Target dollar spot and I think they look perfect with my amber glass candlesticks.
For my fall centerpieces, I ended up using my very own large pitcher, which I actually made in my pottery class in college! I added my fall eucalyptus to the pitcher. I decided I wanted to keep the center of the table simple.
I think the items that I purchased from Target were the perfect accessories for my table and they were super affordable. I know I will be able to use those rope baskets throughout the year in multiple places in my home so I am excited about that.
Fall Decor Accents for Your Table
The glass pumpkins would also look adorable on my mantel or as an accessory on any of my shelves.
As you can see I didnt use many oranges or typical fall hues, other than the orange eucalyptus leaf stems that I had and the candles.
I love creating fall table centerpieces and with the color of my dining table, I think this tablescape is exactly the mood I was going for.
I have tons of fall content here on the blog, whether you want more table ideas, bedroom decor for fall, fall printables, wreath DIYs and more, I have got it here!
Want more fall table decor ideas? Check these ideas out below!
Blogger's Best Fall Tables!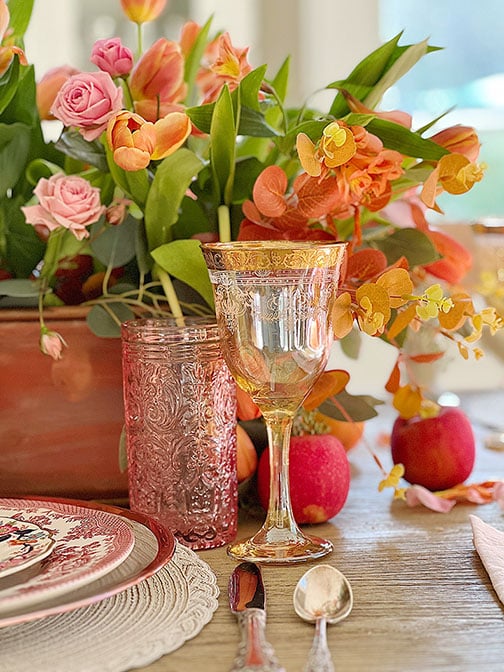 Dining Room Fall Table Decor Ideas | My 100 Year Old Home
I love fresh flowers and today I am sharing lots of dining room fall table decor ideas. This fall table is highlighted with fresh flowers in my fall palette colors. But there is a little twist! I added faux greenery to my fresh floral centerpiece. Can you tell which flowers are faux?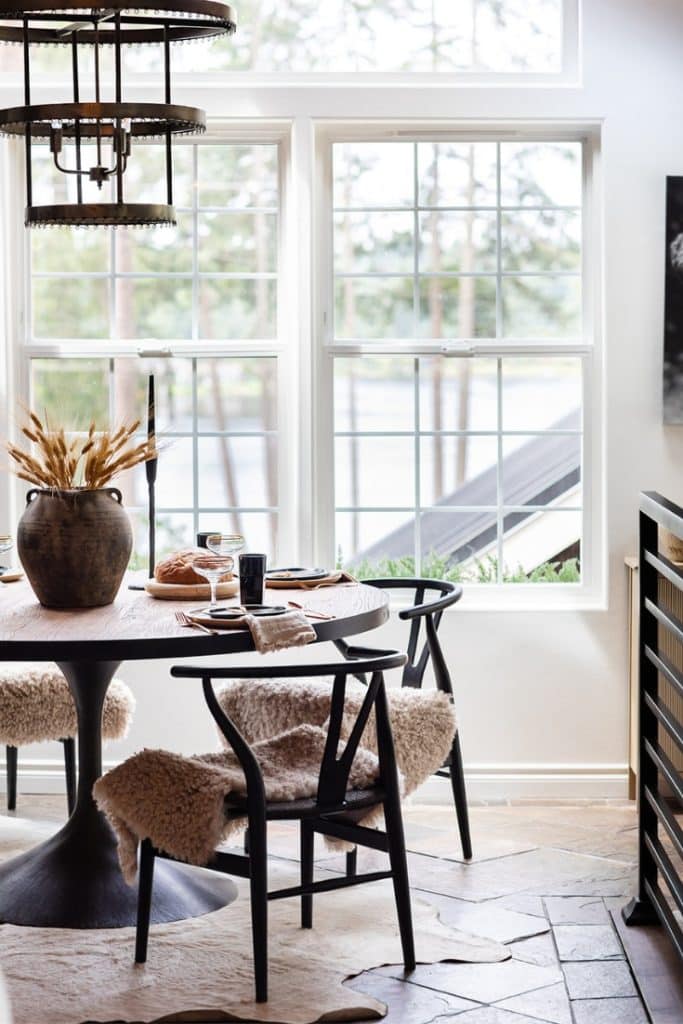 Organic Modern Fall Table Setting | My Sweet Savannah
Create an organic modern table setting for fall. Whether you are hosting a dinner party, or simply having a family meal together, my tips will help you create a cozy vibe that everyone will love.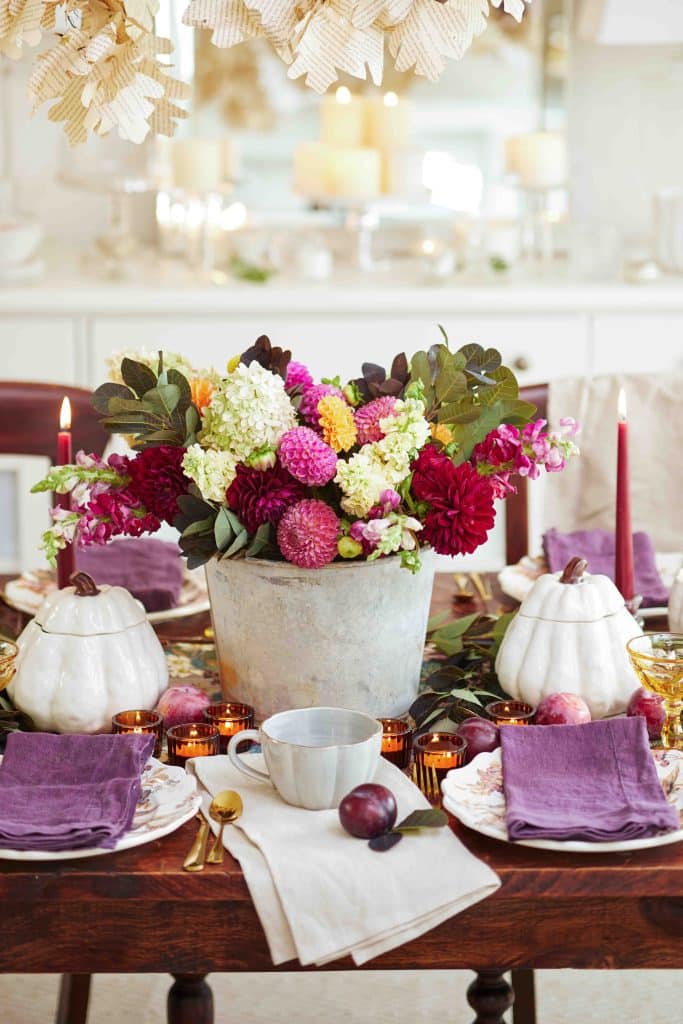 Fall Dining Room Table Decor | Happy Happy Nester
You can feel that autumn is on its way, and I've already started adding charming fall vibes to our home with the perfect Fall Dining Room Table Decor!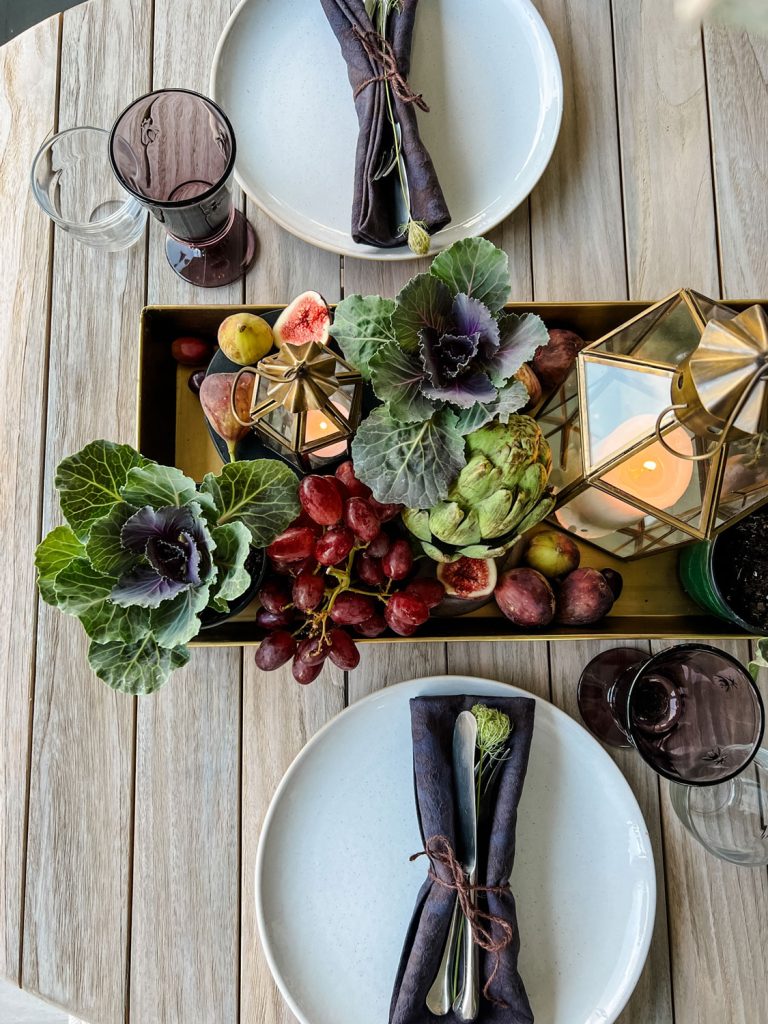 How to Create a Beautiful Organic Fall Tablescape | Most Lovely Things
Inspired by Terrain: create an earthy organic fall tablescape for dinner on the porch.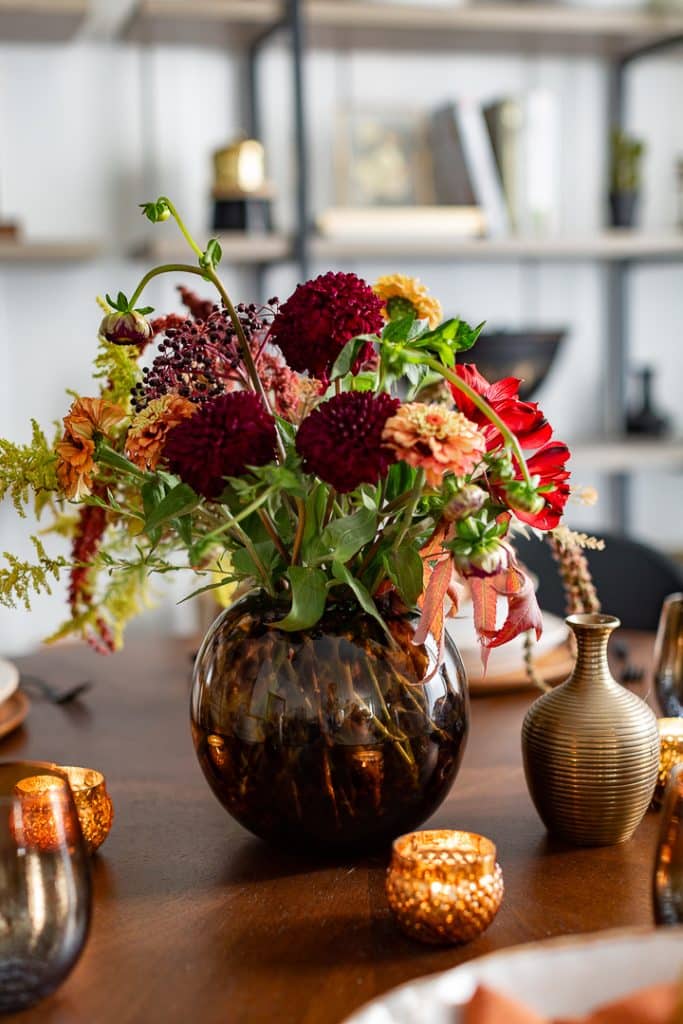 Fall Tablescape Ideas | Craftberry Bush
Elevate your dining experience with Fall Tablescape Ideas, where warm hues, rustic elements, and seasonal decor come together to create a cozy and inviting atmosphere.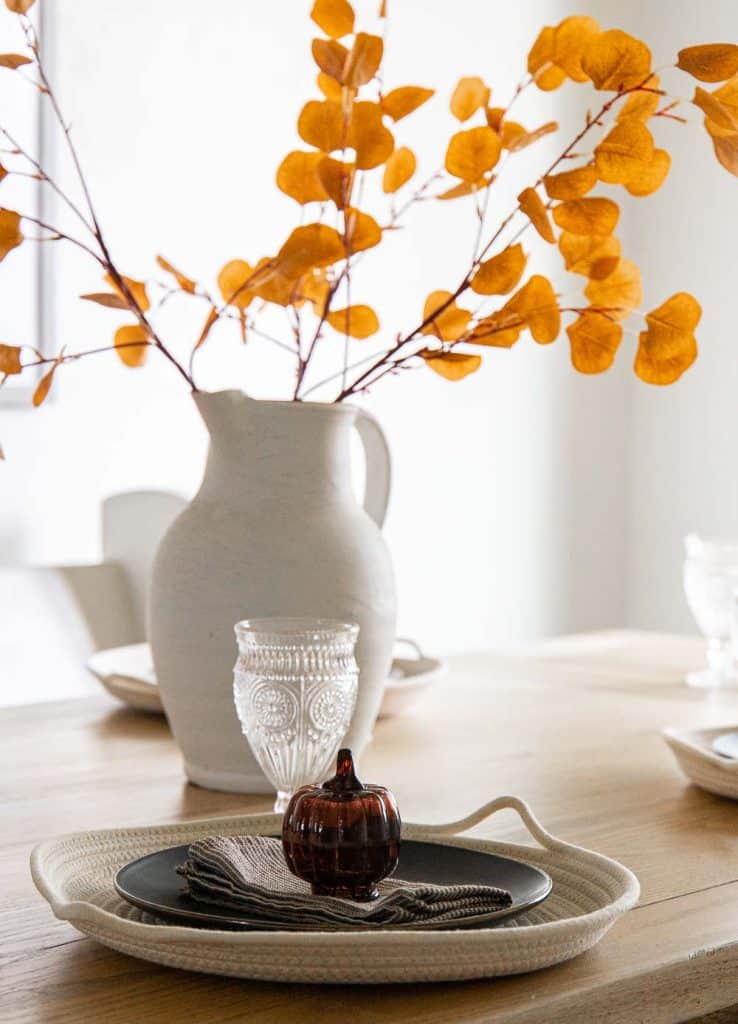 Fall Table Decor Ideas Using Target Dollar Spot Decor | Twelve on Main
I created a fall tablescape using items I found at the Target Dollar Spot! They had some amazing items that I was able to add to my aesthetic and it turned out amazing!
Don't forget to pin this for later!