Every year its something new, every year, I want something new. Wreaths that is. I love creating new wreaths every year for my front door. This new fall eucalyptus wreath is one of my absolute favorites and I definitely did not think it would be! Let me share how to create an organic, natural looking wreath using items right under your nose. This is my 2022 fall wreath tutorial.
This wreath idea started when I found these gorgeous autumn colored eucalyptus branches on Amazon. I knew they needed to be in my house. So I ordered them and got to brainstorming. In my mind I always visualize an organic, natural looking wreath, but its so hard to translate that image into reality. But, this one today was just about as close as you can get. I knew I wanted to keep the colors all kind of one tone, but then I was out in the garden and saw some gorgeous grape leaves with a touch of age on them and I knew I had to add them to my wreath.
This wreath was a combination of many different elements around my house. It started with my golden eucalyptus but then it transformed to so much more. While I was in the garden gathering some of the grape leaves, I saw my corn stalks and decided to cut a few of the tassels as well as just a couple of leaves.
So, part of this wreath will have dried flowers and plants as well as faux foliage. I wanted to add more greenery filler but I did not want the green color so i ended up spray painting them with gold and them dry brushing them with brown paint to age them and give them dimension. I literally wandered my office and gathered up items I thought would go together. Often times I think we have to have all the perfect items to add to a wreath and it has to be structured a certain way. Not so. My most favorite wreaths end up being the ones where I kind of just went with it and let it transform. For this fall season I wanted something monochromatic and simple but also elegant. I wanted it a " harvest-hued wreath " if that makes sense. This wreath is one that ideally should be used for indoor use, unless you have mild weather. I do have mine on my front door but will pull it off if the weather (wind) gets out of control. But since our porch is covered and protected, its an ideal place for my faux eucalyptus wreath.
Materials needed to create this fall eucalyptus wreath:
Click the images below to be taken directly to that product

CHECK OUT MY VIDEO OF HOW I MADE THIS GORGEOUS FALL WREATH BELOW!
Artificial wreaths can be so great because you can reuse them year after year. They way I make mine, means that I can take away, or add to my wreaths easily without damaging anything.
The secret is to use wire or hot glue to secure items into your wreath form. You can also use the tension of the actual grapevine wreath form's vines to hold things in place. It is easy to cut the wire and remove items or peel the hot glue off and repurpose an item. If I know 100 percent I am going to keep a wreath. as is permanently I will use all hot glue to keep everything in place.
The method I used for this wreath was to stick the items into the cracks of the wreath, allowing for the tension of the branches to keep things in place until I was done and then I flip the wreath over and hot glue it from the back where the pieces stick through the form.
I started my fall eucalyptus wreath by adding my larger pieces, the grape leaves, to the wreath form. Then, I began adding my fall leaves. I wanted this wreath to have a draping feel. LIke the foliage is draping around one side of the wreath. So I made sure to evenly space the eucalyptus, making sure to let it drape and hang in spots.
At the top right of the wreath I wanted the pieces to have a more wild appearance, where they are pointing upward to give the wreath movement. I then added my painted greenery pieces making sure to space them out around the wreath.
I then added some more greenery that I found, but I kept it green because it was a bit muted. The direction you place these pieces will make a big difference in the feel of the wreath. I find that this kind of wreath you need to balance the pieces by having some directed down and some directed up.
I added the last of my foliage which was some corn stalk tassels and some preserved flowers. The result is pretty great in my opinion. I love an early fall wreath and this DIY eucalyptus wreath is exactly what I wanted to hang on my front porch for the upcoming season.
The range of orange or more of a rust orange along the wreath is absolutely my favorite. It definitely brings that cozy feeling of fall. This is by far my most favorite autumn wreath that I have created. I am certainly proud of it!
There are so many creative fall wreath ideas out there and I have partnered up with some of my favorite bloggers and we are all sharing a new fall wreath idea! Check them out below.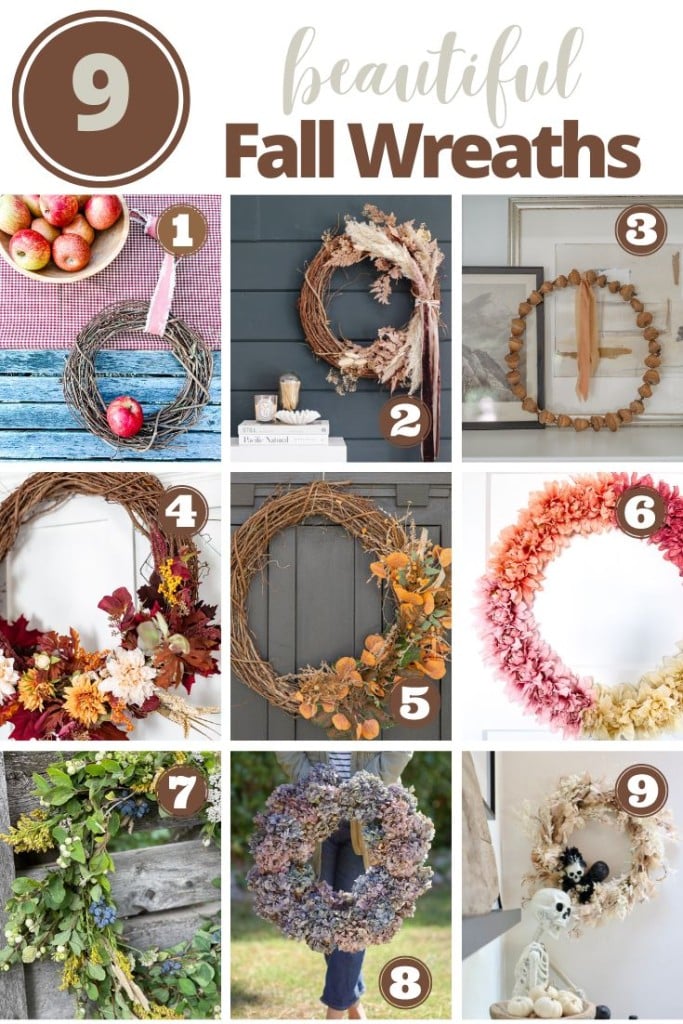 Blogger's Best Fall Wreaths
I am looking forward to a stunning autumn season and I think that with the cool breeze, crunching leaves and hot chocolate at my fingertips, I think its possible. This fall wreath has such a natural look to it and I am so happy with it. It is the perfect welcome to my home.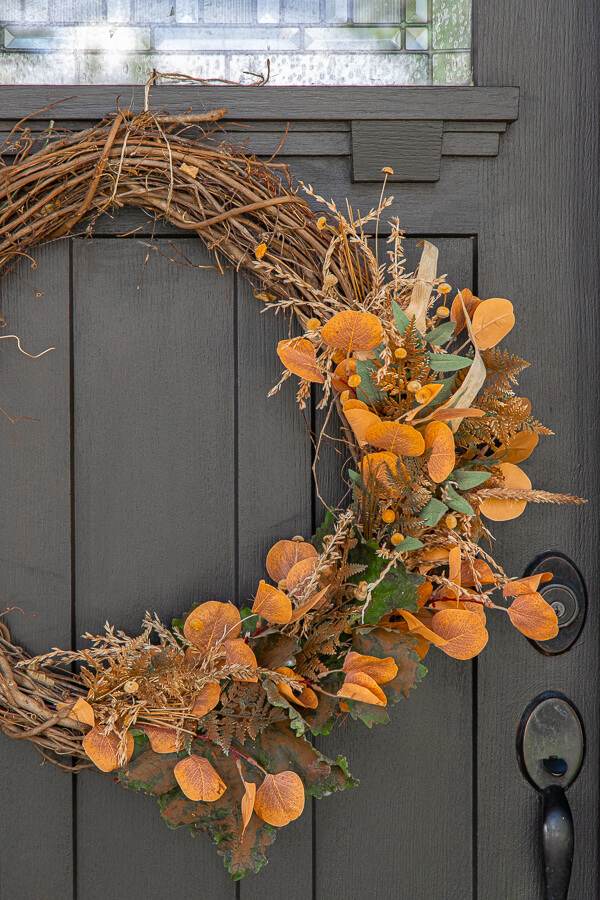 Want more fall wreath ideas? Check these out below:
GET YOUR FREE GUIDE to 30 DIY projects that can be done over the weekend!
By subscribing, you will gain access to my FREE guide with 30 DIY projects that can each be done in a day, or over a weekend!
You will also receive a weekly email with some of my favorite tips, tricks, and design ideas.