Custom curtains you ask? Why yes, let me explain. If you are scratching you head wondering what corner curtains could possibly be, well its actually quite simple. Lets talk about how to hang curtains, particularly corner curtains.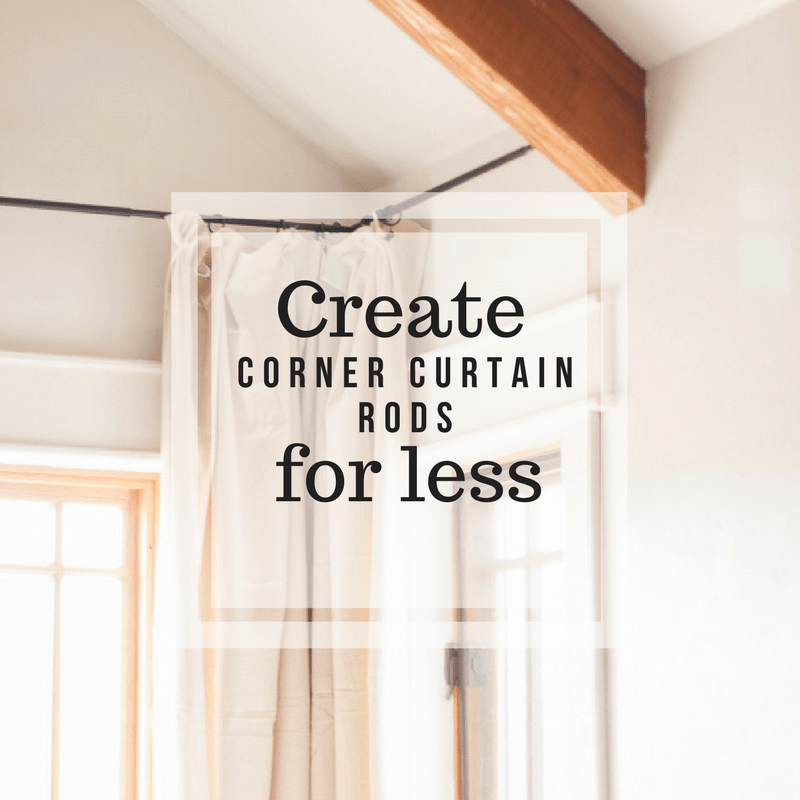 This is somewhat of a pet peeve of mine…well, in my own home I guess. When hanging curtains, there is a certain way I like them hung.
My pet peeve is when you hang curtains on both windows, and there is a space between the curtains, This is where the corner of the room is. Does that make sense?
The living room on our second floor has beautiful wood windows. We do have an issue with light in that room so I like to have a set of curtains on the sides of the window, so that we can filter the light at certain times of the day.
How to hang corner curtains for less
There are a few ways to create a seamless corner curtain look with out having to invest and find corner curtain brackets. You can do this with the curtains you currently own! (for the most part)
Here's the thing. Most curtains these days come with some kind of decorative finial or scroll on the end of the curtain rod. Now, they look so good on the curtains rod, and add some sparkle and style to your window treatments, bu if you are trying to hang your curtains in a corner and want them to meet in the corner, there will be an obvious gap where they come together in the corner because the end finials add a space between the curtains and the wall.
Now, with just a few adjustments to your curtain rod, you can easily create seamless corner curtains without investing in new corner curtain rod hardware.
First, you want to make sure you hang the curtain rod on either sides of the wall at the exact same height, and install the bracket about 4 inches from the corner.
Now, on the ends of the curtain rods that will be in the corner, unscrew the end finial, or just leave it plain(sometimes the finials some separate).
When deciding what size of curtains you will need you need to measure the window frame and i like to double the width of the window measurement. This allows plenty of coverage if you need it. It also gives you the amount of fabric you will need to give you curtains that billowy look.
Take one set of curtains and push the curtain rod all the way to the wall. You can now take the curtain rod on the opposite wall and join it up to the other rod.
This way they will look like they connect in the corner. The curtain rods will overlap.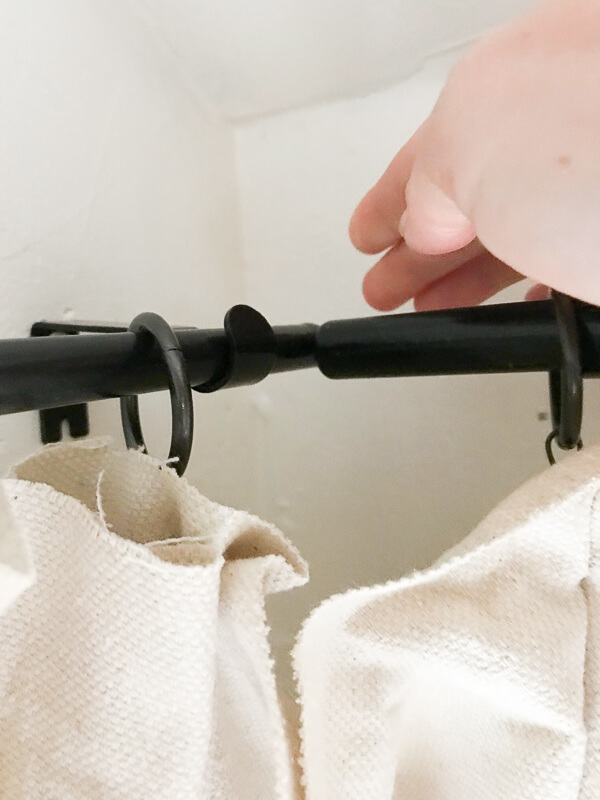 Now, the easiest way to hang corner curtains with this setup is to use curtain rod clips with rings. I put an even amount of curtain clips on each curtain rod.
I used dropcloth fabric, but you can use whatever you want. Try to find the widest curtain panel possible. Dropcloth fabrics come in about 4 foot widths. I take one end of the curtains and clip them to the furthest clip on one side. You will then do the same on the other side.
Now find the middle of the dropcloth or curtain panel and clip that to the most central curtain clip. Now, evenly space the rest of the clips to the curtains. You can either clip them straight on, or gather them and create a pleat. That is what I did, it is a casual pleat.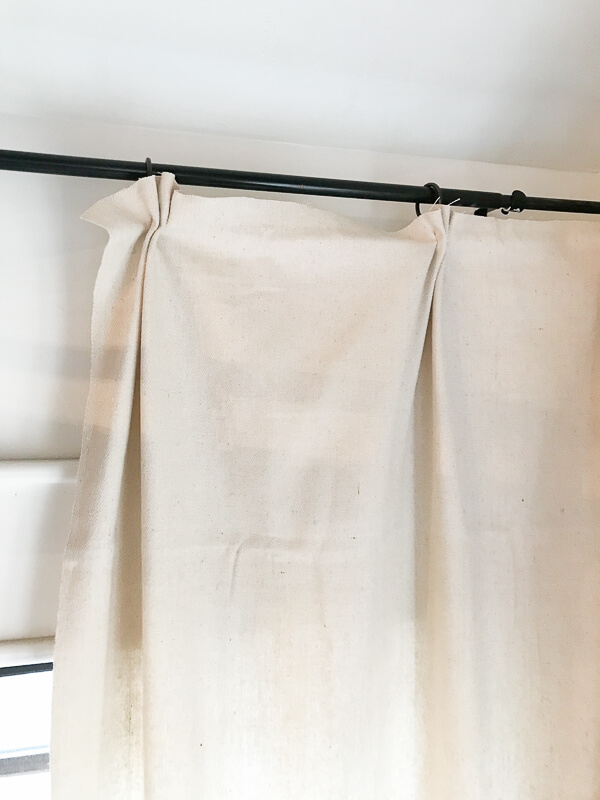 One other way you can do this is by taking two separate curtains panels, and overlapping them in the corner so that they look like they are one continuous panel. You can really add as many panels as you need to get the fullness and look you desire. I had a pretty small corner opening so I didn't want to overfill the space with curtains.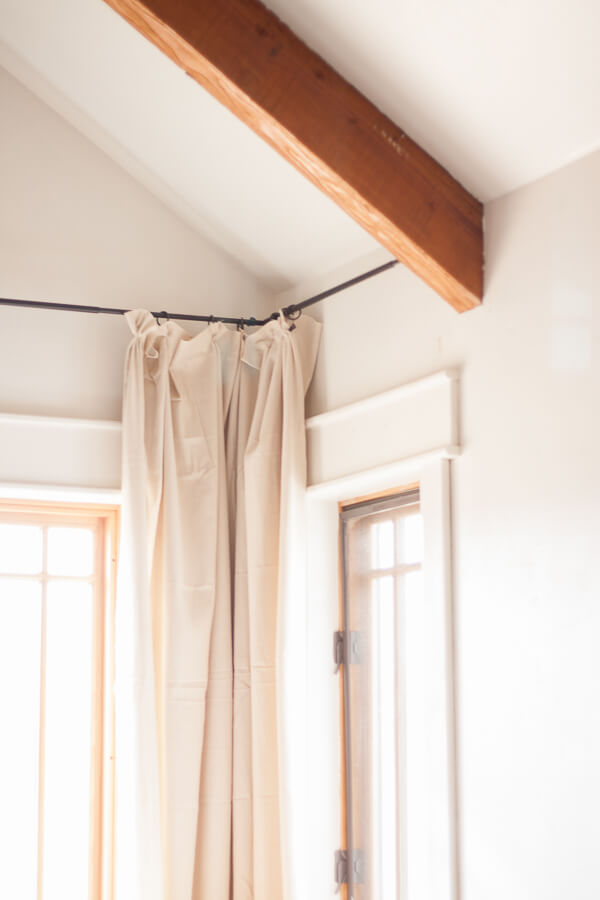 This creates a more styled and cohesive look around your windows. You can keep the end finials on the opposite ends of the curtain. This way they look more finished and they look like they connect and are a continuous curtain rod.
The great thing about this is that the curtains are still functional- I can open and close them to control the light.
And you see that coffee table? Have you ever wanted some insider tips on how to style a coffee table just right? Check out this video:

So, Try this the next time you want to install curtains and try installing corner curtains for less.
And if you would rather purchase corner curtain rods, try these out:
Thanks so much for stopping by and I hope you found something here that's helpful! You can check out these other helpful posts as well:
How I Customized My Wooden Roman Shades
DIY Industrial Pipe Shelves
Large Farmhouse Sign | Laugh Often
18 Incredible Farmhouse Bathroom Floor Tiles
GET YOUR FREE GUIDE to 30 DIY projects that can be done over the weekend!
By subscribing, you will gain access to my FREE guide with 30 DIY projects that can each be done in a day, or over a weekend!
You will also receive a weekly email with some of my favorite tips, tricks, and design ideas.