Do you feel like your bathroom decor could need some help? Are you looking for inexpensive bathroom decor ideas? Whether your bathroom is old or new, there are some very inexpensive ways to update any bathroom. Why not see what you can do to improve your bathroom decor without breaking the bank.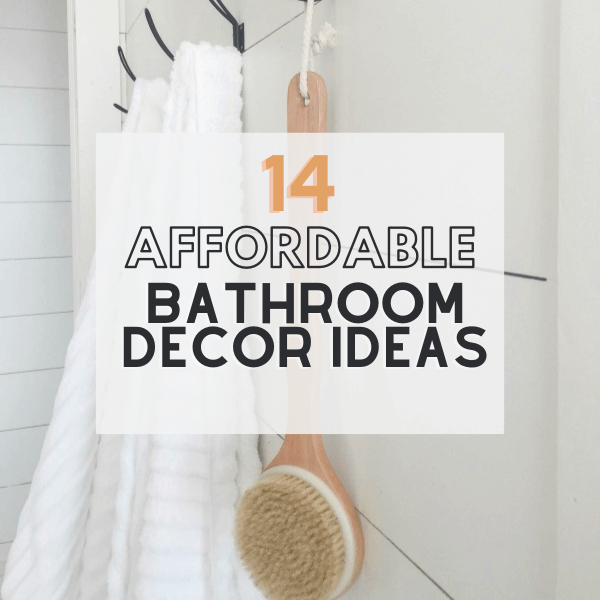 Sometimes we feel like if we decide to tackle a bathroom project, that we have to eat the whole elephant all at once. Have you heard that phrase? How do you eat an elephant? One bite at a time.
If you are looking too create a dream bathroom, then maybe you are planning to eat the whole elephant and do a full remodel. But with building costs at an all time high, sometimes doing small more realistic updates is the key.
Now, tackling a whole bathroom renovation project can seem daunting, time consuming, inconvenient, and expensive! I know. I have done a few. When I did a complete master bathroom remodel, it was a whole elephant, and I felt like I was eating the whole dang thing all at once!
If only we could all be able to create our dream bathrooms, with the perfect bathroom accessories and bathroom decor ideas! If we were all experts at bathroom interior design, wouldn't that be just dandy?
I have found so many sources for bathroom decor ideas, and obviously I love to peruse Pinterest, and other design sites like Houzz. And sometimes seeing those beautiful bathroom layouts, with their incredible finishes and bathroom accessories can make you feel a little inadequate. But that does not have to be the case. There are easy solutions that can get more life out of a drab or unfriendly bathroom, and they are easier and less expensive than you think.
What about a powder room? Do you have a small space such as a half bath that could use an update? I did just that when I updated my entry powder room. The changes were small but they made a large impact.
And what about my boys bathroom? I transformed the entire space for under 100 dollars! Can you believe that? There is proof that these inexpensive bathroom ideas work!
Lets check out my 14 inexpensive bathroom decor ideas:
I want to take you on a journey, instead of just telling you what to do, I want to show you how I used these methods to update one of our bathrooms. I hope by now, you know I don't mess around.
These 10 inexpensive ways to update your bathroom decor are exactly what I used to create a more updated bathroom for my son and daughter. I wanted something that would be good for both girls and boys. A more neutral pallet is what I was looking for. Their bathroom used to be very gender specific and had bright blue and green accents that I had used when the kids were small. But they had outgrown it.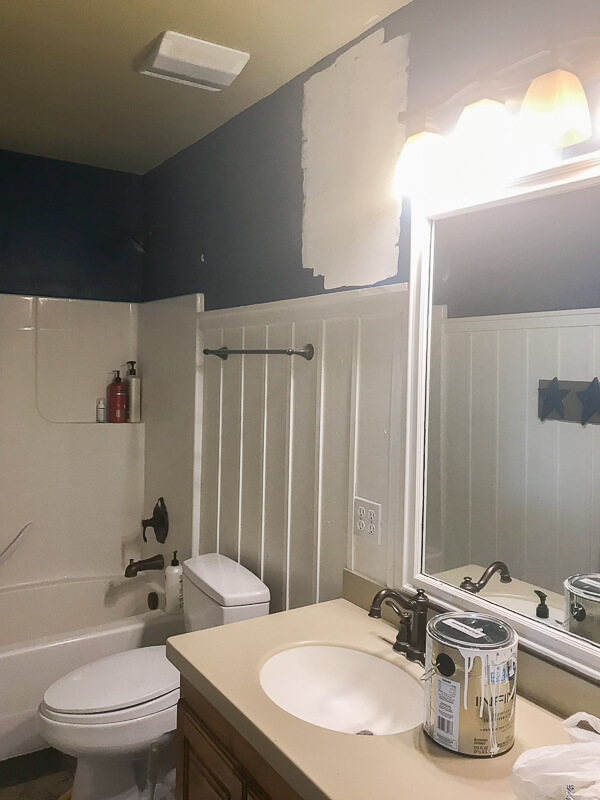 Now having a teenager in the house, I thought it time to give it a more grown up look. This look is grown up and also fits my homes decor. Check out the 5 things I did to change this bathroom without breaking the bank.
14 inexpensive ways to update your bathroom decor:
Paint is the easiest and most effective and dramatic way to update bathroom decor without breaking the budget. A gallon of paint can range anywhere from 20-50 dollars depending on the quality of the paint. I would recommend using a good quality paint, since you will get more for your money. Generally a good quality paint will have better coverage and go on better. I cannot say enough about how much just a coat of paint can completely transform a space.
I love white walls in a bathroom. Its a blank slate that you can draw inspiration from and add color or keep simple and neutral. Whatever energy you are wanting to add to your bathroom, you can get by adding a simple coat of paint.
There are so many different color palettes, from dark colors to simply white. The choice you make can make the biggest impact.
You can see that I painted the upper walls white to brighten up the room. There are no windows, which means no natural light….so it needed a fresh coat of paint in my opinion. But, you so not have to use white paint to update your bathroom. You can use whatever you want.
Even if you have an ugly tile, or maybe a vintage pink or green tile you don't love and want to do something about it, by adding a complimentary color or lightening up the space with a neutral color, you can add some style to the space without tearing the whole thing out. You can get more mileage from it this way.
This isnt your grandmas wallpaper. There are so many stylish options to choose from with gorgeous patterns and designs. You could install wallpaper on one wall as an accent wall. I would highly recommend looking into some wallpaper options.
This may seem obvious but changing out a dingy shower curtain for a more stylish one can be a great way to update your bathroom accessories and bathroom decor while staying in budget. Can you believe I found this black and white shower curtain at Walmart? It is easy to find shower curtains in your color scheme.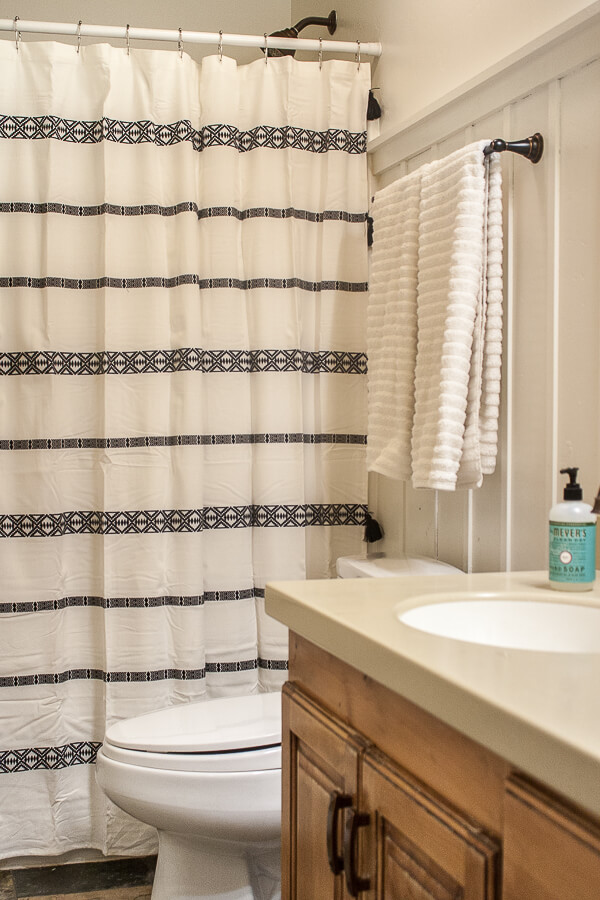 They have definitely upped their game and are bringing some pretty great products to their stores. You can find so many different options for shower curtains and they are a great way to update drab bathroom decor. I also did this in my boys bathroom. A super cute shower curtain can really change the look of the whole room.
Check out these great shower curtain options:

Adding a stylish new towel bar is a great way to update a bathroom without having to spend a ton of money. There are so many unique styles available.
Believe it or not, simple bathroom accessories are important to the overall look of a space. Adding a decorative towel hook can add style to a bland bathroom. You can find nice pieces to hang your hand towels as well as other bath linens. Sometimes by adding focus to other parts of the bathroom can take the focus away from the parts that may not be so pretty. I create this simple peg towel hook rack the same way that I did my new entry peg hat rack.
If you aren't interested in a DIY project check out whats available online or in stores. There are so many inexpensive options out there to choose from.
Here are some towel hooks that I love:

MORE BATHROOM DECOR IDEAS, KEEP ON SCROLLING!
I cannot say enough about what new towels will do to a space. A fresh set of white towels can brighten any space. New towels instantly brighten up a bathroom. Bathroom decor does not have to be elaborate and costly.
I love to display my towels on my open shelves or over a towel rod. If you can find a towel with some texture or design that can be even better. Believe it or not, I love buying my towels at Walmart, and all the towels in my bathroom images are from Walmart. They ribbed towels are wonderful quality. And with a bunch of kids, primarily boys, it gives me a little peace knowing I don't have to panic every time they use one or ruin one.
Here are some of my favorite towels:

Just like new towels, a new rug can totally transform your bathroom decor. You can choose a bright patterned design, simple white bath mats, or a jute rug. I often change out my rugs in my bathrooms since I think they get the most wear and tear, they need to be replaced more often. A bath rug can instantly soften the space, and are so comfortable under foot.
Check out some of these rugs that I have picked out:

Adding new bathroom art is a great way to update a bathroom. You can add a pop of color with a bright piece of artwork, or create a fresh look with something serene and calming. Adding wall decor is a great finishing touch to a bathroom. You can find an unframed print and frame and style it yourself. Also, a cute bathroom sign would be a fun addition. Bathroom wall decor can be subjective to your own bathrooms style.
Just like you can add a new towel holder, a new toilet paper holder is key too. You can purchase a matching set and usually it is more affordable to do it this way.
Sometimes even updating the drawer and cabinet pulls on your cabinets can completely change and update a space.
Update your bathrooms windows (if you have them) with new window treatments! Add pops of color or some texture with fun curtains of blinds. There are a ton of affordable options. You can check out some great bathroom window inspiration here!
Lighting can be a big game changer. You can get tons of affordable bathroom lighting options including pendant lights, wall lamps, and overhead lights. YOU can also paint your current light fixtures (CHECK OUT THIS GREAT TUTORIAL ON HOW TO USE RUB-N-BUFF ON A LIGHT FIXTURE TO TRANSFORM THE LOOK)
A new soap dish, soap pumps, containers for cotton balls, toothbrush holder, and even a tissue box holder or fresh flowers can all freshen up a drab bathroom. With these objects you have the opportunity to achieve new look.
Now, realistically replacing your bathroom countertop might be a bit too pricey. But you can definitely do it. You can also re-surface your countertop using materials specifically for countertops. You can use a substance called Ardex Feather Finish, which is a product that can completely cover your current countertop and give it a modern concrete look.
There are also some inexpensive DIY projects you could do to update your bathroom decor to update it without breaking the bank. You can create beadboard or shiplap that add interest to plain walls and give your bathroom a wonderful farmhouse look. I have an easy shiplap tutorial, you should definitely check it out! We installed board and batten in this bathroom and it immediately created more interest in the bathroom decor.
CLICK HERE FOR MY BOARD AND BATTEN TUTORIAL
There are so many different things you can do to update an old bathroom decor without tearing out the whole space. Sometimes it is more important to work with what you have than to want to start over. Its important to work with the integrity of the space and of the house. I have done complete remodels and quick updates and both can be extremely effective. I just wanted to share a little bit of how I do it. These bathroom decor ideas are just a few of the hundreds of things you can do to a bathroom. I hope that they have sparked a few decorating ideas of your own. I would love to hear them!
Thanks so much for stopping by!
If you like this post, make sure to check out these great ideas as well!
Farmhouse Master Bathroom | Final Reveal
Oodles of Gorgeous Bathroom Window Ideas with Privacy In Mind
Refresh Your Space with Affordable Bathroom Decor from Gap Home at Walmart
18 Incredible Farmhouse Bathroom Floor Tiles Still Relevant in 2022
GET YOUR FREE GUIDE to 30 DIY projects that can be done over the weekend!
By subscribing, you will gain access to my FREE guide with 30 DIY projects that can each be done in a day, or over a weekend!
You will also receive a weekly email with some of my favorite tips, tricks, and design ideas.