Hey friends! I am so glad that you are here today! I am sharing one of my most favorite soup recipes! My hearty pasta fagioli recipe. Its been a while since I have made this since I am on a low FODMAP diet which restricts beans, onions and garlic, which are the best parts of this soup! I cant wait until I can cook it up again! Its seriously one of my most favorite. This recipe makes a rather large batch, enough to feed 6-8 maybe even more! I love making extra so that we can have some left over, it is always better the next day.
This recipe was inspired from a similar one I had used for years in a healthy cook book, but I changed it up to reflect what I like. I like a bit more beans and with the carrots, meat and pasta, there are tons of amazing textures that make this soup so fun to eat.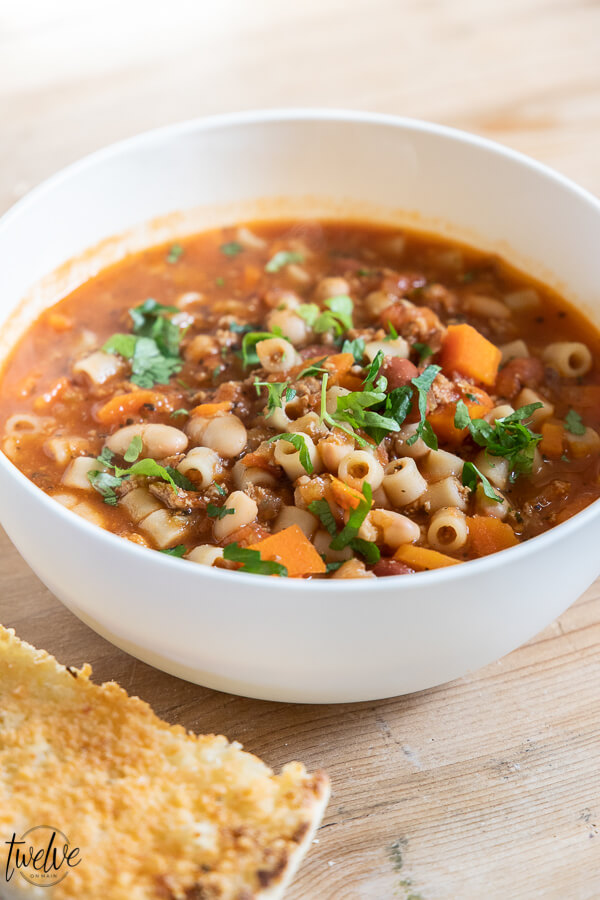 This is a very easy dinner to make. Basically, you chop your onions, celery and carrots and set aside. Brown the meat in a large pot. Add the onions carrots, celery, and minced garlic and let it all sautee on medium low for about 10 minutes or until the carrots begin to soften.
Next you will add the rest of the ingredients including the beans, chicken stock, tomato sauce and crushed tomatoes and all the herbs. Let this all cook for about 30 minutes or until the carrots are soft and tender.
Last you want to add the pasta and the vinegar. I have done the pasta two different ways. You can either cook it separate until they are al dente and then add to the soup, or you can add the dry pasta to the soup and let it cook. It will soak up some of the liquid so make sure to ad a bit more broth if you need to. You can this soup to be stew like in its consistency, but not too thick at the same time.
Before serving, I add the vinegar and cook it for another minute or two. The vinegar is what gives it a bit of zip and you really need it in the soup.
Want more great soup recipes?
My Flavorful Homemade Chicken Noodle Soup Recipe
Easy Potato Cheese Soup Recipe Your Family Will Love
The Tastiest Broccoli Cheese Soup Recipe
Tortilla Soup Recipe for the Crock Pot, Stove Top, or InstaPot!
PASTA FAGIOLI SOUP RECIPE
Hearty Pasta Fagioli
This healthy and hearty pasta fagioli recipe is so amazingly simple and easy to make and tastes amazing! Its flavor is unmatched and you can feel good about your diet choices with this meal. I love making a big pot and having left overs for my meals for a couple days. its an easy way to meal plan.
Ingredients
1

lb

lean ground beef or ground turkey

4-6

oz

ditalini pasta

1

medium

onion

chopped

3

tsp

minced garlic

3

sticks

celery diced

4

med

carrots diced

2

14 oz can

crushed tomatoes

1

14 oz can

kidney beans

1

can

great norther white beans

2

small cans

tomato sauce

3

cup

chicken stock

4

tsp

white vinegar

1 1/2

tsp

dried basil

1 1/2

tsp

dried oregano

1

tsp

salt

1/2

tsp

thyme

1/2

tsp

black pepper
Topping
grated parmesan cheese

chopped fresh parsley
Instructions
Brown the beff in a large pot(I like to use my cast iron enamel dutch oven)

Drain the fat and add the onion, celery, garlic, and carrots. Let is sautee for about 10 minutes

Add all the remaining ingredients except the pasta and the vinegar and let it cook for about 30 minutes or until the carrots are tender.

You can either choose to add the pasta dry into the soup to cook next, but keep in mind that the pasta will soak up some of the liquid so you may need to add a bit more stock.

You can also cook the pasta separate until it is al dente and then add it to the soup. I have done it both ways and it has come out great. It is more convenient and less pots to clean if you add the pasta directly to the soup.

At the end, add the white vinegar and cook for another minute and then turn off.

The vinegar will add that zip that pasta fagioli is known for.

This soup is so flavorful and it is a great healthy option as well. I always feel satisfied when I eat this, and never feel like Ive been on a diet.

I like to top mine with fresh or grated parmesan cheese and its perfect with my homemade french bread as well!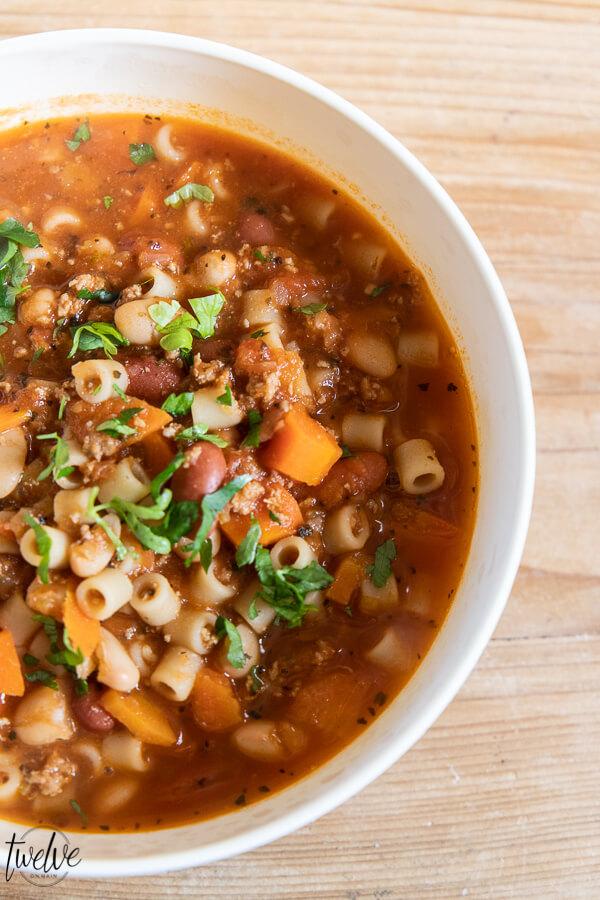 This pasta fagioli is amazing when served with some fresh homemade french bread or with some garlic bread!
I seriously love this soup. For a while my kids knew we would get this once a week! Hopefully soon I will be able to add beans and onions back into my diet!
The ditalini pasta is perfect in this soup. Everything is similar in size and with so many different textures its a party in your mouth! Yes, I just said that. It is so flavorful and makes amazing lunch the next day!
GET YOUR FREE GUIDE to 30 DIY projects that can be done over the weekend!
By subscribing, you will gain access to my FREE guide with 30 DIY projects that can each be done in a day, or over a weekend!
You will also receive a weekly email with some of my favorite tips, tricks, and design ideas.