I love fresh strawberries. I feel like I buy them every week! With my new lifestyle and diet change, strawberries have been an important part of my diet because I had to limit certain fruits. Fresh berries are kind of the only fruits on my list! Strawberries have to be my most favorite fruit and I could eat them at every meal. If you're like me though, you find that fresh strawberries do not last very long, merely days! This is always a frustration of mine. I feel like I purchase strawberries, as well as blueberries and blackberries only to find them wilted and already going bad! I have been especially disappointed lately as they tend to go bad so fast we are literally throwing money down the drain. The only consolation is that I can feed them to my chickens so they aren't going totally to waste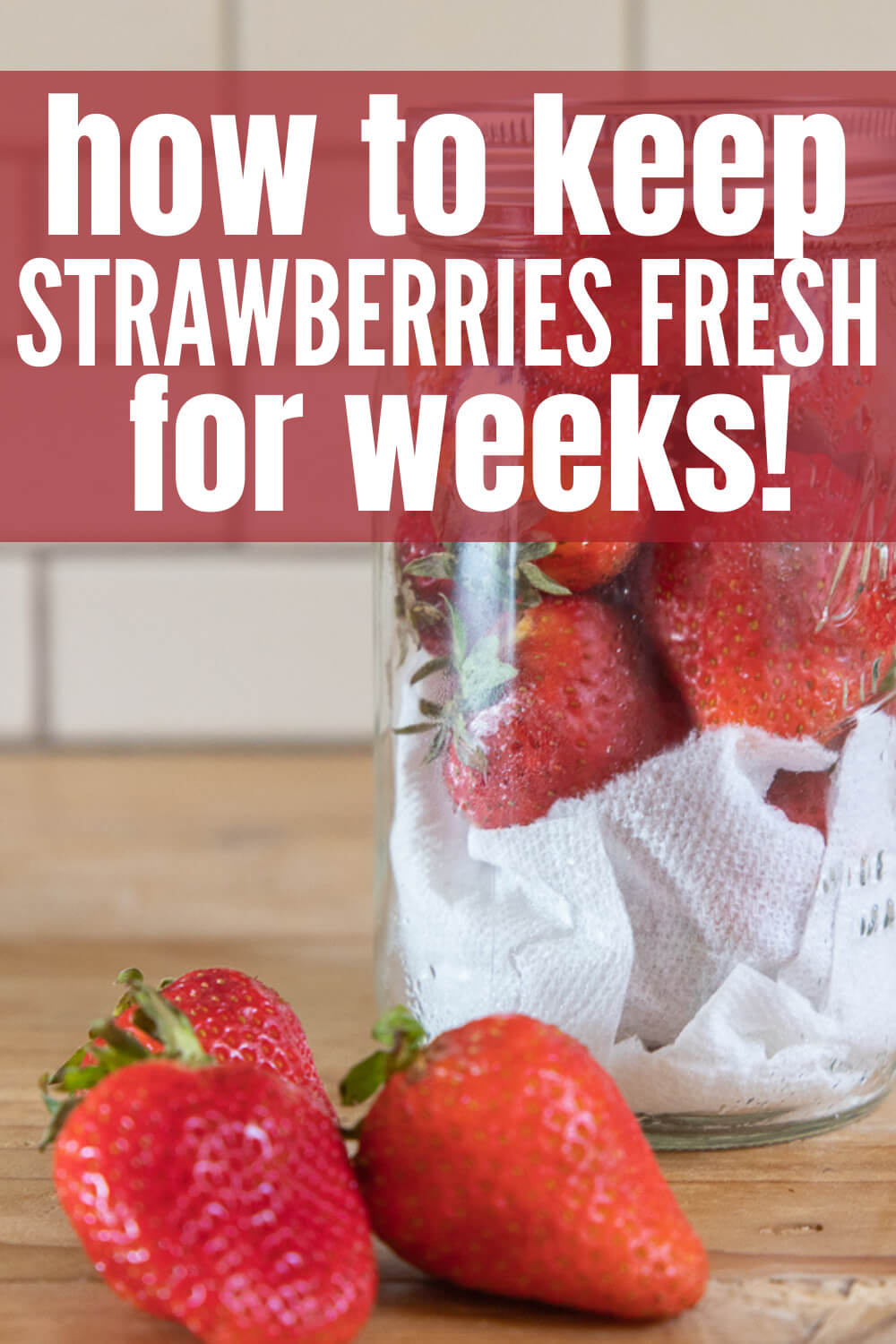 I was in desperate need to figure out how to make my favorite fruit last longer! And guess what? I totally did! I am still amazed at how well this works. I am literally kicking myself, wishing I had started doing this earlier. I can imagine I would have saved and been able to eat so many strawberries that prematurely went bad.
Strawberries are funny things. I felt like if my fridge temperature or the humidity was off just a bit, they just went bad immediately. I have since began to understand that there are things I can do to extend the life of my strawberries and I want to share hoe to keep strawberries fresh longer!
What I want to share is the best way I have found to keep my strawberries fresh longer. I have been blown away at how much longer they last IF I do this. It lengthens the shelf life of your strawberries by at least a week, and mine have stayed fresh for over 2 weeks.
When I say they stay fresh, it does not mean that they stay perfect. They stay firm, and they feel absolutely fresh. The only thing I have noticed is that if there is any flaw in the fruit it will still be there, but it will not get worse. After almost three weeks with my last batch, I only had 3 strawberries that had a small amount of mold. With untreated strawberries, I never have any last that long. The mold spores take over and soon all of the fruit are moldy.

So, lets talk about how to keep strawberries fresh longer:
First, you want to take you unwashed strawberries and remove any fruit that are in bad shape. I like to use a large bowl or you can use your kitchen sink. I fill my large bowl with water and vinegar. We are creating a vinegar wash if you will. I use about 3 gallons of water to about 1 cup of white vinegar. Take the whole berries and place them in vinegar bath.
Let the whole strawberries soak in the cold water and vinegar for about 10 minutes. I like to stir them around gently with my hand to make sure they are all getting good contact with the solution.
I have soaked mine up to 30 minutes as well and had amazing results.
Once they have soaked, I put them in my strainer and give them a quick rinse with cool water. The next step is crucial.
You now need to lay out the strawberries and let them dry completely. I lay them on a towel and use a paper towel to dap up any excess moisture. Let them sit and air dry at room temperature until they are completely dried. This can take about an hour or two.
I just wanted to share how dirty the water is that they were soaked in.
Now, I have tried a couple different container options and have had success with both. I first used a glass jar, and the strawberries did amazing, the only caveat being that they did not hold enough of the ripe strawberries and I quickly ran out of jars. The next couple times I used a large plastic tupperware bowl and this is the storage method I liked the best. I do not use their original container.
Once the strawberries are completely dry, I lay one paper towel in the bottom of the large tupperware. I set one single layer of strawberries on top of a paper towel. Make sure not to crowd your strawberries. Once you have a nice layer, add another paper towel over the top and repeat, adding another layer of strawberries. This will give the strawberries good airflow and the layers of paper towels will absorb any remaining moisture or excess liquid, if there is any. I would only recommend layering about 4 layers of strawberries so they do not get to heavy on top of each other.
Make sure to put the lid on your airtight container and put it in your fridge. You can store these strawberries in your fridge for weeks! Mine have lasted almost three weeks and were still firm and tasted fresh. I only had 2-3 moldy strawberries which I found quite impressive.
These strawberries are almost 3 weeks old!
I store these in the fridge. You will get a bit of moisture in the container of strawberries and that is why I add some paper towels to the plastic container. It absorbs excess moisture and keeps them fresh longer.
This is a simple way to get the most out of strawberry season. I have found it to be the best option to prevent moldy berries. I have used this method for blueberries and blackberries as well and they have done amazing too! When I get fresh produce like strawberries, this is the firs thing I do. I want to get the best strawberries that I can. I want to be able to enjoy each and every one of them before they start to go bad. This method has completely changed my approach to these delicate berries.
This is a sure fire way to prevent mushy strawberries! I was even surprised that the few strawberries I did have that went bad never even went mushy. They stayed firm.
There are so many delicious ways to use fresh strawberries and with a bit of vinegar and some water you can extend the life of these tasty little gems. For best results, make sure to dry them completely, and add a paper towel to absorb any excess moisture.
We live in a small rural community and having fresh strawberries is quite difficult to get, so when I do, I stock up, and I store them just like I have shared. It has been a game changer for sure and I love that I get to enjoy all the strawberries before they go bad.
It is important to me that I waste less. By taking a few simple steps and by preparing our produce we can get the most out of our money and enjoy some really delicious food.

Here are a couple of my favorite strawberry recipes as well as some I just love to eat with strawberries!
Easy Strawberry Cheesecake Ice Cream Recipe
Easy Strawberry Banana Cheesecake Salad
Easy to Make Strawberry Nutella Smores Recipe
Strawberry Throw-up, Our Favorite Strawberry Dessert
Sweet and Sour Strawberry Pina Colada Popsicles
Non-Alcoholic Strawberry Mojito Popsicles for Kids and Adults!
Light and Fluffy Oatmeal and Sourdough Discard Pancakes
The Best Fluffy Overnight Sourdough Pancakes
Light and Fluffy Banana Oatmeal Pancakes, Low Fodmap and Gluten Free
Super Easy Light and Fluffy Blender Whole Wheat Pancakes
GET YOUR FREE GUIDE to 30 DIY projects that can be done over the weekend!
By subscribing, you will gain access to my FREE guide with 30 DIY projects that can each be done in a day, or over a weekend!
You will also receive a weekly email with some of my favorite tips, tricks, and design ideas.