I kid you not. I decided the other day I wanted to jot down a few of my easy DIY wood projects from my website, and can you believe, I have over 40 DIY wood projects! And that's just projects involving either regular wood, pallets, wire spools, or reclaimed wood. I want to share them with you in one concentrated space where you can scroll through. You can then click on the title of the project to be taken to the full tutorial.
With lumber being very pricy right now, I think it is important to up-cycle and reuse as much as possible. Many of these projects are and can be created with old lumber. We always get creative with our projects and try to reuse as much material as we can and these simple woodworking projects are the perfect avenue for doing that.
OVER 40 EASY DIY WOOD PROJECTS for 2021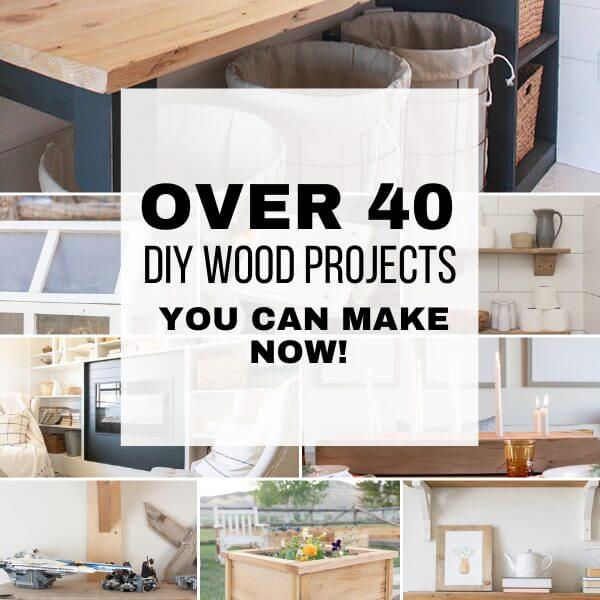 It really surprised me to see how many there were, and I realized that a lot of them I had forgotten about! I did not want them to go on unforgotten. I wanted to collect them all in a space where you could easily find them and hopefully this can be a great resource.
As the weather warms up, I love to go outside and start working on a project. Now, we do work on projects in the winter, but it is definitely more fun to do it in the warm weather! But, all of these projects can be done anytime of year.
So, I thought maybe I should send out a quick email with a list of these super easy DIY projects in case you are looking for a project this weekend, or maybe the next.
Each one of these projects was done in one day. Some of them in less than 10 minutes! (make sure to check out my wooden bike racks). And each one was made with wood, reclaimed wood, pallets, or wire spools.
Each and every project has a full tutorial and materials list.
If you want to see a fun video of one of my wood projects, check out this easy DIY towel ladder! This project is so easy and fun to make:
Check them out below:
Over 40 small wood projects to make you home and garden better!
These are in no particular order so make sure to take some time scrolling to find so many great projects.
Lets start out with our most recent DIY wood project, this simple custom made wood desk with faux butcher block top for my sons bedroom. This was an easy build and you will never believe how inexpensive the top was. I wanted the butcher block look but for less. With lumber being so expensive right now, its more important now than ever to try to do things affordably.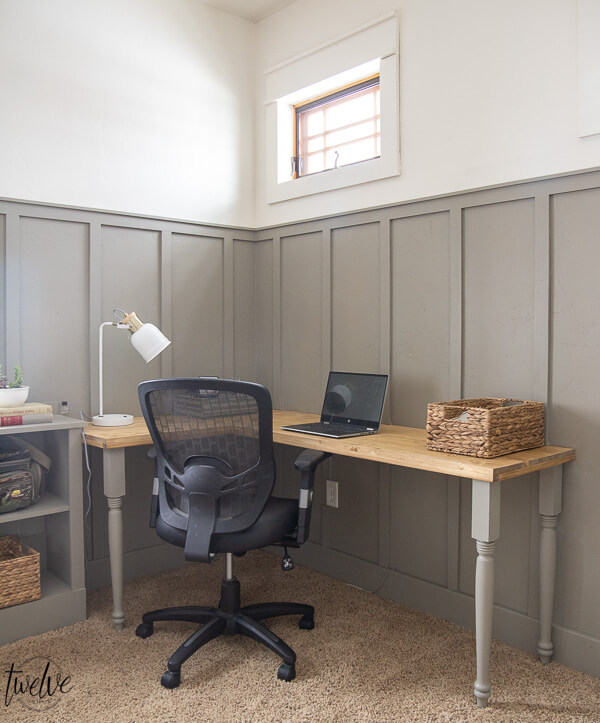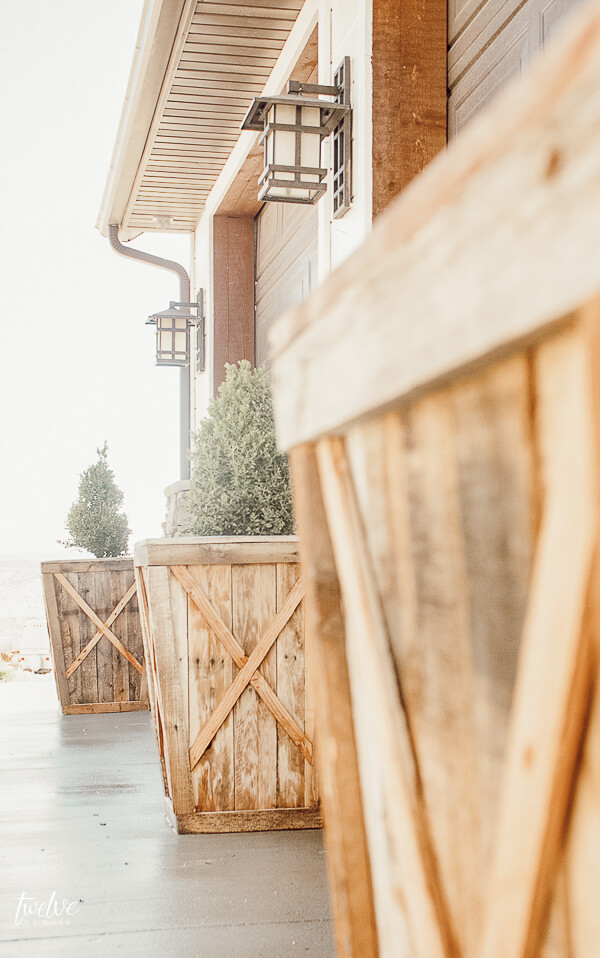 These planter boxes were a labor of love. When I asked my husband to make them for me, he was not interested. So when I asked for them for my birthday, we sweetly obliged, IF I would help him. Since they have a slight angle, it was a bit more difficult but expert woodworkers would have no problem. We used wooden pallets, a little inspiration, a nail gun, circular saw, and more to build these.
Another great idea for using pallets is to create a pallet compost bin. It is a great project to reuse wood and to create a space to start your own composting. You can make them different sizes depending on the space you have in your backyard. You want to make sure you use heat treated pallets and not chemically treated pallets. I explain more of this in the post. Make sure to check it out.
Building these small cedar planter boxes are a great way to improve your woodworking skills if you are new but also familiar with building. We used remnants of wood from our raised garden planter boxes. These are great little planters that can be used in the garden, or on a porch. These wooden boxes are great simple planters that can be made from barn wood, or an old plank of wood. You cold even use old pallets! My building skills are not as polished as my husbands and even I could build these.
Are you an avid or hobby gardener that wants to be able to extend your growing season? These adorable mini greenhouse cloches are the perfect way to do that. These were inspired by old vintage glass garden cloches. I used left over plastic panelling from our greenhouse to make these and some scrap wood. This can be taken around the garden and used where ever I need it.
Speaking of greenhouse….did you know that with my simple greenhouse plans, you can build this small and efficient greenhouse.
It may take slightly longer than a weekend to build this, but if you plan it our right, it can be done in no time. We built this in one weekend, then the painting took one day and finishing touches took another couple. of days. This is a great project and I also offer the building plans right here on my website. Click here to get my greenhouse building plans.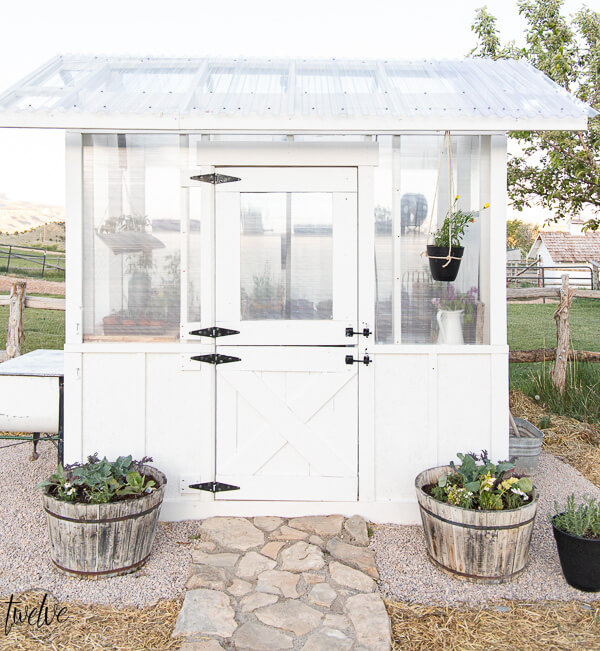 These were one of my first projects when I started by blog. These were so fun to make and added oodles of charm to my dining room. I have since built some in my laundry room and kitchen! I love open shelves and they work well with our lifestyle. We have a more relaxed home and these are the perfect amount of charm and organization.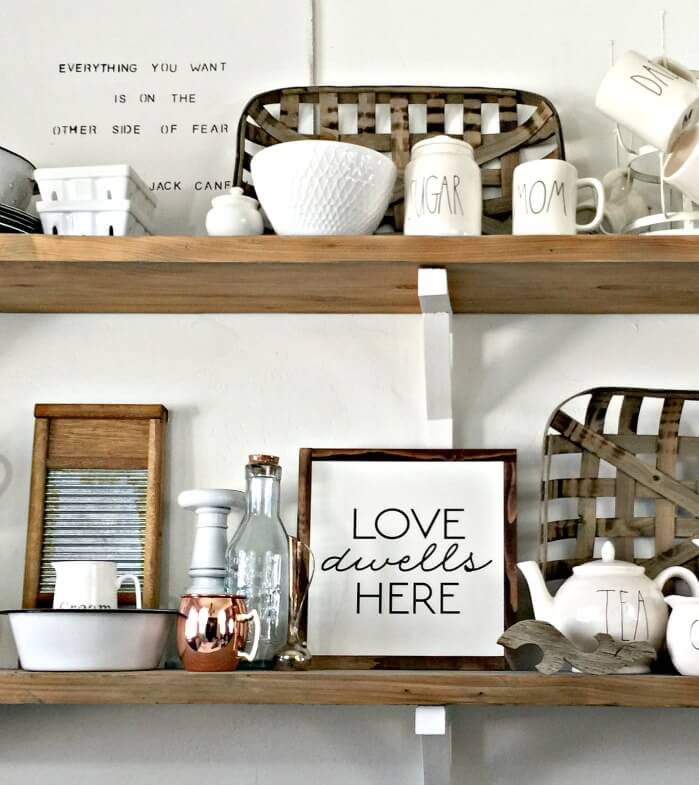 These shelves were created out of discarded pieces of wood and used in my master bathroom remodel. Check out the full tutorial to see how easy they were to make! This is definitely a small wood project that you can do over a weekend. I did mine in an afternoon. These can be used in an office, bathroom, kitchen or bedroom!
How about a cute wood candle centerpiece?
Reclaimed Beam Candle Centerpiece
This wood beam centerpiece was so very easy to make! Check out the tutorial right here!
I made this during the fall when the warm candlelight vibes was all I could think about. Did i mention that I did this all my self? No need for a man to help you haha.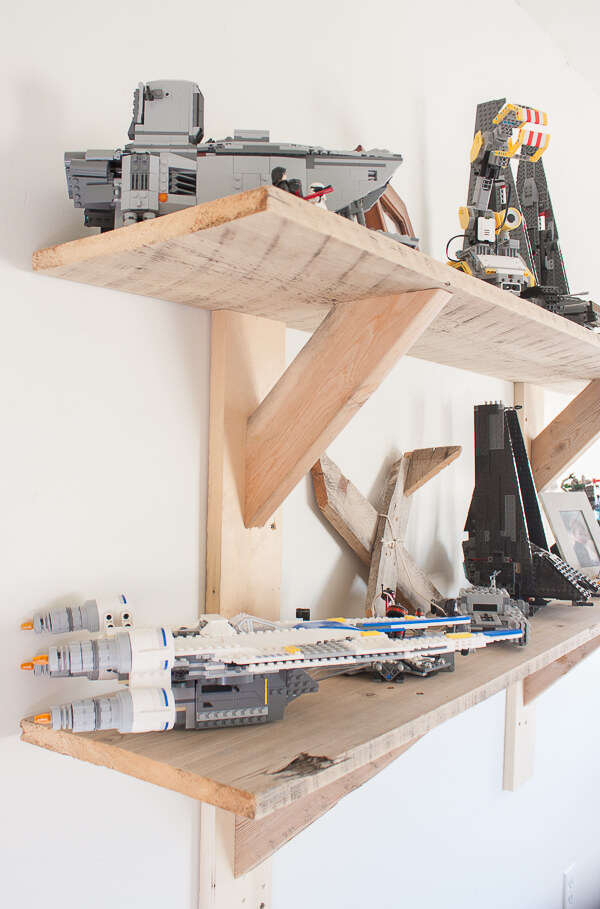 Looking for a project for beginning woodworkers? I have the perfect project for you. I was in need to create some sorely needed shelving in my son's room. we built these shelves out of 2 by 4s! By sanding them down a bit, you can take that builder grade look off of them. They look good and use a simple design, basic tools, and the best part is that they are super affordable. Check out the full tutorial on how we made them by CLICKING HERE.
Build an outdoor window shelf and create a great place to serve on a back porch, or a place to display your herbs and other plants. We use is primarily for drinks, snacks and where I set my herbs. I love this window shelf. We have had it for a few years now and it has gotten better over the years!
These bike racks are so easy to make, and they practically transformed my garage. No more bikes lying on the grass or on the garage floor. And they are small enough to be stashed out of the way when not in use. Now if someone could teach everyone in my house how to put their bikes away without having to yell at them over and over.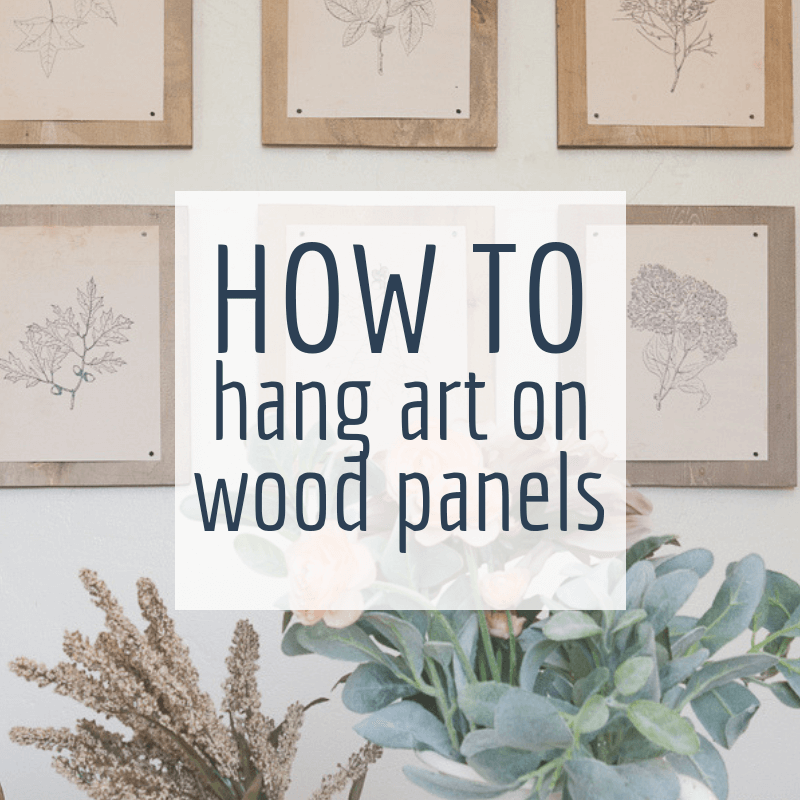 How about some affordable wall art? I used some 1 by 12 common wood boards to create these and they are easily changeable.You can use these to make rustic wooden signs as well! These are all good skills to learn and you can create so many things in your free time.
Are you wanting some interior design details in a room? Board and batten is a wonderfully classic way to add interest to walls, and I am sharing how I did it affordably and that looks good.
When we were remodeling our laundry room, I really wanted butcher block countertops, but I wanted them to be affordable and I really wanted to use some reclaimed lumber we had come across. This may not have been the most easy DIY wood project, but after 5 years, the countertop still looks amazing and was well worth the effort.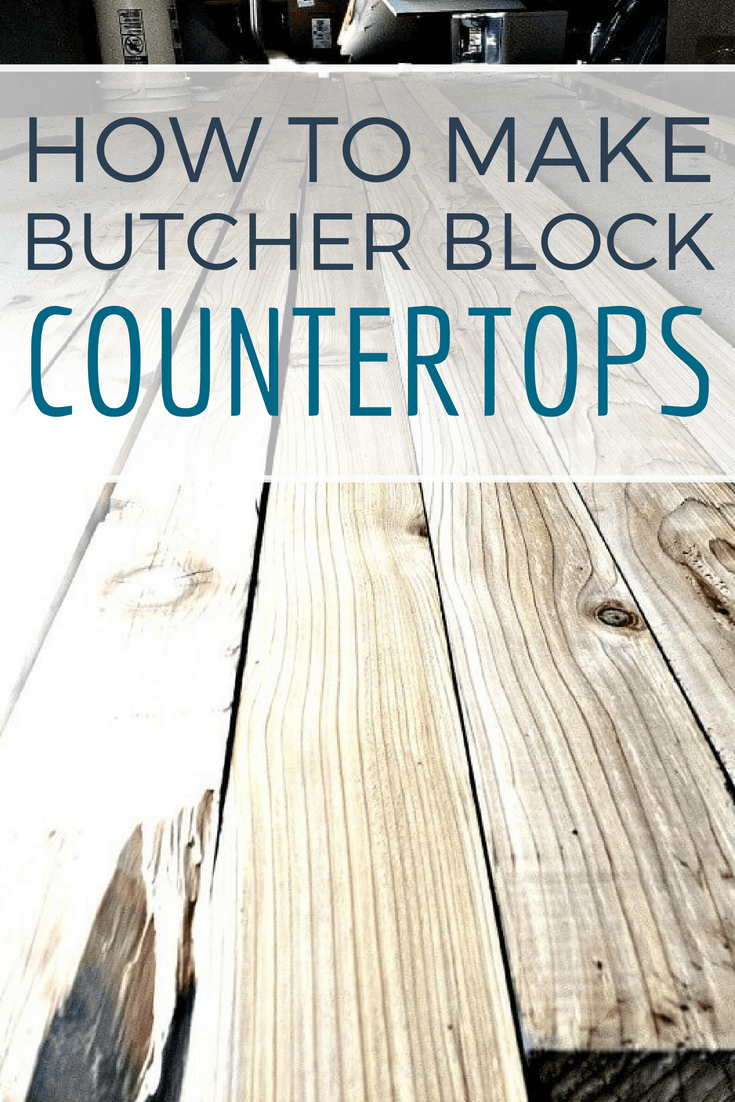 With simple sawhorse brackets and a few pieces of wood, made this super easy table for your home in less than an hour! This table was so very easy, I hesitate to even call it a small wood project! Its more of a simple DIY. This type of table would go wonderfully with a rustic style home or an industrial home.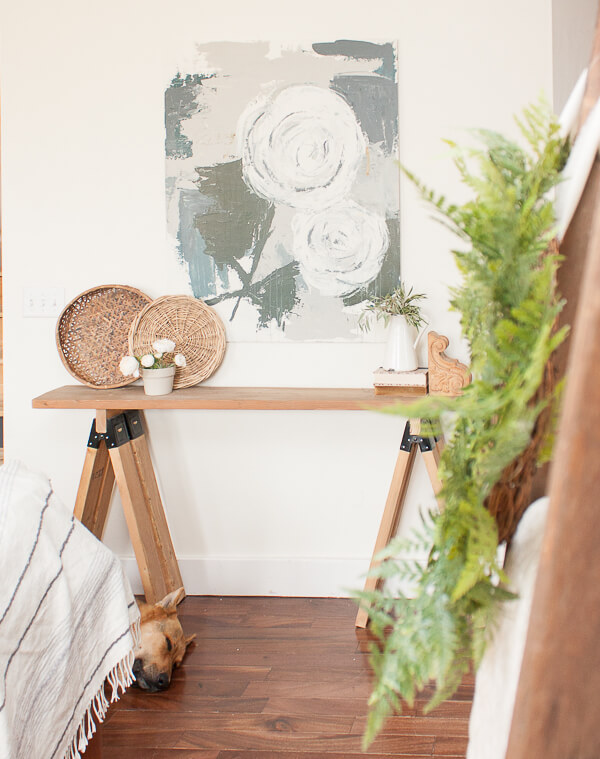 This is something that can be made in mere minutes with so many different possibilities. I have absolutely loved this coat and hat rack! It is the perfect place to hang hats, coats, and scarves…as well as the random pretty decor piece. This great coat rack is an inexpensive way to hang your hats and coats and also the perfect solution for hanging cute decor pieces too.
If you think shiplap is a big undertaking, try this. Its more economical and can easily be changed if you get sick of it. This wall treatment is a great way to get your creative juices flowing and we used pieces of scrap wood for this as well. It is also very easy to install, and it can make a huge statement in a room in. just a couple of hours. This is a unique way to accent a wall without having to commit to a long DIY project. The horizontal lines make the space appear larger and it gives interest to the space.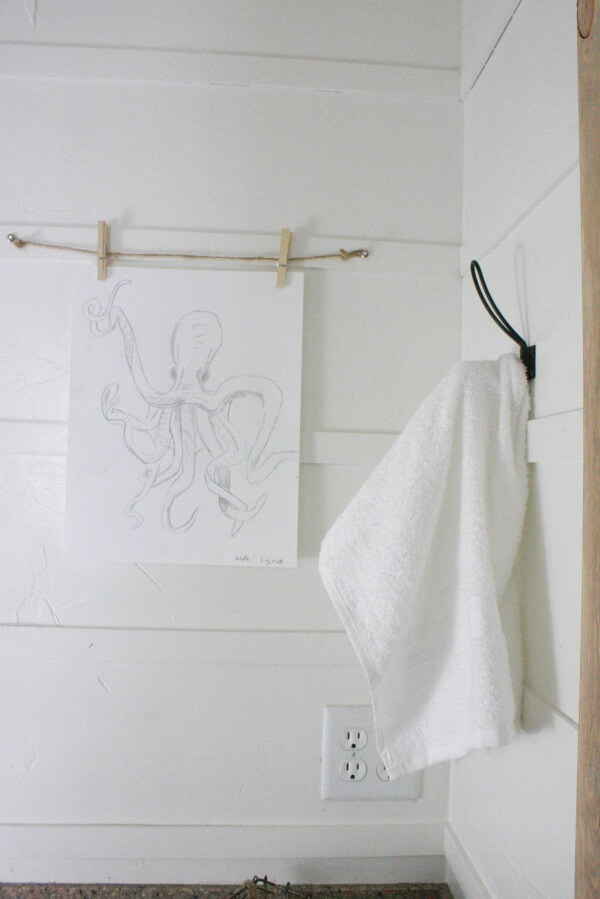 If you can get your hands on a wire spool, try making one of these! We had a couple of these sitting around our wood pile just begging to be used. It's a unique style that will be a conversation piece for years! We made this table with a handful of repurposed items including the wheels! Sometimes creating something unique is better than purchasing something from a store.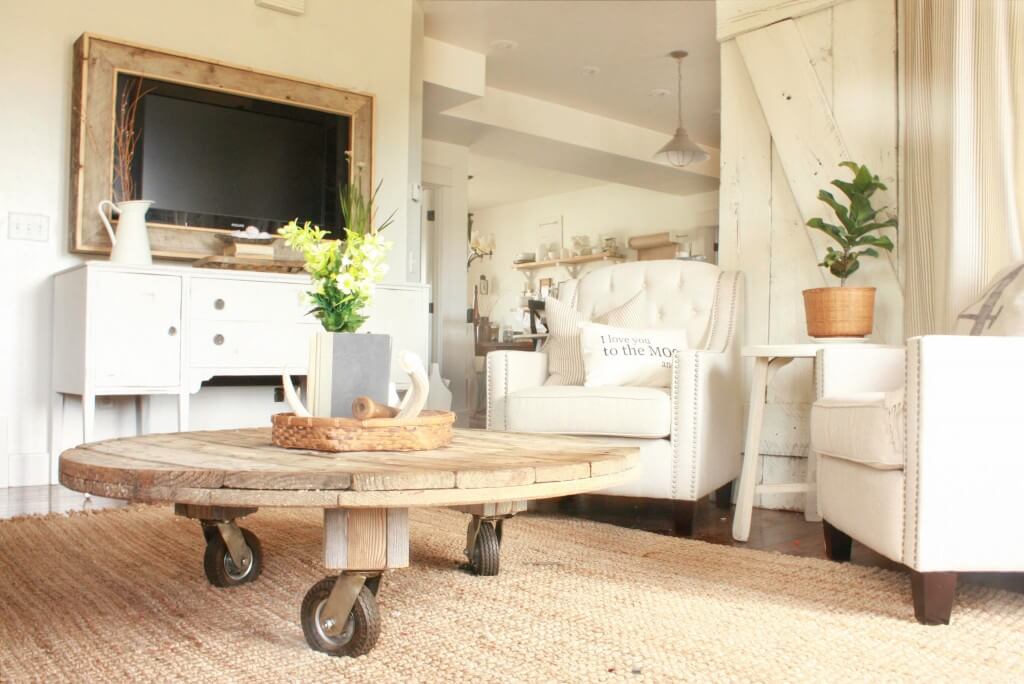 This can take mere minutes to make and can be used inside or outside! Paint it or leave it as is. It's a great project. We have acquired many pallets over the years and this was an excellent way to use them! We have used this outdoors and indoors. Its perfectly rusty and imperfect.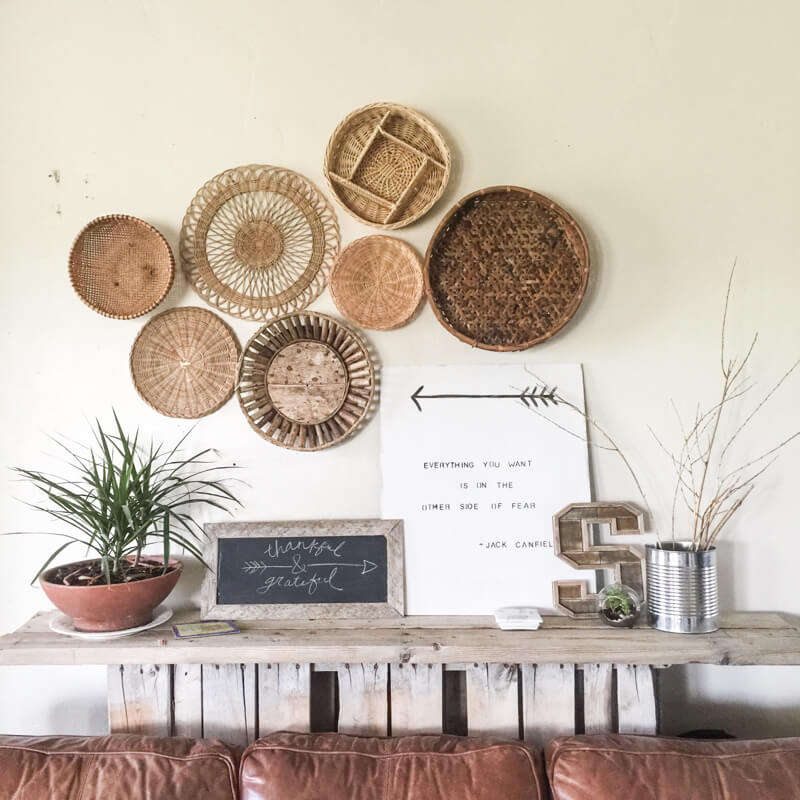 Do you love having a television but hate the way it becomes the focal point of the room. We made this TV frame on a Saturday night! We are party animals! Even better, it was made with salvaged lumber! This is a product I love to work with! I also wrote a post all about different ways to decorate around a television as well!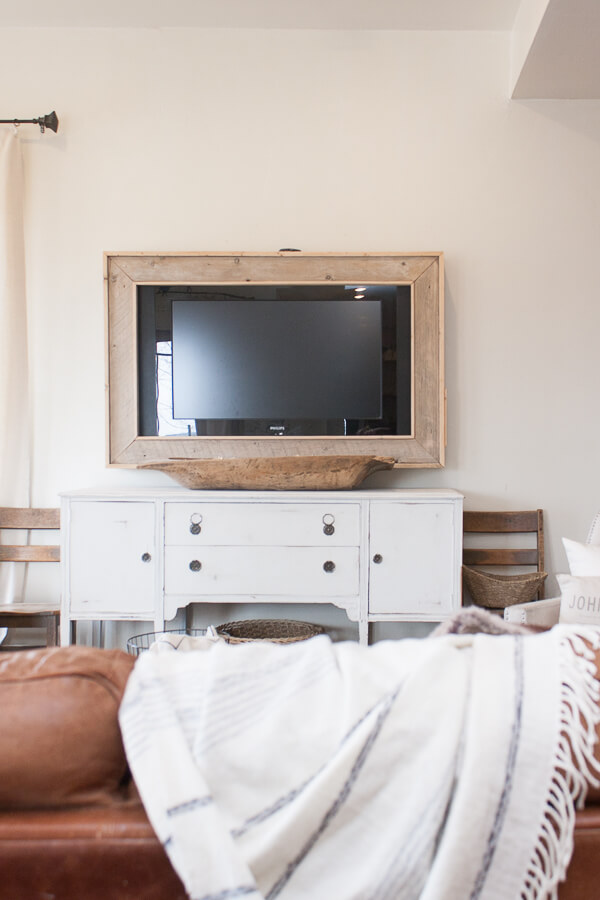 When you want a fireplace in your room, but the reality of putting in a real one is out of the question, make one of these! This is my most favorite feature in my new master bedroom. During the winters, you would not believe the amount of heat this fireplace puts out and how cozy it has made this room!
This is a great project to use outdoors or indoors! It can be moved around, customized in any style you want, and is so easy to make! Check out how I made this for a Home Depot design challenge!
Make this easy barn door to hang, use to disguise or hide something you don't want seen, or just add it to your décor as a focal point! Did you know that this is is white on the other side, so that if I want to change up the decor, this barn door easily changes with it!
Make your own tobacco baskets with this super simple tutorial. You only need a few supplies and a little patience. It is an easy project that does not require any expensive tools or supplies. I bet you have everything already in your home!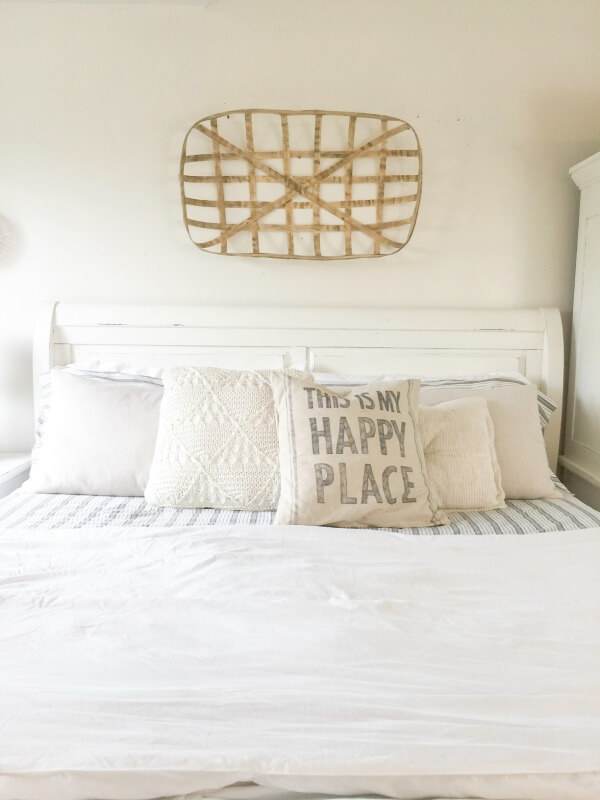 Believe it or not, this reclaimed wood wall only took a few hours to do! Come see why, and where you can get your own reclaimed wood. Our wood came from an 19th century barn in Kentucky! I love when I have a bit of history in my decor!
The perfect bench for the end of a bed, in a bathroom or in a living room or entryway. You can make it longer or shorter, depending on the space you want to use it in. This is one of my more advanced simple wood projects, but don't let that scare you! It is easy enough that I was able to do the entire project myself!
Add storage and style to your bathroom with this super easy towel ladder, with a full tutorial. If you are looking for a more unique way to hang your towels, instead of a regular towel rack from the store, this is for you!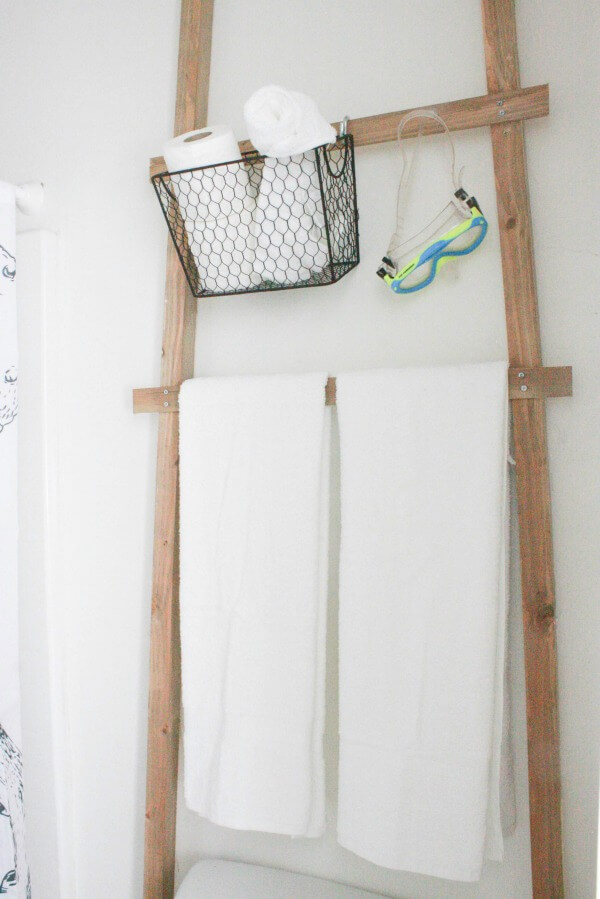 You can often find old ladders a junk yards, yard sales, or thrift stores. Turn it into something awesome, like a nightstand! This was a super simple wood project, and since I found the ladder for 10 dollars in a salvage yard, that made this project even sweeter!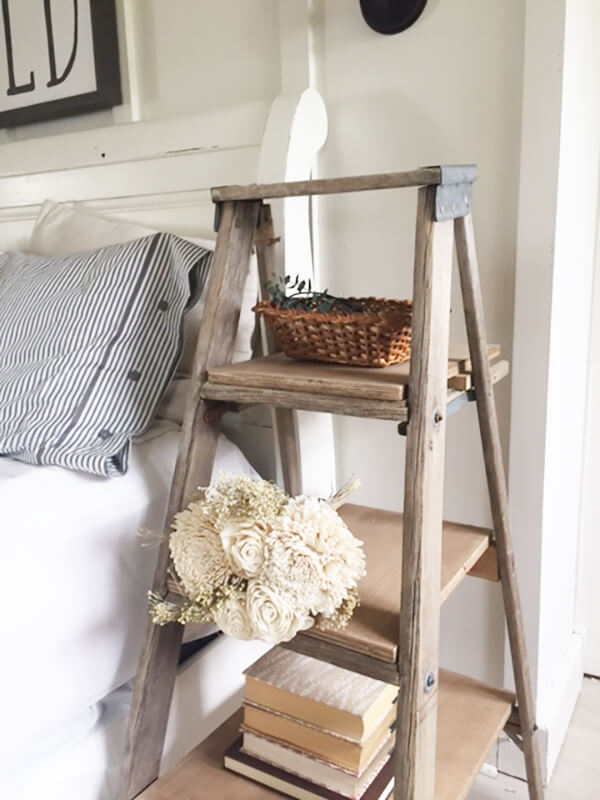 Add a little bit of a personal touch to your kitchen cabinets, by adding s simple X design to the ends of them. You can add this design to almost any cabinet end. You may need to pop off a piece of trim or two, but you will easily create something even better.
Create a place that your children can create and imagine and have a place to store all their arts and craft needs. My children love this little spot. it keeps all their crayons and colored pencils together, and gives them a place to display their artwork!
Chalkboards are a great design piece to have in your home. Bring in a bit of the Fixer Upper style by painting it green! Its so easy to make your own! I cannot get enough of the vintage green chalkboards. They add just the perfect pop of color!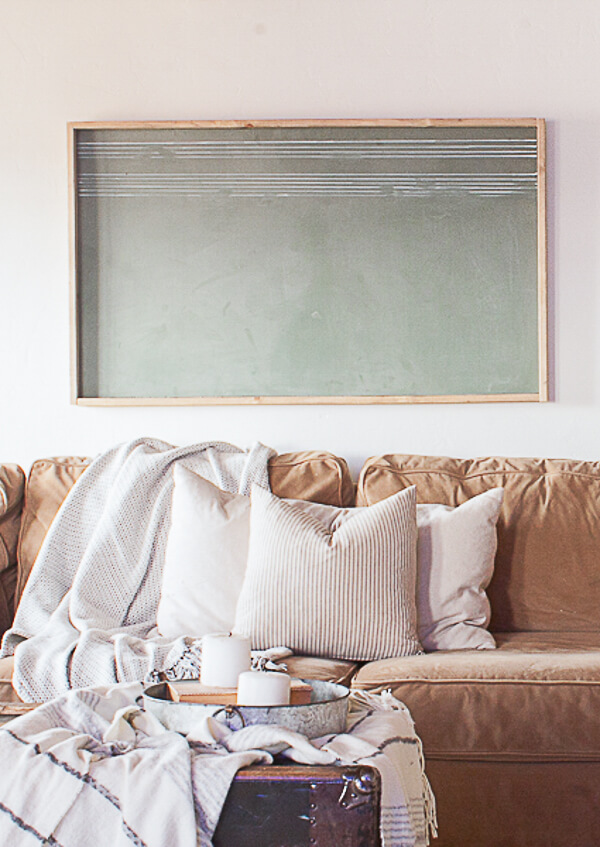 Adding faux wood beams to a room can add instant character and design. You won't believe how easy it is to do! This space would not be the same without the addition of these faux beams! I cannot believe how easy this simple wood project was!
Adding a place to fold laundry can be so very convenient for all of us laundry doers. We made this on a Saturday afternoon and it has come in so handy. The key is to take advantage of the space you have, whether large or small. We had more space on this long wall and really wanted to take advantage of it!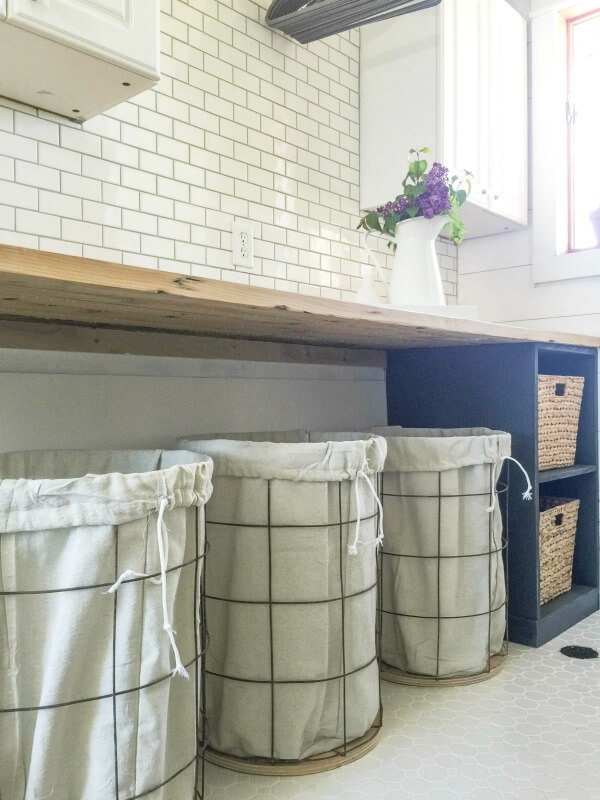 I built this as a place to hang my dogs leashes, as well as a place to put his supplies and treats. It is definitely a weekend friendly project. It also serves well as a place to put mail! You can use this for just about anything!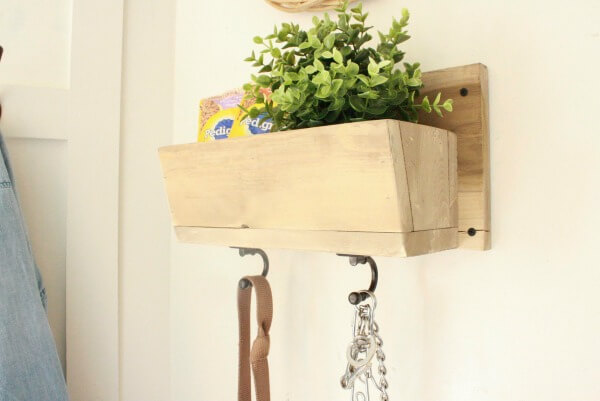 This will take a bit of planning but can be done in a weekend! We actually got it all done in one day and it that was with some mistakes and fixes. We even had to salvage some wood to make it all work, and it had been a wonderful addition to our home, and I no longer have to see all the shoes!
If you just want to make a cute home décor accessory, make one of these! This is one of my favorite easy DIY wood projects on the blog! They are so adorable and you can use them in so many ways! If you have a pallet lying around, this is the perfect project for it! You can also use new wood, check out the tutorial!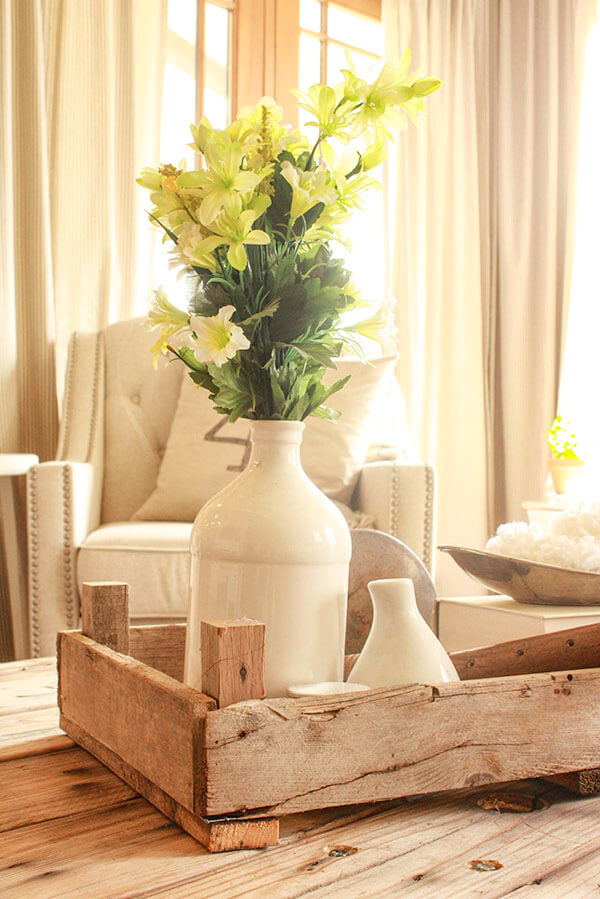 We made these out of necessity, and old pieces of wood we had lying around. I had been looking for some to buy but could not find a source. So, I made my own! These are fun hung on the wall or set on a shelf! I made them out of old plywood, and that just added to the character! This is an easy DIY wood project just about anyone can do!
This is absolutely my children's favorite project. I often find them drawing away on it. I also use it in my home décor, creating fun pieces of artwork for the different seasons. Christmas is my favorite time of year to use it.
Another great planter idea, when you are limited on space. Go vertical with this easy wall planter.
simple wood projects like this wall planter!" width="600″ height="744″>
These were a fun simple scrap wood project. Having garden markers is a fun and efficient way to keep your garden organized and in order. These were easy to make and I used my Cricut to create the metal plates on top.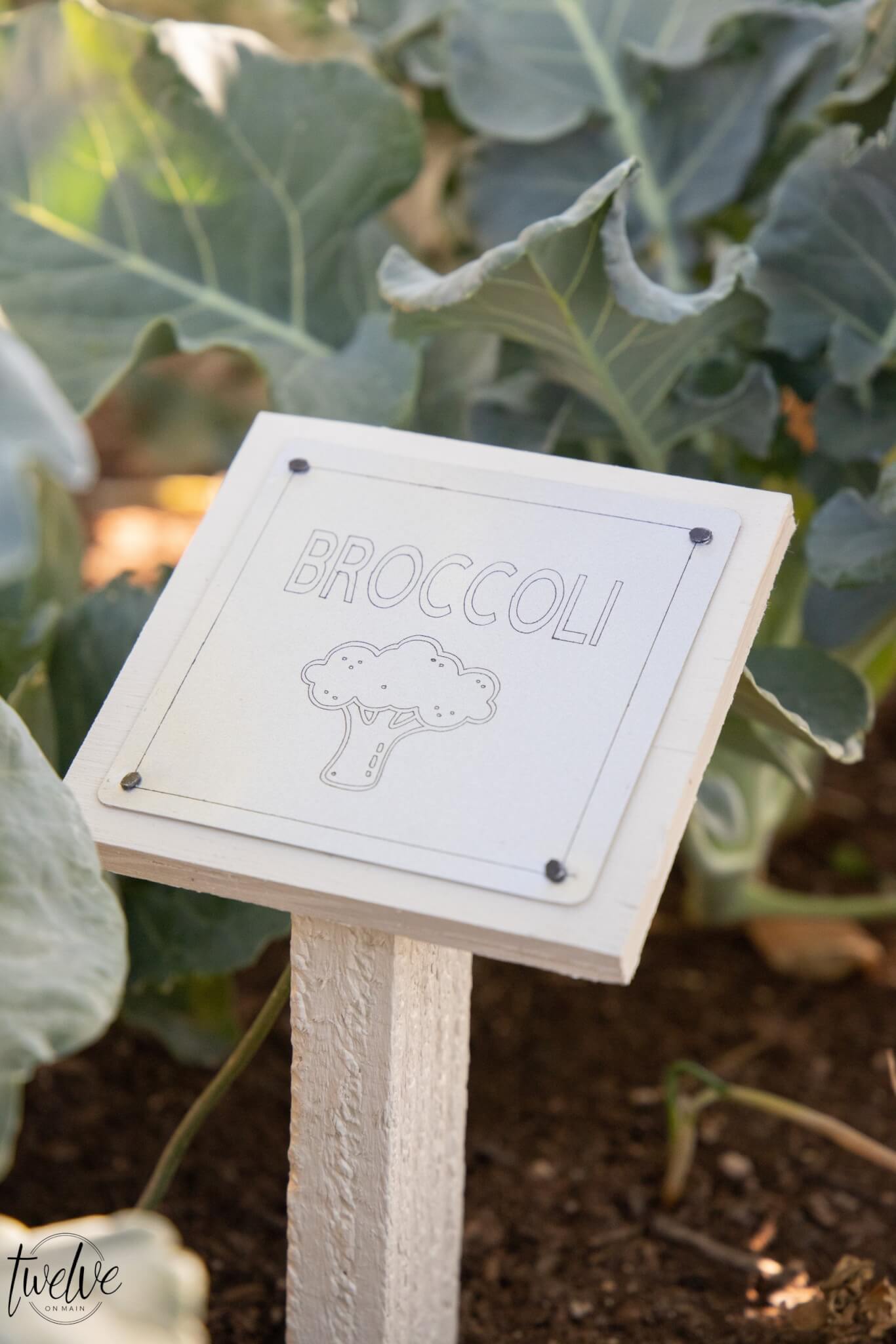 These tables were made of entirely wood scraps from my scrap pile. You can customize them to whatever size and height you want. These tables transformed my front porch! I am so thrilled with how they turned out! I love these easy DIY wood projects.
simple wood projects like these outdoor side tables!" width="600″ height="750″>
How about something for Christmas? Check out my adorable vintage style wood sled with free woodworking plans. This is one of my easy beginner woodworking projects. This is something you could make with your kids, it would be a great craft project. You can stain or paint is a different color . Its an easy woodworking project and a great item to add to your Christmas decor.
I created a simple pattern for this easy DIY wood project, which is easily cut out using a jig saw. I hope you'll try this out.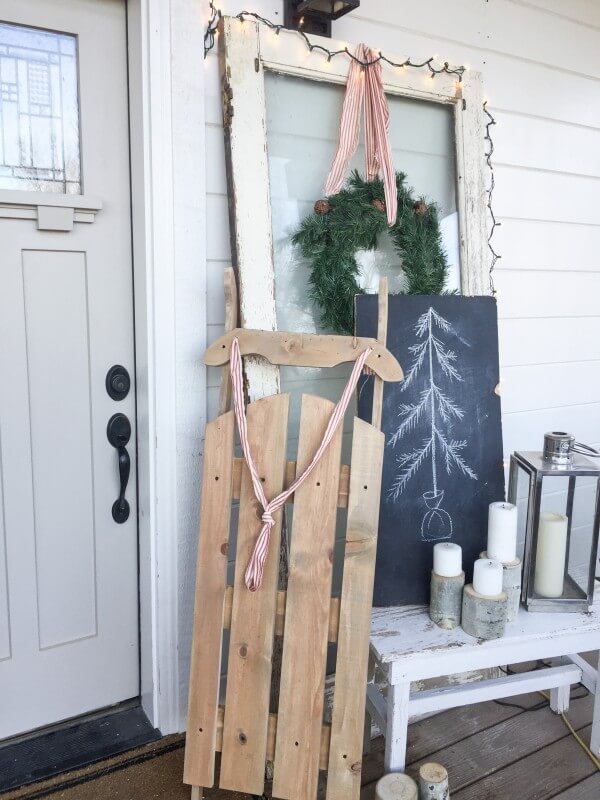 There are so many things you could be doing, and why not spend some of that time creating something truly original for your home! I love creating and I hope that if you have a desire to create too that this collection of my simple wood projects will inspire you to build or create something of your own!
If you like this DIY wood project post, I would love it if you shared it with others.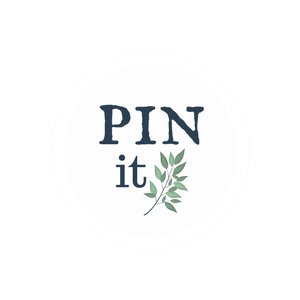 Now, get at it! If you choose to recreate any of these projects, I would love to see them and I would love to share them on my Instagram Account!
Have a great day!
GET YOUR FREE GUIDE to 30 DIY projects that can be done over the weekend!
By subscribing, you will gain access to my FREE guide with 30 DIY projects that can each be done in a day, or over a weekend!
You will also receive a weekly email with some of my favorite tips, tricks, and design ideas.