Well friends, I am officially in Christmas mode! And I think you may be okay with it, since tomorrow is Thanksgiving, which means by the time you see this, you too may be in Christmas mode. And when I get into Christmas mode, my house gets to transform. I wanted to create a cozy and stylish living room at Christmas this year. I wanted to create a space where you wanted to just snuggle up on the couch, feel the warmth of the fire, and enjoy the glow of the Christmas tree. And this year, I am so thrilled to once again be partnering with Mohawk Home for this home tour! I am joining up with 5 other amazing ladies to share our home for the holidays.
Make sure to check them all out at the bottom of this post!
Now, when I am looking to give a space a bit of a change, the first thing I think about changing up is the rug. I start from the ground up you guys. With so many elements in my house that are neutral and multi purpose, its easy to add a new rug and give the other elements a new look and boy am I thrilled with my new look this year and it all started with a rug.
The rug I chose for this home tour is the Mohawk Heirloom Iseo Beige Area Rug.
When I came across this rug, the colors and the design spoke to me. I loved the soft muted colors and heirloom and traditional look to the design of the rug. I have been totally obsessed with greens and grays these days and this one had some gorgeous ones. It also has some really pretty browns, rusts, and blues. They are all soft and muted but yet visibly gorgeous.
So, I knew this would look gorgeous with my updated fireplace I painted a couple months ago. It was kismet. It worked perfectly with my leather couch and all my accessories in the space.
My entire Christmas living room decor started with those mirrors, and that set of antlers on the mantel. I found them all at a local antique store I have been to tons of times, and somehow, they never spoke to me like they did this particular day. Maybe I was looking for inspiration? Maybe I just never say them? All I know is that they had to go home with me.
Aren't they just gorgeous? And the dark wood works so wonderfully with my new rug.
The day I photographed this room, it was frigid cold outside, thus the glow of the fireplace. This is a constant for us in the winter months.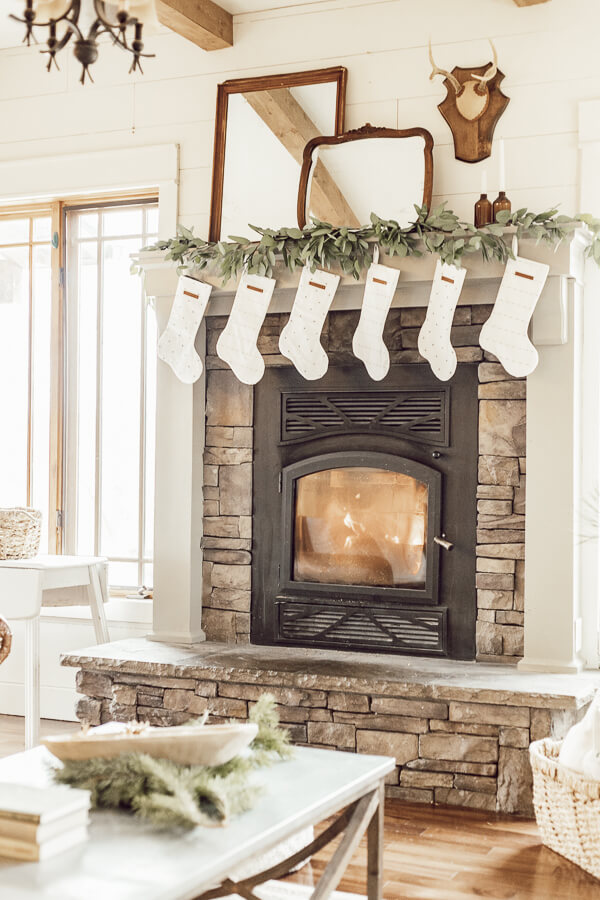 My Christmas tree this year was a bit different than other years. We decided to pick a Ponderosa Pine Tree off our property. These trees are not traditional Christmas type trees, but something just told me we needed one this year. And now I know why. It turned into a gorgeous tree! It has long needles which is nice. You don't get poked like you do with a blue spruce.
I have found the best lights to use as well! I found 100 foot copper wire light strands that wrap so easily into the tree and give it a gorgeous glow without all the plastic look of the traditional Christmas lights. The other great thing about these is that they have a remote control! You can turn them brighter or more dull, and you can also give them a pulsing effect and more! Of course, I like to keep them bright and gorgeous.
I wrapped the tree base with a simple drop cloth. I have never liked using a tree skirt. They are always getting bunched up and messed with, especially with hardwood floors, so this works perfectly for us.
I love using real elements in my Christmas decor. We had a couple small trees that we cut down. They are just so sweet and add the perfect amount of festivity to my living room for Christmas.
I added these adorable mason jar Christmas scenes I made using some of my old mason jars. Aren't they cute?
As you can see, I am keeping it very simple this year, only adding things I truly love into the space. Here is our Scandinavian inspired advent calendar all ready to go! I love to fill these bags with simple treats and notes. The notes often have different activities or things for the kids to do, like watch a Christmas movie and more.
One more look at my mantel….I will be sharing more about our new stockings later this week…and you can see more about them on my Instagram account. Can you believe that the eucalyptus garland is fake? I bought it on a whim and it turned out to be the most amazing stuff! It looks so real in person and it feels so real!
I am so in love with my living room at Christmas. Its a cozy place that we can spend out time enjoying so many holiday movies, hanging out with friends, or simply laying by the fire as the snow falls outside. Spending Christmas in our small little town, surrounded my mountains, fields and our farm animals with a dusting of snow could not be more perfect. Well, maybe if I could talk my husband into another dog! Haha.


I hope you have enjoyed touring my living room for Christmas! Now, make sure you check out the 5 other amazing ladies sharing part of their homes.
We're The Joneses – Modern Christmas Entryway
Home By Heidi – Holiday Home Tour
Heathered Nest – Holiday Home Tour

@stonegatecottage – Holiday Home Tour
Blue Agate Abode – Wildly Glam Mohawk Holiday Home Tour
Want more great Christmas posts? Check these out:
Simple Scandinavian Farmhouse Style Christmas Bedroom Decor
12 Days of Super Fun Christmas Games for Kids
My Simple Scandinavian Christmas Porch
My Scandinavian Christmas Home Tour
12 Hilariously Fun Christmas Games for a Party!
How about some of my favorite recipes too?
The Best Banana Bread Recipe Ever!
The Tastiest Broccoli Cheese Soup Recipe
The Best Tortilla Soup Recipe Ever for the Crock Pot, Stove Top, or InstaPot!
The Most Amazing Beef Stroganoff Recipe You Will Ever Make!
GET YOUR FREE GUIDE to 30 DIY projects that can be done over the weekend!
By subscribing, you will gain access to my FREE guide with 30 DIY projects that can each be done in a day, or over a weekend!
You will also receive a weekly email with some of my favorite tips, tricks, and design ideas.