Okay so you bought that bag of frozen cauliflower rice from the store with the goal that you were going to make something healthy and amazing. And its been sitting in your freezer for quite sometime because you just aren't sure what to make with it? Well, yes I have been there, and I have spent a bit of time creating some cauliflower rice recipes that my family loves just as much as real rice side dishes! This savory mushroom and spinach cauliflower rice risotto is so amazing!
Jump to Recipe
I am so guilty of purchasing these healthier alternatives with the plan to be an amazing chef serving healthy food to my family. Only to find this healthy alternative either gone bad or be freezer burnt in the back of the freezer. Well, this time I succeeded and I am kind of obsessed with this dish! Its so tasty and easy to make!
Now, I am not going to tell you that this magically tastes just like real rice or slow cooked risotto. Lets be honest. This is cauliflower rice, which is texturally different. Instead of hoping it tastes the same, embrace the difference in flavors and textures and simply enjoy it as a new side dish in your recipe repertoire.
Cauliflower rice may not be a hit for everyone but everyone in my house likes it! They do admit that they prefer rice if its being served, but I chalk that up to it being a new addition to their diet.
I am a huge fan of cauliflower in any form..whether it be steamed, roasted, fried, or fresh, I love it! So it was not a big leap for me to fall in love with cauliflower rice. This cauliflower rice recipe is so easy to make on any busy weeknight and has simple and inexpensive ingredients as well as more veggies to pack a punch!
Lets talk about how to make this yummy cauliflower rice recipe:
This is really a super easy side dish to make. You could also make it a main dish my adding chicken to it. You could make a cauliflower rice bowl!
I start by sauteeing some garlic in olive oil. I add the mushrooms and cook for about 3-4 minutes. Then add the defrosted cauliflower rice. I use two bags because there are 6 of us. It makes amazing left overs for the next day .
Let the cauliflower rice cook down for about 5 minutes covered. Now, add the Lipton Onion soup mix and water to the rice mixture. Stir and continue cooking for another couple minutes. Add the chopped spinach to the pan and stir, letting them wilt down. This will only take a couple minutes.
The last thing I like to add is some fresh grated parmesan cheese at the end. Mix it up and let the cheese melt in.
Serve with your favorite protein or eat this as a meal itself!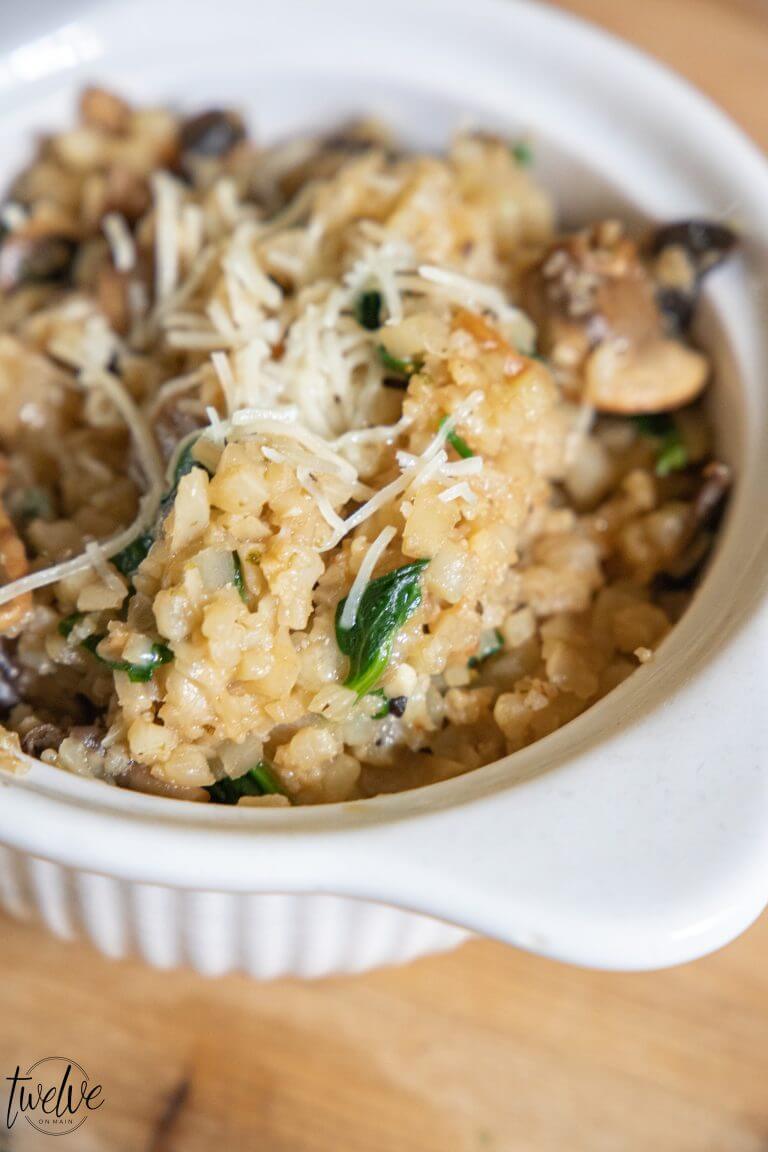 This is so filling and hearty! You'll never neglect that healthy cauliflower rice in your freezer again.
Want more easy dinner ideas? Check these out:
Easy Potato Cheese Soup Recipe Your Family Will Love
Easy Creamy Tomato and Sausage Gnocchi Recipe
5 Ingredient Recipe Fast and Easy Broccoli Pasta Dinner
My Flavorful Homemade Chicken Noodle Soup Recipe
The Tastiest Broccoli Cheese Soup Recipe
The Most Amazing Beef Stroganoff Recipe You Will Ever Make!
Mushroom and Spinach Cauliflower Risotto
Savory Mushroom and Spinach Cauliflower Rice Risotto
This easy to make, healthy alternative to traditional rice is packed with flavor and it is so very easy to make using frozen cauliflower rice! We love this recipe and its so easy to change up!
Ingredients
1

tbsp

olive oil

2

bags

cauliflower rice

I use the frozen kind`

1

small package

mushrooms of your choice sliced

2-3

cups

fresh spinach or 1 pkg frozen spinach

1

pkg

lipton onion soup mix

1/2-1

cup

water

1

tbsp

minced garlic

1/2

cup

fresh grated parmesan cheese

salt and pepper to taste

2

tbsp

marsala cooking wine(optional)
Instructions
Let your cauliflower rice defrost before using.

Sautee the garlic in the olive oil in a skillet on low for a couple minutes. Add your mushrooms and let them cook down.

Add the cauliflower rice. I add 2 packages of cauliflower rice since we are a larger family, but this also makes amazing leftover for lunch so don't be shy about making a but more. Its like meal prep.

This is when I add the wine and cover and let it cook for a coupe minutes on medium low to let the cauliflower cook up.

Stir and add 1 package of Lipton onion soup mix to the rice mixture and 1/2 cup water.

Stir and let it all cook together for about 5 minutes.

Chop up your spinach and throw it in the pan. Stir up and let the spinach wilt and cook down.

It will smell amazing at this point!

If it is dry, you can add a bit more water to sauce it up.

Cover and let cook for about 10 minutes until the cauliflower rice is tender

At the end, sprinkle about 1/4-1/2 cup fresh grated parmesan cheese and mix it all together.

Serve warm! Salt and Pepper to taste. The onion soup mix adds plenty of salt.

This is great as a lunch the next day. You could add chicken to this and make it a complete meal in a pan!
My favorite kitchen essentials

Seriously, try this amazing cauliflower rice recipe out! Its a satisfying way to eat your veggies and not feel guilty! Heck, you'll feel good for eating something healthy that you made yourself!
GET YOUR FREE GUIDE to 30 DIY projects that can be done over the weekend!
By subscribing, you will gain access to my FREE guide with 30 DIY projects that can each be done in a day, or over a weekend!
You will also receive a weekly email with some of my favorite tips, tricks, and design ideas.