Hi there friends! Today I am sharing my kitchen and dining room all decked out for Christmas. Actually, I am sharing my laid back Christmas kitchen and dining room. I have chosen to scale it down a bit, and just add a couple Christmas accents here or there.
I am sharing this home tour along with some really great bloggers who are also sharing their homes Christmas decor. If you want to see theirs, make sure to scroll to the bottom of the post, where you can find their links. If you are visiting from Jen at Jenron Designs welcome!
This year, as I said at the beginning, I decided to keep things really casual and chill. I may have gone a bit more elaborate in the living room, but for the dining room and kitchen, I just wanted a couple accents to make it feel more cozy but also relaxed.
I love my open shelves. I have had them for a couple years now, and I know people are either for them or completely against them. But, I truly love mine. We use the items on the shelves so often they don't have a chance to get dusty. I also love that I can add seasonal decor to them, and keep it simple.
You may notice the paper bag wreath above the stove, this was a fun project and super easy to make.
I keep my two favorite pots on the stove, and use them almost daily. I love the coziness they give the space, as if the kitchen is always being used and people live here.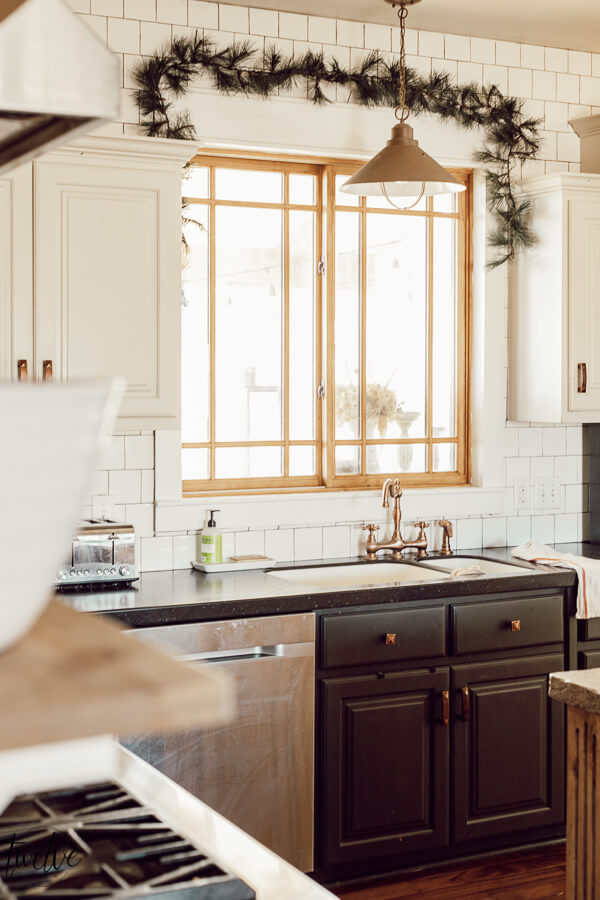 Some simple garland over the kitchen window is all the decor I need over on that side of the kitchen. I find when I add too many Christmas elements, it gets in the way of the functionality of the space. I easily change out a couple features, adding vintage tin plates, some of my favorite snow man mugs, and a couple other pieces to warm the space up.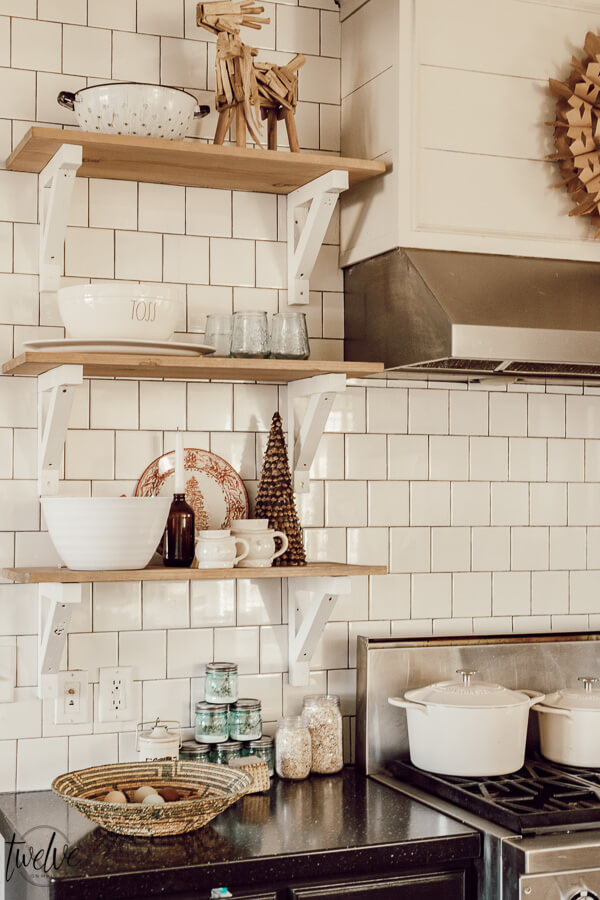 The dining room is one of my most favorite spaces. I love the light that flows into the room. This makes taking photos extremely hard sometimes.
But I love this room. I love spending time around the table as a family.
I added some of my favorite features to the shelves in this room, a couple bowls of pomegranates , deer antlers, some paper bag snowflakes, copper mules and a couple Christmas trees. Its simple decor at its best.
We are ready for Christmas here at Twelve On Main. Can you believe its only a couple weeks away? Out Christmas kitchen and dining room decor is as good as its going to get!
Thanks for stopping by to check out my home decked out for the holidays. If you want to see other areas of my home decorated for Christmas, check these posts out:
Cozy Christmas Living Room Decor
My Simple Nordic Christmas Tree
My Cozy Hygge and Scandinavian Inspired Christmas Table Decor
My Cozy and Stylish Living Room at Christmas With Mohawk Home
My Simple Scandinavian Christmas Porch
My Scandinavian Christmas Home Tour
My Simple and Cozy Christmas Decor in the Dining Room
Now head over to Jen at Noting Grace, or check out more home tours below!
Now make sure to check out my blogging friends homes decked out for Christmas!
Recreated Designs / The Tattered Pew / The Little by Little Home
Our Crafty Mom / Jenron Designs / Twelve on Main / Noting Grace
GET YOUR FREE GUIDE to 30 DIY projects that can be done over the weekend!
By subscribing, you will gain access to my FREE guide with 30 DIY projects that can each be done in a day, or over a weekend!
You will also receive a weekly email with some of my favorite tips, tricks, and design ideas.