I think that is a great question! Which is the best Cricut Machine for you? Well, today I want to share all I know and break down the difference between the different Cricut cutting machines and what may make one more of a choice for you than the other. I want to share some points with that I think are important before considering purchasing a Cricut machine.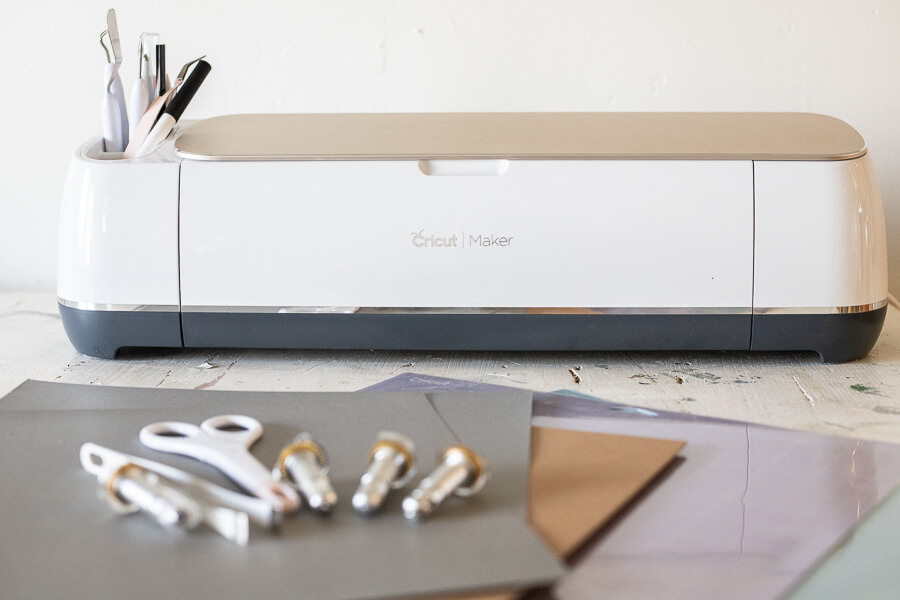 First, let's talk about the three types of Cricut machines that they have right now. There is the Cricut Joy, the Cricut Explore Air 2 and the Cricut Maker. To be completely honest with you, I have never used the Cricut Explore Air 2, or the Joy, but have used my Cricut maker extensively and I understand and have seen the differences between the three machines.
Since the Cricut Joy is a smaller machine so I won't necessarily be comparing this machine to the other two larger cutting machines, but I want to talk about it because it could be a great option for some people.
This cutting and writing machine is ridiculously easy to set up and use, so you'll find endless excuses to personalize, organize, and customize every single day. You can cut custom vinyl decals for water bottles or your wall. In addition to that you can make labels for your kitchen or office. How about you bust out a custom card or a birthday banner. It is perfect for smaller projects. The Cricut Joy is also compatible with Cricut Smart Materials™, for super-easy, super-long cuts without a cutting mat. Just load & go! There are so many easy projects that can take only 15 minutes.
Now, this is important. All these machines will use the same Cricut Design Space. This is the designing software that Cricut developed and it makes it easy to create cut designs as well as so many others. To use the design space you will need an internet connection as well as a cricut access account. You can use cut files, your own images, or the images provided by Cricut Design Space to create whatever you need. From simple to intricate designs, the Cricut cutting machines can cut it.
You can also use the new Cricut Smart Materials on all these machines. Cricut smart materials are materials that can be used without the use of Cricut mats!
So, which Cricut machine is right for you? Well I have a long and involved answer. Let's start by talking about the Cricut Explore and then we will discuss the Cricut maker, their newer machine.
To put it simply…the Cricut Explore Air 2 is going to be a more budget friendly choice, a great value for your DIY and crafting projects. The Cricut Maker is a powerhouse. It is so versatile and can take your projects to another level. When trying to decide what cutting machine is right one should take into consideration a few points, 5 exactly. Well, thats how many I have come up with. Let chat!
1. Are you a beginner and is budget a concern?
There are so many factors to take into consideration when thinking about purchasing your first cutting machine. Cricut has proven to have some really amazing machines and I want to help you decide which Cricut machine is right for you. First, let's discuss budget. Are you wanting to get into the Cricut craze and want to start making fun projects at home for personal use?
Are you very budget minded? Do you want a machine that is great for beginners and is a bit more simple in its abilities? Maybe you are just looking for a vinyl cutting machine? You should definitely check out the Cricut Explore Family. There are 3 different cutting machine options here. The Cricut Explore One is the perfect beginner machine. It is the best value for the product.
This machine is a great paper cutting machine as well as a great vinyl cutting machine. It does have its limitations however. it has a limited amount of tools and cuts up 100 popular materials! Thats pretty great. It is also very affordable, especially if you are just getting started. This is a great option for someone who is wanting to give a Cricut cutting machine a try. There is a small learning curve to this machine but Cricut.com has tons of helpful videos and articles to help you with any question you have.
You can also try one of the other Cricut Explore machines such as the Cricut Explore Air and Cricut Explore Air 2, which can cut 2 times faster than the Explore One.
Now, let's talk about the second option. Are you willing or able to spend a bit more money and want something that can cut over 300 materials and use countless tools? The Cricut Maker 3 might be perfect for you. This is their newest machine.
Even a beginner can master the Cricut Maker in no time. I, myself was a beginner. I hadn't touched a Cricut machine ever. Cricut is excellent at teaching and has wonderful video tutorials that help you with each and every part of the Cricut Maker. I learned how to use this cutting machine in no time. You could say it's definitely more than just a vinyl cutting machine.
2. Will this be a hobby craft cutting machine or used extensively for many projects and possibly for income?
This is an important question to ask yourself. Originally, I had no plans to use my new Cricut Maker (the older model since the 3 has come out since I got mine) for income, but as I have been using it more and more, I have begun making things to sell and do custom jobs for people. Having the versatility of the Cricut Maker as well as the power has made turning my little crafting projects into money makers easy! If you think you want might want to eventually expand, it might be wise to invest in the Cricut Maker to begin with.
Do you fully intend to use your Cricut paper cutting machine as a hobby pastime, where you may only use it a couple times a month or less? I would recommend purchasing the Cricut Explore Air 2 or one of the other Cricut Explore machines, simply for price and use ability. You can do so much with the Cricut Explore machines, but do have some restraints that the Cricut Maker can do.
3. Will you be using your machine to cut fabrics?
This is a big one. Do you want to be able to cut fabrics as well as leather and 200 other thicker materials? Then the Cricut Maker is right for you! The Cricut Explore Air 2 cannot cut fabrics as well as many others. It can cut 100 materials, but the Cricut Maker can cut 300!( Check out my post all about the materials you can use with it here)
The Cricut Maker can cut fabrics with the Rotary Blade, which is only available for the Cricut Maker. I initially thought I would never cut fabrics, but I cannot believe how often I do! I love using different fabrics for my projects. My most favorite is being able to cut leather! The ease at which the Cricut Maker cuts different types of materials makes this a versatile cutting machine.
4. Do you want more options and ability to make and cut more materials?
Hands down, the Cricut Maker will be the powerhouse cutting machine. With 10 times more power it will go where you need it to go. You can use over 300 materials from the most delicate to to tough materials like mat board, leather, and basswood.
The Cricut Maker cuts leather, fabric, all types of paper, as well as basswood and more! I love all the different options! You can make leather earrings, wood boxes, and more!
Not only does it cut so many materials, but there are so many different cutting tools available! The deep knife is great for leather, the knife blade cuts balsa wood and mat board easily.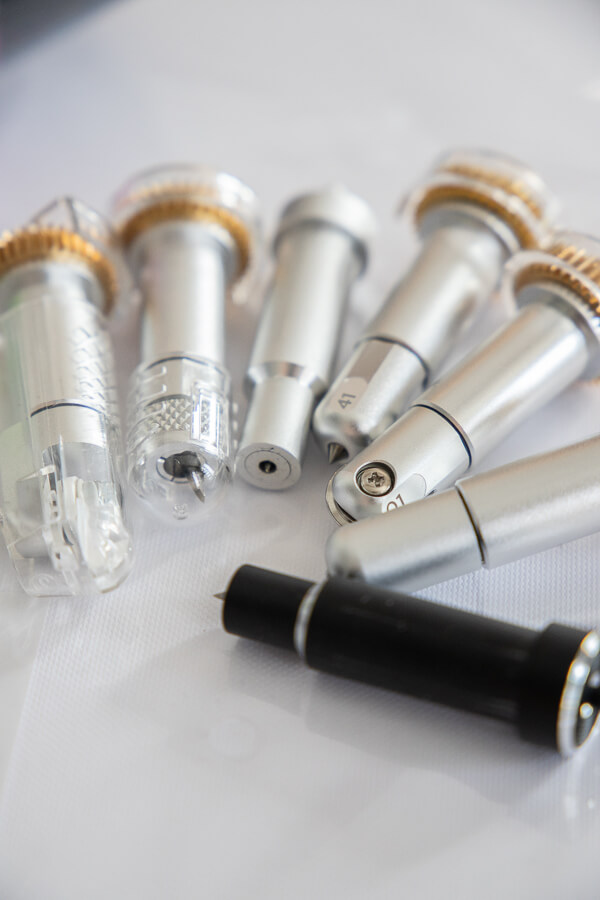 You can also only use the scoring wheel, perforation blade, rotary blade and wavy blade with the Cricut Maker, so make sure you consider these options when choosing the right Cricut machine for you. You can use the fine-point blade on both machines as well as some others.
5. Do you plan to deboss, engrave, and/or use the deep knife to cut heavier materials?
If you plan to do any of these types of projects, you will clearly want the new Cricut Maker. You will be able to engrave on metal, wood, and so much more! The knife tool, engraving tool, debossing tool, as well as many others are only available for use with the Cricut Maker.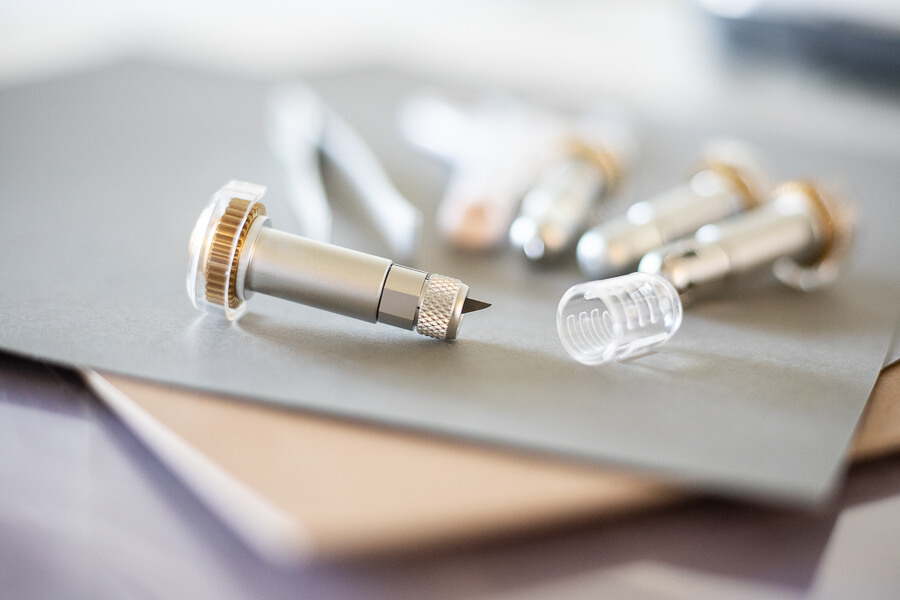 No matter which way you go or which cutting machine you choose you cannot go wrong! All the Cricut cutting machines are amazing at cutting so many materials. With their adaptive tool system, you can easily move from one tool to another without skipping a beat. If you are using the cricut machine for cut projects that require more than one tool, the machine will prompt and let you know when to change out the tools. You can also adjust the cut pressure of your cutting tools depending on what kind of materials you are cutting,
They both can be used with heat transfer, infusible ink, and all the vinyls. These craft machines can also both do print then cut. This means you can print a design on your printer and have the item cut on your Cricut machine after! This is perfect for making custom stickers and so much more.
In addition you can also use the fine point pen that Cricut sells to draw and add design to whatever you need. I have used the pens to customize gift tags, greeting cards and more.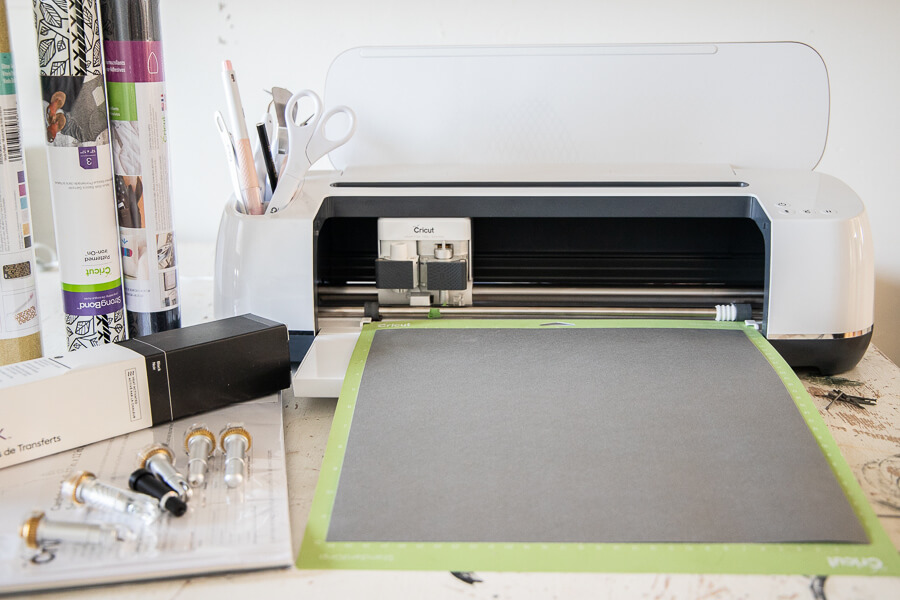 So, if you are simply looking for a vinyl cutting machine, or even just a paper cutting machine, but also a machine that can cut, draw, and score 100 materials, I would recommend the Cricut Explore One, Air, or Air 2.
If you want to take it up a notch and invest in a powerhouse, I would highly recommend the new Cricut Maker. It will be the best machine for the job. It is the ultimate smart cutting machine. From cutting a variety of materials, you can make greeting cards, home decor, custom t-shirts, a sewing project and so much more you can create to your hearts content.
With either one, you will get a machine that cut, score and draws on hundreds of materials. You will be able to do heat transfers with both as well as Infusible Ink! Both come with Bluetooth wireless technology and both work exactly the same with Design Space. You can even use a smart device such as an Ipad (using their mobile app) to create and connect to your Cricut cutting machine via bluetooth or using the USB cable.
The Cricut Maker has been such a fun tool to use at home. I have used mine to create custom signs, custom shirts, printable art, Valentines boxes, and so many other things! I love having this available anytime to accompany whatever project I am working on. You can't go wrong with any of the Cricut cutting machines. I would err on the side of getting one with more capabilities than less. They are both powerful tools with tons of cutting capabilities.
Check out these other great Cricut posts:
Personalized Christmas Gifts Using My Cricut Maker
Thankful Neighbor DIY Gift Box Idea Using My Cricut Maker
Design and Make Custom Hats with the New Cricut Easy Press Mini
How to Use the New Cricut Infusible Ink
10 Things to Know About the Cricut Maker Machine Before You Use It
How to Use the Cricut Easy Press 2 Like a Pro!
GET YOUR FREE GUIDE to 30 DIY projects that can be done over the weekend!
By subscribing, you will gain access to my FREE guide with 30 DIY projects that can each be done in a day, or over a weekend!
You will also receive a weekly email with some of my favorite tips, tricks, and design ideas.