Well the day is finally here. I am ready to share my fall decor at home. This year we are going to stay cozy, stay warm, and stay inspired. I have been so inspired this year by so many things, and I feel as if all the decorating and experimenting I have done this year has led up to this season. This home tour is a bit different than my usual ones. I have updated and changed a few things in my home and cannot wait to share it all with you.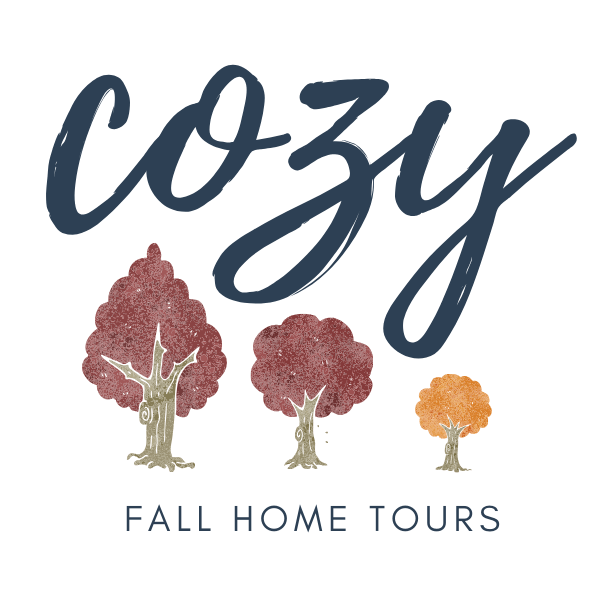 A couple weeks ago, I shared my fall porch and my harvest entryway.
Today I want to show you the rest.
I went with a very laid back approach this year, focusing on the colors and textures instead of simply adding fall accessories. Don't get me wrong, I did add some of that, but I wanted to feel the fall with the ambiance and colors without having to add any of that. But, I cant help myself, I needed some of those fall accessories.
So, let's start in the living room. I recently updated with mantel with a new paint color Gettysburg Grey by Benjamin Moore. It has totally transformed the space.
I also added more warmth by painting my armoire a gorgeous warm black paint. It was one I custom mixed to get just right.
I added come "Halloween" touches to my mantel with a handmade witches broom. You can see how I am decking it out for Halloween here.
But, today is all about the cozy feeling of fall I want in my home. I love creating a clean space using whites and neutrals. For a while I focused on all white all the time. But as the time has gone on, I have enjoyed adding some warm shades, and a touch of black or warm navy.
I added a touch of a peach blush to the couch with my velvet pillow. Using simple items as wall decor such as my antique dough bowl is one of my most favorite ways to decorate.
I have loved seeing the gorgeous pears in the store these days and decided they would make perfect accessories. These are some faux pears I found at Joanns. I love them.
And that armoire, it's so perfect with that moody black. I love the assortment of blankets a the top along with the woven basket. Baskets are such a wonderful way to decorate a home. They are functional, stylish, and add so much texture to a space.
Find anything you like? Shop this space!

As we move from the living room to the kitchen, I kept things really simple.
With the warm colors and textures of baskets, cutting boards and copper pots, the space has a cozy feel even with barely any typical fall decor.
The best thing I have done recently is install a magnetic knife holder on the wall. It has freed up so much counter space.
A simple pumpkin on the shelves is the only fall decor I have added to my kitchen this year.
Well, that and some gorgeous eucalyptus from Trader Joes. I love using this stuff in the fall and winter!
A couple tomatoes ripening from the garden dot the window as well. This is the reality of living with a garden.
Find something you love? Shop my fall kitchen!

Now let's have a look at the dining room….
\
Keeping things very simple here once again…A simple pumpkin and a pitcher full of foliage is all I need.
From the kitchen you can look directly into the dining room. It is all connected. It makes the space wonderful for entertaining as well as for all the kids roaming around this house.
Gosh I love this room, my dining chairs we a purchase from Amazon and I still love them more everyday!
Simple pumpkins along with warm colors and textures is on repeat in this space.
Love something here? Check out the items below!

And what about my mudroom? Well, its gotten a bit of a facelift recently….
How about a sneak peek from the dining room.
This summer our kids elementary school was torn down and before it was, we got to go through the items left and take some of the things there. I found this giant pad of paper and knew I had to have it.
Let's get cozy. That is my motto this fall.

Check out all the amazing fall decor in our cozy fall home tours!

Twelve On Main | Unskinny Boppy | A Blue Nest | Red Brick on the Lake
Sanctuary Home Decor | Saw Nail and Paint | Noting Grace | Honeycomb Home
The Little By Little Home | Postcards from the Ridge | Grace In My Space | Cribb Style | Finding Lovely
Check out these other great posts too:
DIY Butcher Block Countertop from Old Trashed Lumber!
Simple and Stylish DIY Wreath for Fall
The Perfect DIY Laundry Folding Table
The Ultimate Cream Cheese Peach Cobbler Recipe
GET YOUR FREE GUIDE to 30 DIY projects that can be done over the weekend!
By subscribing, you will gain access to my FREE guide with 30 DIY projects that can each be done in a day, or over a weekend!
You will also receive a weekly email with some of my favorite tips, tricks, and design ideas.