So you just got yourself a great new addition to your craft supply with a fancy Cricut machine. Whether its the Cricut Maker, the Cricut Joy, or the Cricut Explore Air 2, there are certain things you will want to be familiar with in order to use the machine as well as the tools and materials without any hiccups. Lets get familiar with the Cricut terminology.
*This post is sponsored by Cricut.com. A big thank you to them for helping fund my website. I only recommend and endorse companies I truly believe in.*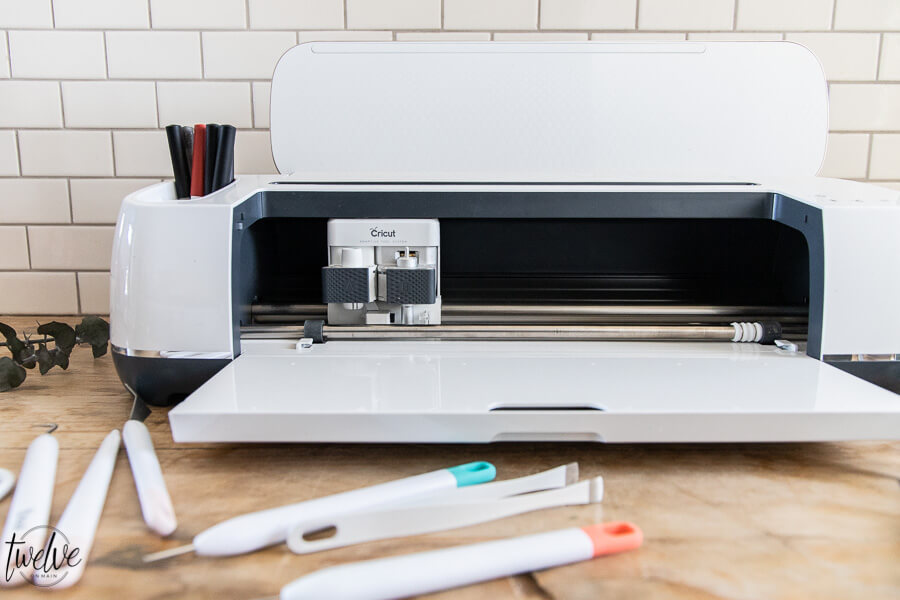 So, I am going to go over some of the more popular Cricut terminology that might help you when learning how to use your new Cricut machine. When I started using my new Cricut Maker, there were a lot of terms that I was unfamiliar with and I spent some time figuring out what they meant, or what the instructions were telling me to do.
Cricut Terminology
The most popular term in the Cricut terminology is Vinyl. Vinyl is the most popular material used with the Cricut machines. You can consider it as an adhesive material that is used for decals, stencils, and decoration. There are two options, permanent and removable. Obviously permanent is the kind that is not going to come off, so you want to make sure to use that kinds for things that you aren't going to want to remove the vinyl from. Removable is perfect for walls, for creating stencils, and many other options.
See how I used removable vinyl to create adorable signs.
Check this post out if you want to see how to use permanent vinyl on items such as ornaments.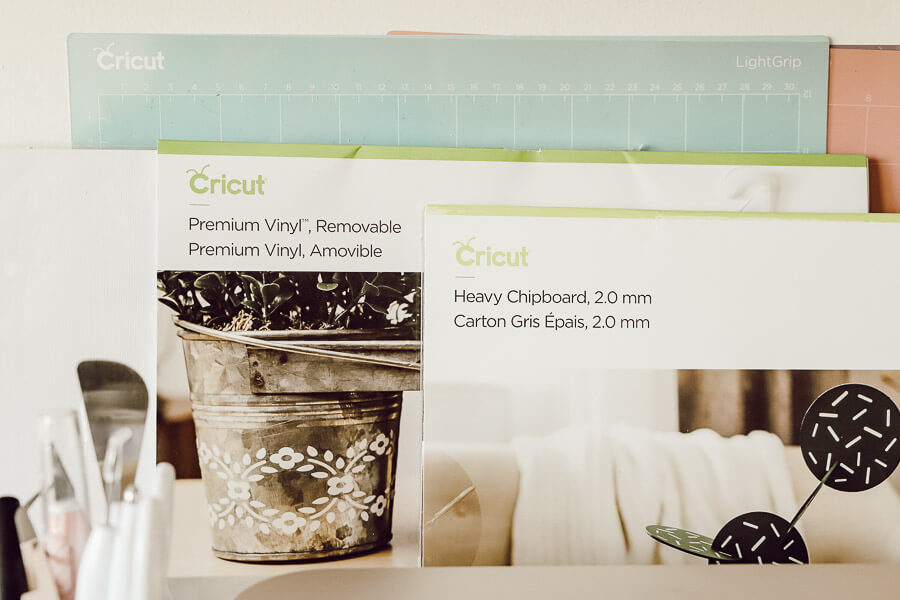 Vinyl has a layer of vinyl that is sandwiched with a carrier sheet, or a backing of paper or clear plastic. You will discard the carrier sheet when you are done.
Iron on or HTV (heat-treated vinyl) is a type of vinyl material that can be transferred to a heat tolerant base, such as clothes, wood, and more. You must use an iron or the awesome Cricut EasyPress heat press. This is what I use and it works great.
Check out this post to learn more about HTV and how to use a Cricut EasyPress.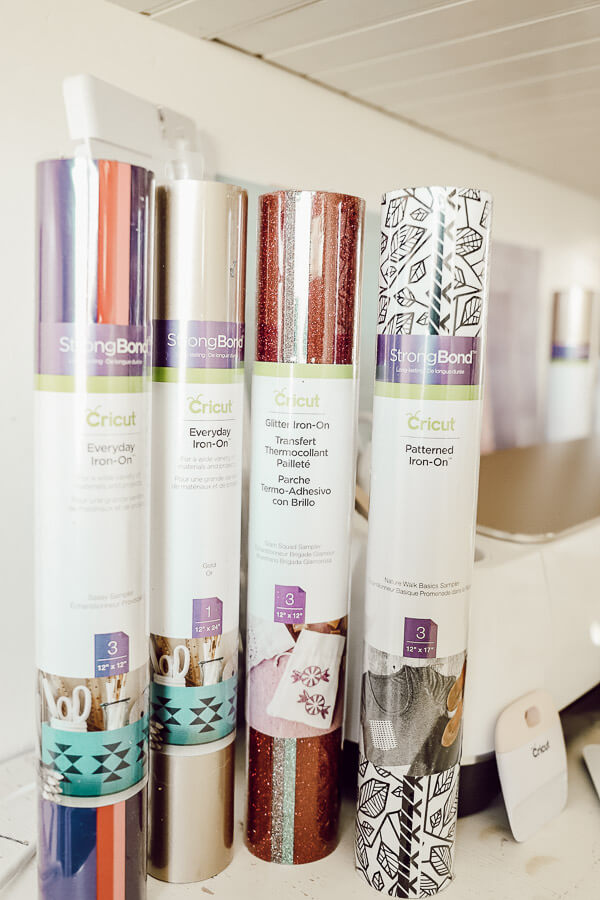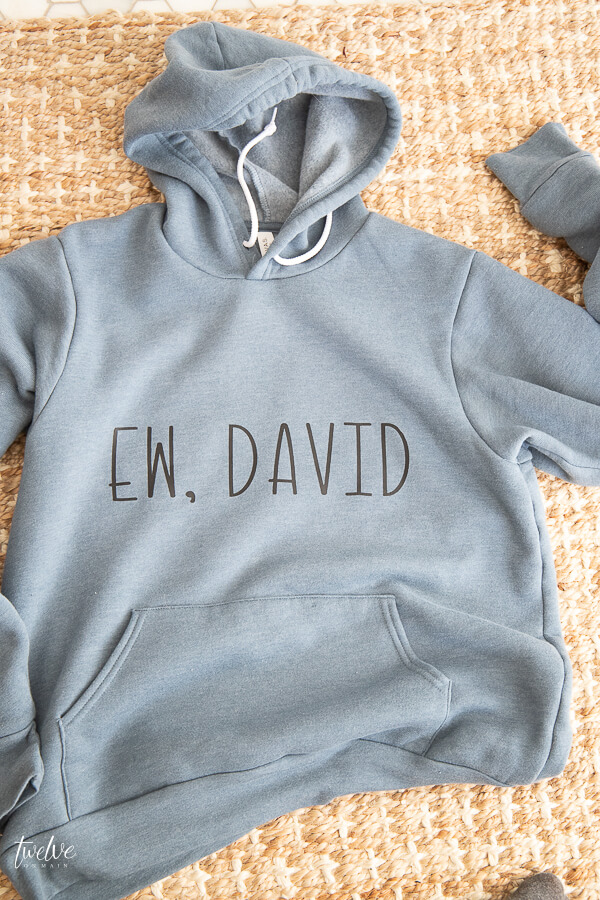 Now that we have the two main materials covered, lets talk about some of the function terms that you want to be familiar. (If you want more information on materials, click here)
What does Cut mean?
Cut, in Cricut terms is similar to what it means in any area. When you cut a design, you use a blade to cut a design into the top layer of vinyl or HTV, as well as through paper, basswood, cardstock and more. You are cutting a design onto your material which you will be able to use in your project.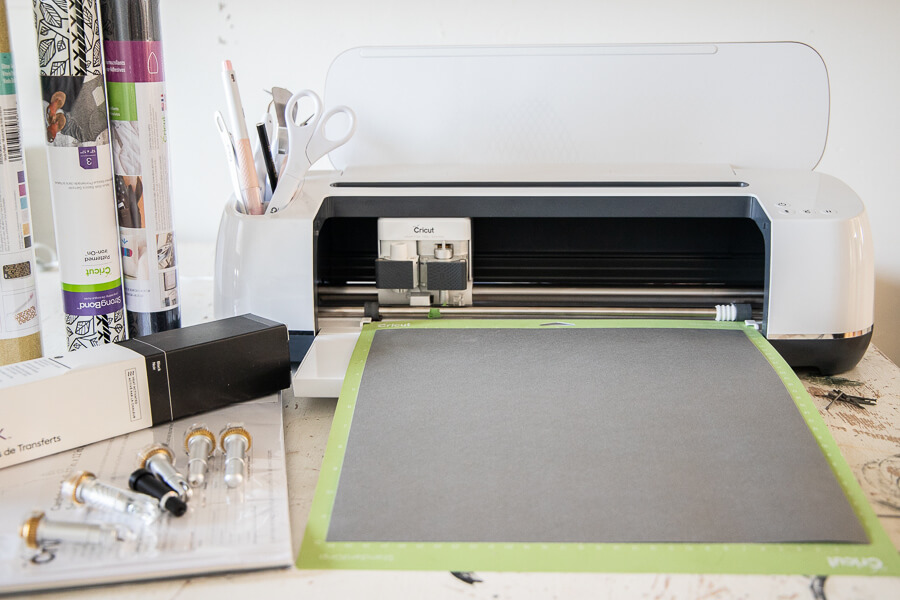 What does Weed mean?
Another very popular word in the Cricut terminology is weeding. Weeding is similar to what you do in a flower bed. You are removing the undesired parts of a cut design. You are removing excess material from the carrier sheet. This process is done usually by using a weeding tool which is pictured below. These are great when you are trying to weed a very detailed cut. The goal is to leave the part of the design you want to leave on the carrier sheet and discard the parts that you do not want transferred to your surface. I find weeding to actually be quite relaxing.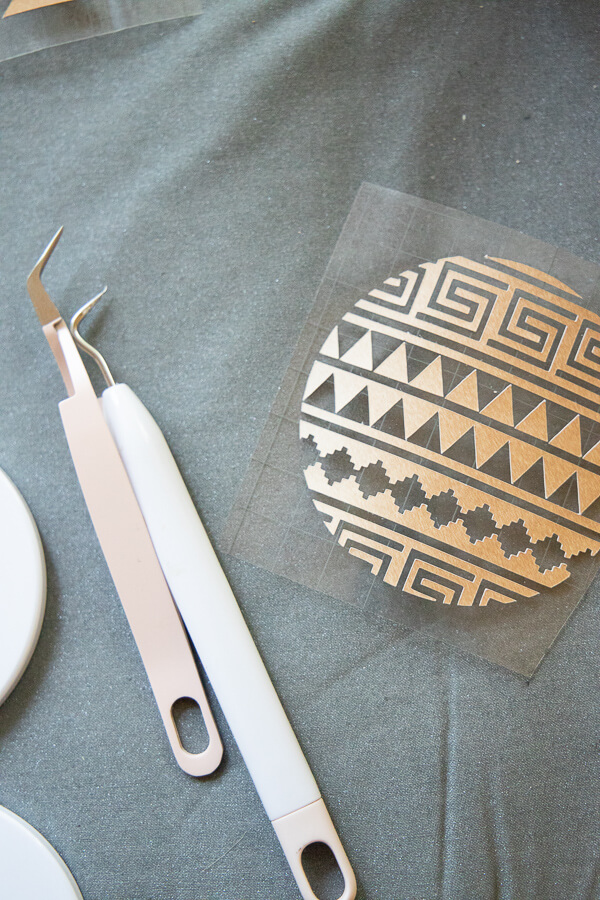 What does Print mean?
When using your Cricut machine, and on Design Space, there is a setting for Print, then Cut. What this means is that you can print your colorful design on your own printer, and then your Cricut will cut it out for you. This setting can be used on Explore and Maker Cricut models.
Burnish
When you are using transfer tape on a design, you will often burnish, or rub the tape to adhere to the vinyl or material you are using. I use my scraper tool to burnish, and it works quite well. You will also burnish when applying a design, usually made with vinyl, to a surface. This helps give good adhesion and smooth out any air bubbles.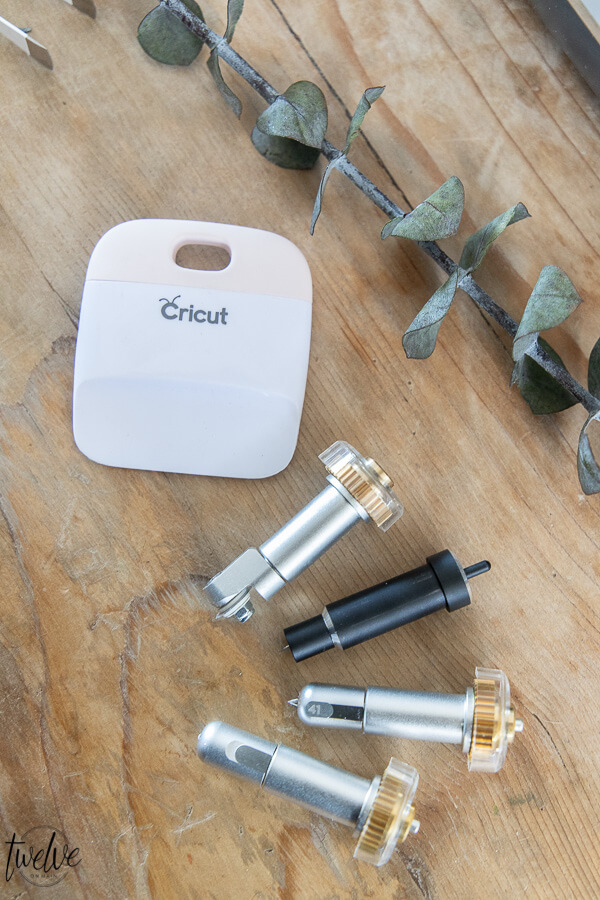 In addition to Cricut being the go to for iron on designs, they also have Infusible Ink. This is a great alternative to iron on. It is an exclusive product from Cricut. Unlike iron on, where the design is adhered to the surface of the fabric, Infusible Ink bonds to the material to results in a seamless and smooth transfer. It is a game changer. The only caveat is that it can only be applied to Cricut blanks, which can be shirts, bags, coasters and more. Check out my post about infusible ink here.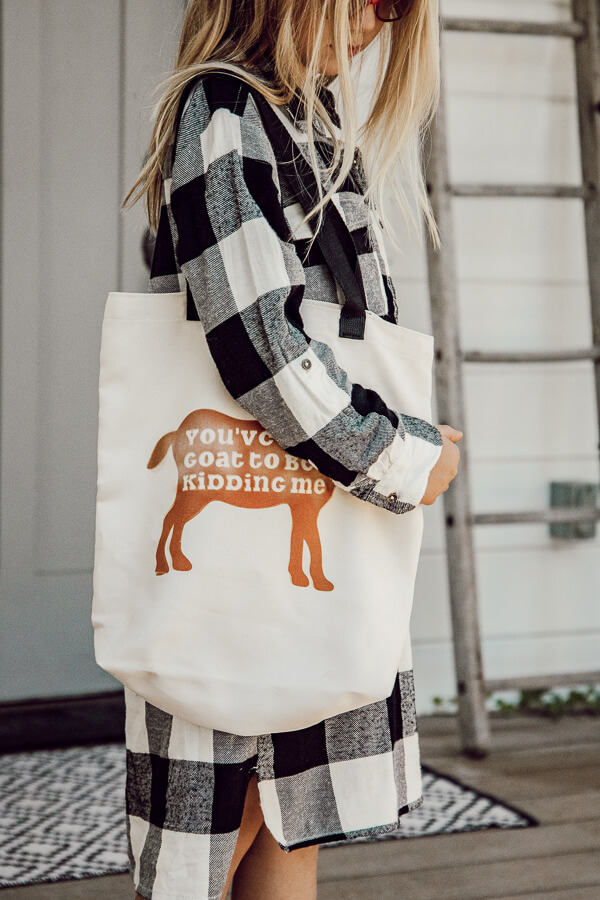 I have a post about Infusible Ink here if you want to learn more.
Design Space is Cricut's free, and super easy to use design software. It is a cloud based software so you can design on any device at any time. It provides a library of designs, projects, images, fonts, and the ability to upload your own designs from your computer. In design space there are some functions that I was unfamiliar with, weld and attach were the two that confused me.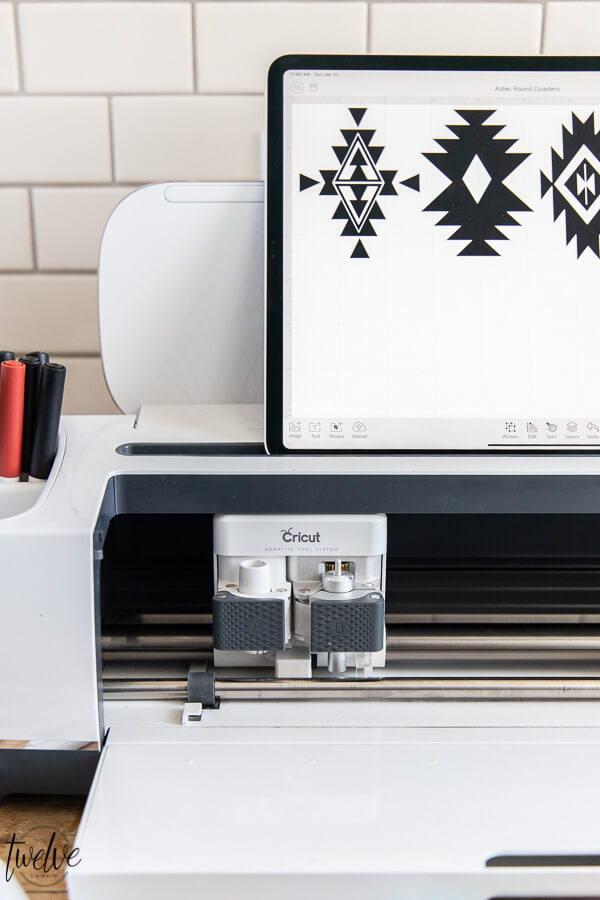 Weld
This is a feature on the edit toolbar. The weld tool allows you to join shapes to create a single customized image by removing any overlapping cut lines. It is a great way to simplify a design, keep the letters of a word connected, or combine shapes to create new designs.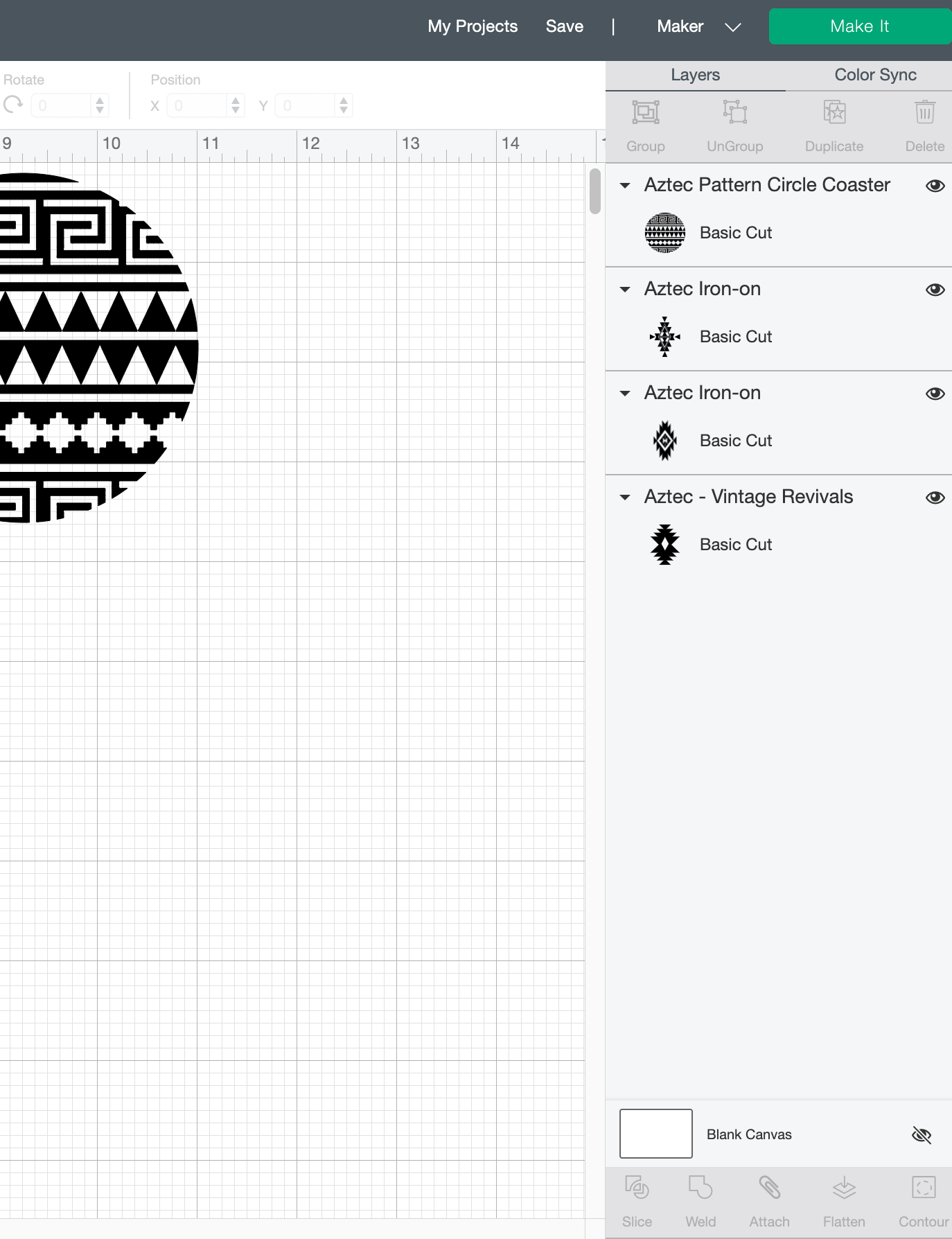 Attach
The attach tool provides two functions. It helps hold your cuts in the same position relative to each other on the cutting mat. It also fastens other line type selections, such as Draw, Score, or Foil, to a Cut layer.
Contour
Contour is tool that allows you to delete/hide unwanted pieces from your projects. This option is extremely powerful because you can modify your projects to create a whole different effect or feel
Slice
Slice is a tool in design space that splits two overlapping images or text into different parts
Flatten
Flatten is a tool is used with the Print then Cut feature. It takes a multi-layer project and squishes (or flattens) it down all the selected layers into one layer that can be printed on your home printer then cut on your Cricut machine
The Cricut terminology may be something you are unfamiliar with, but I hope that this post helps you understand and get acquainted with them. If you want to learn more about the Cricut Maker make sure to check out some of these posts, starting with the first one, which is an introduction to the entire machine.
A Whole New Way to Create, A Cricut Maker Review
Complete List of Materials You Can Use with the Cricut Maker
10 Things to Know About the Cricut Maker Machine Before You Use It
Cricut Maker Machine Questions and Answers
What Is a Cricut Machine and What Does It Do?
GET YOUR FREE GUIDE to 30 DIY projects that can be done over the weekend!
By subscribing, you will gain access to my FREE guide with 30 DIY projects that can each be done in a day, or over a weekend!
You will also receive a weekly email with some of my favorite tips, tricks, and design ideas.